Venom: Let There Be Carnage Release Date, Cast And Plot - What We Know So Far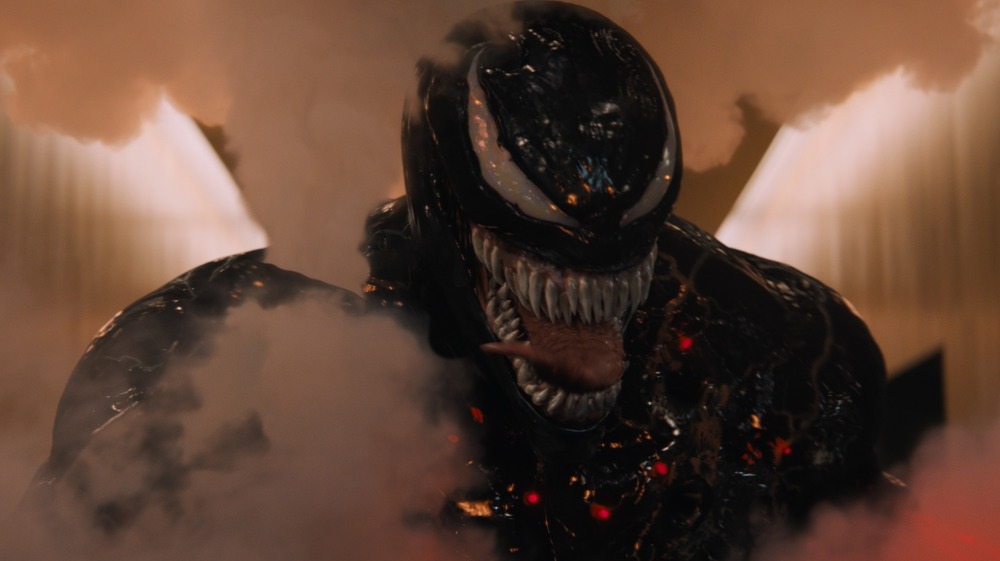 Sony Pictures
While Marvel Studios may reign supreme as the top dog in the comic book movie world, they're hardly the only ones bringing some of Marvel Comics' biggest names to the silver screen. For decades, Sony Pictures has brought fan-favorite Spider-Man to the movies, time and time again, through both live-action and animation. However, their treasure trove of character rights don't start and end with the web-slinger, as evidenced by their recent efforts to dive deeper into his rogues' gallery: They determined there was no better jumping-off point for these spin-off features than with the symbiotic antihero, Venom, who got his first solo film in 2018.
Venom opened to theaters (remember those?) on October 5, 2018, introducing the world to Tom Hardy's interpretation of Eddie Brock — the host body of the titular symbiote — and the Klyntar himself. Over the course of its theatrical run, it raked in roughly $856.1 million at the box office, more than making back its budget of somewhere between $100-$116 million. Although it wasn't necessarily a home run with critics, as indicated by its 30 percent rotten score on Rotten Tomatoes, casual moviegoers seemed to enjoy it and boosted it up to an 81 percent audience score.
With largely positive fan response and solid financials in mind, Sony greenlit a sequel in no time, titled Venom: Let There Be Carnage. Here's everything we know about it so far.
The release of Venom: Let There Be Carnage is long overdue
Sony Pictures
It's no secret that the COVID-19 pandemic has ravaged 2020's cinematic landscape beyond repair, with very few movies actually meeting their intended release date. For the rest, just about every major studio had little choice but to shuffle their schedules around to accommodate, causing the next couple of years to overflow with blockbusters, sequels, and everything in between. Venom: Let There Be Carnage suffered that highly inconvenient fate, being moved well past its original premiere.
Before the chaos of this public health crisis began, the plan was for Andy Serkis' first foray into the Marvel directors chair to hit the big screen on October 2, 2020, which obviously never came to pass. Instead, Sony determined that a June 25, 2021 debut would suit it much better, not only for fans eager to see where the story goes next but also for those who paid to put the Venom sequel together.
"What we won't do is make the mistake of putting a very, very expensive $200 million movie out in the market unless we're sure that theatres are open and operating at significant capacity," said Sony Pictures Entertainment Chairman Tony Vinciquerra (via RadioTimes), reassuring everyone that Let There Be Carnage's arrival will be a theatrical affair (if there are any left to speak of when June 2021 rolls around, of course).
Venom: Let There Be Carnage boasts a solid cast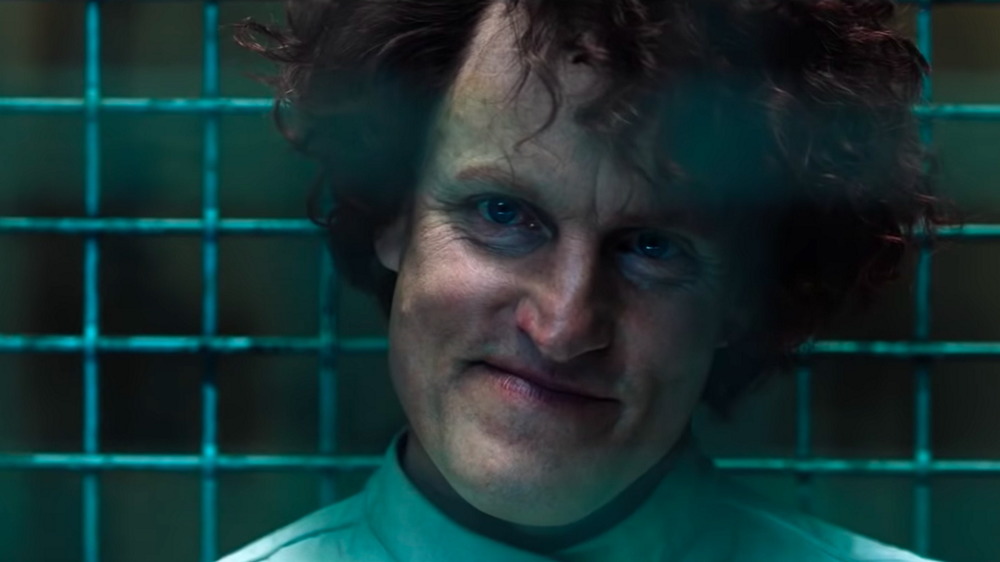 Sony Pictures
Even though most audiences will pay to see Venom: Let There Be Carnage merely for the chance to see the iconic David Michelinie and Todd McFarlane-created Marvel antihero brought back to the big screen, they'll also get the chance to check out an impressive assortment of actors doing what they do best at the same time. As far as returning cast members go, Tom Hardy is coming back as Eddie Brock with his alien parasite in tow. His ex-fiance, Anne Weying, will once again come to life thanks to the acting talents of Michelle Williams, and Reid Scott reprises his role as her current flame, Dan Lewis.
The big news, of course, is Woody Harrelson's return as the psychotic Cletus Kasady, whom he portrayed in the post-credits sequence of 2018's Venom. However, this time around, he'll finally come into his own when he is bonded with the murderous red and black symbiote, Carnage. 
Alongside Harrelson, rumors are swirling that franchise newcomer Naomie Harris will play another Marvel villain named Shriek, who (if the movie follows the comics) will double as Kasady's love interest. Stephen Graham and Sean Delaney will also appear, but the nature of their roles remain unknown, as of this writing.
The Venom sequel will give fans the symbiote clash of the century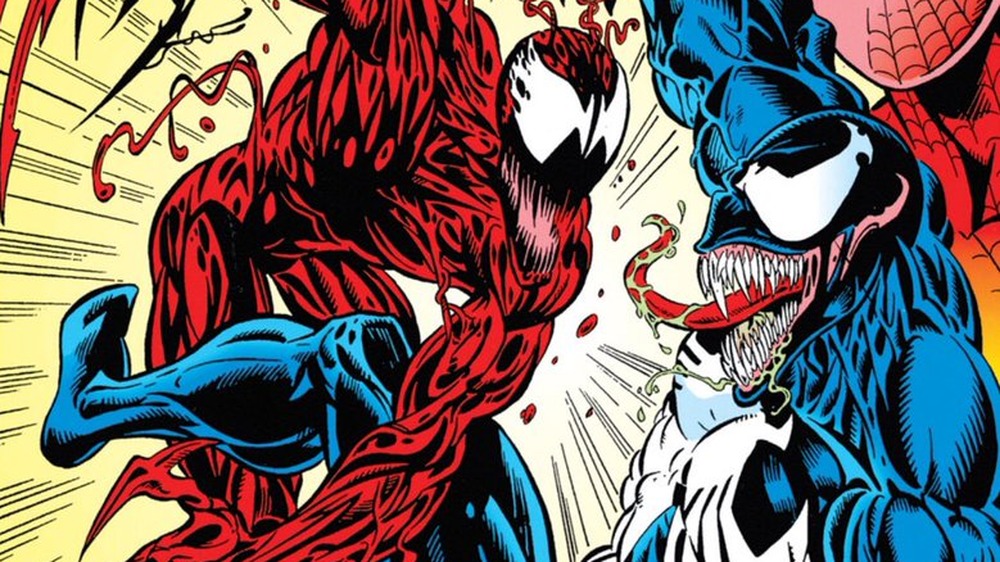 Marvel Comics / Mark Bagley
The specifics of Venom: Let There Be Carnage's story are still rather vague, but a few smaller ideas are floating around at the moment. It's pretty much a given that this movie will focus heavily on Eddie and Venom's dynamic as they continue adjusting to living together as one. As producer Matt Tolmach told CinemaBlend, "the heart of Venom was always the relationship between Eddie and Venom. These two characters, these two sides that had to figure out how to live together and that were somehow better together than they were separately, or more successful, and what that meant."
One can only hope that the two of them will be on the same page in Let There Be Carnage because, as the title suggests, a showdown against Woody Harrelson's Carnage is all but a certainty. With the added dimension of Shriek reportedly planting herself firmly in Kasady's camp, this sequel could spell bad news for Brock and his parasitic friend. It's also worth noting that with Sony's decision to move forward with the Jared Leto-led Morbius solo film, and the increasingly crowded Spider-Man 3 from Marvel Studios coming together, tying the Venom continuity to those could be a plot element to consider.
Nevertheless, any lingering questions and theories will be answered once Venom: Let There Be Carnage hits theaters on June 25, 2021. Given that it's currently quite a long ways off, hopefully more details about the film will make the rounds in the near future.