Venom: Let There Be Carnage - What We Know So Far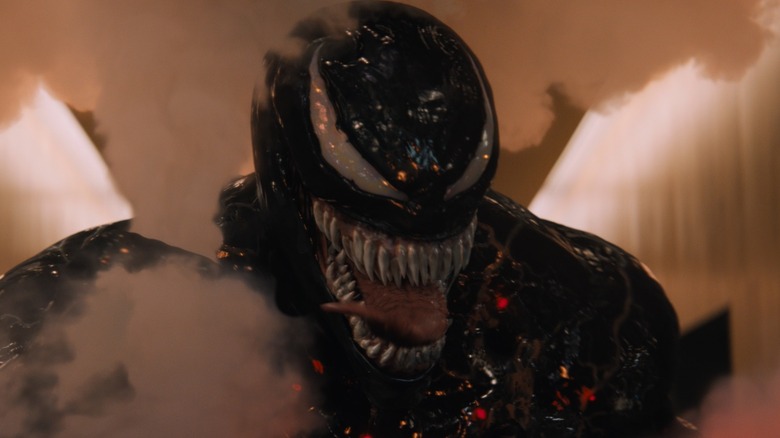 Sony Pictures
While Marvel Studios may reign supreme as the top dog in the comic book movie world, it's hardly the only studio bringing some of Marvel Comics' biggest names to the silver screen. For decades, Sony Pictures has brought fan-favorite Spider-Man to the movies, time and time again, through both live-action and animation. The studio has wrung so much mileage out of the character, that it's already seen him through three iterations, beginning with Tobey Maguire and ending with Tom Holland. But the valuable Spider-Man IP doesn't just include any and every conceivable form of Spidey himself (including, apparently, a Spider-Pig) It also includes all the ancillary and related characters connected to Marvel's classic Spidey stories that were rolled into the original Sony licensing deal — you know, that one that probably still has Kevin Feige waking up in the middle of the night scratching himself. Taking a page out of the MCU's book, Sony's begun expanding its franchise to include films that actually focus on secondary characters — even villains — and in the Spider-Man canon that means one villain first and foremost: Venom (all due respect to the Green Goblin). Venom got his first solo film in 2018, to the delight of comic book fans everywhere.
"Venom" opened to theaters (remember those?) on October 5, 2018, introducing the world to Tom Hardy's interpretation of Eddie Brock — the host body of the titular symbiote — and the Klyntar himself. The film's release marked the first cinematic depiction of the iconic, toothy villain since "That '70s Show" teen idol Topher Grace first gave the character life in "Spider-Man 3." Over the course of the "Venom" movie's theatrical run, it raked in roughly $856.1 million at the box office, more than making back its budget of somewhere between $100-$116 million. Although it wasn't necessarily a home run with critics, as indicated by its 30% "Rotten" score on Rotten Tomatoes, casual moviegoers seemed to enjoy it, resulting in a divergent 81% audience score.
Considering the largely positive fan response and impressive financials, Sony greenlit a sequel in no time, entitled "Venom: Let There Be Carnage." Here's everything we know about the villainous sequel so far, including the cast, plot, and release date.
Updated on July 6, 2021: This list has been updated to include new information about "Venom: Let There Be Carnage" released subsequent to the article's initial publication.
The release of Venom: Let There Be Carnage is long overdue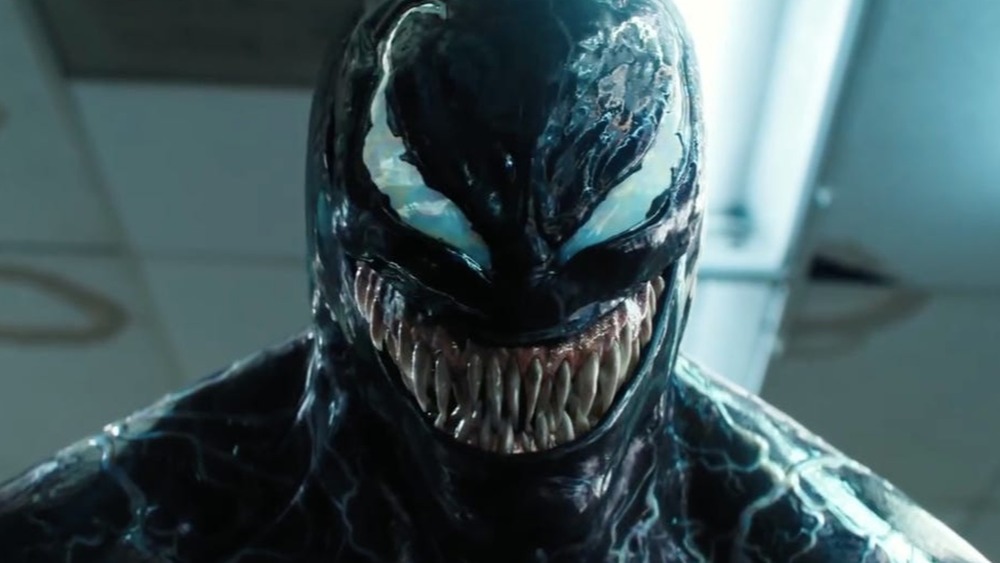 Sony Pictures
It's no secret that the COVID-19 pandemic has ravaged 2020's cinematic landscape beyond repair, with very few movies actually meeting their intended release date. For the rest, just about every major studio had little choice but to shuffle their schedules around to accommodate, causing the next couple of years to overflow with blockbusters, sequels, and everything in between. "Venom: Let There Be Carnage" suffered that highly inconvenient fate, and was moved well past its original premiere.
Before the chaos of this public health crisis began, the plan was for Andy Serkis' first foray into the Marvel directors chair to hit the big screen on October 2, 2020, which obviously never came to pass. Instead, Sony determined that a June 25, 2021 debut would suit it much better, not only for fans eager to see where the story goes next, but also for those who paid to put the "Venom" sequel together. The studio ultimately had to push the release date yet again, this time for overcrowding, landing on September 24, 2021, as the perfect fall weekend to drop its big-budget tentpole. That places "Let There Be Carnage" on the big screen almost one whole calendar year after its original release date. It's no wonder the fans are champing at the bit.
"What we won't do is make the mistake of putting a very, very expensive $200 million movie out in the market unless we're sure that theaters are open and operating at significant capacity," said Sony Pictures Entertainment Chairman Tony Vinciquerra (via RadioTimes), reassuring everyone that the arrival of "Venom: Let There Be Carnage" will be a theatrical affair. Much is often made about the summer box office mystique, but truth be told, the "Venom" sequel might be better off occupying a lonely weekend in September, than trying to out-compete a busy, backed-up June field.
Thankfully, as the U.S. begins to emerge from the pandemic thanks to increased vaccination rates, summer blockbusters are finding their way back onto projector screens around the country, and very few films are falling back from the ground they've already staked out. The surviving theaters have largely reopened (R.I.P. ArcLight), and long-starved cinephiles are flocking back and filling seats. Unless something takes a very unfortunate and unforeseen turn in the next few months, expect "Venom: Let There Be Carnage" to stick to its September landing.
Venom: Let There Be Carnage boasts a solid cast
Sony Pictures
Even though most audiences will pay to see "Venom: Let There Be Carnage" merely for the chance to see the iconic David Michelinie- and Todd McFarlane-created Marvel antihero brought back to the big screen, they'll also get the chance to check out an impressive assortment of actors doing what they do best at the same time. As far as returning cast members go, Tom Hardy is coming back as Eddie Brock with his alien parasite in tow, because who else could honestly embody this character at this point? Interestingly, Hardy also earns his first "Story by" credit on "Let There Be Carnage," a worthy nod to his immeasurable contributions to shaping the character and the script during the long development cycle. 
Brock's ex-fiancé, Anne Weying, will once again come to life thanks to the acting talents of Michelle Williams. Reid Scott is also set to reprise his role as her current flame, Dan Lewis. The big news, of course, is Woody Harrelson's return as the psychotic Cletus Kasady, whom he portrayed in the post-credits sequence of 2018's "Venom," to the delight of fans everywhere. This time around, he'll finally come into his own when he is bonded with the murderous red-and-black symbiote, Carnage. Early looks at Kasady and his alien parasite reveal a Harrelson completely in his element, and ready to bring a new dynamism to the franchise. 
Alongside Harrelson, rumors are swirling that franchise newcomer Naomie Harris will play another Marvel villain named Shriek, who (if the movie follows the comics) will double as Kasady's love interest. Stephen Graham and Sean Delaney will also appear, but the nature of their roles remains unknown as of this writing.
The Venom sequel will give fans the symbiote clash of the century
Mark Bagley/Marvel Comics
Plot specifics for "Venom: Let There Be Carnage" are still rather vague, but a few smaller ideas are floating around at the moment. It's pretty much a given that this movie will focus heavily on Eddie and Venom's dynamic as they continue adjusting to living together as one integrated, human-parasite combo deal. As producer Matt Tolmach told CinemaBlend, "The heart of 'Venom' was always the relationship between Eddie and Venom. These two characters, these two sides that had to figure out how to live together and that were somehow better together than they were separately, or more successful, and what that meant."
One can only hope that the two of them will be on the same page in "Let There Be Carnage" because, as the title suggests, a showdown against Woody Harrelson's Carnage is all but a certainty. With the added dimension of Shriek reportedly planting herself firmly in Kasady's camp, this sequel could spell bad news for Brock and his parasitic friend. It's also worth noting that with Sony's decision to move forward with the Jared Leto-led "Morbius" solo film, there could be space to tie the "Venom" continuity into an even bigger cinematic whole. Just how can an integrated Venom-Spider-Man universe co-exist with an MCU that essentially shares Sony's Spider-Man? More on that below.
Any lingering questions and theories will be answered once "Venom: Let There Be Carnage" hits theaters on September 24, 2021. Given that it's currently still a few months off, hopefully more details about the film will continue to trickle out as the press presence builds moving into the fall.
Does Venom: Let there Be Carnage have any relationship to the MCU?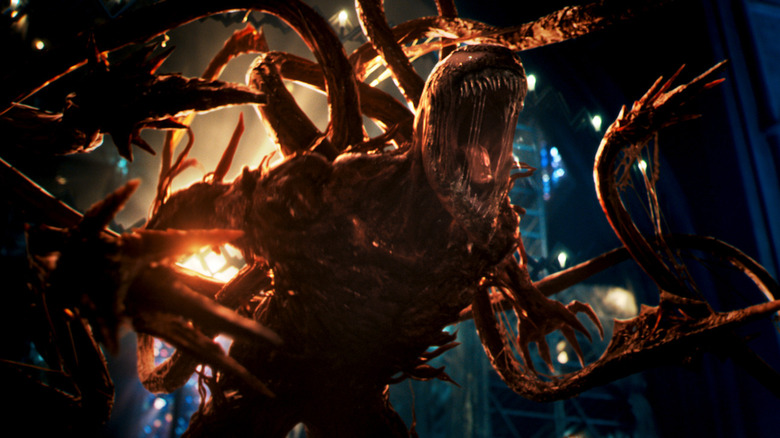 Sony Pictures
Nope, but the confusion is understandable at this point. The cleavage within the wide world of cinema based on classic Marvel Comics characters used to be somewhat straightforward. Before Marvel Studios was even really a thing — and long before Disney and Kevin Feige turned it into a multi-billion dollar entertainment juggernaut — Marvel Comics offloaded the film and TV rights to some of its individual properties to a couple of different buyers. 20th Century Fox gobbled up the "X-Men," an obvious prestige piece of the Marvel canon, and the reason Disney had to build Phase 1 of their MCU around The Avengers instead of the more popular mutants. In this same era of high-risk comics ventures, Sony Pictures got ahold of Spider-Man and many related characters and story elements. Interestingly, the success of Fox's "X-Men" films and Sony's original "Spider-Man" trilogy was clearly the business predicate for the creation of Marvel Studios and the MCU, but we digress.
Fast-forward to 2021, and Disney has now repatriated the X-Men by way of its expensive acquisition of 20th Century Fox. Spider-Man the character has found his way back into the MCU, as well, but only with the permission and substantial profit participation of continuing rights-holder, Sony Pictures. The Tom Holland Spider-Man is the result of a special business arrangement between Sony Pictures and Disney, and does not officially transfer the character's rights back to the latter, nor does it have any meaningful creative or intellectual property impact on ancillary characters like Venom. "Venom," "Venom: Let There Be Carnage," "Spider-Man: Into the Spider-Verse," and the also-upcoming "Morbius" all exist in the Sony Pictures Spider-Verse. These properties are — at least in theory — loosely bound to each other, but they haven't a whit to do with Marvel's Phase 4, Wanda's sitcom Hex, or whatever the heck's going on in "Loki."
Is there a trailer for Venom: Let there Be Carnage?
For a while after the original COVID-19 delay that pushed the film's release date back to June 2021, fans had very little to go on. Thankfully, Sony Pictures saw fit to fill the void with the first official full-length trailer, which hit the inter-webs on May 10, 2021 like an alien parasite hunting for a host. The fans were quick to dissect the brief video, looking for any and every possible clue about the future of Hardy's Venom and Harrelson's Carnage.
The first few seconds of the trailer are pure Hardy. We see Eddie alone with his parasite in the kitchen, fixing up a little breakfast for himself while his body ejaculates reckless black appendages that are — at least ostensibly — trying to help. A hand-drawn sign on the exposed-brick wall of his apartment reads: "Rules: No eating people." In some ways, these scenes reveal an Eddie Brock more at ease with his bodily companion than he was in the first film, though there are still obviously some adjustments that need to be made. At least the two intimate roommates are feeding together — and not on human heads.
Later in the trailer we get our first good look at the return of Woody Harrelson as Cletus Kasady, still imprisoned and awaiting his execution for all of his previous dirty dealings. The trailer actually shows us a grim clip of Kasady entering the execution booth. The executioner sets him up for lethal injection, the needle slips in his vein, and the deadly drug cocktail starts to pump. It's at this moment that the Carnage organism awakens inside Kasady, trashing the execution booth and putting an end to the punitive proceedings. This is an important revelation, since it marks the first canonical confirmation that Carnage takes a principled stance against capital punishment. Who knew?
The rest of the trailer is all fast cuts and percussive action. In other words, exactly what you'd expect from a "Venom" sequel. It's good to know that "There Will be Carnage" appears to have carried over its predecessor's black sense of humor, at least. More trailers may be forthcoming as the September 24 release date approaches, so stay tuned for any additional peeks before the whole feature at last descends upon the Spider-Verse.