The Cobra Kai Season 3 Stunt That Went Hilariously Wrong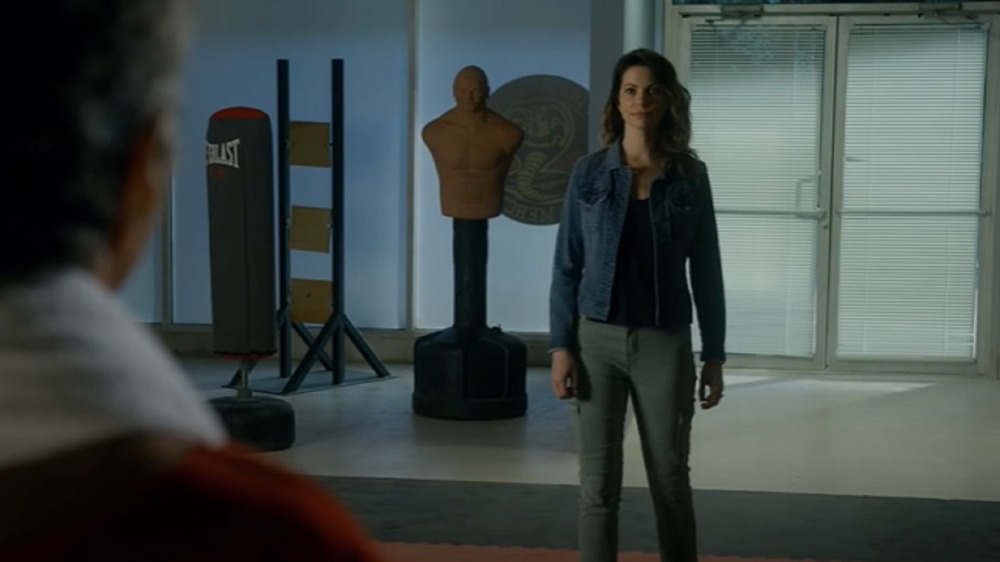 Netflix
With all of the bitter rivalries and rapidly shifting alliances we've seen throughout Cobra Kai so far, it's fair to say that absolutely every character fight match-up imaginable is on the table as the show moves forward. Even knowing that anyone could square off with anyone else at any given time, though, the trailer for season 3 still contains a showdown we did not see coming.
As John Kreese (Martin Kove) takes control of Cobra Kai from Johnny Lawrence (William Zabka) and asserts his "no mercy" style of dominance over the students, he will apparently get some opposition from an unexpected source — none other than Amanda LaRusso (Courtney Henggeler) is shown waltzing into the dojo and using Kreese's own "strike first" code against him as she plants a palm across his face. It's a move fans might've seen coming from Johnny or even Daniel (Ralph Macchio), but since Amanda has always kept a safe distance from the mayhem of the karate scene, she's probably the last person anybody expected to see delivering a hit like that.
As if that weren't stunning enough, the cast has now revealed that when the scene was filmed, things went awry behind the scenes and made the moment much more real than fans might expect.
Yes, that's a real slap you see in the trailer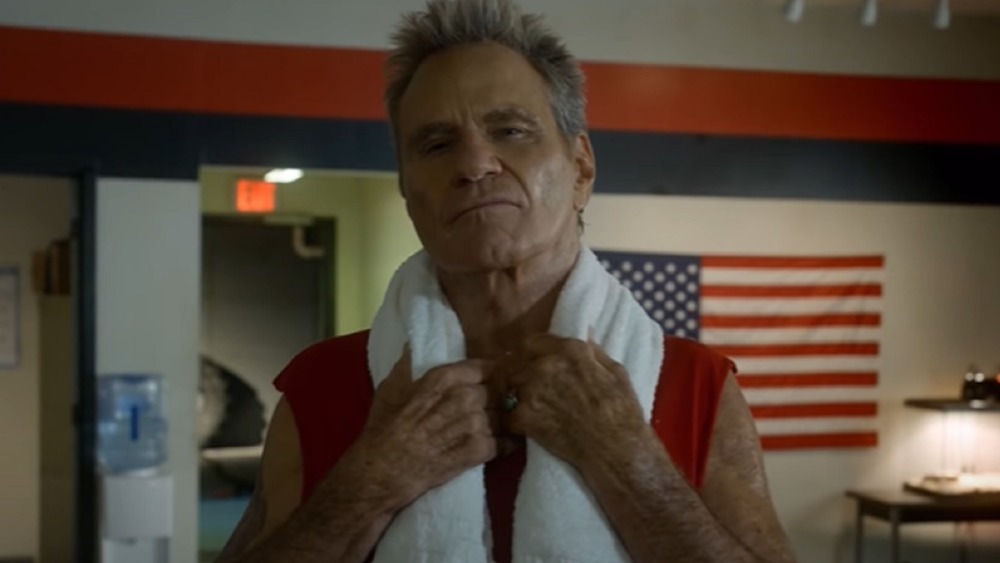 Netflix
In a virtual roundtable with Entertainment Weekly, the cast chatted about what's ahead in season 3, and Courtney Henggeler spoke up about what went wrong during her first true action scene of the series, which ended in her actually hitting co-star Martin Kove in the face.
Henggeler explained that she was initially excited by the opportunity to finally do a stunt, saying, "The creators Jon [Hurwitz], Josh [Heald], and Hayden [Schlossberg] ... in the beginning of each season, they kind of give us where all of our characters are going... They're like, 'And you get to hit Kreese,' I'm like, 'I get to do a stunt?!' And they're like, 'It's a slap.'" Henggeler then proceeded to work through her nerves of her first encounter with Kove, saying, "I got to set, and I realized I've never worked with Martin Kove before. I've never worked with half of the cast. It's usually Ralph and the kids, and this whole other Cobra Kai doesn't exist [for me]. So I was actually very nervous to work with Martin, even though he's a lovely human being, and with stunts." 
Eventually, Henggeler prepared for the slapping scene with both Kove and a stunt coordinator and said things went just fine until the very last take when she missed her mark. "They say if you do [a stunt] and if you make contact with the person you're doing the stunt with, just to keep going because if you stop, then not only have you just hurt somebody, but you've ruined the shot," she remembered. So when her hand actually connected to Kove's face, she tried to play it off. "I hit him in the face, hard — not intentionally, obviously — and I was like, 'Don't make a face!' And I think it's the take they used," Henggeler said. 
With all of the elaborate and extended fight scenes that commence in Cobra Kai, it might be hard to believe this is the encounter that has produced actual pain, but here we are. We'll have to find out more about the context of the slap heard 'round the Valley when Cobra Kai premieres on Netflix on Friday, January 1.