Why Bob Odenkirk Could Be The John Wick Of 2021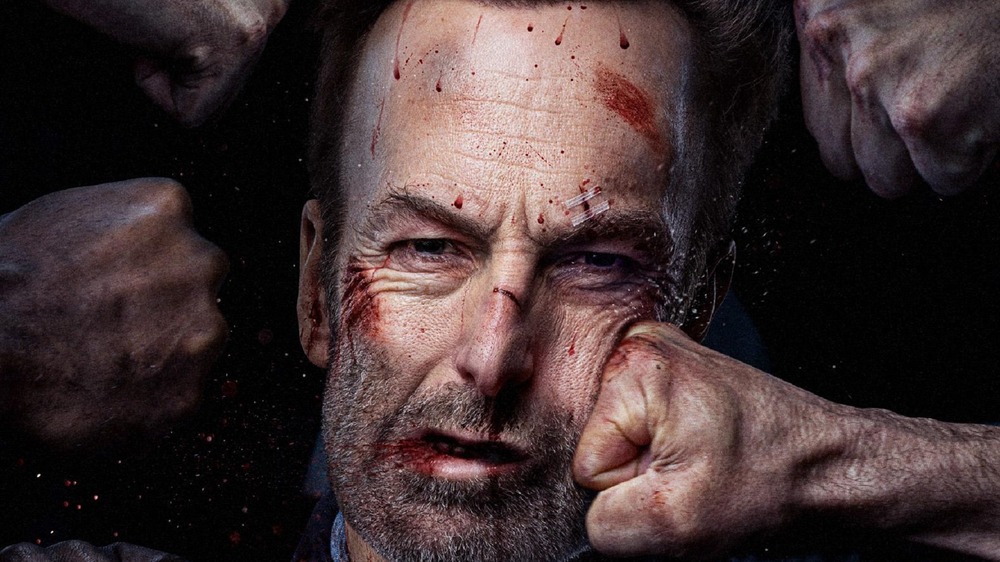 Universal Pictures
Who doesn't love watching Bob Odenkirk using his wits to outsmart and embarrass his on-screen adversaries on Better Call Saul? Now, imagine if he applied the same panache he uses to scheme and scam his way across Albuquerque into beating the absolute crap out of some bad guys. 
If that's got your interest piqued, then you're going to want to put the upcoming action film Nobody at the top of your viewing list.
In the movie, Odenkirk plays a seemingly mild mannered family-man named Hutch Mansell, a suburbanite with about as much edge as a rubber ball. However, as similar films of the same ilk have taught us, looks can be deceiving. When he declines to take out a pair of robbers who break into his home, Hutch's friends and family assume it's because he's too soft to get his hands dirty. But the truth is, Hutch has dark instincts lurking deep within him. The home invasion brings secrets from his past he sought to leave behind roaring into his present, and Hutch is forced to return to his old ways to keep his family safe.
While the elevator pitch of "Bob Odenkirk action film" is probably enough to get butts in theater seats, the movie's recently released trailer is going to have you thinking they already dropped another John Wick movie.
The trailer for Nobody shows a side of Bob Odenkirk you never knew existed
The trailer begins with a downcast Odenkirk choosing to not clobber some robbers who break into his home with a golf club, and paying for it by being made fun of by his friends and family. It seems like he really is just some random family man who got put in a nasty situation beyond his control or abilities. But when we see flashes of a scene of him repeatedly punching a brick wall, it becomes clear that there's something else going on.
The turn happens during a scene where a group of rowdy young men get on the same bus as Hutch and start harassing the fellow passengers. Hutch puts himself in their way, and when they ask him what he's doing, he announces, "I'm gonna f*** you up." Needless to say, he keeps his promise.
That's when we learn that Hutch used to be "an auditor," which is described only as someone who is sent to take out people who need taking out. The rest of the trailer is a flurry of secret panels behind light switches, propulsive gunfights, and hordes of Russian gangsters who now have this not-so-typical family man in their sights. 
If the trailer was giving you heavy John Wick vibes, that's probably because there is some notable overlap between the creative team behind that modern action classic and the upcoming Nobody.
Several John Wick veterans worked on Nobody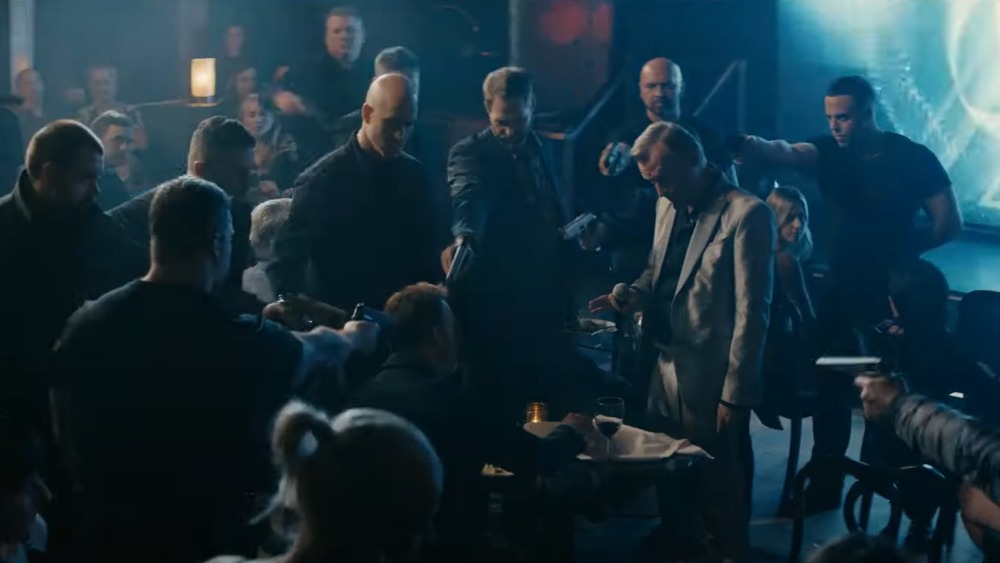 Universal Pictures
While the appeal of Odenkirk in the lead role is the thrill of seeing someone not associated with action movies take a stab at it (pun intended), the crew behind the scenes of Nobody have their fingerprints all over some very notable recent entries in the genre's canon.
The movie's script was penned by Derek Kolstad, who vaulted himself into the action movie hall of fame when he wrote the first two John Wick movies and co-wrote John Wick: Chapter 3 — Parabellum. Kolstad is joined by fellow John Wick alumn David Leitch, who co-directed and produced the iconic movie (although a Director's Guild of America ruling prevented him from receiving proper credit, per The Film Stage), and is one of the producers on Nobody. Leitch is also the director behind the Charlize Theron spy thriller Atomic Blonde, Deadpool 2, and Fast & Furious Presents: Hobbs & Shaw.
Nobody is also the second feature film directorial effort by Russian musician Ilya Naishuller. His first movie, Hardcore Henry, is a full-throttle thrill ride that was filmed entirely from the first-person perspective of its protagonist.
Even though Odenkirk doesn't have the same action credentials as those behind the scenes, he put in the work to make sure he could keep up with his colleagues.
Bob Odenkirk trained for two-years in preparation for Nobody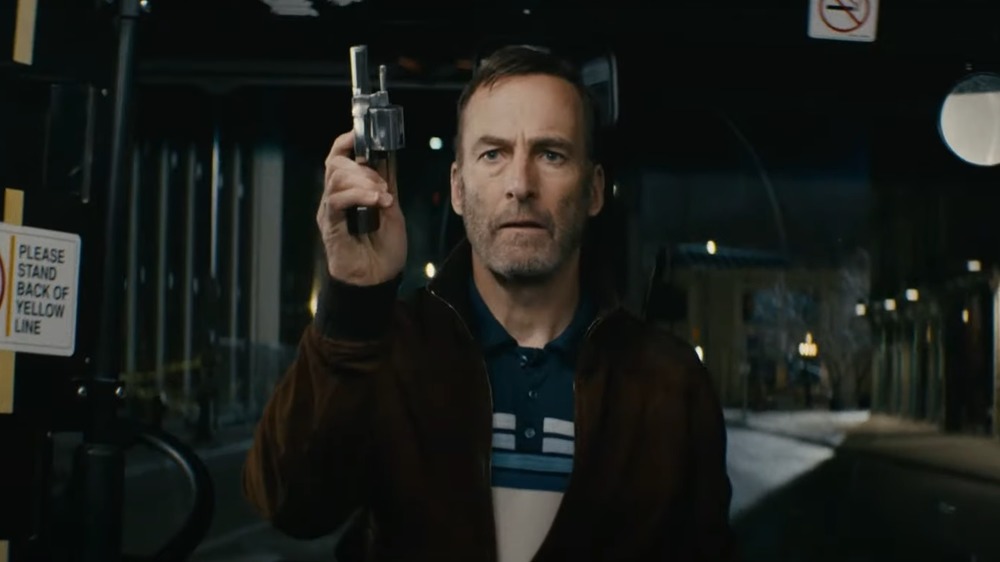 Universal Pictures
One thing that is made clear in the trailer for Nobody is that Odenkirk didn't let his stunt double do all the work when it came to filming the intense fight scenes for the movie. The comedian appears to be performing much of the fight choreography himself, and he apparently did his homework before showing up on set.
While speaking about the upcoming movie with IGN, Odenkirk revealed, "I trained for two years before we started shooting. I knew I had a long way to go." That is quite the time commitment for any movie role. And lest you think that Odenkirk has been a secret martial arts expert this whole time, he clarified, "I was a comedy writer for 25 years so I didn't even exercise for most of my life."
But don't worry. Investing time into learning the intricate fight choreography wasn't an "all work and no play" situation. According to Odenkirk, even the most brutal fight scenes were a blast to film. He told Entertainment Weekly, "The fist-bloodying fight sequences were as much fun as being in a comedy room [...] Anytime you see a fight sequence in a movie that has a bunch of people, as soon as they yell 'Cut!,' everyone laughs. There's all this interaction and group problem-solving that goes on."
Hopefully the movie will be as much fun to watch as it sounds like it was to film. Nobody is currently scheduled to hit theaters on February 26.