Nobody - What We Know So Far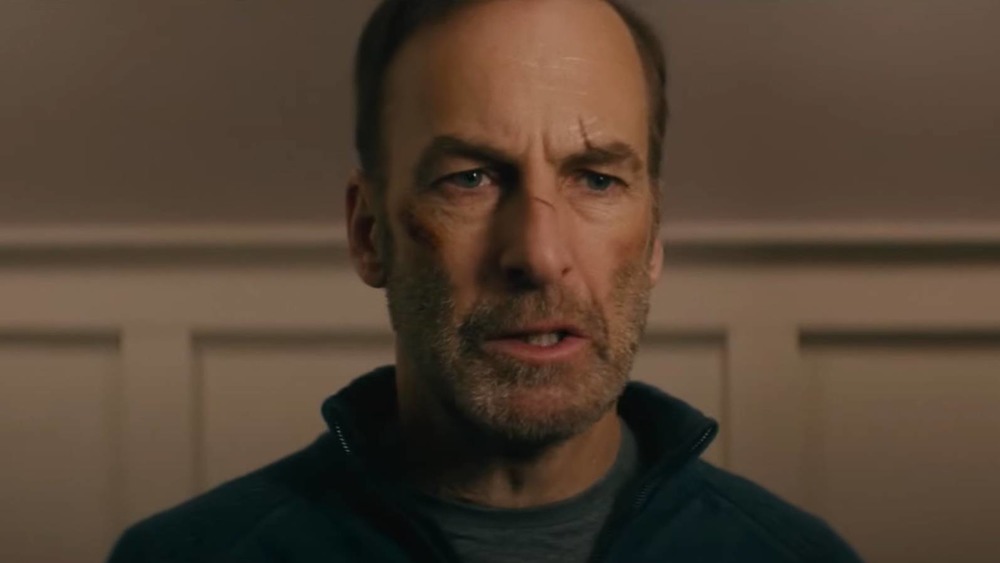 Universal Pictures
For many people, Bob Odenkirk is best known as criminal lawyer Saul Goodman on Breaking Bad and Better Call Saul. For other people, he's one half of the sketch comedy duo Mr. Show, and to a very few select people, he's the guy who shows up at the very end of Little Women to say, "My little women!" 
Now, Odenkirk is about to be completely reinvented as an action star in the upcoming film Nobody. 
While the movie was originally scheduled to come out in 2020, it was pushed back due to the COVID-19 pandemic. Luckily, it won't be long until we see Odenkirk kicking all sorts of butt now that the film has an official trailer, as well as a new 2021 release date. It's safe to say if you're a fan of John Wick, then you're going to dig this new tale of violence and vengeance, with some goofy sensibilities. 

What's the release date for Nobody?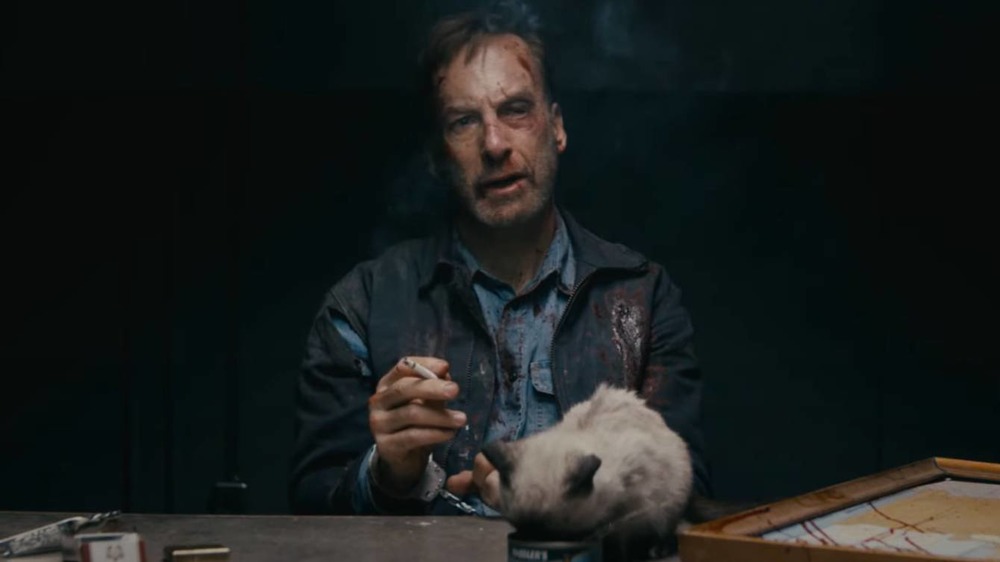 Universal Pictures
Nobody was originally supposed to come out in August of 2020 (via The Hollywood Reporter). However, due to the coronavirus pandemic shuttering most movie theaters in the United States, Universal decided to push back its release date. Now, the film's set to come out in theaters in February 2021. 
The release date announcement in the trailer is intriguing for including the phrase, "In theaters only." It comes on the heels of the news from Warner Bros. announcing the studio's entire 2021 slate will come out in theaters and on HBO Max simultaneously. The news has been met with massive amounts of controversy and a lot of disdain from Legendary Entertainment, as well as numerous actors, directors, and other creatives. For now, it appears as though Nobody will come exclusively to theaters first, before coming to any streaming services, so if you want to experience some Odenkirk carnage, you're going to have to make the trip, provided theaters are open to you by the time the movie comes out. 

Who's in the cast of Nobody?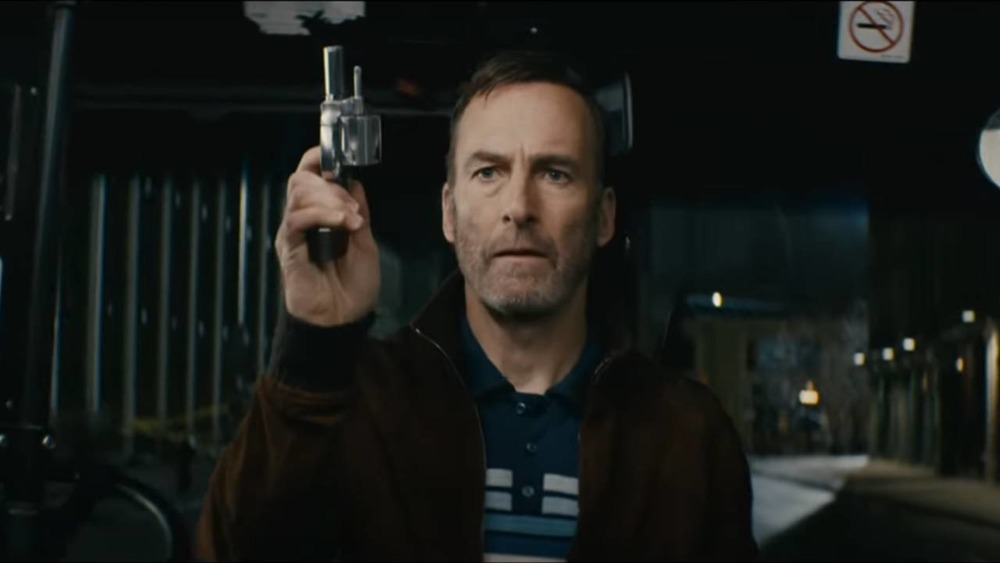 Universal Pictures
Bob Odenkirk stars as Hutch Mansell in the film, a mild man who's pushed to the limits of decency after criminals break into his home. By the looks of it, Hutch will essentially function as the movie's John Wick, someone who just wanted to be left alone but gets brought back into the life of crime that he had so desperately tried to escape. 
Connie Nielsen (Gladiator, Wonder Woman) plays his wife, Becca, while Christopher Lloyd (Back to the Future, Who Framed Roger Rabbit) plays Hutch's father. RZA (American Gangster, G.I. Joe: Retaliation) also makes an appearance in the film as Hutch's brother. While there's plenty of star power in front of the cameras, a well-known actor is also affiliated with the film behind-the-scenes: Tobey Maguire (Spider-Man, The Great Gatsby) serves as an executive producer for Nobody, along with Marc S. Fischer and Derek Kolstad, who also wrote the screenplay. 
What's the plot of Nobody?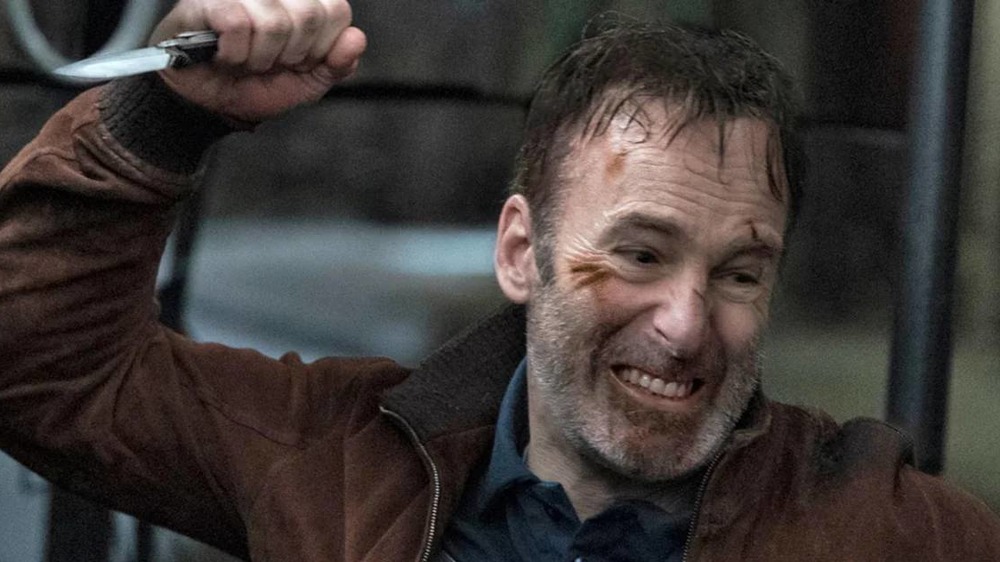 Universal Pictures
With a script from Derek Kolstad, who's also one of the creators off the John Wick franchise, audiences should expect plenty of violent mayhem that's not afraid to have a little fun with its depravity. As mentioned above, the plot kicks off when Hutch, a family man who suffers from post-traumatic stress disorder, encounters two thieves breaking into his home. He has an opportunity to take them out, but panics. Everyone learns about how he chickened out, causing his family members and neighbors to write him off as a "nobody."
Eventually, Hutch's neighbor is attacked by the same thieves, giving Hutch a chance to redeem himself, and in the process, he ends up killing the criminals. This makes him and his family the target of a vengeful drug lord. Now that an army is on his tail, Hutch has to spring into action, so that he can protect his family and ensure he's never viewed as a nobody ever again. 
The bloody trailer for Nobody is now online
With that kind of premise, you should go into this moving expecting plenty of action, and that's precisely what the trailer delivers. 
While there are definitely some humorous moments, such as Hutch yelling about his daughter's kitty bracelet to a thug, it's surprising how much it seems like Odenkirk will get the chance to show off his more dramatic side. Of course, anyone who's seen Better Call Saul, or Breaking Bad, can tell you how intense Odenkirk can get when the moment calls for it, but most people probably know him for his comedic chops in Mr. Show and other funny projects like Long Shot and Tim and Eric's Billion Dollar Movie. 
Not only does he have a quiet coolness to him in the trailer, but he also has ample fight scenes, which is, again, something we haven't really seen from Odenkirk so far. Perhaps Nobody will be the film that turns him into a bonafide action star much in the same way Liam Neeson started making action flicks after the success of Taken. In any case, if you're a fan of John Wick and Atomic Blonde, then chances are you're going to love Nobody. 
Get ready to see Odenkirk as you've never seen him before, when his next film comes to theaters on February 26, 2021.