Diego Luna Confirms Exciting News About Disney+'s Cassian Andor Series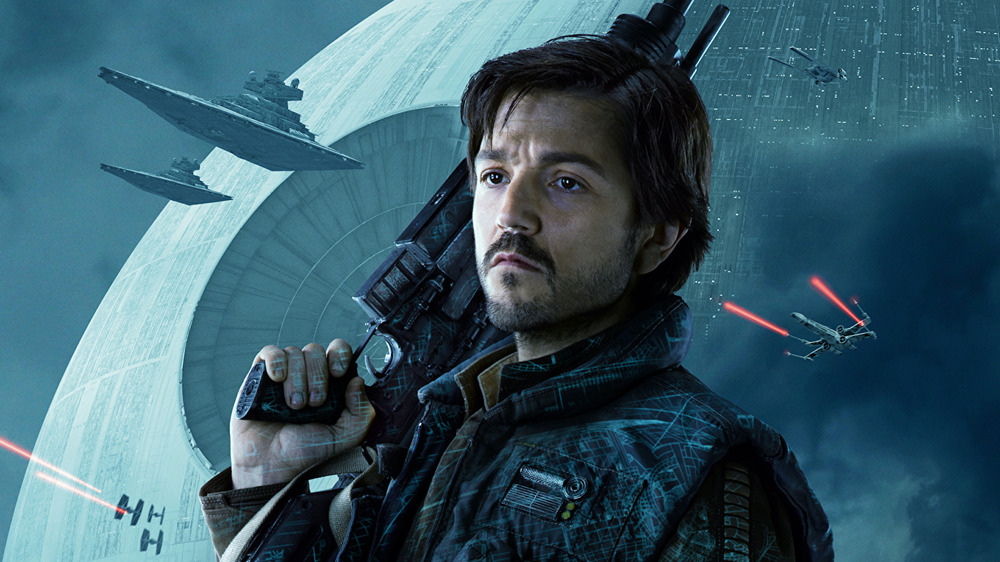 Disney/Lucasfilm
Cassian Andor news! We've got a news alert for the Disney+ Cassian Andor series here!
Series star Diego Luna recently spilled the beans that the long-awaited Star Wars streaming series has already begun filming on London sound stages. Luna dropped that nugget during a recent Jimmy Kimmel Live interview, telling the famed late-night host that he was indeed in London shooting "a tiny little short film with some friends." 
Luna was understandably reticent to talk details regarding that "short film," but Kimmel was quick to point out that the project was one with "Disney+ and Lucasfilm involved" – making clear that Luna is shooting the prequel series to 2016's Rogue One: A Star Wars Story. 
The new series was first announced in 2019 as one of several live-action Star Wars projects coming to the Mouse House's streaming platform, but fans have heard virtually nothing on the Cassian Andor front since — not even an official title. Given how the pandemic has effected film and television production globally, there was good reason to think the show wouldn't shoot until sometime in 2021, if at all.
It's genuinely surprising, then to learn the Rogue One prequel series is already in front of cameras. From the sound of it, it may be farther along in the filming process than anyone would've thought, as Luna shared later in the interview that he's fully expecting he and his family to be flying home to Mexico for the holiday season. And considering the current state of the world, we can't imagine Disney brass would be too keen on letting cast members embark on international flights in the middle of a shoot.
As it is, we may be seeing Cassian Andor's Star Wars return sooner than expected.
What to expect from the upcoming Cassian Andor Disney+ series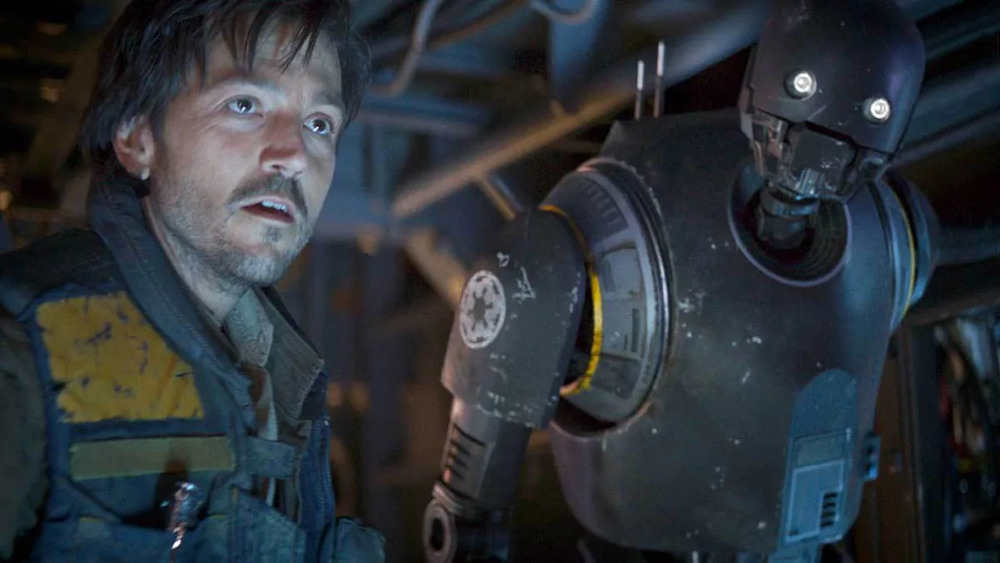 Disney/Lucasfilm
For his part, Luna kept his cool and managed not to spoil anything regarding the Rogue One prequel story. But after some intricate word play, Kimmel managed to place its timeframe in the vaunted Star Wars canon: it's a prequel to Rogue One, but not a sequel to the prequel series (Episodes I, II, and III). In the end, Luna put the matter to bed by stating, "It's everything you need to know to understand Rogue One."
That cryptic description doesn't add much to what we already know about the series, which will follow the adventures of Luna's Cassian Andor and his faithful droid K-2SO (voiced by Alan Tudyk) prior to their fateful actions in Rogue One. More succinctly, we'll get a look at what Cassian was up to before joining the Rebel Alliance, and likely experience his early days in the galactic trenches, facing off against the Empire's forces.
Rogue One was one of the most divisive Star Wars offerings of the Disney era, in part the result of an infamously troubled shoot. The one thing even Rogue One haters could agree on, however, was that Luna's roguish Rebel leader Cassian Andor was a welcome addition to the galaxy far, far away. As such, it only makes sense that if Disney and Lucasfilm wanted to revisit an aspect of Rogue One, it would be that character.
While we wait to find out what's ahead for Cassian, we do know he'll be joined on screen by the likes of Stellan Skarsgård, Denise Gough, Adria Arjona, and Star Wars Rebels vet Genevieve O'Reilly. 
Unfortunately, there's still no official release date for the prequel show, though it's expected to hit Disney+ sometime in late 2021.