The Reason Rob Lowe And Rashida Jones Left Parks And Recreation During Season 6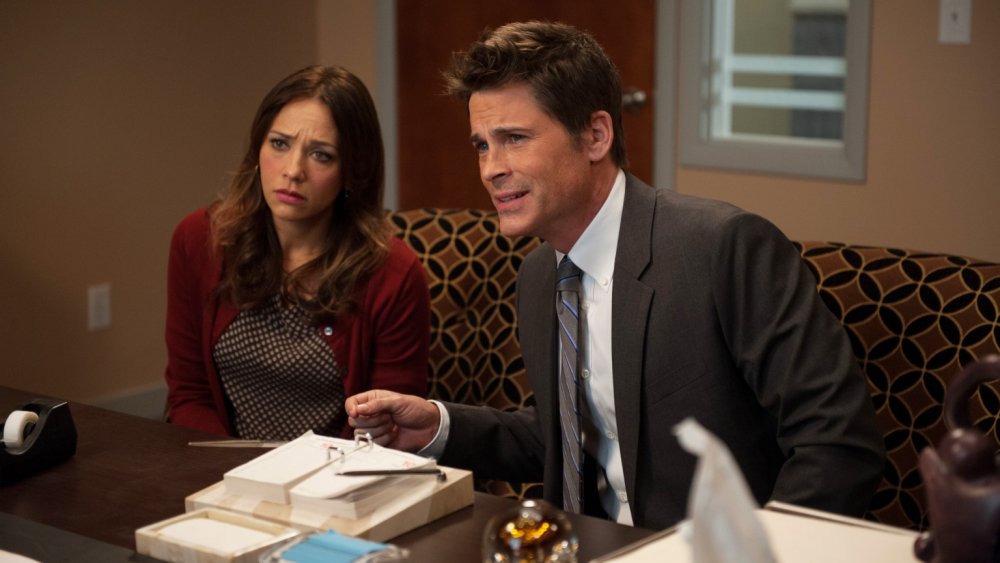 The sixth season of NBC's celebrated sitcom Parks and Recreation saw a number of changes, all of which set the stage for the time-skip that would be expanded on in the seventh and final season. Tom Haverford (Aziz Ansari) leaves the department and starts a restaurant business; Leslie Knope (Amy Poehler) becomes pregnant; and the long-rivaling towns of Pawnee and Eagleton merge into one municipality. And perhaps most devastating to Leslie and her friends, Ann Perkins and Chris Traeger announce that they are moving away from Pawnee to live in Ann Arbor, Michigan, where most of Ann's family resides.
Ann, played by Rashida Jones, was at the forefront of Parks and Rec from the beginning, quickly becoming Leslie's best friend (and receiving many odd, affection nicknames that Leslie created for her). Rob Lowe, the actor who played Chris, was so delighted to be part of Parks and Recreation during his original guest appearances on season 2 that he agreed to become a full-fledged member of the cast from there on out. Chris and Ann's up-and-down, will-they-won't-they relationship was a big pulling point for the series — and each of them individually were just as popular and entertaining as their co-stars. That said, it's not difficult to see why the departure of Jones and Lowe at the same time came as quite a surprise to fans when NBC made the announcement in mid-2013 while the sixth season was in development. 
So, what happened to cause Jones and Lowe to depart Parks and Recreation – and halfway through the season at that?
Gracefully written Parks and Recreation sendoffs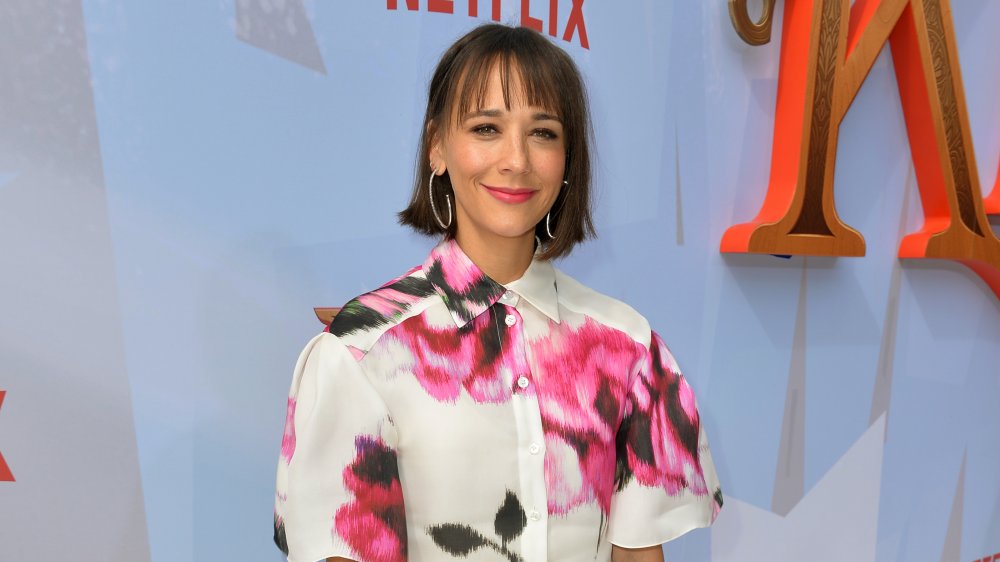 Jerod Harris/Getty Images
Normally, mid-season departures suggest that drama or some other disaster (like failed compensation negotiations between network and actor) has befallen production. That wasn't the case for either Jones or Lowe. In fact, press releases at the time put effort into explicitly explaining that there was no issue or acrimony, and that their exits were a mutually-beneficial confluence in the best way for actors and showrunners alike. Truthfully, Jones and Lowe's departures from Parks and Recreation were baked into season 6 from the moment they began planning it — for several reasons on everyone's behalf.
For the Parks and Rec showrunners, the simple fact was that they felt it was time for Chris and Ann to go. Ann approached Chris during season 5 about him becoming a sperm donor so she could have a baby without waiting for the perfect husband, for which she'd been searching since the series' inception. Chris accepted, perfectly willing to perform any necessarily biological duty and bow out once Ann said so. But once the on-again-off-again relationship turned on again — this time with the permanence of a baby involved — Ann and Chris found a genuine, stable relationship together. That is indeed a fairy tale ending like anybody would want.
Going into a season knowing you're writing characters out is the ideal place to be, even if it's sad to see them leave. It was especially important for Ann, because her character was a huge part of Leslie's presence on the show. Though by that time Leslie had married Ben Wyatt (Adam Scott), a girl still needs her bestie. Taking the time from the outset of Parks and Recreation season 6 to present the conflict in Ann leaving and then allowing Leslie to work through her preemptive grief isn't just satisfying — it's necessary. Good writing isn't only about the simple fact of a plot twist, but also about presenting the challenge and processing its effects competently. No one worried too much when Mark Mark Brendanawicz (Paul Schneider) left on season 2 because he was nowhere near as critical to the plot — and specifically Leslie's characterization — but Ann is a whole other barrel of very emotionally-important fish. 
The hard facts of being an actor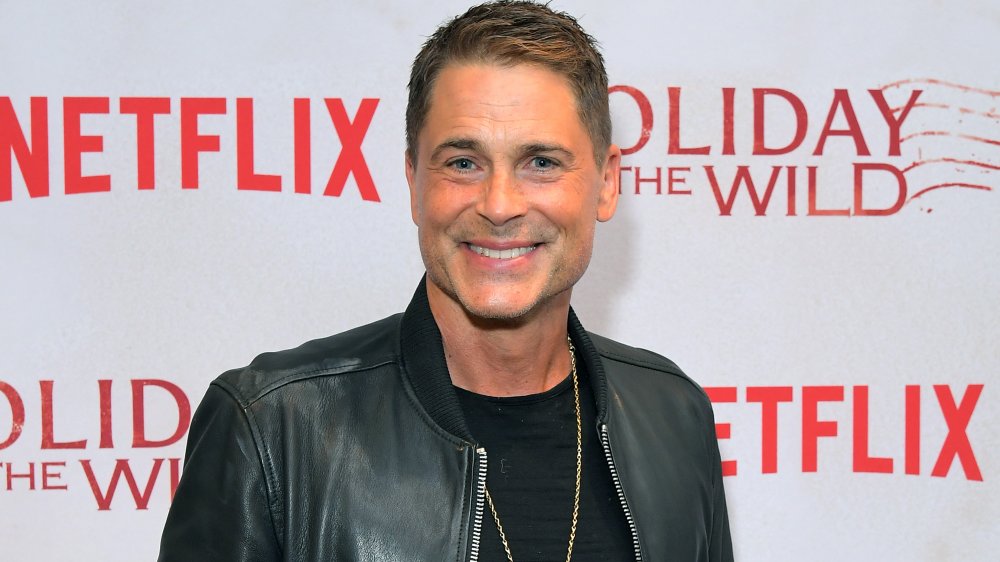 Charley Gallay/Getty Images
So, if the fairy tale is complete, why should Ann and Chris leave Pawnee, where all their friends are? 
As is often the case, the actors' real lives presented opportunities that demanded too much time and bandwidth to stay on Parks and Recreation, even in a more limited capacity. Rashida Jones had decided to shift away from acting and settle more into writing and producing. Before she officially left Parks and Rec, she had signed onto a deal for Warner Bros. with a screenwriting partner for a project that was unnamed at the time. It eventually emerged as the TV series A to Z. That trend of writing and producing continues now (though Jones has picked up a few film roles and voice acting gigs here and there), as she is executive producer for the nail salon crime drama Claws. Last year, alongside Alan Hicks, Jones wrote and directed Quincy – a documentary about her father, the famous musician Quincy Jones.
Parks and Recreation made the careers of several cast members, but that's less true for Rob Lowe — he already had a very successful career and household-name status from both television and film when he began his guest appearances on the show. This was part of the reason he was initially just a guest star; anyone who's already a household name is supposed to draw new attention to a show without necessarily nailing the actor down and taking them away from looking for other projects. For Lowe to have fostered such a great relationship with production that he voluntarily wished to return and continue each season is a huge win for a series like Parks and Rec, which during its third season was only beginning to become the instantly recognizable institution of television as we know it today.
Lowe had less immediate real-life reason to depart than Jones, but his presence on Parks and Rec was always a little more conditional than everyone else's. It wouldn't make sense to keep Chris in Pawnee and not Ann after all the narrative effort made to craft a real and permanent romantic arc for them, anyway. He chose to be there and return in an expanded role, and since the script permitted a graceful place to bow out, Lowe took the opportunity to seek other new projects. That's the job, no matter how much an individual role is enjoyed by any given actor. Since wrapping on Parks and Rec in 2014, Lowe has had no shortage of television work. As of 2019, Lowe has been cast as the lead for the recent spinoff series 9-1-1: Lone Star on Fox, so expect to see him again very soon — though as a character whose far less into protein shakes, herbal supplements, working out, and "literally" anything that can make him become a superior human being.