Here's Tom Cruise On The Set Of Mission: Impossible 7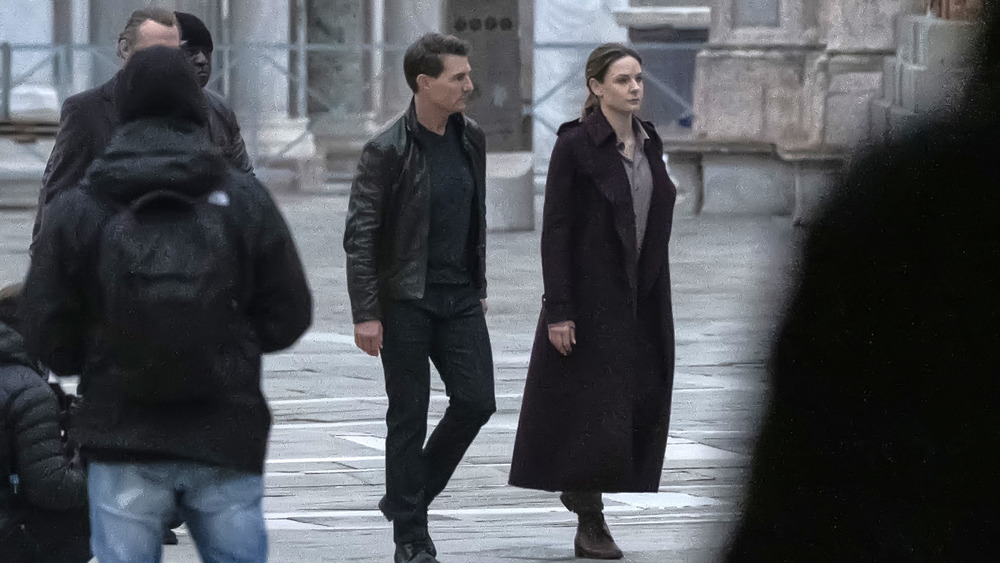 Stefano Mazzola/awakening/Getty Images
It looks like Ethan Hunt is back in action, as revealed in a slew of behind-the-scenes photos from the set of Mission: Impossible 7.
The production has been riddled with stops and starts pretty much since cameras first started rolling. Much like just about every other shoot in Hollywood, production had to be suspended in the face of the COVID-19 pandemic. Additionally, a motorcycle stunt went wrong back in August of 2020, which delayed things even further. Fortunately, no major injuries were sustained in the accident. 
By all accounts, it seems like director Christopher McQuarrie and the rest of the cast and crew of Mission: Impossible 7 are back in the saddle again for the upcoming sequel. Franchise mainstays like Tom Cruise, Simon Pegg, Ving Rhames, Rebecca Ferguson, Henry Czern, and Vanessa Kirby are returning, and they'll be joined by some new faces, including Hayley Atwell, Pom Klementieff, Esai Morales, and Shea Whigham.
While the most recent batch of set photos don't reveal much in terms of plot (or who the new cast members will be playing), it's just nice to see Cruise looking suave as ever. 
The photos show a walking scene between Cruise and Ferguson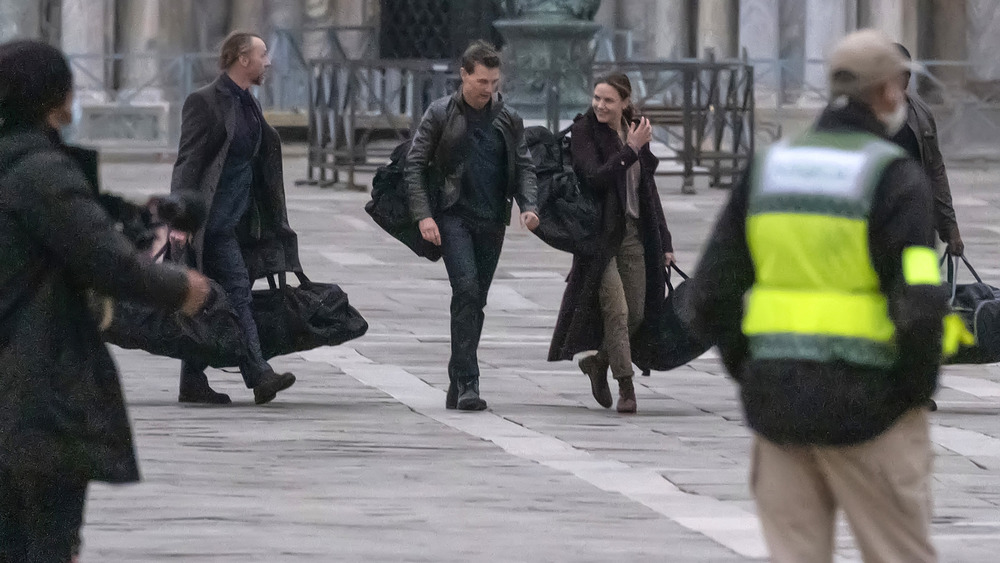 Stefano Mazzola/awakening/Getty Images
Details are sparse concerning the plot of Mission: Impossible 7. While we can surmise that it follows Ethan Hunt (Cruise) going on another globe-trotting adventure filled with death-defying stunts, we'll have to wait until a trailer comes out to know what's really going on this time around. One thing we do know is that McQuarrie is filming two Mission: Impossible movies back-to-back.
For now, we have these set photos depicting Ethan walking with Ilsa Faust (Ferguson). In the second photo, Benji Dunn (Pegg) walks into the scene carrying two duffle bags. If you look closely enough, you can also see Luther Stickell (Rhames) barely visible behind a crew member, also with at least one duffle bag in tow. It's a lot of bags, and no doubt it contains all the gear the team is going to need to pull off whatever intricate plan they have in mind. 
While there's not a ton of plot details to glean from these photos, they're still a good way to assuage fans that Mission: Impossible is back up and running with the crew members wearing masks and following social distancing protocols so that the films can safely meet their projected release dates. We'll have to wait until Mission: Impossible 7 is released on November 19, 2021 to see how these photos factor into the film as a whole.