Bad News Just Dropped For Mission: Impossible 7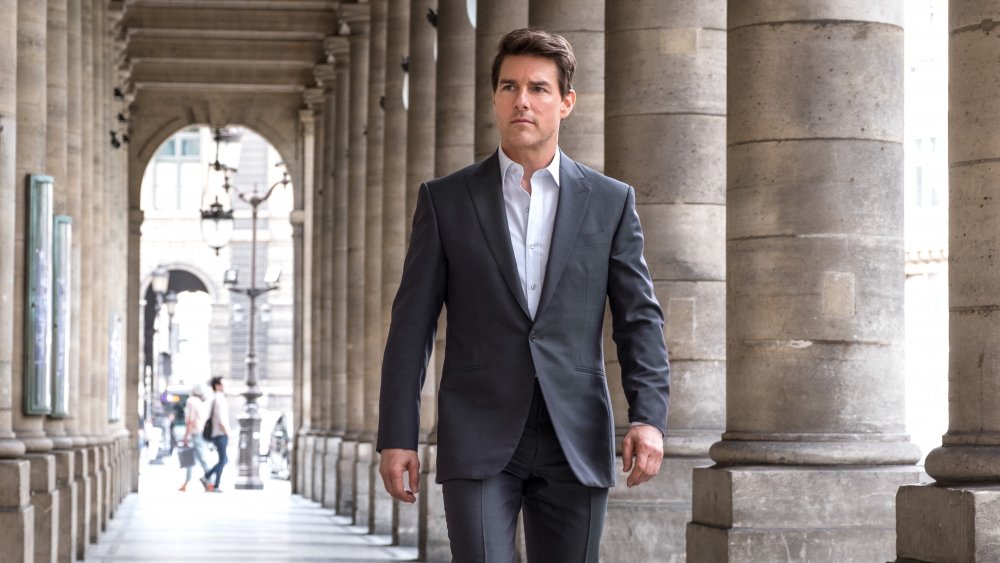 Paramount Pictures
The COVID-19 pandemic has claimed another cinematic project, making it impossible to see the latest installment of Tom Cruise's blockbuster Mission: Impossible series on schedule. 
Paramount has officially pushed back the release date of Mission: Impossible VII as it realigns its entire 2020 calendar amid the global crisis. The film, which stars Cruise, Simon Pegg, and other past M:I franchise actors like Rebecca Ferguson (Mission: Impossible — Rogue Nation), Vanessa Kirby (Mission: Impossible — Fallout), and Henry Czerny (Mission: Impossible), will now make its explosive theatrical debut on November 19, 2021. That's four months after the studio's original release date of July 23, 2021, which it had publicly set back in February 2019. 
Unlike many of the other release delays that have resulted from SARS-CoV2 shutting down economies around the world, Mission: Impossible 7's might look odd. Its release was set for the summer of 2021, not a 2020 season that has seen delays in all but a handful of expected releases. The push aligns with the numerous reports of major studios delaying releases on many projects and halting productions on others, particularly those filming in Europe. The latest chapter in the Mission: Impossible action franchise was shooting in Venice, and Italy was one of the countries hardest hit by the pandemic in the early months of its spread, when Paramount paused filming. 
Unsurprisingly, this has also affected Mission: Impossible 8, which was slated to hit theaters on August 5, 2022. It has since been bumped from that year's summer schedule and given a new release date of November 4, 2022, instead. Fallout helmer Christopher McQuarrie will direct the seventh and yet-to-be-filmed eighth chapters in Ethan Hunt's never-ending cycle of impossible missions.
Mission: Impossible's mission: Find an open summer 2021 release window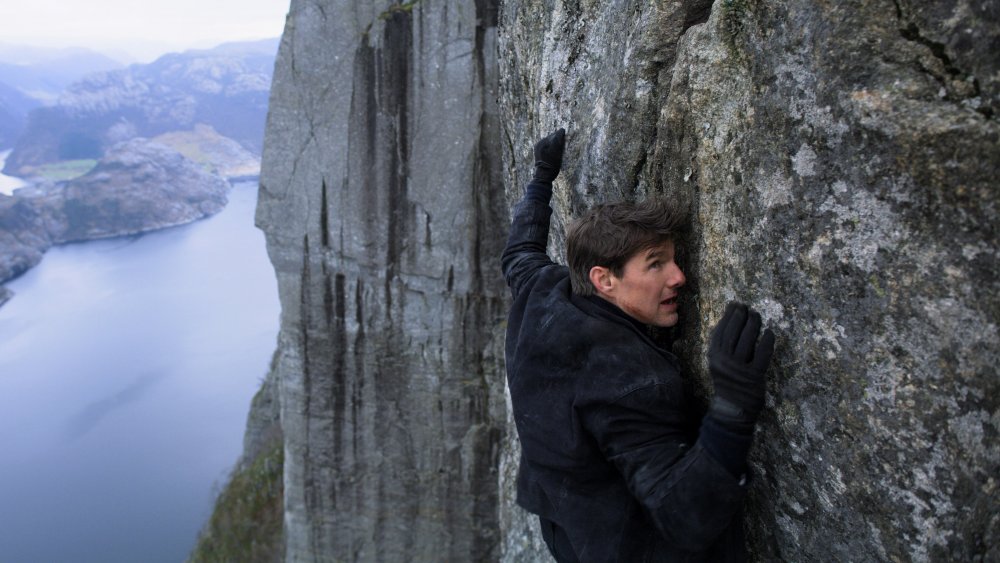 Paramount Pictures
While the studio hasn't commented on the decision, the release delay could also be a result of a now extra-crowded 2021 summer release schedule.
As studios scramble to adjust to an increasingly small release window, they've had to make significant changes to their schedules. Some have outright pulled titles or offered them as view-at-home releases, dropped others, and given new dates for later theatrical runs to many more of their most-anticipated 2020 films. With summer being such a prime season for moviegoing, that's made the already crowded 2021 release schedule suffocating and highly competitive.
That seems like it might be true in the case of M:I 7, which wasn't the only film Paramount shuffled around. The studio's horror thriller Spell was scheduled for an August 28, 2020 release, but was taken off the calendar completely, while the Chris Pratt-led, Chris McKay-directed military science-fiction film The Tomorrow War has taken the Tom Cruise effort's original July 23 date. The delay of Mission: Impossible VII from summer to the Thanksgiving movie season in 2021 may be an effort to stave off any potential box office losses. Still, in light of what's taking its place on the 2021 calendar, its shift to November — another prime movie-going season — could also be about the franchise's proven box office staying power. 
Though fans will have to wait for the latest chapter in the Mission: Impossible franchise, they probably won't be disappointed. Following 2018's much-loved Mission: Impossible — Fallout, the new and so-far-untitled seventh chapter has added Marvel stars like Hayley Atwell (Captain America: The First Avenger) and Pom Klementieff (Guardians of the Galaxy Vol.2), as well as Joker and Fast & Furious 6 star Shea Whigham and X-Men series alum Nicholas Hoult, to its cast. Its all-star lineup, coupled with the franchise's trademark jaw-dropping stunts and near-perfect action, could mean that M:I 7 will be worth the wait.