Mission: Impossible 7 Set Photos Are Quite Revealing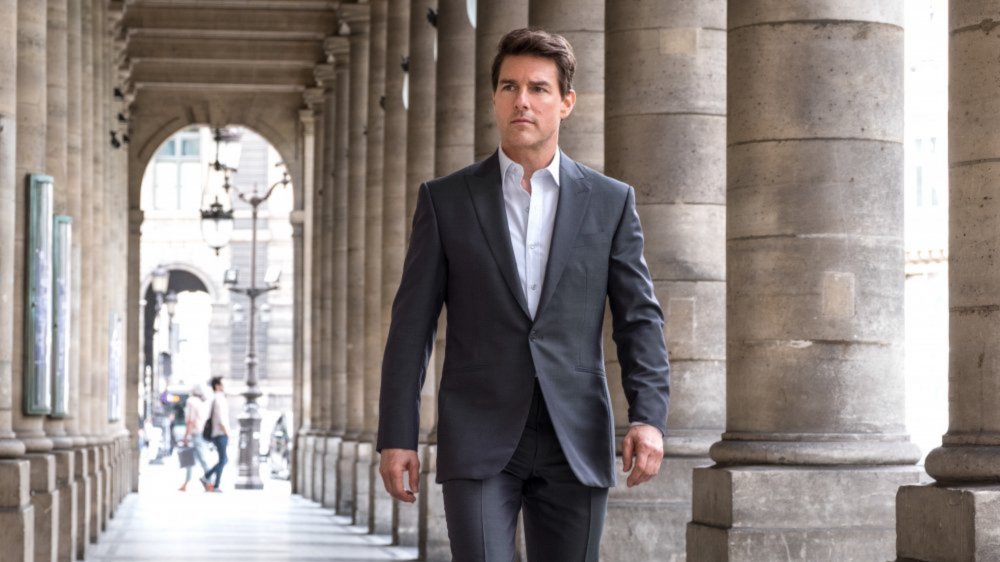 Paramount Pictures
Ethan Hunt is back in action after COVID-19 shut down production on Mission: Impossible 7, and that can only mean one thing: there are new photos of Tom Cruise on the M:I7 set to peruse for clues. With filming currently underway in Europe, Cruise and his co-stars, including Marvel alum Hayley Atwell, have been busy filming wild stunts like car crashes and a scene that takes place on top of a moving train, according to CinemaBlend.
The latest set photos don't include anything quite as thrilling as seeing Cruise jovially wave at the camera while clinging on to a speeding train, but they do offer up a few details about what moviegoers can expect when M:I7 hits theaters on November 19, 2021. So far, the movie's plot has largely been kept under wraps, but it has been revealed that Cruise and Atwell will be joined by returning co-stars Simon Pegg, Rebecca Ferguson, Vanessa Kirby, and surprisingly, Henry Czern — whose IMF boss Kittridge hasn't been seen since the first film. The movie is also adding new faces to the franchise, including Shea Whigham, Esai Morales, and Pom Klementieff.
Sadly, none of those stars appear in the photos from the movie's shoot in Italy, but Cruise rocking his most dapper gray suit more than makes up for the lack of major spoilers.
Tom Cruise is suited up as Ethan Hunt in the new Mission: Impossible 7 set photos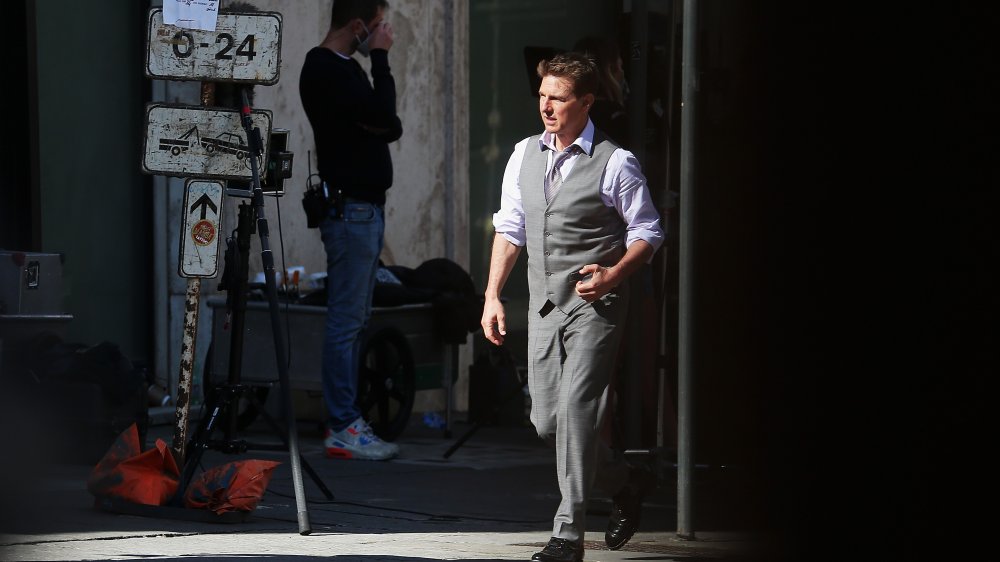 Ernesto Ruscio/Getty Images
In the first set photo, Cruise is wearing a tailored gray suit that suggests Ethan will continue to rival James Bond in the style department. The actor's look doesn't give away any clues, but he does appear to be wearing the same outfit that he was wearing while filming a car crash scene with Atwell in Rome. Video of that scene made its way online courtesy of the Associated Press, and it featured Atwell's currently unnamed character looking dazed as Ethan helps her from the driver's seat of her crashed car.
It stands to reason that Cruise is filming scenes either leading up to that moment or following it in these pictures, since his style is the same. Additionally, a weather-beaten road sign can be spotted behind him, which seems to be advising that vehicles will be towed. Given that the next two photos both picture Cruise in a tiny yellow Fiat, it looks like Hunt will be forced to trade in his flashy cars for something a little less likely to stand out in a crowd.
Ethan Hunt finds himself in a yellow Fiat in Mission: Impossible 7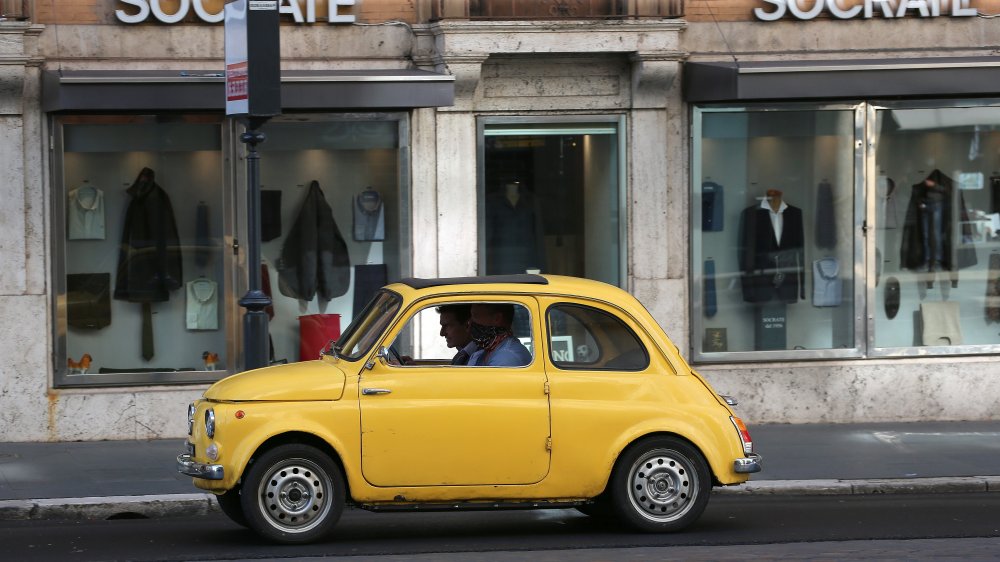 Ernesto Ruscio/Getty Images
As reported by The Daily Mail, Cruise and Atwell have been doing quite a bit of filming in a yellow Fiat on the streets of Rome. It seems that after Atwell's character crashes in a BMW, the two end up in the small European auto for a while. It's unclear how the car comes into play, but don't be surprised if Ethan ends up commandeering it from an unexpecting passerby so that he and Atwell's character can make a quick getaway.
Without plot details, it's hard to know how Atwell will be involved with Ethan and his team, but if the photos obtained by The Daily Mail, as well as these new images of Cruise trading in the BMW for a Fiat, are any indication, she's found herself in the kind of trouble that only a team of spies can help her out of. In a May episode of the Light the Fuse podcast, director Christopher McQuarrie revealed that Atwell's character wouldn't be like any of the women who previously appeared in the franchise, and he teased that viewers will be left questioning whose side she's truly on right until the end. "There's ambiguity... the interesting thing we're exploring is her resistance to a situation she finds herself in," he said, per Collider. "How she starts off, where she becomes. The journey of what she comes into and what is asked of her and potentially where she ends up."
One thing is clear: the situation between her and Ethan is going to be intense. Thanks to that Fiat, they'll be sizing each other up in close quarters — at least until Ethan can find something a bit more befitting a spy of his stature.