Upcoming Tom Holland Movies: What's The Spider-Man Actor Doing Next?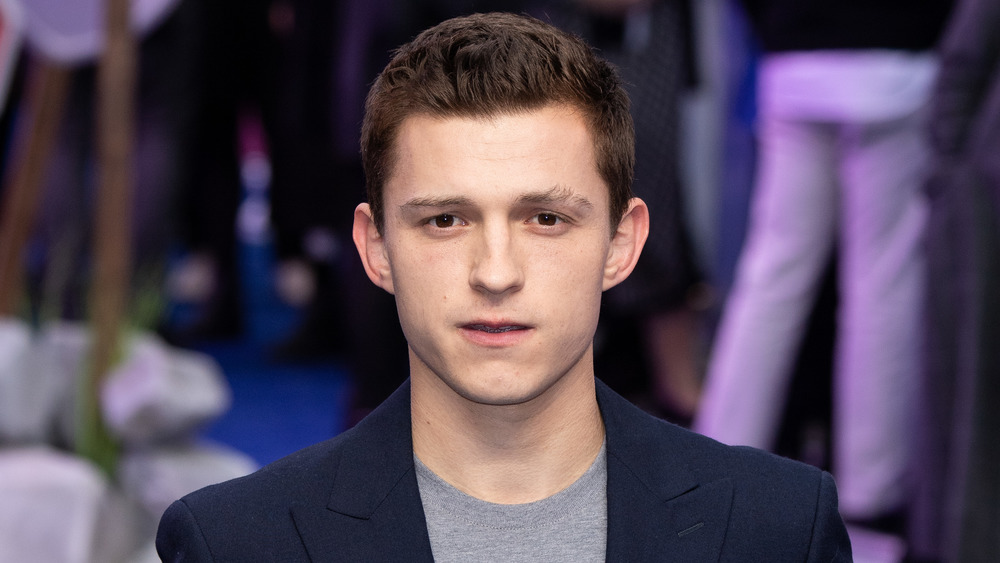 Jeff Spicer/Getty Images
With everyone hunkered down at home amid the COVID-19 pandemic, we've all been spending more and more time on social media, keeping tabs on our favorite celebrities. There's been no shortage of delightful content from stars like Chris Evans, who's love of posting sweet photos of his furry bud Dodger had everyone smiling, and Tom Holland, 
whose timeline seems to be the gift that keeps on giving.
From Holland's charming personal reveals — like that time he purchased live chickens to raise after growing tired of his local market not having eggs, and that other time he released that video of himself patiently ushering a pigeon out of his house – it's clear the British actor has remained preoccupied at home. Holland has kept busy professionally as well, recently revealing the first image from his upcoming film Uncharted and announcing production on the next Spider-Man movie has begun. (Who else has that photo of him in the Spidey suit wearing a mask set as their phone background?)
A quick glimpse at Holland's IMDb page proves he'll be even busier in the near future, with a bevy of new projects on the way.
Chaos Walking and Uncharted have been long overdue
Chaos Walking, which stars Holland opposite Daisy Ridley, is a dystopian sci-fi film about a world with no women where everyone can hear each other's thoughts through a collection of sounds, images, and words called Noise. Holland's character Todd Hewitt comes across a woman named Viola Eade (Ridley), whose thoughts he can't hear and who may be the key to uncovering the secrets of the New World.
The film was originally slated to premiere on March 1, 2019 but endured many behind-the-scenes issues that delayed its release for several years. Robert Zemekis originally signed on to direct in 2013, but dropped out; Doug Liman stepped in to replace him in 2016. After assembling an all-star cast that also included Mads Mikkelsen, Demián Bichir, Kurt Sutter, Nick Jonas, David Oyelowo, and Cynthia Erivo, filming began in August 2017 and wrapped that November. 
However, a first cut of Chaos Walking was deemed "unreleasable" by Lionsgate executives, and reshoots were planned for April 2018. However, reshoots didn't begin until the following year due to Holland and Ridley's packed schedules — Holland took on the Spider-Man films while Ridley starred in the Star Wars sequels. Reshoots wrapped in May 2020, costing the studio an additional $15 million (via Deadline), and now the film is set for release on January 22, 2021.
Holland is also due to star as Nathan Drake in Uncharted, an upcoming action-adventure film based on the game franchise of the same name. Directed by Ruben Fleischer, who also helmed Zombieland and its sequel Zombieland: Double Tap, Uncharted also spent years in development. Producer Avi Arad revealed to Kotaku way back in 2008 that he was adapting the hit video games into a feature. In 2010, Silver Linings Playbook and American Hustle director David O. Russell signed on to help the film and Mark Wahlberg confirmed he was in talks to star. However, Russell dropped out and the project subsequently saw a revolving door of names attached to direct, including Free Guy's Shawn Levy and Bumblebee's Travis Knight. Venom's Ruben Fleischer will now direct, and Wahlberg will play Nate's mentor Victor "Sully" Sullivan. 
The film, which also stars Antonio Banderas and Grey's Anatomy alum Sophia Ali, is scheduled for release July 16, 2021. Holland unveiled the first look at his character Nathan Drake via Instagram on October 22, writing, "It's nice to meet you, I'm Nate."
Cherry and the upcoming Spider-Man sequel will be something to remember
Cherry is a crime drama about an army veteran suffering from PTSD who is addicted to opiods and begins robbing banks to pay off his heavy debt. Based on Nico Walker's novel of the same name, the film reunites Holland with Avengers directors Joe and Anthony Russo, who direct and produce Cherry.
Back in April 2020, Joe Russo touted Holland's performance as award worthy.
"I think he's exceptional in the movie, honestly. I think it's an Oscar-worthy performance out of him. He is shredding himself, physically and emotionally," he told Collider. "He's so compulsively watchable on-screen. When you're playing a character that goes to that level of depravity, to have someone as inherently likable as Tom playing that character, so that you continue to root for them no matter what horrible choices they make, it's invaluable. I think it really changes the entire presentation of the movie for an audience. I can't say enough about it. I'm just really blown away by him in the film."
The film is scheduled for release sometime in 2021 on Apple+.
Perhaps the most anticipated Holland film is the currently untitled Spider-Man: Far From Home sequel, scheduled for release on November 5, 2021. Jon Watts will return as director; returning stars include Zendaya as MJ, Jacob Batalon as Ned, and Marisa Tomei as Aunt May. No word yet on the plot, but we do know that Jamie Foxx is set to play Max Dillon, aka Electro in Spider-Man 3. Foxx previously portrayed the character in 2014's The Amazing Spider-Man 2, which starred Andrew Garfield as the titular hero. Marvel fans will be thrilled to know that Benedict Cumberbatch will also appear as Doctor Strange.
In early November 2020, Holland unveiled the first image of Spider-Man back in action, while also encouraging everyone to wear a mask. "Wear a mask, I'm wearing two," Holland wrote on Instagram.
While details on the project remain scarce, we're looking forward to seeing what Peter Parker and the rest of the gang have in store this time around.