Get A Look At Tom Holland And Nolan North On The Uncharted Set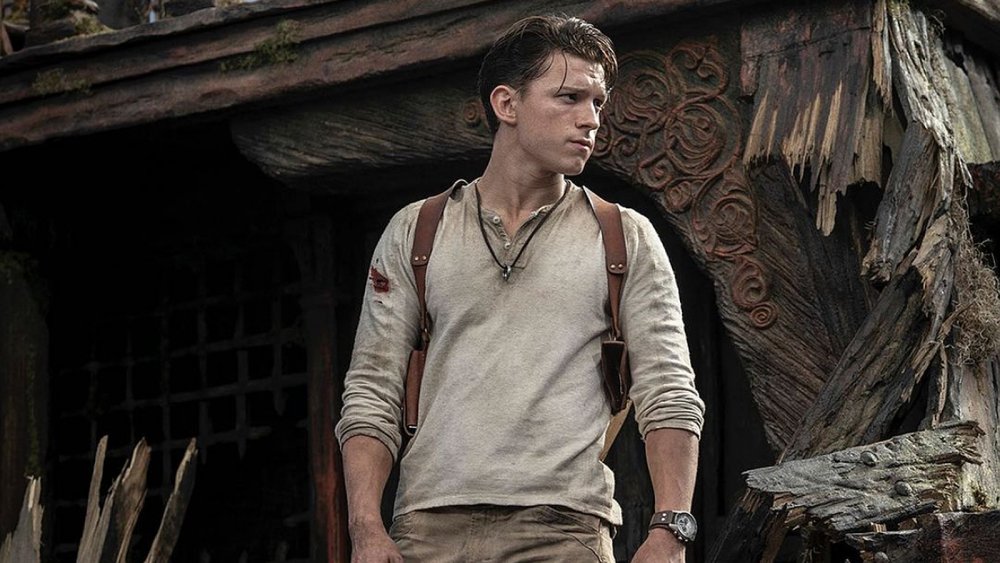 Sony Pictures Releasing
Naughty Dog's Uncharted games have been a part of the Sony Playstation library since 2007. The series follows treasure hunter Nathan Drake as he globetrots, fights off enemies, and — let's face it — does a lot of parkour. Drake is basically Indiana Jones meets Lara Croft, so his games have been a massive hit right from the start to the surprise of exactly no one.
Thus far, Uncharted has been hugely successful on every level, except one: making the transition to the big screen. As far back as 2008, attempts were made to develop a film adaptation of Uncharted with fits and starts. We've seen so many names attached to the project for the lead roles — Nathan Fillion, Mark Wahlberg, and Chris Pratt, to name a few big ones.
Finally, in May 2017, Tom Holland was formally cast as Nathan Drake, and among the fandom there was much rejoicing. While there have been set backs to the film between then and now, we finally have photo proof that an Uncharted movie is really happening. And to let us know it's being done right, we've got a picture of Holland with the original Nathan Drake: Nolan North
Two Nathan Drakes are better than one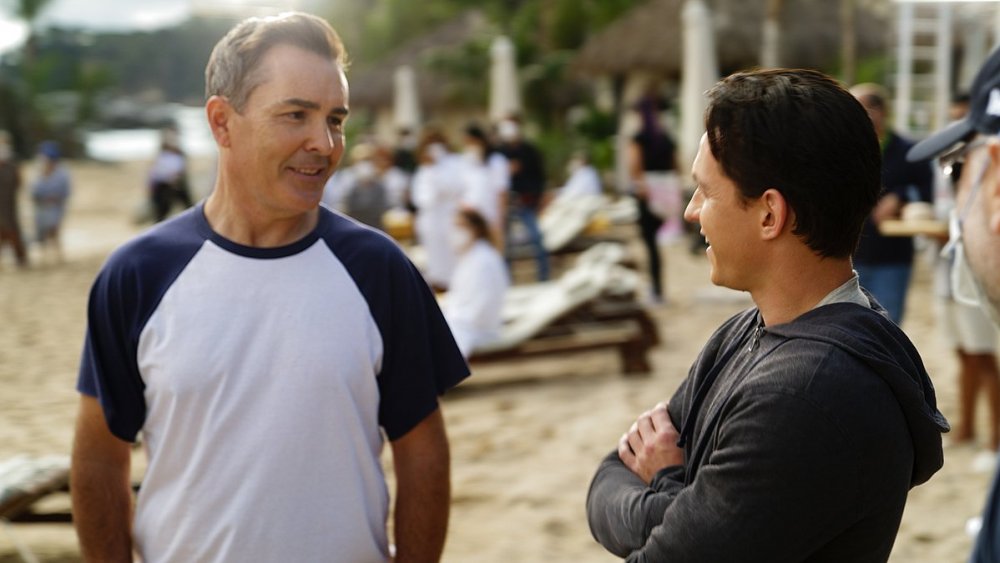 Sony Pictures Releasing
Nolan North is one of the most prolific actors doing voice work today. He's Tony Stark in Marvel's Avengers. He's Ghost in Destiny. He is Nathan Drake in the Uncharted games. Whomever wound up playing Drake in film, they were always going to be compared to North.
Thankfully for Tom Holland, one of the first on-set images of Uncharted shows him having a conversation with North, clearly getting a first-rate education in all things Nathan Drake. The way both actors are smiling in the still hopefully let's fans feel as though there's a kind of peaceful transition of power happening.
The Uncharted film will act as a prequel to the games with Mark Wahlberg joining Holland as Drake's long-time friend and companion Victor Sullivan. In addition to the image of Holland and North, fans were also treated to two additional images and a hint of where the film's story might go in the form of a Magellan quote: "Meet the shadowy future without fear and conquer the unknown."
In addition to the behind-the-scenes image of Holland and North together, Tom Holland himself took to Instagram to reveal a picture of himself in full Nathan Drake attire. Interestingly for Holland fans specifically, the Uncharted film is currently slated for release on July 16, 2021, taking over the spot originally held by the as-yet-untitled sequel to Spider-Man: Far From Home. So while we may be waiting a little while longer for more Tom Holland Spider-Man, it looks like we'll be seeing him leaping across buildings anyway, thanks to Uncharted.