Nicolas Cage Will Fight Alien Invaders In His Newest Movie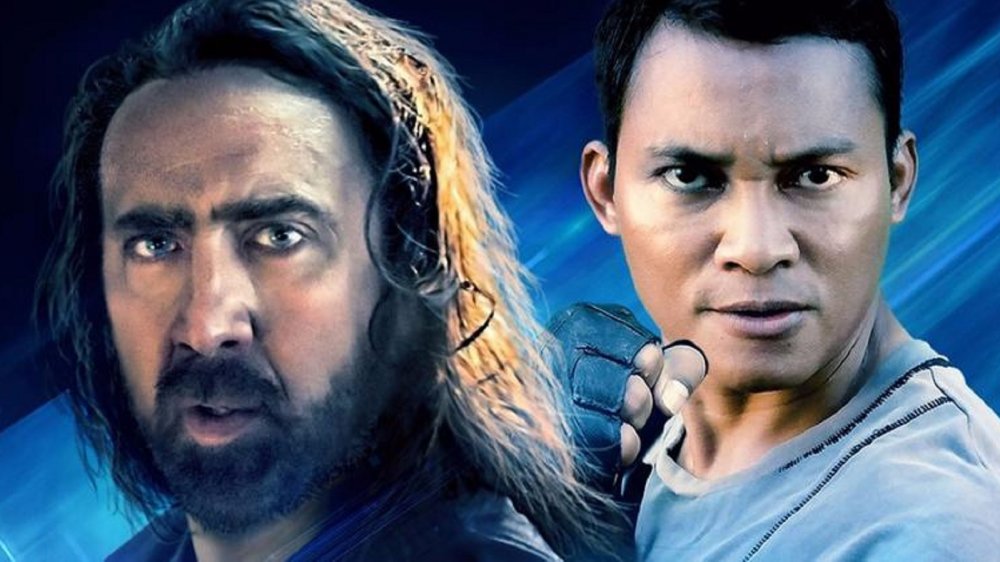 The Avenue Entertainment
Would you like to watch a movie in which Nicolas Cage kicks aliens in the face? We've got good news for you.
Financier Highland Film Group has just released the first poster for its upcoming science-fiction-martial-arts mashup Jiu Jitsu, and it's a thing of wonder. The film, which sounds completely insane in the best possible way, comes from writer-director Dimitri Logothetis, who's responsible for 2016's Kickboxer: Vengeance and 2018's Kickboxer: Retaliation, two must-watches for fans of bonkers B-movies.
The plot of Jiu Jitsu demands that the film simply be handed all of the Academy Awards right now, and we'll get to that in a moment. First, though, feast your eyes on the poster.
We know what you're thinking: "Is that Tony Jaa, star of Furious 7 and one of the coolest martial artists in the world?" Yes, it sure is. "And is that Frank Grillo, star of Captain America: The Winter Soldier and one of the most awesome tough-guy actors alive?" Yep, you've got that right. "Isn't jiu-jitsu a Brazilian martial art? Why is Cage holding a katana, which is a Japanese samurai sword?" Well, technically, Brazilian jiu-jitsu is derived from the traditional Japanese art of Jujutsu, which was indeed developed for the samurai (via Century Martial Arts). You've got questions, we've got answers.
Aside from its '90s aesthetic, perhaps the most notable thing about this poster is that the film's ostensible star isn't actually on it. The lead actor of Jiu Jitsu is Alain Moussi, who starred in both of Logothetis' Kickboxer movies (in a role originated by Jean-Claude Van Damme, who appears in the newer movies as a different character). Moussi is an awesome stunt performer and martial artist in his own right. His list of stunt credits is a mile long, and onscreen, he's mixed it up with Dave Bautista (in Kickboxer: Vengeance)  and Mike Tyson (in Kickboxer: Retaliation). Oh, and remember that incredible brawl between Robin and Batman near the end of Titans' first season? Moussi was one of two stunt performers under the Dark Knight's cowl (via Digital Spy).
Jiu Jitsu should be a slice of B-movie heaven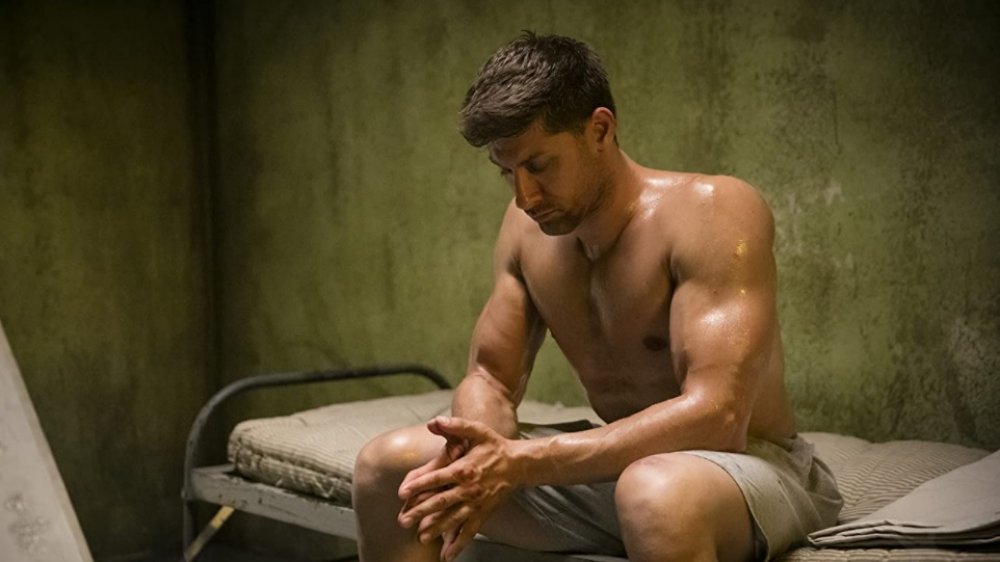 Well Go USA Entertainment
In Jiu Jitsu, Moussi stars as Jake Barnes, a soldier and master of the titular art. He also happens to be a member of an ancient order of jiu-jitsu fighters who, every six years, must face off against alien invaders in a sort of Mortal Kombat-style tournament, in which the fate of the Earth hangs in the balance.
When Jake is injured and stricken with amnesia, the military captures him and ropes him into fighting the alien leader — but before the contest can take place, an alien offensive wipes out the military squad. Enter the master of jiu-jitsu Wylie (Cage) and his not-so-merry band of fighters, who rescue Jake with the intent to help him restore his memory, brush up on his skills, and defeat the alien leader in what promises to be one of the craziest martial arts bouts ever put to film (via MovieWeb).

In a statement, Logothetis didn't hold back in pumping up his film. "After we successfully reintroduced the Kickboxer franchise to a new generation of martial arts fans with the sixth and seventh entries in the series, we set out to up the ante with a sci-fi martial arts franchise that could bring the same kind of intensity and longevity to a new arena," the director said. "Jiu Jitsu is guaranteed to satisfy the millions of martial arts and science fiction lovers across the globe with world class martial artists, [and] stunt men go-to expert Alain Moussi joining superstar Nicolas Cage for some formidable, no-holds-barred fight sequences set in exotic Burma."
It's been a long year, and everyone can probably agree that Jiu Jitsu sounds like nothing less than the perfect movie to help see 2020 out the door. The flick will receive a limited release in theaters — and also drop on digital platforms — on November 20, 2020.