What It Was Really Like Working With Mike Tyson For Shark Week's Tyson Vs. Jaws - Exclusive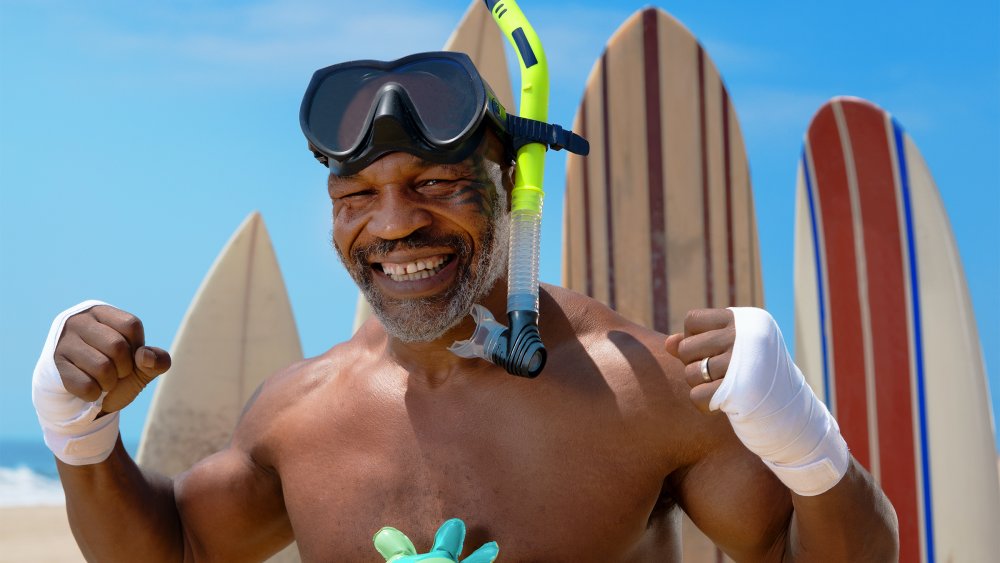 Discovery Channel
Tracy Morgan once said to "live every week like it's Shark Week," and few have embodied his 30 Rock character's advice like Mike Tyson. The hall of fame heavyweight — with 44 knockouts in his professional career — takes on his biggest opponent yet in Tyson vs. Jaws: Rumble on the Reef, a Shark Week special airing on the Discovery Channel on Sunday, August 9.
In a statement, "Iron" Mike said the experience helped him overcome his fear, in preparation for his much-celebrated return to boxing. "I took on this challenger to overcome fears I still deal with in life," Tyson stated (via Buffalo News). "I equate this with overcoming my fear of getting back into the ring at 54 years old. I learned from this experience doing Shark Week that whatever intimidates me, I am still able to step up to the challenge of overcoming anything that would prevent me from accomplishing my life's mission of reaching my highest potential in life and bringing me closer to God."
While the details of how the man-versus-shark "bout" will play out are yet to be seen (Discovery assured audiences that no sharks were harmed while making the episode), the action will be called by legendary ring announcer Michael Buffer.
Tyson's underwater cornerman of sorts for Shark Week was dive instructor Paul de Gelder — who, in an exclusive interview with Looper, revealed how the one-time "Kid Dynamite" was so stressed about meeting the apex predator, he threw up. Here's what it was really like working with Mike Tyson for Shark Week's Tyson vs. Jaws.
What made Paul De Gelder THE shark expert to train Mike Tyson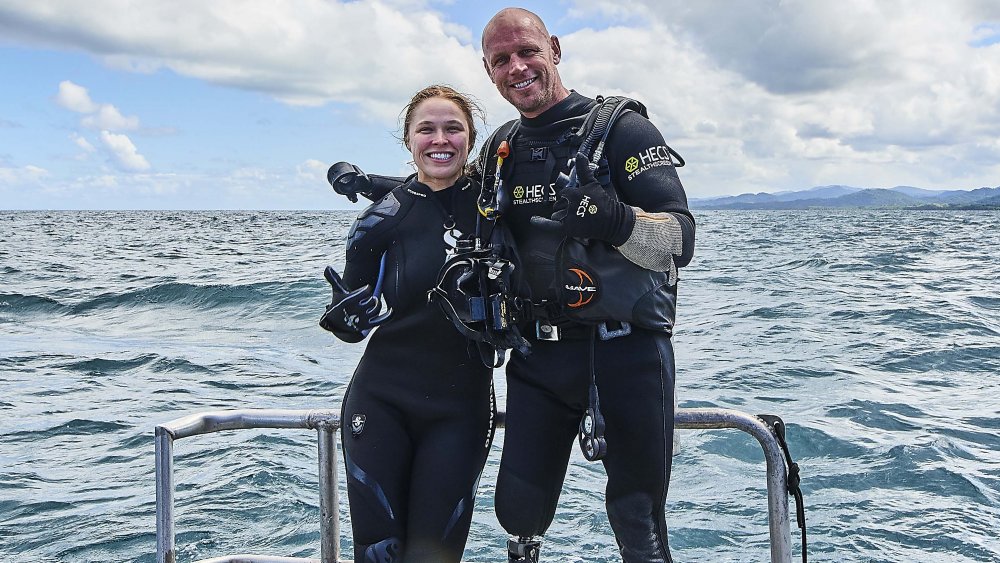 Discovery Channel
These days, de Gelder spends his time helping A-list stars like Will Smith and UFC champion Ronda Rousey overcome their fear of sharks — when he's not giving speaking engagements about the sharp-toothed underwater regulators who so fascinate humans, of course. He comes from a place of deep personal experience. During a routine training exercise as an elite Australian Navy diver, de Gelder lost an arm and a leg – literally – to a nine-foot bull shark.
"I'm living in a dream where I get to paid to travel the world, work with interesting people, go diving, and swim with sharks," de Gelder told Looper, from his home in Los Angeles. "It's bizarre, especially from where I came from: a troubled kid that was self-harming, depressed, fighting, stealing, doing drugs. To then Army Airborne, then Navy clearance diver. And at the pinnacle of my game, hanging out with my mates, jumping out of aircraft, shooting guns, and blowing stuff up. It doesn't get any better than that for a big kid like me. And then you turn up to work one day, and a bloody shark eats you and tries to take it all away."
Over the next few years, as de Gelder adjusted to life with two prosthetic limbs, his fascination with sharks grew. 
"Not out of any morbidity, but more so partially because my shark attack was so widely publicized, that every time there was another shark interaction, the media would come to me for comment," he explained. "And so, at the risk of sounding like a dummy on television, I figured, well, I'd go and do my research. There's an old adage, 'Knowledge dispels fear.' The more research I did, the more I realized how little we had to fear of sharks, and how much they have to fear from us, through the amount of death we create on each other."
A motivational speaker, mentor, and activist, de Gelder is now a regular face on Discovery Channel's shark-related programming. Incredibly physically fit, vegan, and passionate about animal advocacy, he once joined an anti-poaching team in Africa, documenting their work for Fearless on NatGeo. But even with all of his vast experience, he described working with Tyson as "one of the scarier opportunities I've had."
What scared a shark attack survivor about working with Mike Tyson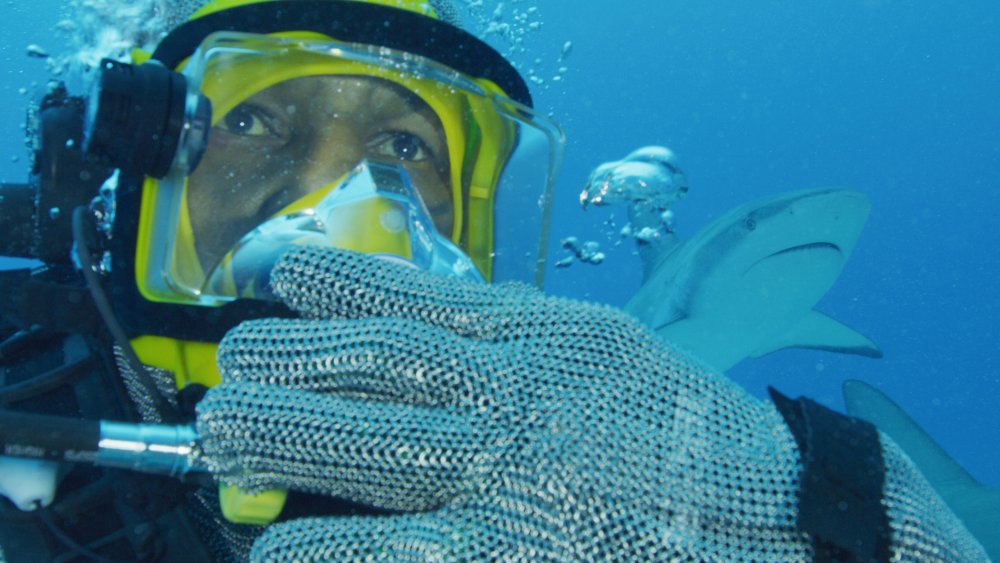 Discovery Channel
To be clear, it wasn't Tyson himself that scared expert diver de Gelder, who hand-feeds hammerheads, blue sharks, and yes, even bull sharks like the one that attacked him. He even dives with great whites and tiger sharks without getting inside a protective cage. What worried him was Tyson's lack of experience. 
"He started out as probably the worst diver I have ever seen," de Gelder admitted. "On the first dive together in the pool, he wasn't even using his fins. He was underwater bear-crawling through the water. I wasn't supposed to do much diving on this shoot. I was going to be topside explaining what Mike is doing to the audience. I was a little bit upset that I wouldn't be diving with Mike Tyson in the Bahamas until I saw him in the water. Then I thought, 'Nah, I don't need to go in with him. This is going to be dangerous.'"
Make no mistake, Ronda Rousey and Will Smith were afraid to get in the water with sharks at first, as most people are. But the level of fear Tyson brought to the table was even higher. "Will and Ronda, they were scared, but Mike was throwing up," de Gelder said. 
Ultimately, de Gelder ended up doing every dive with Tyson. He credited Tyson's tenacity, determination, and athleticism with getting him through it all.
"He is a world champion," de Gelder emphasized. "He managed to pull himself together. He's alive, well, and still going to do his charity fight. So, I'll take that as a win. He really, really overcame some pretty crippling fears in this show, which I'm super excited for people to see."
Even with all of the obstacles he's overcome himself, de Gelder pointed out that he learned a lot from the man he called "a living icon" through the experience together in the Bahamas, which wrapped just a couple of weeks before the borders were closed due to the COVID-19 pandemic. 
"The thing that blew me away about him was that even though he's continuously had people take advantage of him, and things go wrong in his life, he still tries to maintain an upbeat personality," de Gelder observed. "He's learned a lot about spirituality—very in-depth conversations he and I had, which I was not expecting. So now I'm a huge fan of Mike. I imagine that [the show] is going to come across really well to the audience, and Mike Tyson fans as well, who hopefully will come and be shark fans."
Tyson vs. Jaws: Rumble on the Reef will air on the Discovery Channel on Sunday, August 9 as part of Shark Week.