Every Single Cameo In Adam Sandler's Hubie Halloween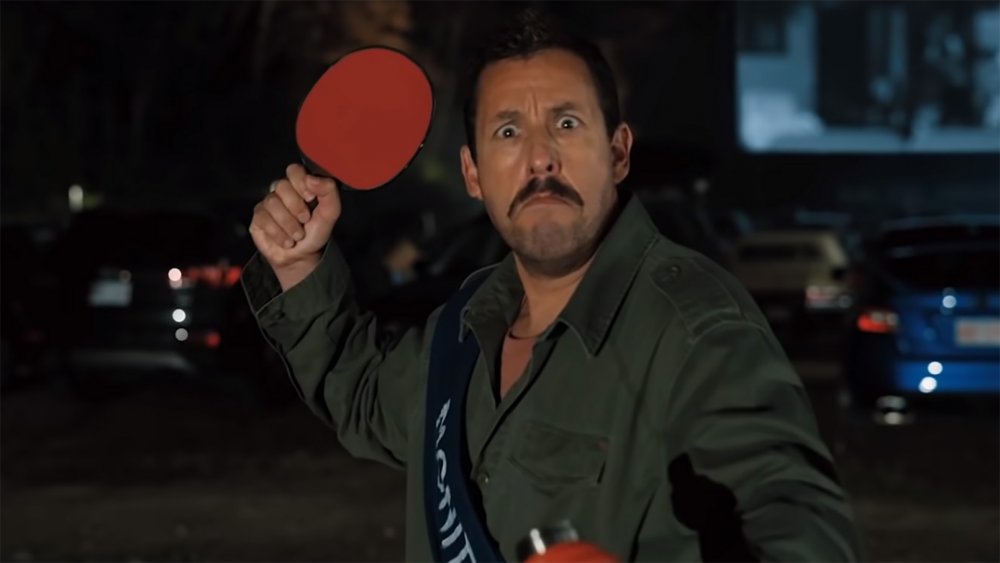 This content was paid for by Netflix and created by Looper.
For his latest comedy, the holiday-themed Hubie Halloween, Adam Sandler didn't cast some of the funniest people in show business. He recruited pretty much all of 'em.
Just look at this cast. Not only does Hubie Halloween reunite Sandler with Julie Bowen, who played his love interest 24 years ago in Happy Gilmore, but it features Sandler's good friend Kevin James in one of his best roles yet. It has hilarious turns from comedy legends like Maya Rudolph, Tim Meadows, George Wallace, and Kenan Thompson. Actors like Ray Liotta, Michael Chiklis, and June Squibb aren't known for comedic performances, but Hubie Halloween proves that they're just as comfortable telling jokes as they are handling more dramatic material.
Add in performances by talented young 'uns like Noah Schnapp and Paris Berelc, and you've got a murderer's row of talent in Hubie Halloween — and that's just the main cast. In addition to all of those big names, Hubie Halloween features numerous cameos from entertainment industry icons, lots of Adam Sandler's regular collaborators, and even the filmmakers' friends and family. Hubie Halloween is a party, and everyone's been invited.
And that includes you — so sit back, enjoy, and see how many of these famous faces you recognize, and if you don't catch 'em all? Don't worry. We're here to help.
Ben Stiller as Orderly Hal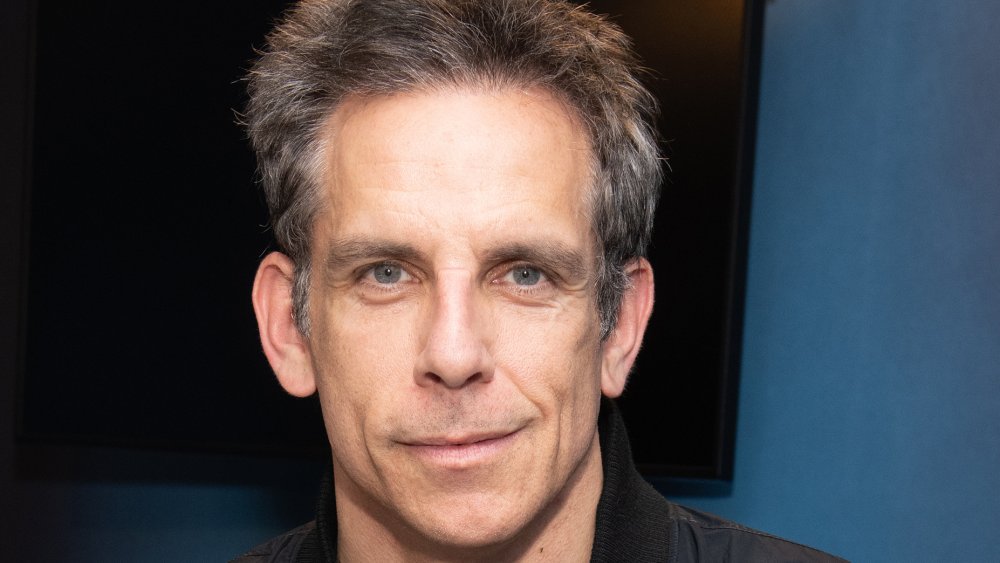 Noam Galai/Getty Images
Cameo-wise, Hubie Halloween gets off to a quick start. The very first face that we see belongs to none other than Ben Stiller, star of hits like There's Something About Mary, Meet the Parents, and Heavyweights, the latter of which was helmed by Hubie Halloween director Steven Brill. In Hubie Halloween, Stiller plays Hal L., a mustachioed mental hospital employee. If that name sounds familiar to you, there's a good reason: Stiller also played an evil orderly named Hal L. in Happy Gilmore, which was one of Adam Sandler's first hits.
Stiller's appearance in Hubie Halloween only lasts for a few seconds, but that's to be expected. Stiller is a very, very busy man. In addition to being a prolific actor, he's also an accomplished writer and director. In the early '90s, he co-created his own sketch comedy show, The Ben Stiller Show. He has also scripted and directed big-screen features like The Cable Guy, Zoolander, and Tropic Thunder. More recently, Stiller earned a number of awards nominations for directing Escape at Dannemora, a miniseries based on a real-life prison break and the ensuing manhunt. 
Steve Buscemi as Walter Lambert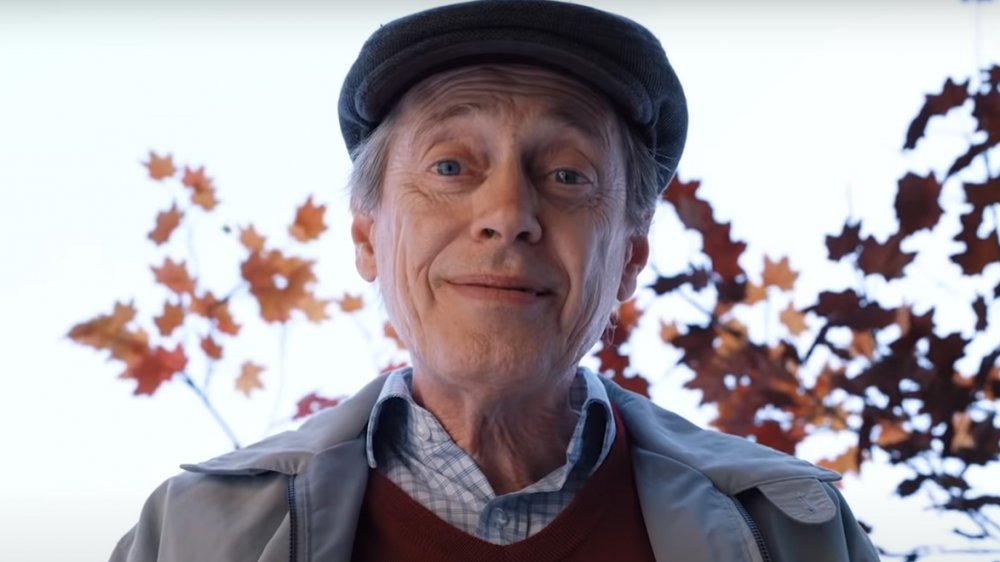 Early in Hubie Halloween, the titular hero makes a shocking, but not unwelcome, discovery: He has a brand new next-door neighbor. Even better, he seems like a stand-up guy. Walter Lambert enters the scene by helping Hubie recover from a bike accident. He compliments Hubie's lawn decorations, and invites both Hubie and his mother over for chili. He's very nice. He's definitely not hiding any sinister secrets.
Of course, if you've been to the movies over the past three decades, you'll recognize the actor who plays Walter immediately. By now, Steve Buscemi is a cultural institution. He's worked with Quentin Tarantino, the Coen brothers, and Martin Scorsese. He's voiced Pixar characters. He's headlined his own prestige cable drama, Boardwalk Empire, and has popped up in everything from The Sopranos to Armageddon to Boss Baby.
He's also one of Adam Sandler's most reliable collaborators. Buscemi and Sandler met while filming Airheads, a 1994 comedy about a rock band that holds a radio station hostage in order to get some airtime for their new single, and they've been working together ever since. In fact, at this point, Buscemi has appeared in over a dozen of Sandler's movies — and his turn in Hubie Halloween may just be his wildest, most unrestrained, and funniest performance yet.
Colin Quinn as the Witch Museum janitor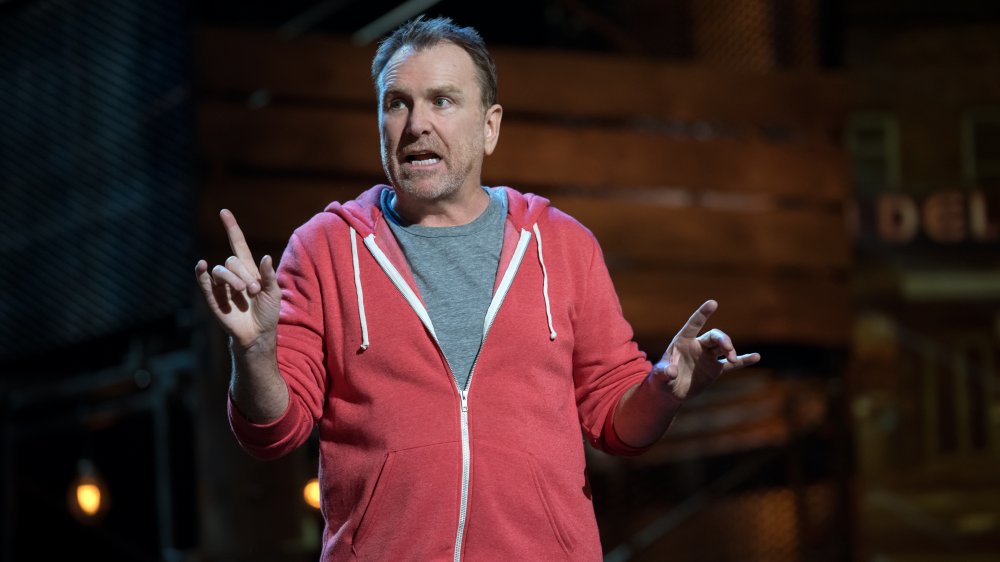 The Salem Witch Museum's janitor, who spends his brief screen time insulting the museum patrons, making passes at Violet Valentine, and making fun of Hubie, has the whole "angry curmudgeon" schtick down pat. That makes sense. After all, actor Colin Quinn has been perfecting this act for years. In 1987, the stand-up comedian made his TV debut as the announcer and co-host of the MTV game show Remote Control, where his gruff, lackadaisical persona earned him a number of fans. Quinn isn't the only star who got his break on Remote Control, either. A few years before joining Saturday Night Live, a young Adam Sandler appeared on the program, too.
From there, Quinn went on to join the writing staff of Saturday Night Live, and he took over the prestigious "Weekend Update" desk in 1998, following Norm McDonald's sudden departure. After his SNL stint ended, Quinn went on to host a popular panel discussion show, Tough Crowd with Colin Quinn, on Comedy Central. He's also written and starred in a number of one-man shows, including Red State Blue State, Unconstitutional, and The New York Story, which mix politics with Quinn's personal history as an Irish-American. He also received critical acclaim for his performance in Trainwreck, Amy Schumer's feature film debut.
Recently, he's also joined the Happy Madison family. In addition to his Hubie Halloween cameo, Quinn appeared as Sandler's former high school rival in Grown Ups and Grown Ups 2, had a small role in That's My Boy, and played one of Sandler's clients in Sandy Wexler.
China Anne McClain as Miss Taylor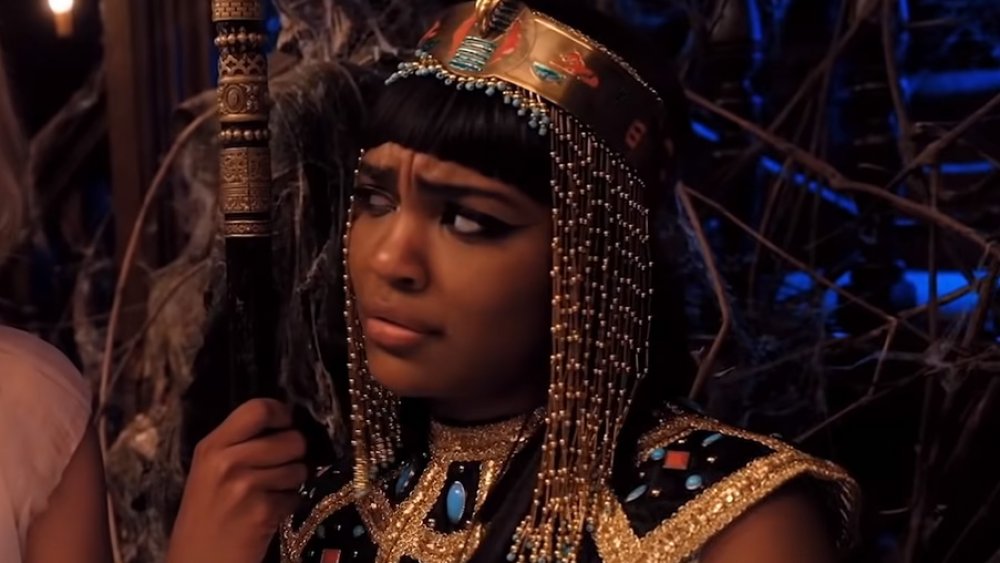 In Hubie Halloween, China Anne McClain plays Miss Taylor, Cooky Valentine's sarcastic, no-nonsense teacher, but that's not the only place you've seen her before. Over the past few years, McClain has been pretty much everywhere.
On the CW's Black Lightning, she's part of a family of superheroes with electricity-based powers. On Tyler Perry's House of Payne and its various spinoffs, she's the young upstart Jazmine. In the Disney Channel's Descendants movies, she's Uma, daughter of The Little Mermaid's big bad Ursula, and she spent a number of years as the lead on the musical comedy A.N.T. Farm. In theaters, she's probably best known for her role in the two Grown Ups movies, where she played Chris Rock and Maya Rudolph's daughter.
Amazingly, that's not all. In addition to her acting work, McClain is also a gifted musician who has released a number of records as a solo artist, with her sisters (who currently perform together in a group called Thriii), and with Disney as part of her work on Descendants and A.N.T. Farm. She has an NAACP Image Award and multiple NAMIC prizes, and, oh yeah, she's only 22. As impressive as her career is, it's only going to get bigger. Watch out.
Dan Patrick as the school principal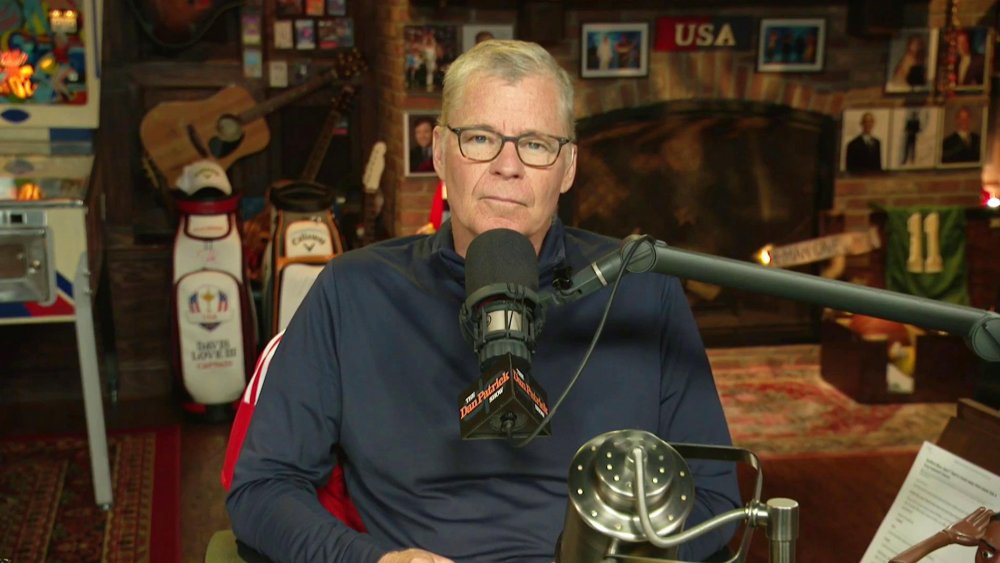 Adam Sandler isn't just friends with actors. He's friends with all kinds of people, including famous sportscasters. That's how Dan Patrick — host of The Dan Patrick Show and an longtime ESPN veteran — ended up in Hubie Halloween. As Patrick tells the story, his onetime ESPN collaborator Keith Olbermann was originally slated to appear in Sandler's Happy Gilmore, but had to drop out at the last minute. Sandler and Patrick commiserated at a Knicks game and Patrick offered the comedian his acting services, should Sandler ever need them.
Sandler accepted, but not in the way that Patrick expected. While Patrick played an ESPN commentator in Sandler's next sports comedy, The Waterboy, Sandler cast him as a cop in The Longest Yard, I Now Pronounce You Chuck & Larry, and the Happy Madison production The House Bunny. Worried that he was getting typecast, Patrick said something to Sandler. As such, Sandler began to give Patrick more diverse roles in movies like Blended, The Ridiculous 6, The Do-Over, and, of course, Hubie Halloween, in which Patrick plays the beleaguered school principal who introduces Hubie's special, Halloween-themed assembly.
The latest batch of Saturday Night Live stars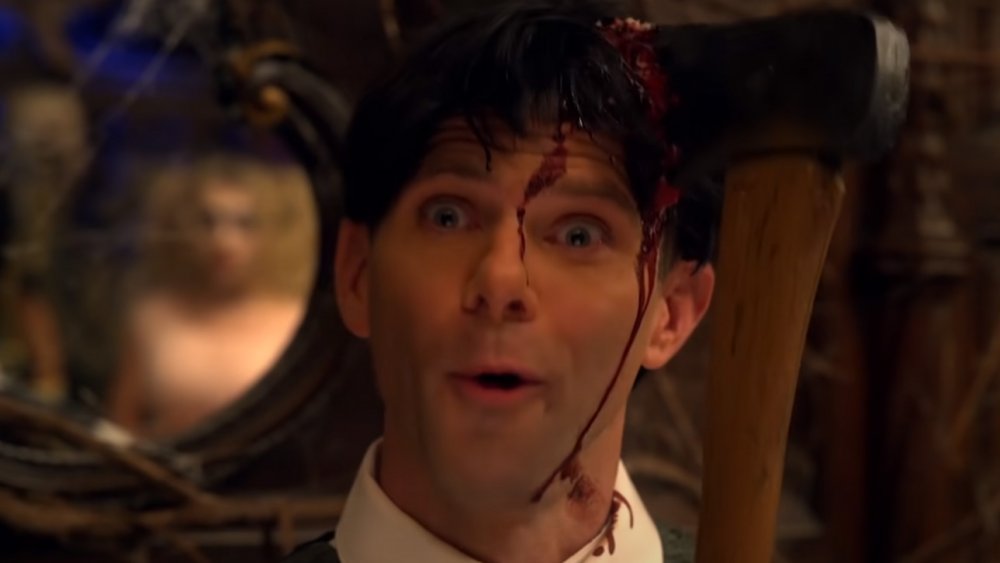 Hubie Halloween is absolutely packed with Saturday Night Live alumni. In addition to Sandler himself, who was initially hired as a writer in 1990, the film features Tim Meadows, who appeared on the show for 10 years, Maya Rudolph, who still shows up occasionally to play politician Kamala Harris, Ben Stiller, and Colin Quinn.
But it's not just SNL's old guard who show up in Hubie Halloween. There's more than enough room for some current cast members to get in on the fun, too. As Halloween night falls, Hubie risks his life to rescue a black cat from an oncoming car, drawing the ire of the animal's owner, Karen. Karen is played by Melissa Villaseñor, the first Latina repertory player in the history of Saturday Night Live and one of the show's most talented impressionists. She's also a prolific voice actor who has contributed to shows like OK K.O.! and Adventure Time, and was a semi-finalist on the sixth season of America's Got Talent.
A little later, Hubie braves a haunted house, where he runs into all kinds of ghoulish figures. One of them, who's credited as "Axehead," is none other than longtime SNL cast member Mikey Day. If you're a fan of spooky comedy, you should recognize him immediately: In 2016, Day co-wrote and starred in SNL's "Haunted Elevator" sketch, which introduced the world to Tom Hanks' Halloween-themed mascot, David S. Pumpkins (Day plays one of the skeletons that dances alongside Pumpkins). The sketch ended up being so popular that Pumpkins received his own animated special in 2017, which Day once again co-wrote.
Peyton List as Peggy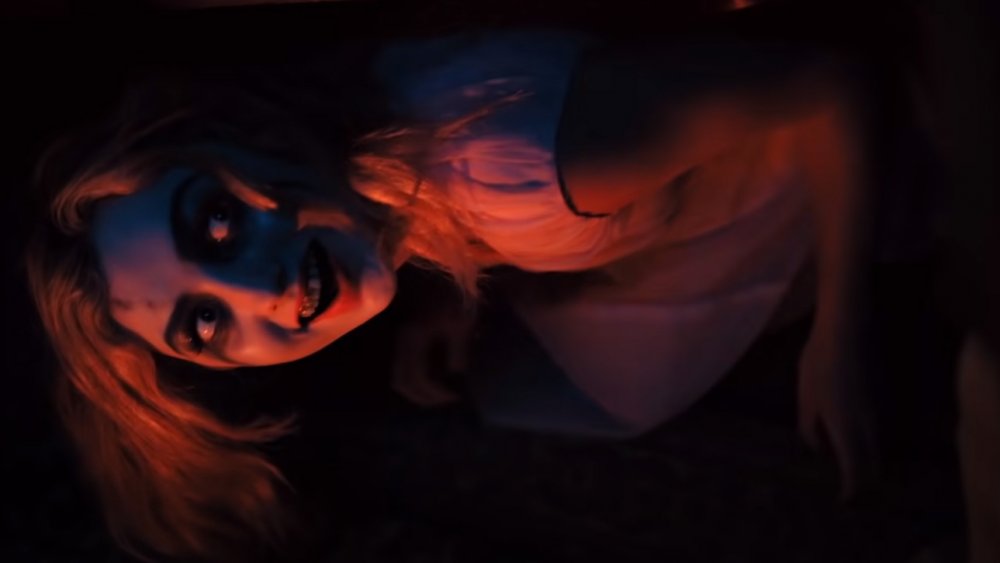 Mikey Day isn't the only celebrity haunting Hubie Halloween's spooky mansion. Peggy, the teen who grabs Hubie's leg and gives him the scare of his life, is also played by a big name. It's hard to tell with all of that makeup, but that's actually actress Peyton List underneath those pigtails and chalky white face paint.
If you're a certain age, you probably know List best from the one-two punch of Diary of Wimpy Kid, in which she plays Holly Hills, the main character's unrequited crush, and the Disney Channel hit Jessie, on which List played the affluent but ditzy teenager Emma Ross. Not only was Jessie a massive hit that made List a household name, but Emma ended up being a phenomenally popular character, and List went on to reprise the role on the spinoff series Bunk'd and a number of guest appearances on other Disney shows.
If you're a little older, you may recognize List from the supernatural thriller Light as a Feather You can also catch her on the second season of Cobra Kai, the sequel series to the original Karate Kid flicks, as Tory, a streetwise Cobra Kai student who never backs down from a fight. List brings that same toughness to Hubie Halloween, too. Even in the face of all of Hubie's silliness, Peggy has little use for nonsense.
Alaina Pinto as the news anchor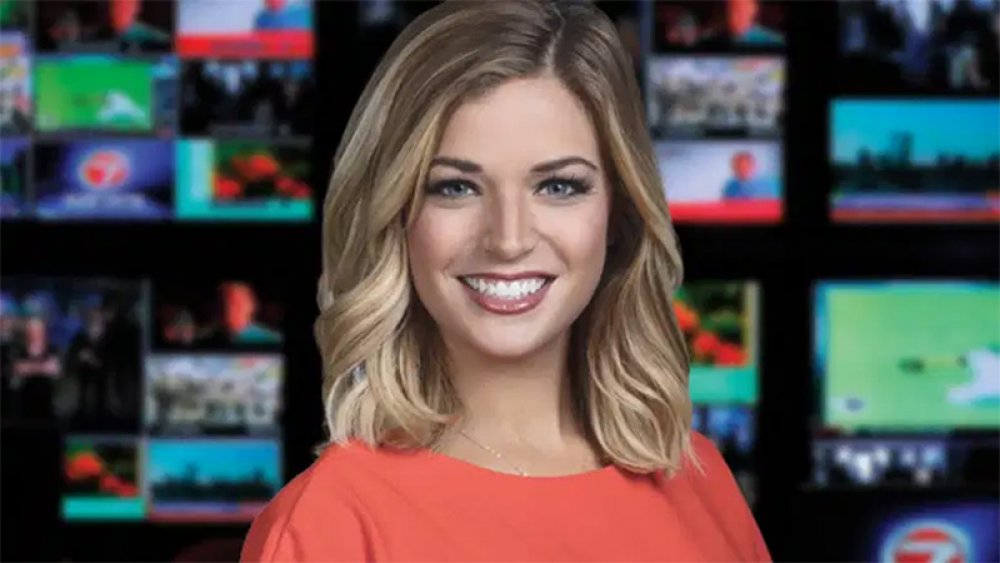 Hubie Halloween might be fictional, but director Steven Brill and his crew took great pains to make sure the film feels as authentic as possible. A large portion of the movie was filmed on location in Salem, Massachusetts, and the Hubie Halloween team worked very hard to get the city, which was currently enjoying its summer vacation, Halloween-ready. But it didn't stop there. In order to really capture the New England spirit, Hubie Halloween recruited a local celebrity to come in and give the project some extra legitimacy.
While 7News morning anchor Alaina Pinto may not be a national celebrity, she's certainly a local one. Pinto has been working at the Boston-based WHDH since December 2016, and before that spent some time as a local TV reporter in Vermont. There's a reason why she looks so comfortable behind that desk, after all. Hubie Halloween may be Pinto's feature film debut, but she's been doing this kind of thing for a while. She's a pro.
The next generation of comedic talent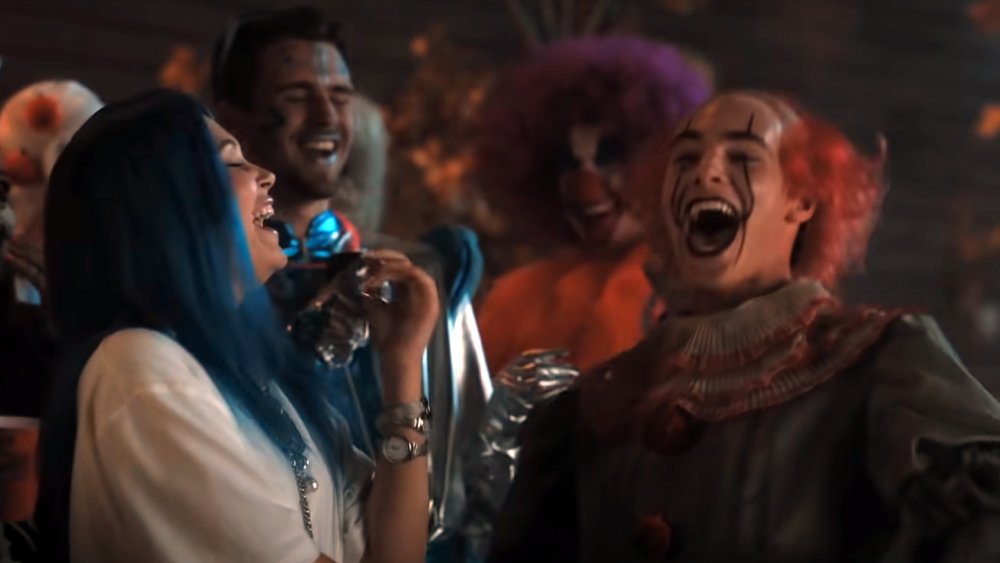 Hubie Halloween isn't just a showcase for established comedy idols. It's also a proving ground for teens and early 20-somethings who cut their teeth on YA-friendly programming, who already have legions of young fans, and are now ready to move on to even bigger and better things. As Tommy Valentine, Violet's foster son, Stranger Things' Noah Schnapp is delightfully charming. Diary of a Wimpy Kid, Jessie, and Bunk'd star Karan Brar, who plays Hubie's teen tormenter Mike Mundi, proves he can more than hold his own against the likes of Sandler. Paris Berelc, who rose to stardom thanks to Mighty Med, Lab Rats: Elite Force, Alexa & Katie, and Tall Girl, commands the screen every time she appears.
And that's just the tip of the iceberg. Hubie Halloween's big barn party scene is bursting with cameos from young talent, each of whom makes a big impression in their limited screen time. Berelc's Mighty Med and Lab Rats: Elite Force co-star Bradley Steven Perry plays Cormac, Mike Mundi's dimwitted second in command. Another Lab Rats: Elite Force veteran, Kelli Berglund, shows up dressed in a Billie Eilish costume. Next to her, you'll find Kevin Quinn of Bunk'd and Adventures in Babysitting fame decked out as Pennywise from It. 
But wait, there's more. Stuck in the Middle and Fuller House mainstay Isaak Presley joins the fun dressed as Frankenstein. Finally, Amber Frank, who appears in Hubie Halloween as the backup singer dressed as a zombie, has another ghostly comedy on her resume: She was the star of Nickelodeon's The Haunted Hathaways, in addition to voicing the main character on the animated series Spirit Riding Free.
The I Was a Teenage Zombie cast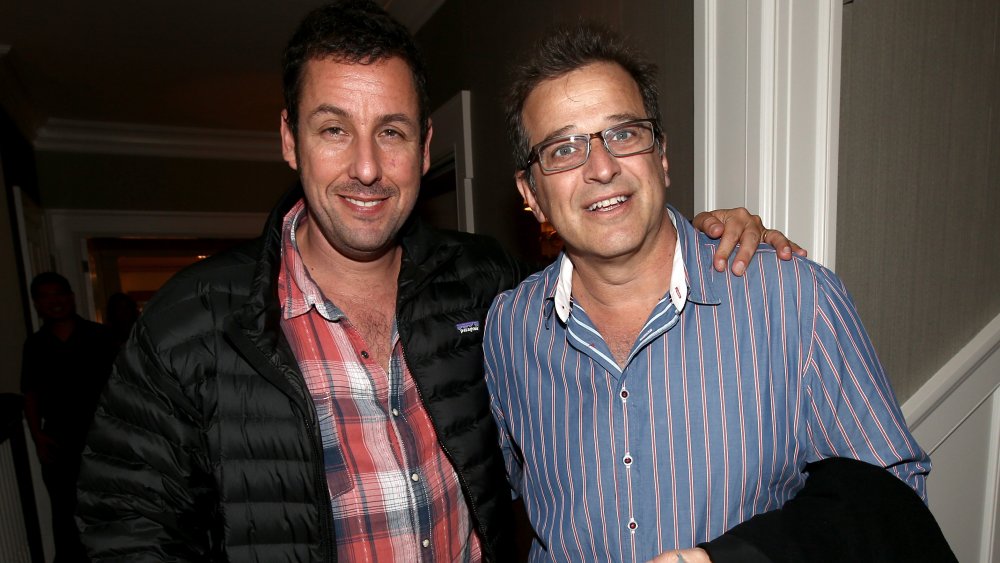 Christopher Polk/Getty Images
I Was a Teenage Zombie, the movie playing at the Salem Drive In, shares a title with a real movie. But the black-and-white schlockfest you see in Hubie Halloween was filmed specifically for this movie, making it the perfect place to hide a few cameos.
First, you have Allen Covert as the titular zombie's ill-fated dad, who grounds his teen son right before getting his face bitten off. If you're a diehard Adam Sandler fan, you'll recognize him immediately. Covert has been with Sandler since the beginning. He appeared in Sandler's very first feature film, Going Overboard, co-wrote a number of Sandler's novelty songs and comedy albums, has bit parts in practically all of his movies, and serves as an executive producer on his most recent projects, including Hubie Halloween. In addition, Covert starred in the 2006 comedy Grandma's Boy, which Sandler produced.
Next, Martin Herlihy appears as the undead teen himself. Herlihy comes into the Happy Madison family by way of Hubie Halloween co-writer Tim Herlihy, a former SNL staff member who's penned Sandler's biggest hits. Of course, Martin also has some comedy experience of his own, too. The younger Herlihy is part of the three-main sketch comedy trio Please Don't Destroy, who can be found performing shows in New York City and posting videos to their YouTube channel.
Finally, you have to look hard to see him, but Sandler's longtime assistant JD Donaruma plays another one of the teenage zombie's victims, the milkman. It's far from Donaruma's first screen credit. In addition to a number of Adam Sandler's other movies, Donaruma has also appeared in movies like Daddy's Home 2, Bucky Larson: Born to Be a Star (which Sandler wrote), and the sitcom King of Queens.
The Happy Madison stand-bys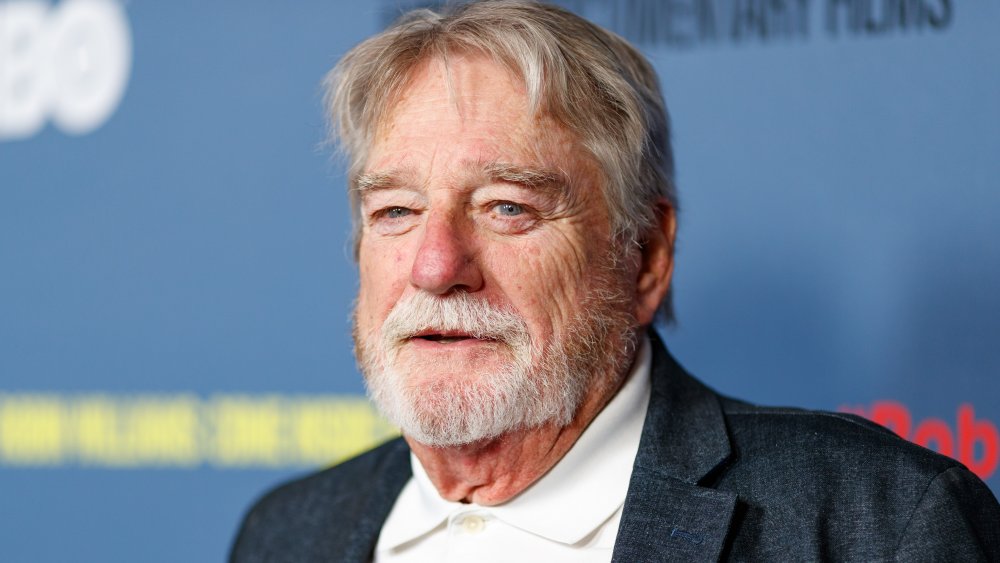 Christopher Polk/Getty Images
One of the things that makes Adam Sandler's movies so fun is that he works with the same people again and again. In that way, watching one of his films is like going to a high school reunion, or a catch-up session with old friends. It's a chance to reconnect with people who've made you laugh and to see what they've gotten up to recently.
For example, Blake Clark, who appears in Hubie Halloween as Violet's boss Tayback the Cook, doesn't look too different than he did in the '90s, when he played hardware store owner Harry Turner in Home Improvement, Chet Hunter on Boy Meets World, and Farmer Fran in The Waterboy. You've probably also seen Clark in movies like The Ridiculous 6, That's My Boy, and Between Two Ferns. And you might've also caught him as the voice of Slinky Dog in more recent Toy Story projects, but he's harder to ID there — Clark took over the part from "Ernest" actor Jim Varney, who died in 2000, and sounds a lot like his old friend.
By contrast, comedian Chris Titone, who's been working with Happy Madison since The House Bunny, looks terrible — but that's by design. The comedian has a blink-and-you'll-miss it cameo as a "ghoul" sitting around in Salem's haunted house, during which he's caked under layers and layers of grotesque makeup. Somehow, he still ends up being pretty funny.
Paul Sado, who can be found in Hubie Halloween dressed like a viking, isn't quite as recognizable, but that's because he mainly works as a writer and producer. As a screenwriter, Sado is responsible for Sandler's show business send-up Sandy Wexler and his whimsical fantasy drama The Cobbler, while he also lent his producing acumen to The Ridiculous 6, The Do-Over, and Sandler's 100% Fresh comedy special.
Finally, Betsy Hammer may not look familiar, but as a music supervisor on movies like I Now Pronounce You Chuck & Larry, Jack and Jill, and Grown Ups 2, she's defined how many of Happy Madison's movies sound. She also performs in Adam Sandler's band, Sandman JamBand, and is an accomplished performer, songwriter, and vocal coach in her own right. In Hubie Halloween, you'll catch her singing "The Wind Beneath My Wings" at Mr. Landolfa's father's funeral.
The Hubie Halloween crew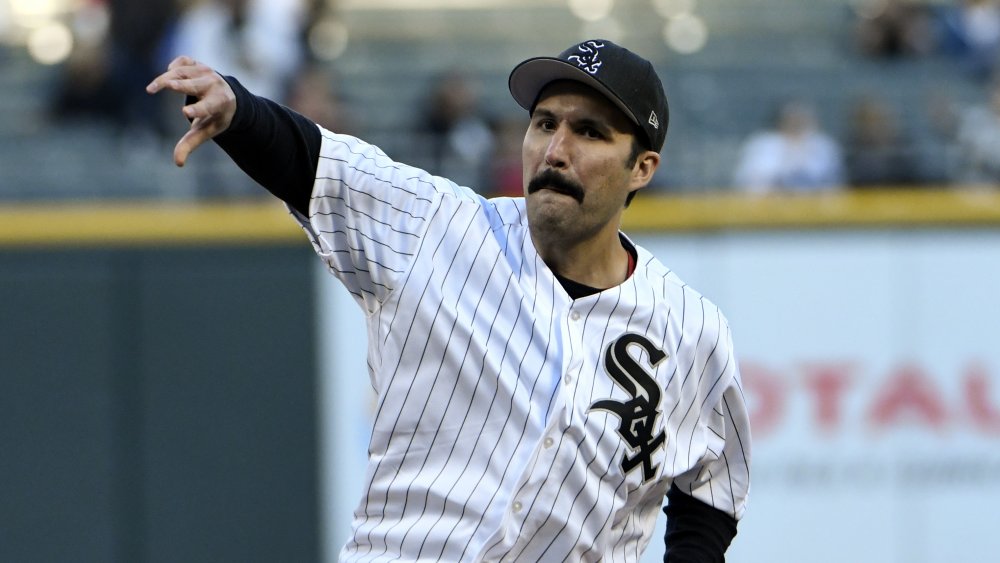 David Banks/Getty Images
Naturally, a few of the behind-the-scenes staff on Hubie Halloween managed to find a few ways to slip in front of the camera as well. Dan Bulla, one of Hubie Halloween's producers (as well as a co-scripter on Sandy Wexler, a recent addition to Saturday Night Live's writing staff, and producer on Murder Mystery and Adam Sandler: 100% Fresh) appears in the movie as a gravedigger.
Joseph Vecsey, another producer on the movie, appears here as the Lone Ranger (or, rather, a dude dressed as the Lone Ranger, from whom Hubie steals a silver bullet). That appearance follows up his turns in The Wrong Missy as an "Airline Employee" and Murder Mystery as "Joseph Vecsey on Vacation."
Meanwhile, Allen Covert's former assistant and Hubie Halloween associate producer Eli Thomas actually has two roles in the movie. At one point, he pops up as a character named Robert Chubb, but in his more memorable — and far less obvious — appearance, he also plays one of the bears that pop up to torment Hubie when he flees from the haunted house. 
Oh, and the person in the other bear suit? Why, that would be none other than Hubie Halloween's writer, Tim Herlihy, who also co-wrote Billy Madison, Happy Gilmore, The Wedding Singer, The Waterboy, Big Daddy, The Ridiculous 6, and a bunch of Sandler's other big hits.
The Sandler family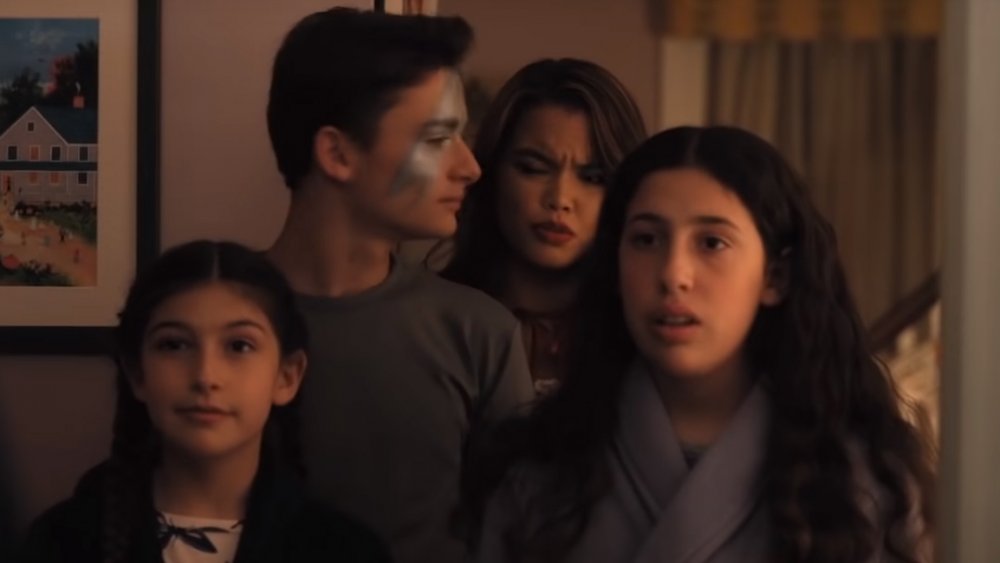 Hubie Halloween is an Adam Sandler comedy that's fun for the entire family. And that definitely goes double for Sandler's own family. Obviously, as Hubie Dubois, Adam Sandler is the lead, but the rest of his immediate family also appears in the film, including a couple of major roles for his two daughters.
Yup, that's right: Violet Valentine's foster daughters, Danielle and Cooky, are played by Sadie and Sunny Sandler, respectively. That's not entirely unexpected. Sadie and Sandler practically grew up in front of the camera — Sadie started appearing in her father's films in 2008, when You Don't Mess with Zohan premiered, while Sunny joined the family business with 2010's Grown Ups — and they've become pretty delightful actors. They even get some of the movie's biggest laughs.
Jackie Sandler, Adam's wife, also appears in Hubie Halloween as reporter Tracy Phillips. Adam and Jackie actually met on set — Jackie, a former model, had a bit part in Deuce Bigalow: Male Gigolo, which Sandler produced, and they subsequently worked together on Big Daddy and Little Nicky — and she's appeared in almost every single one of Sandler's movies (plus a few others) since then.
Finally, the lead singer at the barn party — y'know, the dude dressed like a zombie? — is known as Jared Sandler. As you probably guessed, that's no coincidence: The actor and stand-up comedian also happens to be Adam Sandler's nephew.
The Hollywood kids' club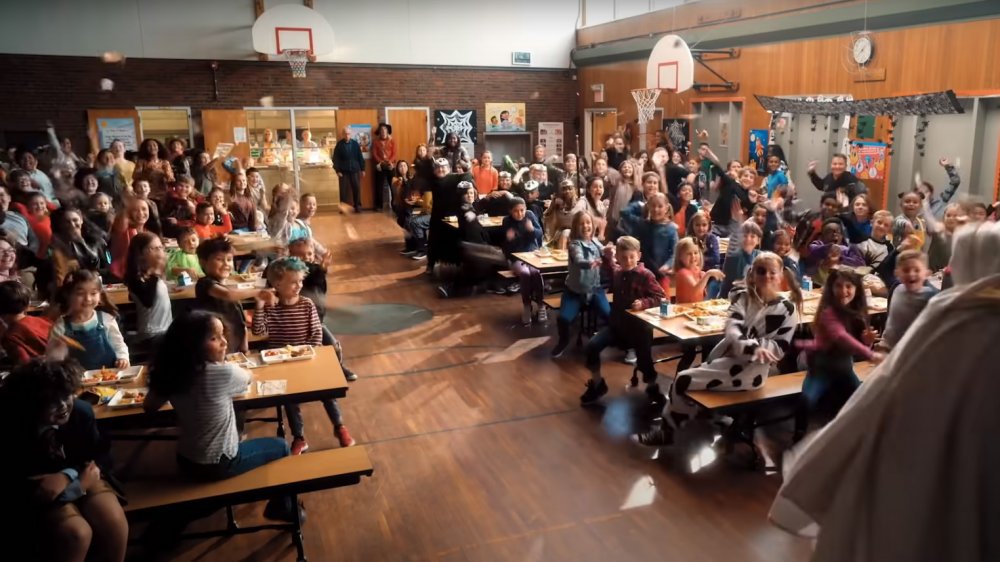 But why should the Sandler clan have all the fun? Hubie Halloween has a ton of parts, not to mention plenty of large crowd scenes, meaning that there are plenty of opportunities for the children of the cast and crew to get in on the action.
And boy, do they. Ray Liotta's daughter Karsen appears in the movie as Barb. Producer Allen Covert's eldest daughter plays Abby. All four of Kevin James' children have roles in the movie — son Kannon cameos as the "Exorcist Costume Kid," Sienna James plays one of Danielle's friends (Covert's daughter Hannah is another), while James' younger daughters Shea and Sistine are pals with Cooky. The rest of Covert's kids show up in the school auditorium scene, as do Nathan and Ethan Brill, who are members of director Steven's family. Finally, Ben's daughter Ella plays Lexie, one of Hubie Halloween's many disaffected teens.
Shaquielle O'Neal as... you'll have to wait and see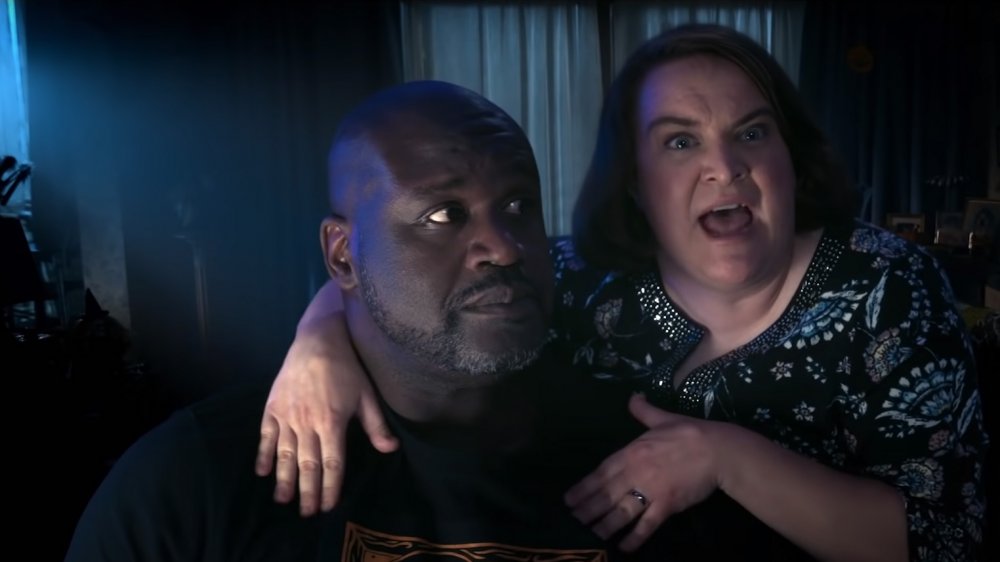 Shaquielle O'Neal, four-time National Basketball Association champion, 2000 NBA MVP winner, and 15-time All-Star, needs no introduction. He's Shaq. He's one of the greatest basketball players of all time, and one of the closest things the sports world has to a "living legend." 
It's also not much of a surprise that Shaq cameos in Hubie Halloween. Not only does Mr. O'Neal feature prominently in Hubie Halloween's trailer, but after Shaq's stint as a Hollywood leading man in the late '90s, he's become a reliable source of hilarious cameos, including bit parts in movies like Jack and Jill, Grown Ups 2, and Blended.
So yeah, you already know that Shaq's in the movie, but you don't know who he plays. Out of respect to the Big Daddy, we're going to keep that a secret. Just rest assured that Shaq's cameo is one of the best jokes in the movie, so keep an eye out. The dude's 7'1". You can't miss him.