The Hilary Swank Sci-Fi Drama Everyone's Binging On Netflix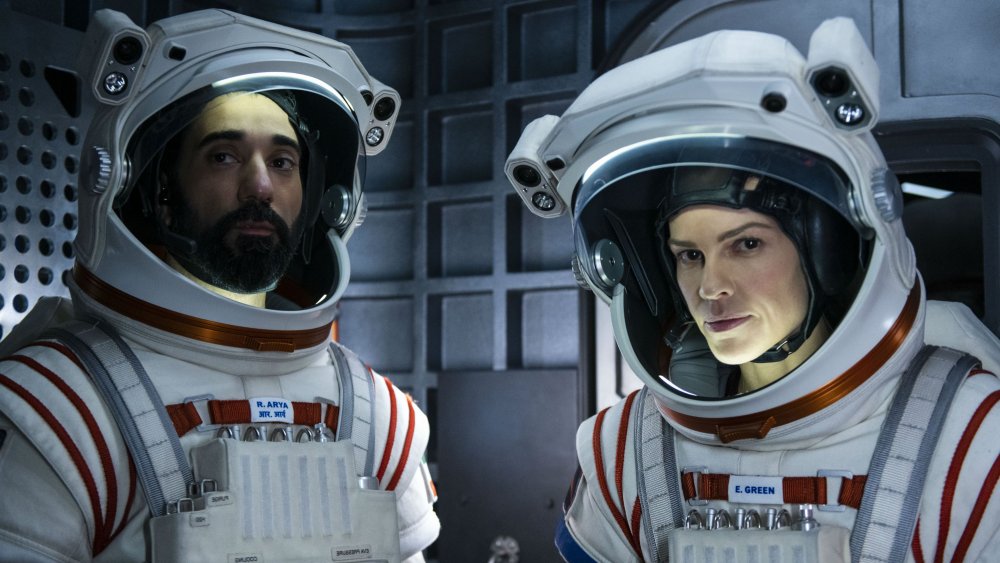 Netflix
If you're in the market for some space-based action served with a heaping helping of interpersonal drama, it's time to fire up Netflix.
Away, an original series focused on a fictional first manned mission to Mars, has made its way onto the streamer's Top Ten list for television in the U.S. The first season is earning strong reviews – largely thanks to its amazing cast, led by Academy Award-winner Hilary Swank in the role of Emma Green, the leader of the international crew making up the "Joint Mars Initiative."
Andrew Hinderaker — who has served as a writer on series including Penny Dreadful, Pure Genius, and The Path — created Away after catching inspiration from a 2014 Esquire piece penned by Chris Jones about the real-life astronaut Scott Kelly, who became the first American to spend a year in space. Jones has called his article an "analogue for a future Mars mission"; Away gives audiences a fictionalized version of such an endeavor.
Away focuses both on the astronauts undertaking the dangerous mission and on their crew members, friends, and loved ones back on Earth — giving the show dramatic heft to offset its tech-y thrills. In addition to Swank, Away stars Unbreakable Kimmy Schmidt's Josh Charles as Matt Logan, Emma's husband; Countdown's Talitha Bateman as Alexis Logan, their teen daughter; Dead Pigs' Vivian Wu as Lu Wang, a Chinese astronaut and chemist; For All Mankind's Mark Ivanir as Misha Popov, a Russian cosmonaut and engineer; Marcella's Ray Panthaki as Ram Arya, an Indian pilot and medical officer; and Altered Carbon's Ato Essandoh as Kwesi Weisberg-Abban, a rookie astronaut and botanist.
What's the plot of Away?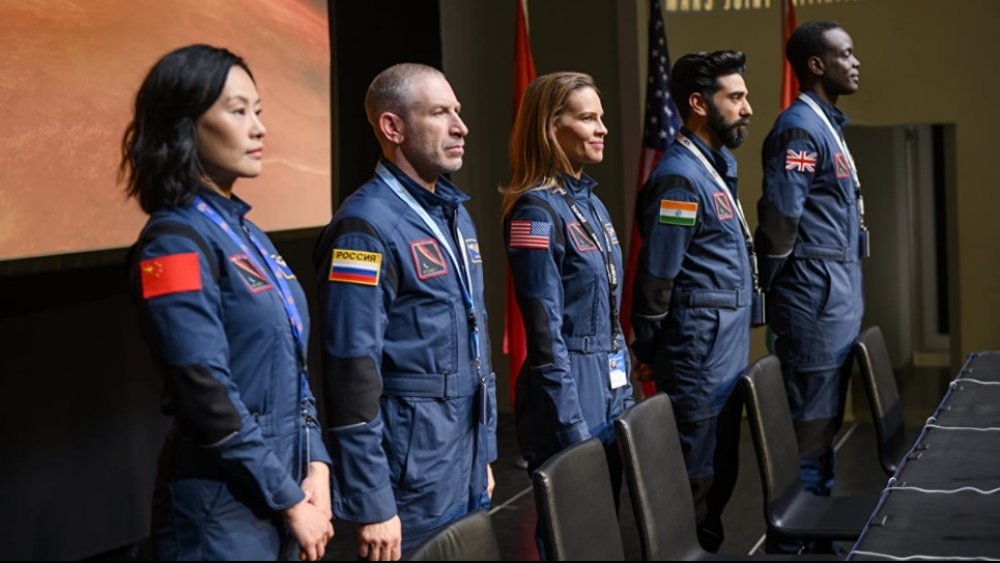 Netflix
Emma Green, Lu Wang, Misha Popov, Ram Arya, and Kwesi Weisberg-Abban comprise the crew of the Atlas, which is to leave from a staging base on the Moon for a three-year mission to the Red Planet. Emma received her command under circumstances nobody would want: Her husband Matt, originally in line to lead the Mars mission, was grounded after suffering a debilitating stroke. As the couple have an equivalent amount of experience, Emma steps in to take Matt's place, but she initially earns the skepticism of her crew when there's an accidental fire during the run-up to launch.
The crew departs for the Moon, but a few of them are troubled by developments on the ground. Emma, of course, is concerned for Matt, who's rehabbing from his stroke with the help of daughter Alexis; Lu, who's trapped in a loveless marriage, fears for the safety of Mei Chen (Nadia Hatta), a translator whom the Chinese government pulled from Mission Control in Houston after learning of her affair with Lu. 
For that matter, there are also situations playing out aboard the Atlas that threaten the crew's mission: Ram must deal with both the onset of Epstein-Barr disease and with the ramifications of his feelings for Emma, and the vessel's water system threatens to break down, which could potentially have catastrophic consequences. Will the crew actually make it to Mars? 
Will there be a second season of Away?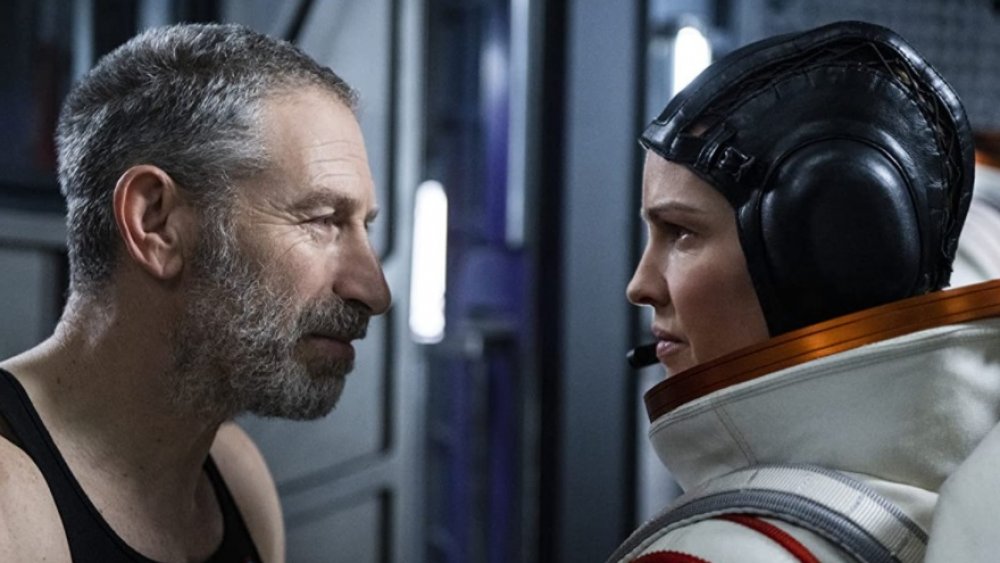 Netflix
If you don't want the answer to that question, you may want to stop reading now, because spoilers are ahead. 
The first season of Away ends just as the crew lands on Mars — and Hinderaker has said that if the powers that be at Netflix see fit to renew the series for a second season, it was always his intention that it should take place entirely on Mars.
"In terms of season 2, I always felt like if there was a final card that I would love to have on the [first] season, it would be 'Away will return for season 2 ... on Mars,'" Hinderaker said in an interview with Collider. "Part of what we're promising is what that crew experiences at the very end, we now we get to live in a new world."
Hinderaker got even more in-depth with his plans during a talk with CinemaBlend. "That is the hope, absolutely," the creator said when asked about the possibility for multiple seasons of Away. 
He continued, "There's no news to break in terms of whether we know that there will be future seasons, but the plan was always for a multi-season arc. The intention was always to start the first season and end the first season exactly how we did. But part of the reason the show is called Away is we were always interested in that journey, and what happens when they go home. There's this phenomenon among astronauts — it's so fascinating — where home becomes space, and they feel away back home. And, of course, that's amplified in a mission to Mars where you've been gone for three years. You literally are different people when you come back."
Here's to hoping that Hinderaker and his cast and crew get to indulge their spirit of exploration. In the meantime, you can catch season 1 of Away right now on Netflix.