Why Bill & Ted's Daughters Look So Familiar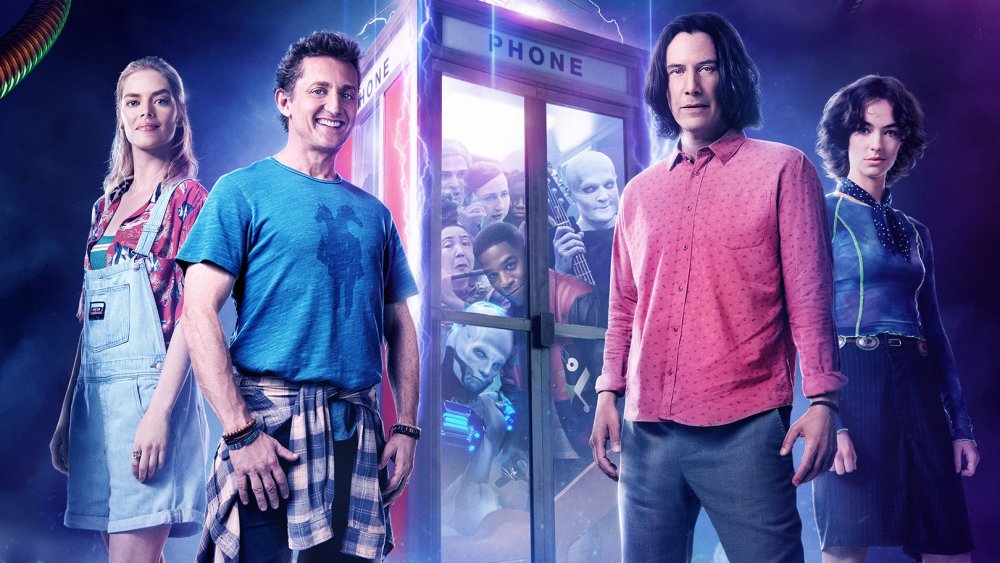 Orion Pictures
Bill & Ted Face the Music is the epic third and final chapter for time travelers/world savers/California goofballs Bill S. Preston, Esquire (Alex Winter) and Ted Theodore Logan (Keanu Reeves). It's a story about the pressures of expectation, it's a story about accepting that you've gotten older, and it's a story about passing the torch to the next generation.
And speaking of the next generation, a surprising (and wonderful) amount of time in this trilogy-capper is spent not with Bill and Ted themselves but with their progeny, Thea (Samara Weaving) and Billie (Brigette Lundy-Paine).
As new as these two performers are to the world of Bill & Ted, they are hardly new to the world of film. You might be asking yourself, as Thea and Billie mirror their dads' time traveling journey on their own quest through history, don't I know these two universe-savers from somewhere? And, yes, you do absolutely know Samara Weaving and Brigette Lundy-Paine from a bunch of really cool stuff. Let's dive right in and remind you why the children of Bill and Ted look so darn familiar.
Ready or Not, here comes Samara Weaving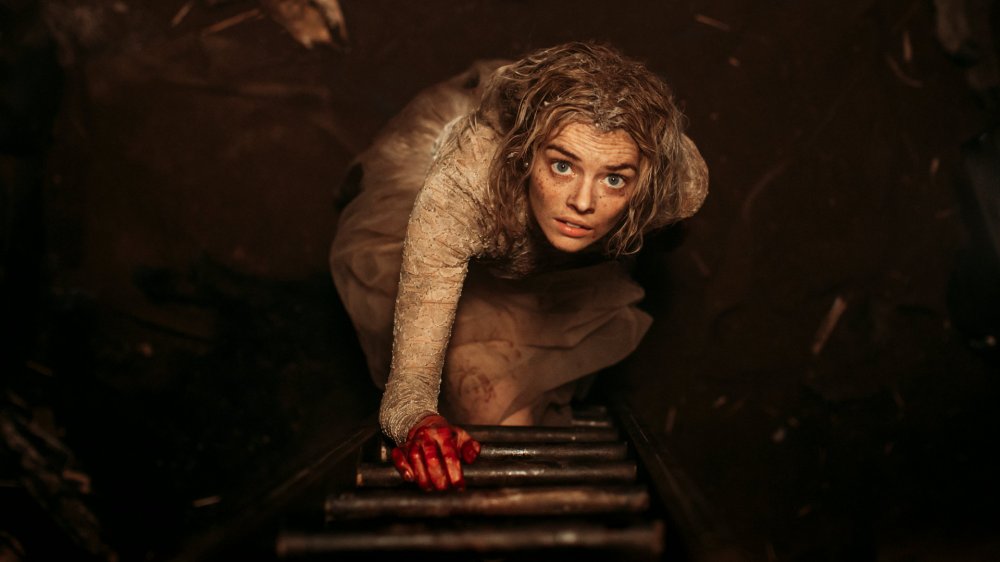 Fox Searchlight Pictures
It should surprise absolutely nobody when a young performer gets their big break in a horror movie. Kevin Bacon, Renée Zellweger, Leonardo DiCaprio, Jennifer Aniston, Brad Pitt and countless other A-listers have roots in low-budget fright fests. Still, very few of them have horror movies as stylistic, exciting, or flat out brilliant as Samara Weaving does. Truly, if Samara Weaving wanted to be the next reigning queen of horror, there is no doubt she could absolutely do that.
Exhibit A is unquestionably her pitch perfect portrayal of Grace, a young bride who unwittingly marries into a devil-worshiping family of one-percenters who intend to sacrifice her in order to stay in good standing with Beelzebub. The movie is called Ready or Not, and it features some of the goriest kills, some of the funniest humor, and one of the most satisfyingly grim endings in any mainstream horror movie in recent memory. At the heart of it all is Weaving herself, who manages to run, fight, and — spoiler alert — win against a horde of inept Satanic cultists, all while wearing a wedding dress.
Samara Weaving is so charismatic in Ready or Not that it wouldn't be unfair to say that her performance as Grace is a big part of why directors Matt Bettinelli-Olpin and Tyler Gillett are helming the next movie in the iconic Scream franchise.
Samara Weaving causes a little mayhem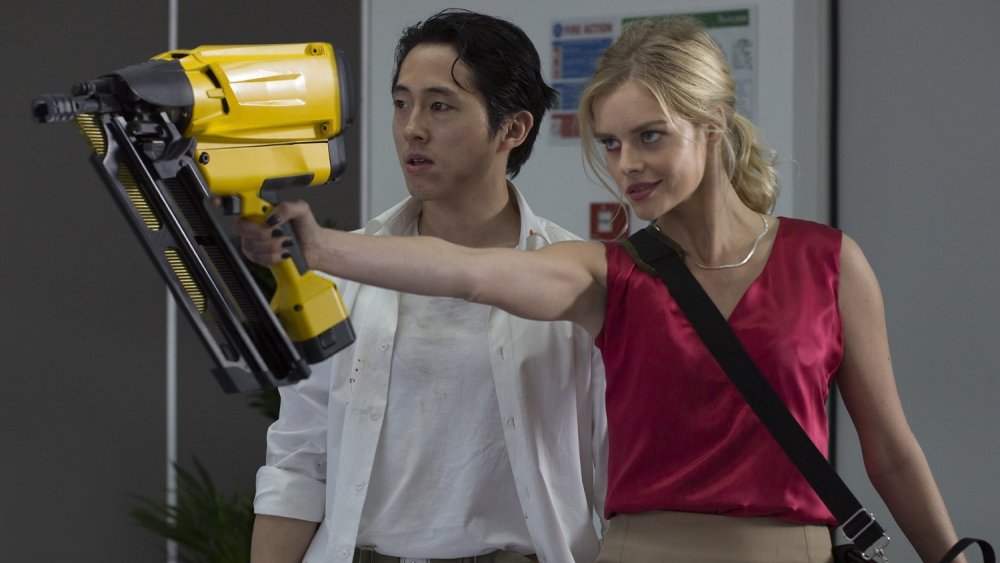 20th Century Studios
You can't say that someone is the reigning horror queen and then leave it at one horror credit. That just wouldn't be right. A lot of people might point you towards the McG Netflix horror film The Babysitter as Weaving's other horror claim to fame. But if you're a real horror hound (and if you recognize Weaving, there's a good chance you are), then let's talk about the other best horror movie that saw her take the spotlight: Mayhem.
The reason most people check out Mayhem is likely because it stars Steven Yeun, a.k.a. Glenn Rhee from The Walking Dead. But the reason people keep recommending Mayhem is because it's basically 28 Days Later meets Office Space. And you know who's perfect for playing a delightful, gleeful agent of chaos in a movie like Mayhem? Samara Weaving.
Yeun plays Derek, Weaving plays Melanie — both characters screwed over by an evil corporate entity who effectively join forces to face off against an army of rage zombies as they make their way to the top of their office building and the company heads who are responsible for their respective bad situations (who are also maybe at fault for the end times).
If you think that sounds like a violent video game brought to life, you're absolutely right. It's gloriously depraved, it's drenched in gore, and there's a very good chance it's where you know Samara Weaving from.
Samara Weaving and Three Billboards Outside Ebbing, Missouri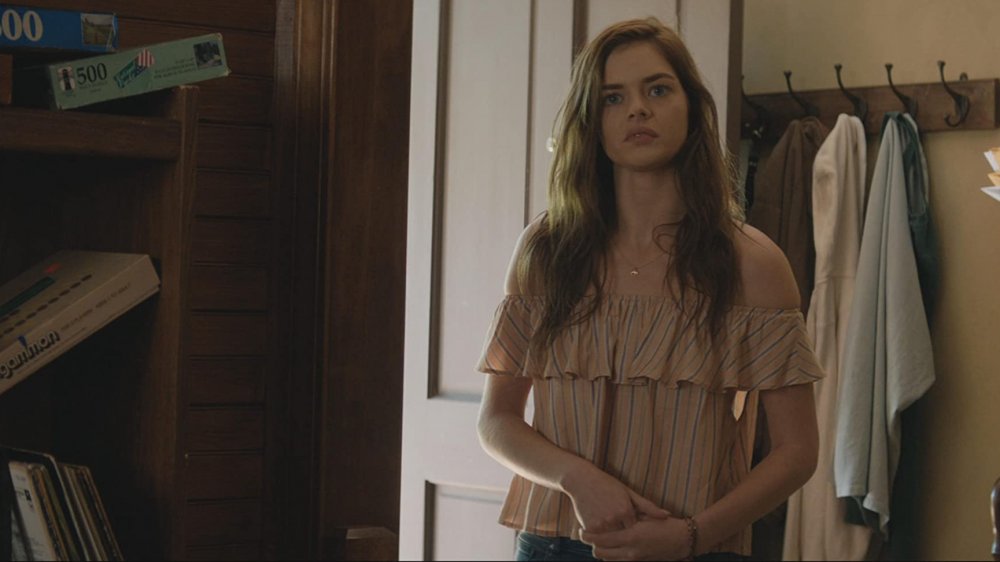 Fox Searchlight Pictures
Not every role is career-defining, but sometimes even a small part can have an impact. Three Billboards Outside Ebbing, Missouri is primarily Frances McDormand's movie. After all, she's the one playing Mildred Hayes, who takes out ads on three billboards in order to force Bill Willoughby (Woody Harrelson) to confront the ineffectual job his department has done in tracking down the person who murdered her daughter Angela (Kathryn Newton).
But even in the midst of what is a tense drama, there is sometimes a little offbeat humor — and that's where Samara Weaving comes in. As it turns out, Mildred's ex-husband Charlie (John Hawkes) has decided the best way for him to move on with his life is to take up with a teenager named Penelope (Weaving).
While there's certainly an awareness that Charlie was abusive to Mildred, Penelope's relationship with him seems relatively benign by comparison. Penelope is mostly there to go off on unrelated tangents and nervously ask if she can go to the bathroom. And, in addition to being very good at surviving horror movies, it turns out Weaving also has a real knack for comic relief.
Brigette Lundy-Paine gets an Atypical start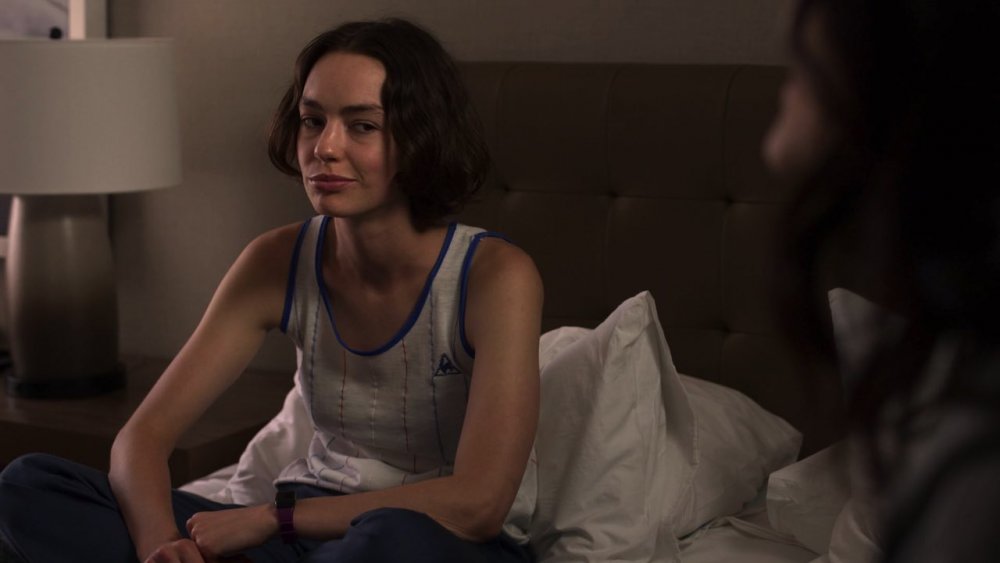 Netflix
The most likely place you recognize Brigette Lundy-Paine from is the Netflix series Atypical. The story primarily focuses on Sam Gardner (Keir Glichrist), a kid on the autism spectrum who is trying to find a girlfriend and otherwise develop his life beyond the bubble he has lived in so far.
In addition to strife between his parents, one of the most important relationships Sam has is with his sister Casey (Lundy-Paine). Casey has a supportive relationship with Sam. In fact, considering that she gets suspended from school in the first episode for punching a bully in the face it's pretty safe to say she tries to be protective of a lot of people.
Casey's story obviously exists beyond Sam's, a big part of which is accepting that she has the right to go to school away from Sam and develop her own life a little more, which takes her from dating Evan (Graham Rogers) to discovering her own sexuality as she develops feelings for Izzie (Fivel Stewart) once she goes to college.
Brigette Lundy-Paine drops a Bombshell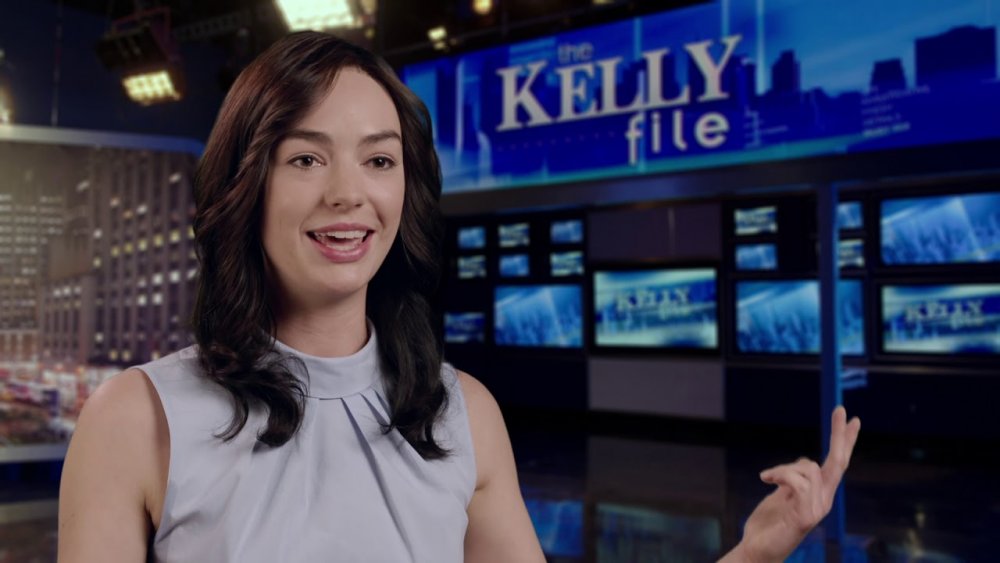 Lionsgate
2019's based-on-a-true-story Bomshell follows Megyn Kelly (Charlize Theron), Gretchen Carlson (Nicole Kidman), and Kayla Pospisil (Margot Robbie) in their dealings with Fox News CEO Roger Ailes (John Lithgow).
Obviously, in addition to the scandals at the network, Bombshell touches on the Trump presidency and sexual harassment across all industries in general. And in the midst of all of that is Julia Clarke, as played by Brigette Lundy-Paine. Clarke is the research assistant to Megyn Kelly as Kelly confronts Trump's comments about women in general, and about her specifically.
In an interview with InStyle, Lundy-Paine described the fictionalized character as "secretly based on a real person." The young nonbinary actor also opened up about what a challenge Bombshell was, both because Julia was "such an opposite role" from their usual type, and because the story represented a "fresh wound." Clearly, they rose to that challenge with a skill that makes their blossoming career all the more exciting.
Brigette Lundy-Paine in a Glass Castle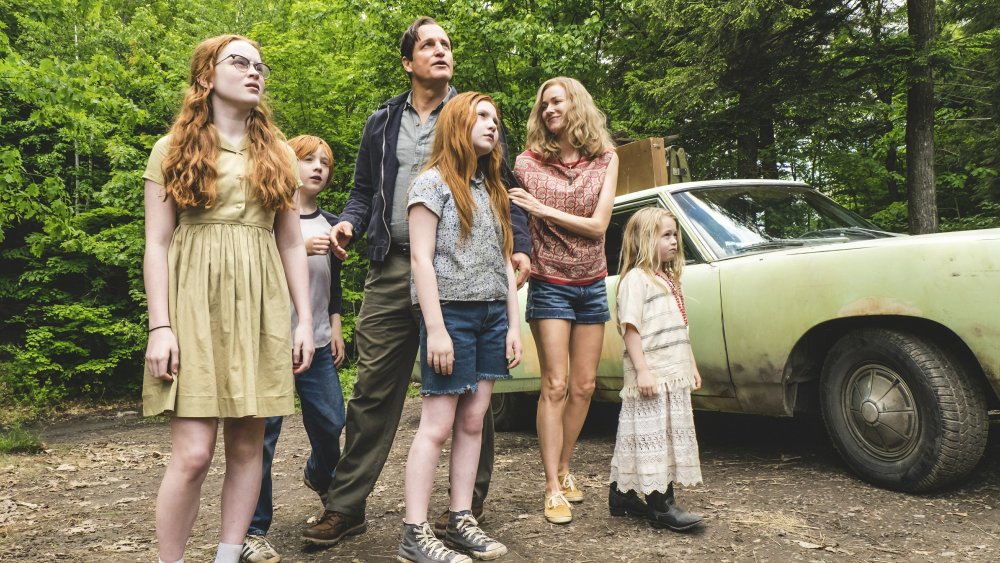 Lionsgate
Since she took on the role of Carol Danvers and became the superhero Captain Marvel, Brie Larson has been occupying the realm of big-budget blockbusters. And while Larson has certainly found success facing off against Thanos and King Kong, the reason she first gained notoriety wasn't just because she played Scott Pilgrim's ex, but because of her dramatic work.
Larson won an Oscar for Best Actress in 2016 for her turn as Ma in the drama Room. That story about a mother and her child held captive for so long that the child doesn't even know the world exists is absolutely harrowing. Similarly, in 2017 Larson also starred in the biographical drama The Glass Castle, in which she plays Jeannette Walls, one of several children trapped in an abusive situation with their irresponsible, alcoholic father Rex (Woody Harrelson).
Brigette Lundy-Paine plays Jeannette's younger sister Maureen in The Glass Castle. As Jeanette slowly awakens to how abusive and dangerous her home life is, Maureen is left in the unenviable position of trying to remain with her parents as Jeanette and their brother Brian (Josh Caras) move on. While Maureen eventually moves away as well, she and her siblings are permanently burdened by a fantasy that their father instilled in them: the notion of a glass castle that they could someday live in.
With all that sadness out of the way, hopefully now you know why you recognize Samara Weaving and Brigette Lundy-Paine. And if you haven't seen any of their work outside Bill & Ted, now you have a new way to appreciate these two rising stars.
Bill & Ted Face the Music is available on VOD now.