Small Details You Missed In Bill & Ted Face The Music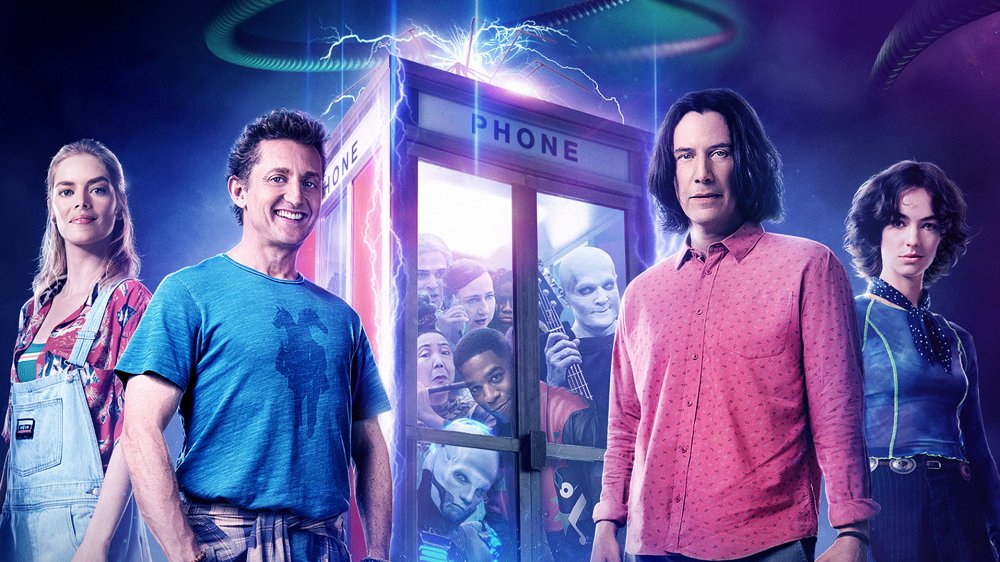 After a most excellent adventure and a totally bogus detour to the afterlife, the enthusiastic and affable William S. Preston, Esq., and Ted "Theodore" Logan are back for another trippy jaunt in a tricked-out phone booth, this time to see if they really do have the musical chops to unite the world. Bill & Ted Face the Music arrives 31 years after 1989's sleeper hit Bill & Ted's Excellent Adventure, which spawned a sequel, 1991's Bill & Ted's Bogus Journey. But even after all these years, affection for these best buds still runs high. Alex Winter and Keanu Reeves reprise their roles as the amiably goofy duo who encouraged audiences to "be excellent to each other," a sentiment that only sounds more poignant today.
"It is a remarkably likable comedy about two good guys still trying to find their place in the world that's anchored by genuinely sweet beliefs about the importance of friendship, honesty, and, most of all, music," writes critic Brian Tallerico for RogerEbert.com. Slate noted a few missteps but also said the movie's heart "remains in the right place." It's the rare threequel that lives up to its predecessors, in other words — and the beauty of having the film available to stream at home is that viewers can pause and rewind to catch the little things. Here are a few small details that you might have missed in Bill & Ted Face the Music. Spoilers ahead!
Little Bill and Little Ted, all grown up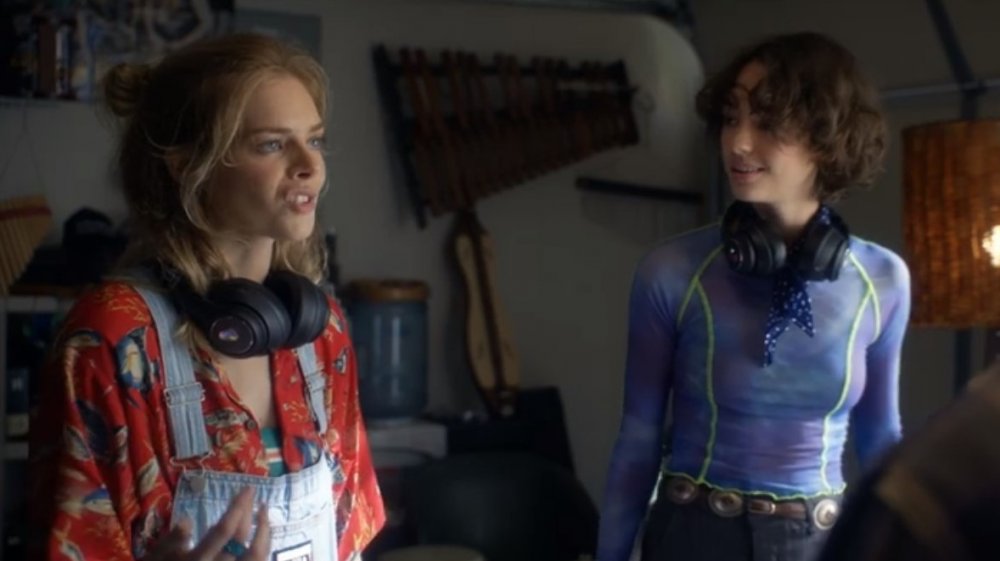 Fans first met Bill's and Ted's children at the end of Bill & Ted's Bogus Journey, when Bill and Ted returned to the Battle of the Bands after 16 months of intense guitar lessons, plus time off for their honeymoons. Each married a princess from medieval England, and each stepped onstage with a baby strapped to his back. Bill introduced his child as "Little Ted," in honor of his pal, and Ted introduced "Little Bill." As we learn in Bill & Ted Face the Music, those were actually nicknames for their daughters, Wilhelmina "Billie" Logan (Brigette Lundy-Paine of Bombshell), and Theodora "Thea" Preston (Samara Weaving of Ready or Not, who happens to be the niece of Reeves' Matrix adversary Hugo Weaving). Both adore their dads, to the irritation of Ted's father (a returning Hal Landon Jr.), now Chief Logan instead of a police captain. 
"Remember when you used to call them 'Little Bill'? 'Little Ted'?" he grumbles at one point. 
"I thought it was cute, Gramps," Billie says.
"Well, it turned out to be a curse," Chief Logan says. "All I ever see them do is sit around, listening to music."
A bad breakup and foreshadowing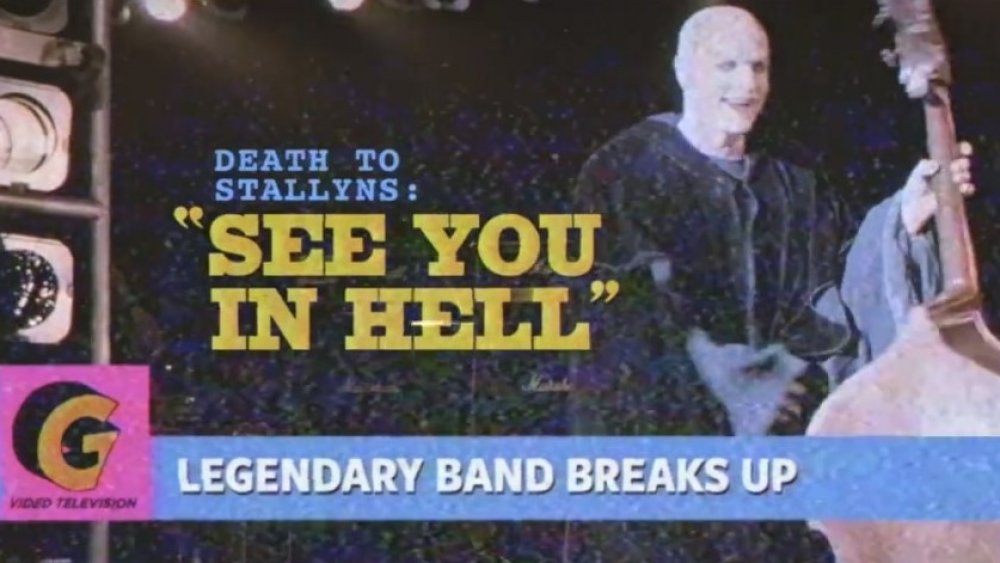 In Bill & Ted's Excellent Adventure, a representative from the future named Rufus (legendary comedian George Carlin) felt duty-bound to help the guys pass their history exam because their music would unite the universe. "You see, eventually, your music will help put an end to war and poverty. It will align the planets and bring them into universal harmony, allowing meaningful contact with all forms of life, from extraterrestrial beings to common household pets," he explained. "And... it's excellent for dancing."
A few years later in Bill & Ted's Bogus Journey, the guys debuted their supergroup, Wyld Stallyns, complete with Death, the Grim Reaper himself (a scene-stealing William Sadler), on bass. Death could rap but he wasn't proud, considering how he lost to Bill and Ted in Twister, Clue, and other games in that film's spoof of the 1957 fantasy The Seventh Seal. Even so, he could be cocky, and in the opening moments of Bill & Ted Face the Music, viewers learn that he and the Stallyns have parted ways. 
The headline "See You in Hell" isn't just tabloid shorthand, however. Later in the film, Bill and Ted, along with their daughters, all end up in Hell, where they again meet Death (a returning Sadler, who's marvelous). Judging by the decor in his lair, including a framed Wyld Stallyns jacket and album, he's missed his bandmates, even though at first he acts like he hasn't.
Most luminous musical knowledge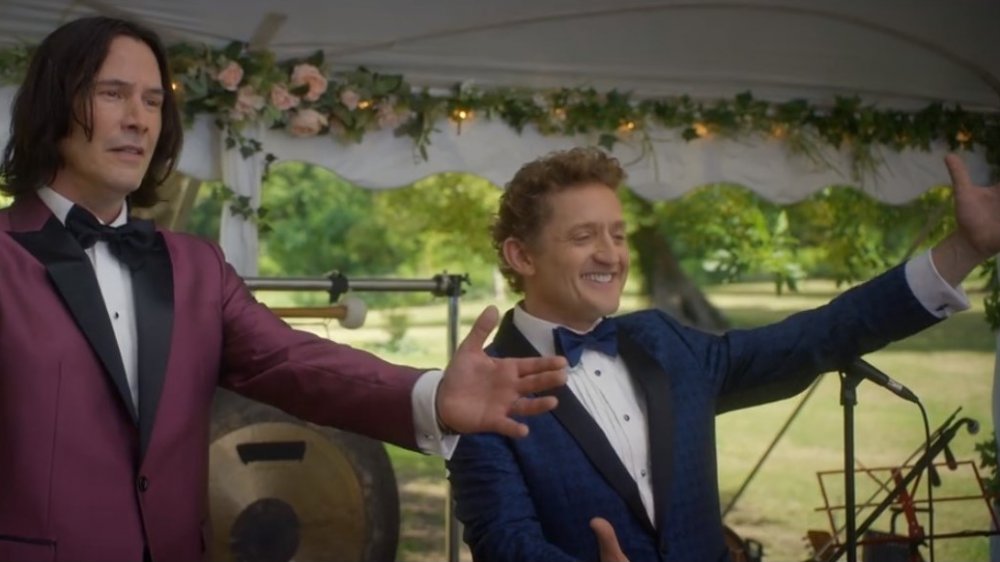 In its own loopy way, Bill & Ted Face the Music hits on the ambivalence and regrets of middle age through our heroes, whose foretold promise hasn't yet happened — but not for lack of trying. Years after their band's breakup, the two scramble for gigs, playing taco nights and even wedding receptions, such as the one for Ted's brother Deacon. (He marries Missy, played by a returning Amy Stoch, who in the earlier films married and divorced both Ted's father and Bill's father. So Deacon is... his own father-in-law?) The reception gives Bill and Ted the chance to show off a variety of musical styles they've learned in pursuit of the ultimate song, including the trumpet, kettle drums, bagpipes, throat singing, and the theremin. 
Unfamiliar with some of those? Billie and Thea aren't. While their dads might have called Beethoven "Beef-oven" back in the day, the girls know their stuff — and Bill and Ted have studied a lot, too. 
"Uncle Ted, when did you get so excellent on theremin? Your playing rivaled, and I'm not kidding, Clara Rockmore," Thea says, referring to the violin prodigy who became a virtuoso on this electronic instrument around the 1920s.
"Clara Rockmore was definitely an inspiration," Ted replies.
Billie also compliments her Uncle Bill. "The throat singing, I mean, it was a whole new level of eloquence. Some serious buga khoomei," she says, referring to one traditional style of such vocalization.
Strange math afoot in the future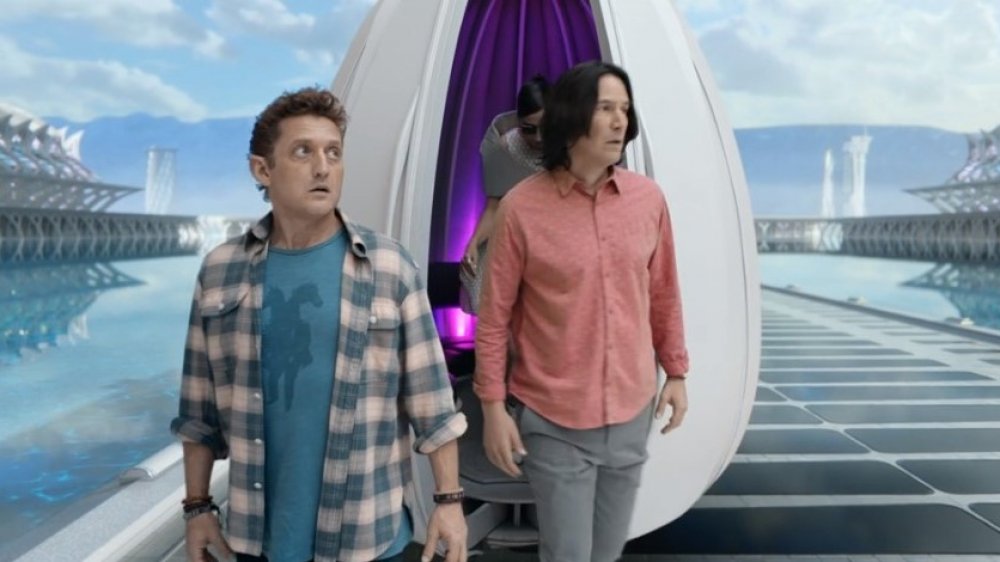 The plot for Bill & Ted Face the Music kicks into gear when another future representative (Kristen Schaal of Bob's Burgers) escorts the guys to their hometown of San Dimas in the year 2720. Here, they learn that Rufus' prophecy left out a few things. "A song created by Preston and Logan at a concert performed by everyone in the band at 7:17 p.m. at MP 46 — that's tonight — will save reality as we know it, uniting humanity across all time," explains the Great Leader (Holland Taylor). Without that song, time can't hold together, blipping historical figures such as George Washington, Babe Ruth, and even rapper Kid Cudi (as himself) all over the place. 
But while the Great Leader scolds Bill and Ted for not producing the perfect tune yet, her math retcons the second film. "Twenty-five years ago, Wyld Stallyns played a concert at the Grand Canyon," she says. A newspaper story about that concert during the closing credits of Bill & Ted's Bogus Journey places it in 1991. But Bill & Ted Face the Music is set in 2020. Twenty-five years earlier would be 1995. Whoa!
Screenwriter Ed Solomon has said that they had to rework that ending montage, which included the guys playing on Mars, to have a starting point for this third film. Bill and Ted won the Battle of the Bands, but "they were a flash in the pan."
True colors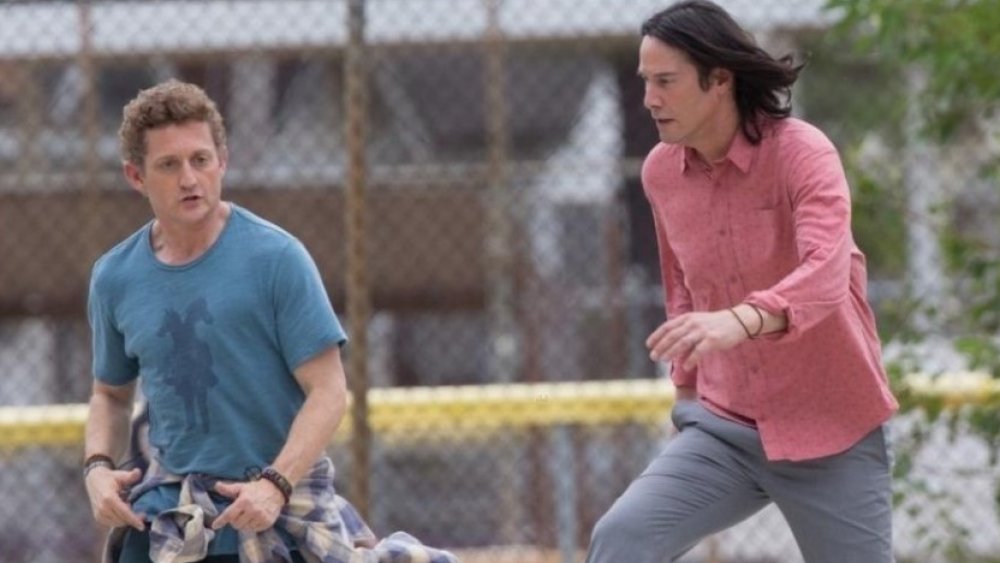 Under pressure to write the perfect song within hours, Bill and Ted journey to the future to get some help from themselves. While the wardrobe of their future selves occasionally leaves much to be desired, the present-day duo has a dad style that's only mildly different from what they wore in the previous films. Bill always liked blue hues and plaid or button-down shirts, usually worn as jackets or tied around his waist as they traveled through time and to Heaven and Hell. Here, he again ties a plaid shirt around his waist and wears a blue Wyld Stallyns T-shirt that has the band's name written across the back. 
As for Ted, he's always liked red. In Bill & Ted's Excellent Adventure, Ted wears a light red denim jacket outside the Circle K early in the film when Rufus first meets the pair. Ted takes off the jacket as they travel, but it's around his waist for much of the movie. In the second film, he wears a red vest and hoodie combo. In this third film, Ted starts out wearing a gray suit jacket and gray slacks, but as he and Bill trek through time, he ditches the jacket, fully revealing a button-down shirt in his signature color.
A signature sound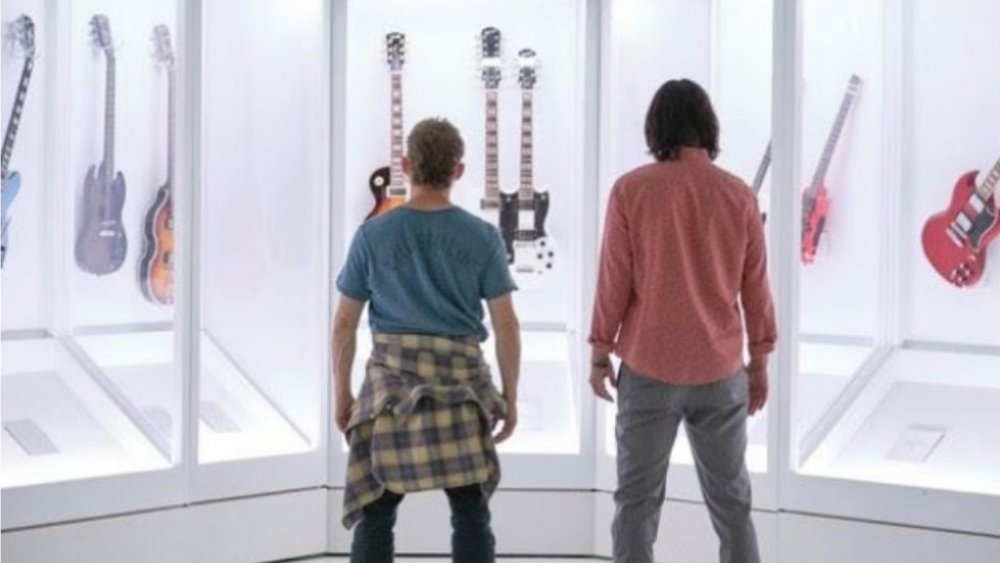 At one point in Bill & Ted Face the Music, Ted says that he "might have to sell the Les Paul" for financial reasons, referring to a renowned solid-body electric guitar from the Gibson guitar company. But once the two visit San Dimas in 2720, the Great Leader gives them an array of guitars to get their creative talents flowing. Musicians and guitar aficionados can spot more than 30 guitars from Gibson, Epiphone, and Kramer throughout the film, according to Audio Media International. 
Gibson is proud to be the "official guitar brand" of the film, having made Bill and Ted's previous guitars of choice. Rufus in the original film presents the two with Steinberger guitars, which Gibson manufactures. Then in Bill & Ted's Bogus Journey, the two play a classic Gibson SG Special and a Gibson Flying V. Because the guitar company had been a part of Bill and Ted's cinematic journey from the beginning, the filmmakers said they were glad to collaborate with them again. "Gibson came through for us in a big way," music supervisor Jonathan Leahy said. "You can't make a third Bill and Ted film without Gibson."
A cameo for Times Like These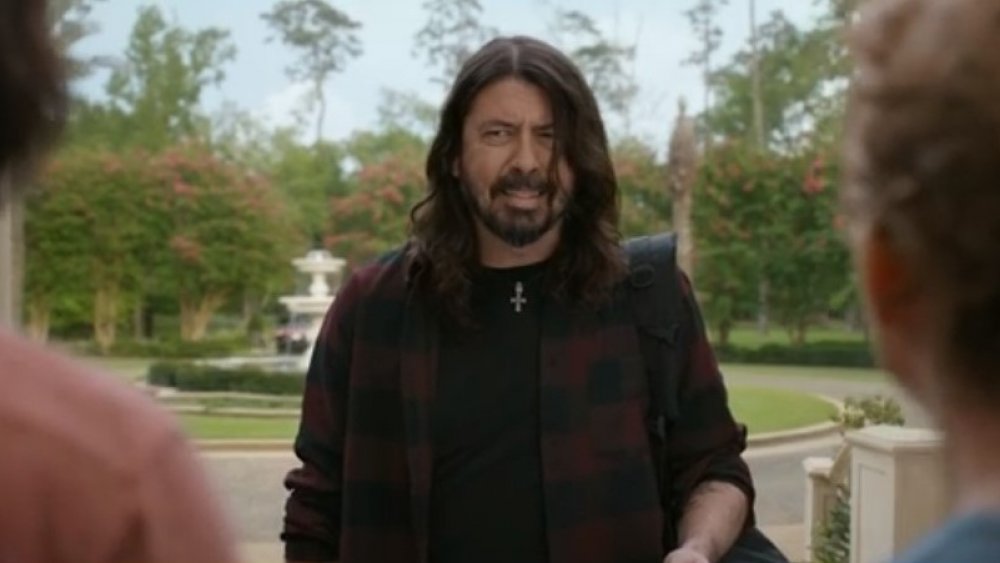 As they visit various versions of their future selves, Bill and Ted at one point land outside a mansion, bolstering their hopes that they've written the important song after all. The Future Bill and Future Ted inside aren't the successful rockers they pretend to be, although they try to dress and act the part. While their outlandish tights, animal prints, and top hat might remind some viewers of Guns N' Roses or Aerosmith in the 1980s, costume designer Jennifer Starzyk told Variety that she drew from another band of that era: Van Halen. She imagined Bill and Ted imitating the band from its early heyday when dressing them for the big time. "That whole look of the two was about over-embellishment and how ridiculously rock star they should look, as if they were famous," she said. 
The present-day heroes soon learn that real rockers are more low-key when the true homeowner — Dave Grohl of the Foo Fighters — arrives in an understated black outfit. 
"Dave Grohl!" Bill and Ted greet the frontman.
Grohl, at least onscreen, isn't amused. "Who are you guys? What are you doing in my house?" he says before calling the police.
A clean tribute to George Carlin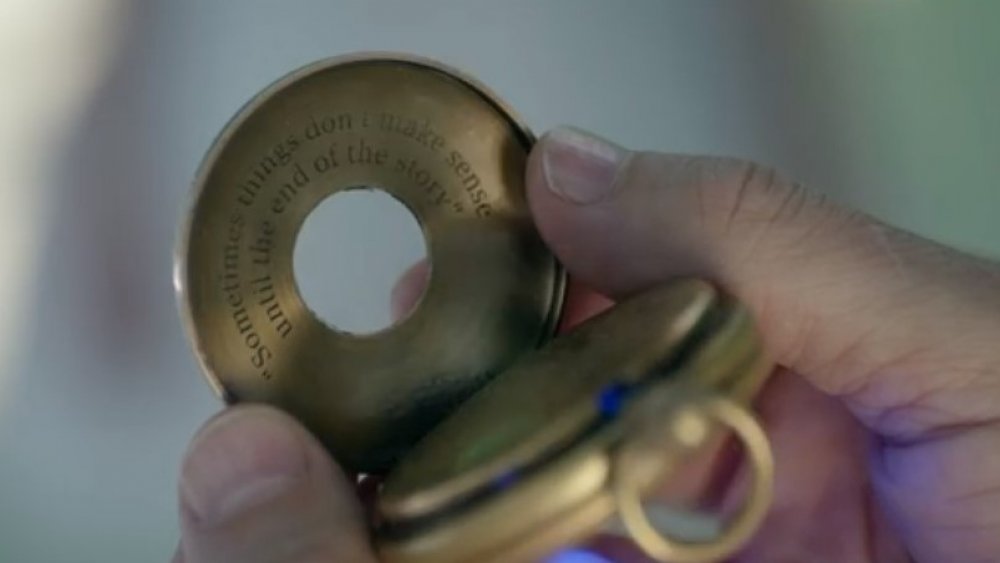 The filmmakers couldn't resist paying tribute to George Carlin, whose time-traveling Rufus appeared in both earlier films. The comedian, whose famous riffs included an extended bit on the dirtiest words you can't say on television, died in 2008 at age 71. In Bill & Ted Face the Music, Rufus returns for a few seconds as a hologram in San Dimas 2720, popping out of the time-traveling phone booth as sort of a historical kiosk. "Greetings, my excellent friends," he says, just like he did in Bill & Ted's Excellent Adventure when he landed outside the Circle K. Ted gives him a little wave.
A bigger tribute, however, is in Schaal's character. Her emissary from the future is Rufus' daughter, and her name is Kelly — the name of the comedian's daughter in real life. "One of the things George was proudest of was his daughter Kelly," Solomon wrote on Twitter, "and, if you ask me, I think he'd've loved that we named Rufus' daughter Kelly."
Kelly Carlin also has a small cameo in one of the film's future scenes. For our part, we like how the film's Kelly gifts Bill and Ted with Rufus' watch to keep track of time while on their journey. The inscription inside?  "Sometimes things don't make sense until the end of the story."
Kid Cudi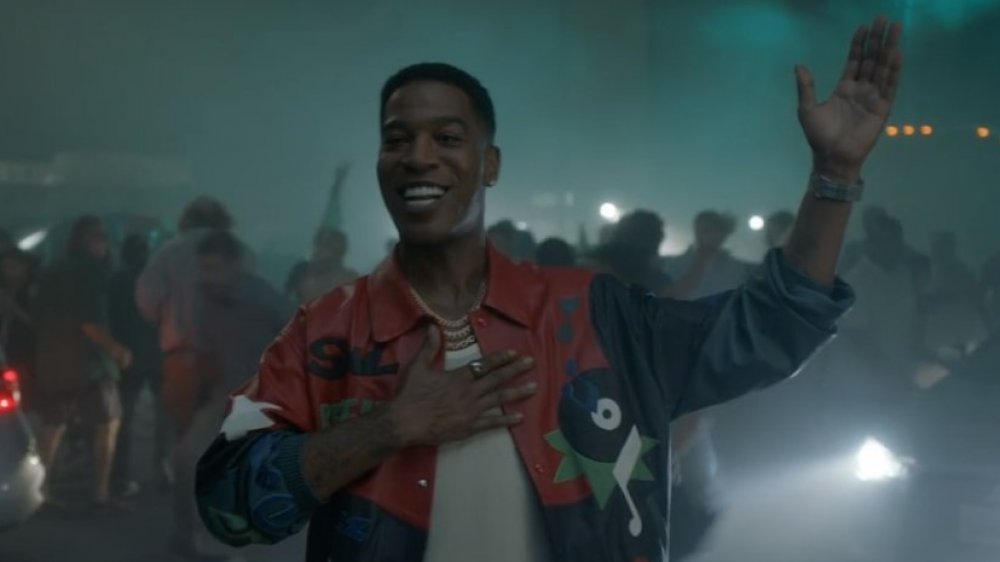 Singer and rapper Kid Cudi has a single called "Frequency," and he's definitely in tune with the odder happenings of the universe in Bill & Ted Face the Music. To help their dads craft the ultimate song, Billie and Thea borrow Kelly's time-traveling pod and assemble their own supergroup, including Jimi Hendrix, Louis Armstrong, and Mozart. But the girls also are huge fans of Kid Cudi, who materializes in front of them at one point thanks to the universe's instability zapping him offstage. (Queen Elizabeth and the Sahara Desert turn up down the block.) 
As the girls explain their dilemma, Kid Cudi offers up some science. "So, is this some kind of error in our holographic dual field? Or is it a Wilsonian loop causing a temporal singularity?" he asks. While those terms might go over the average viewer's heads, the artist later reveals that he knows how Bill and Ted travel. 
"Dudes, the booth is obviously a tunnel to the quantum realm," Kid Cudi says.
Either Kid Cudi has followed their musical career, or he's had help from the brilliant bongo-playing extraterrestrial whom Bill and Ted borrowed from Heaven in Bill & Ted's Bogus Journey. That alien was a dude who "could make one word mean anything," and Kid Cudi salutes Bill and Ted with that very word: "Station!"
Strange things all around the Circle K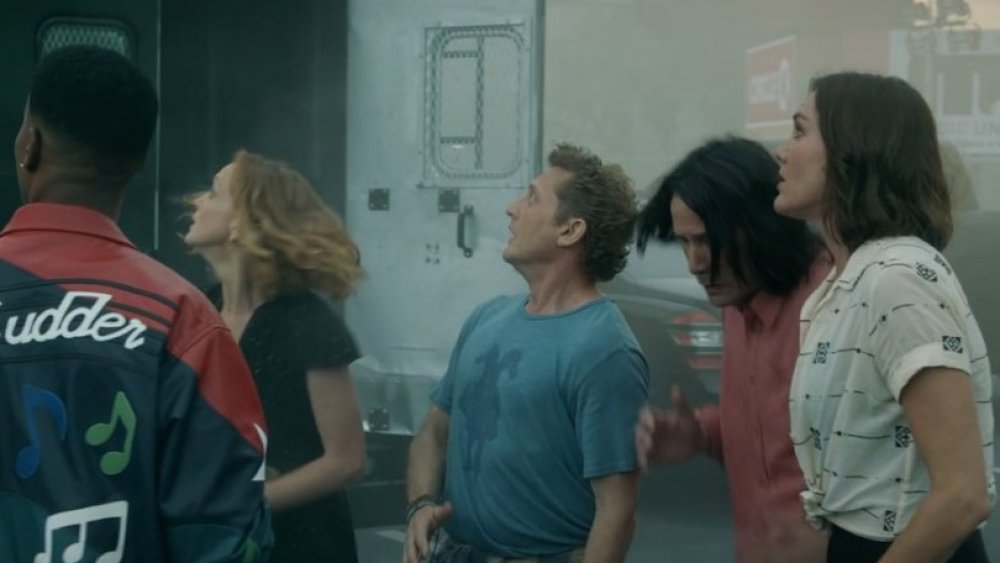 In Bill & Ted's Excellent Adventure, the boys didn't visit the library to work on their history report but sat on the curb outside the Circle K, asking passersby about figures such as Genghis Khan. ("I just work here," one woman replied.) Then Rufus arrived in the telephone booth amid crackles of electricity. "Strange things are afoot at the Circle K," Ted said in an awed bit of understatement.
The convenience store doesn't appear in Bill & Ted Face the Music, but the humble origin of the guys' time-traveling antics gets a shout-out as time and reality go haywire. Toward the climax, while the guys, their wives (Erinn Hayes and Jayma Mays), their daughters, and fellow musicians puzzle out how and where to play the essential song, sharp-eyed viewers can spot a red Circle K billboard in the background. 
The Circle K callback isn't the only subtle touch here, however. The billboard next to the one advertising the store says, "Music Unites" — the theme of all the Bill and Ted films and what our heroes desperately want to do.
Leave 'em smiling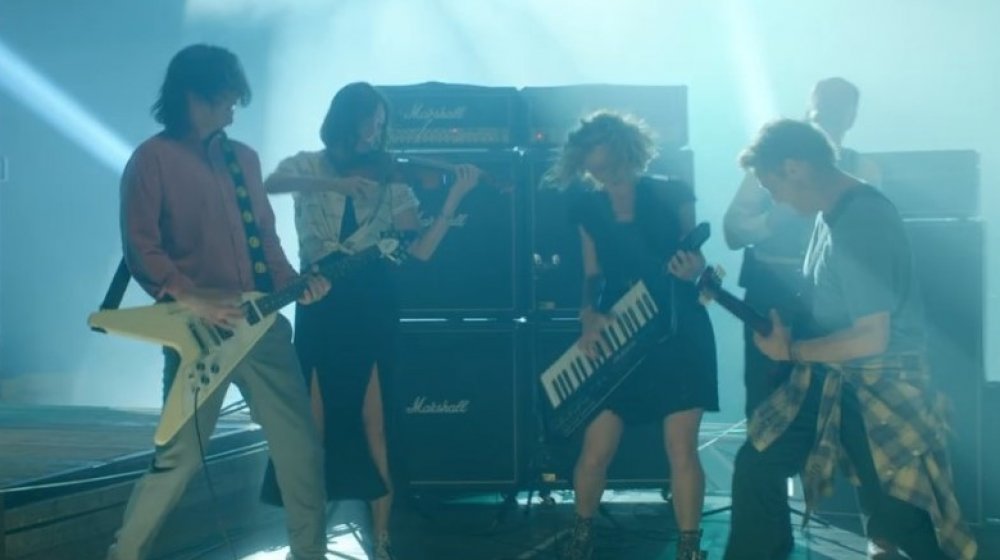 Although Bill's and Ted's wardrobe choices echo their earlier films, Ted's love of smiley faces deserves a highlight all its own. As a teen in Bill & Ted's Excellent Adventure, Ted wore black shorts with a yellow smiley face patch on one leg. The motif appeared again on the back of Ted's vest and hoodie combo in Bill & Ted's Bogus Journey, and also on the baby carrier holding Little Bill that's strapped to Ted's back before he and Bill play at the climactic Battle of the Bands. 
In Bill & Ted Face the Music, however, Ted's smileys don't show up for a while. Sure, he's a middle-aged guy at this point, so he might not wear them so obviously, but considering his best buddy still knocks around in his band T-shirt, the missing smiley faces comment on Ted's emotional state. The film opens with the pair feeling low, after all, wondering if they've failed to live up to their potential. But the film signals that all will work out eventually when they meet one Future Ted who wears a comfortable purple shirt with smiley faces printed across the front. He's clearly at peace, and by the film's end, as present-day Bill and Ted rock out with their wives, daughters, and the rest of the crowd, Ted plays his guitar with smiley faces all along the strap. It's enough to leave the audience in a happy place.