The Underrated Robert Downey Jr. Movie Crushing It On Netflix Today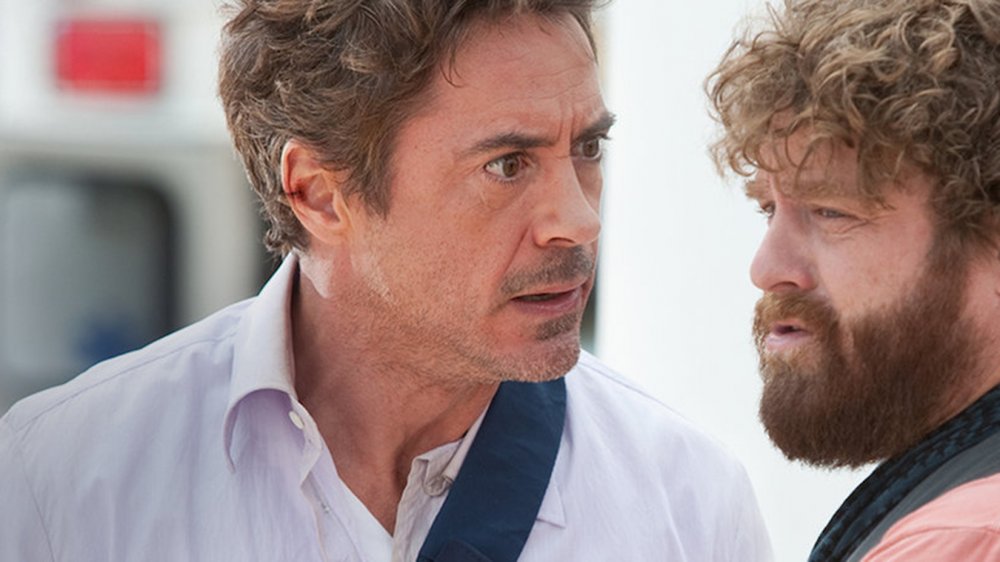 Warner Bros.
In the mood for some of that comedic Robert Downey Jr. goodness? Netflix has just the movie for you.
2010's Due Date sees Downey pairing up with the always-hilarious Zach Galifianakis for a kind of anti-buddy picture — a road flick with a pitch-black sense of humor. Though it's been regarded as criminally under-seen since its debut, Due Date won't hold on to that description for much longer: It currently sits at number three on Netflix's Top Ten list for movies in the U.S.
Overall, Due Date is a ton of fun – like an updated, darker Planes, Trains and Automobiles with an increasingly flustered Downey in the straight-man role. The on screen chemistry between Downey and Galifianakis is fantastic, and the film sports a stellar supporting cast that includes Jamie Foxx, Michelle Monaghan, Danny McBride, and Juliette Lewis as Heidi — the same character she played in the classic 2003 comedy Old School. Due Date also shares Old School's director — Todd Phillips, who made the movie in between the first two Hangover films, and who would go on to give us a slightly darker and less hilarious film with last year's Oscar-winning, billion dollar-grossing Joker.
What's Due Date about?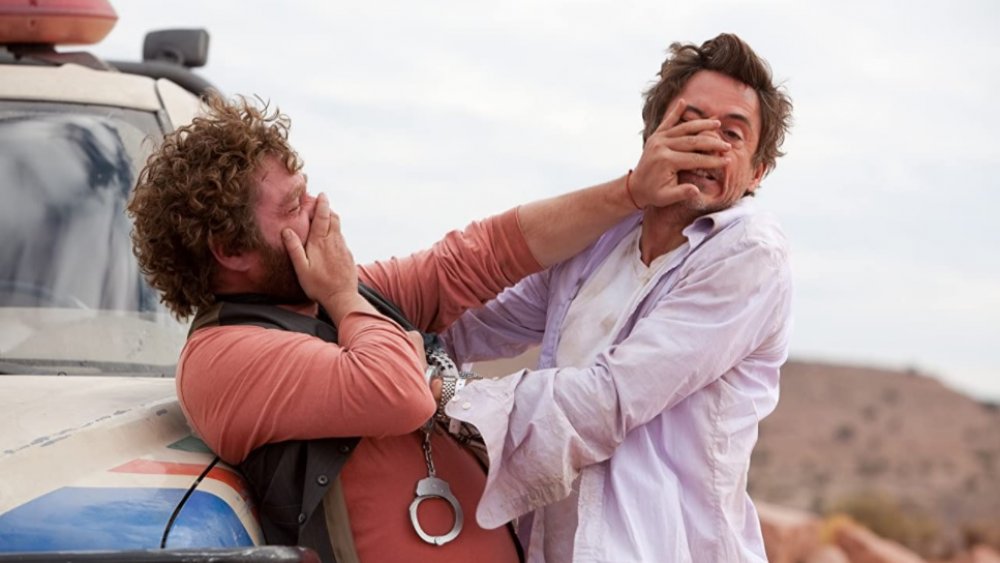 Warner Bros.
In Due Date, Downey stars as a successful architect named Peter Highman, who, as the film opens, is about to become a new dad. All he has to do is catch a cross-country flight from Atlanta to Los Angeles, but on the way to the airport, he meets a human monkey wrench: Ethan (Galifianakis), who's making his own pilgrimage to the City of Angels in hopes of becoming an actor. On the way, Ethan intends to scatter his deceased father's ashes at the Grand Canyon — and in relating this to Peter, he misuses a couple of choice words that, when overheard by a member of the flight crew, results in the pair being kicked off the plane and put on the No-Fly List.
Now missing his wallet, Peter agrees to drive to L.A. with Ethan — a decision he quickly comes to regret when he attempts to have his wife (Monaghan) wire him money. Ethan nearly gets into a fistfight with a Western Union employee (McBride), and the pair are turned away with no cash forthcoming. While camped out at a rest stop, Peter decides to ditch Ethan, driving off and leaving him behind. Unfortunately, he does so with Ethan's father's ashes in the car — and after a brief crisis of conscience, he returns.
Peter decides to enlist his friend Darryl (Foxx), who lives on their route, for help — but things go south for reasons that are frankly too gross to specify. The rest of the duo's trip includes multiple car crashes, gunplay, Mexican Federales — all the standard road trip stuff. Will Peter make it to L.A. in time for the birth of his daughter? And can he keep from killing — or getting killed by — Ethan on the way?
Robert Downey Jr. snuck in Due Date between Marvel and Sherlock Holmes movies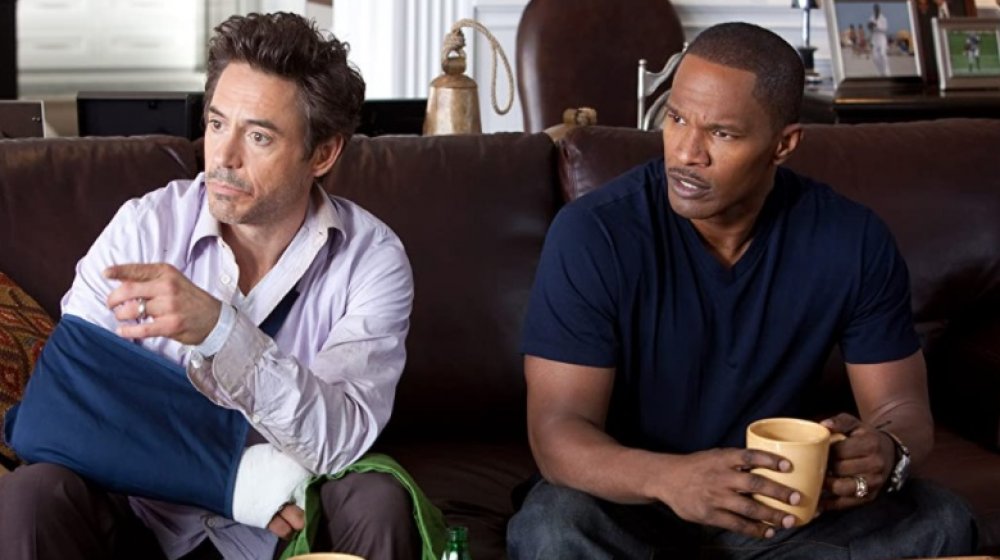 Warner Bros.
Downey made Due Date at a time during which his workload could accurately be described as "superhuman." The flick dropped in theaters on November 5, 2010 – a few months after the May 7, 2010 launch of Iron Man 2, which Downey jumped into after completing 2009's Sherlock Holmes. He would finish up that movie's sequel, Sherlock Holmes: A Game of Shadows, in time for its November 2011 release, and in 2012, Downey was a key part of The Avengers. 
How on Earth did Downey have time to do anything in 2010 other than play Tony Stark and Sherlock Holmes? Perhaps he has a secret twin brother, or possesses a real-life Time-Turner from Harry Potter. However he managed to squeeze in Due Date, we're glad he did.
Still, with so much Downey goodness airing on multiplex screens, it's not surprising that Due Date slipped under the radar. The good news is that Due Date was a modest financial success, mostly due to the fact that there wasn't a lot in the way of competition for the R-rated dark comedy during its early November release frame. Due Date had to contend with the animated feature Megamind and the harrowing true-life drama 127 Hours on its opening weekend, but that was pretty much it. It wound up earning a $32 million opening en route to a $211 million total worldwide gross – not bad for a comedy released during Oscar season.
In the intervening years, however, it seems that Due Date had been largely forgotten — until now. If you like your comedy with a side order of raunch and a heaping helping of Downey, you'll want to fire up Netflix tonight and give Due Date a watch.