Why We May Never Get To See The Hangover 4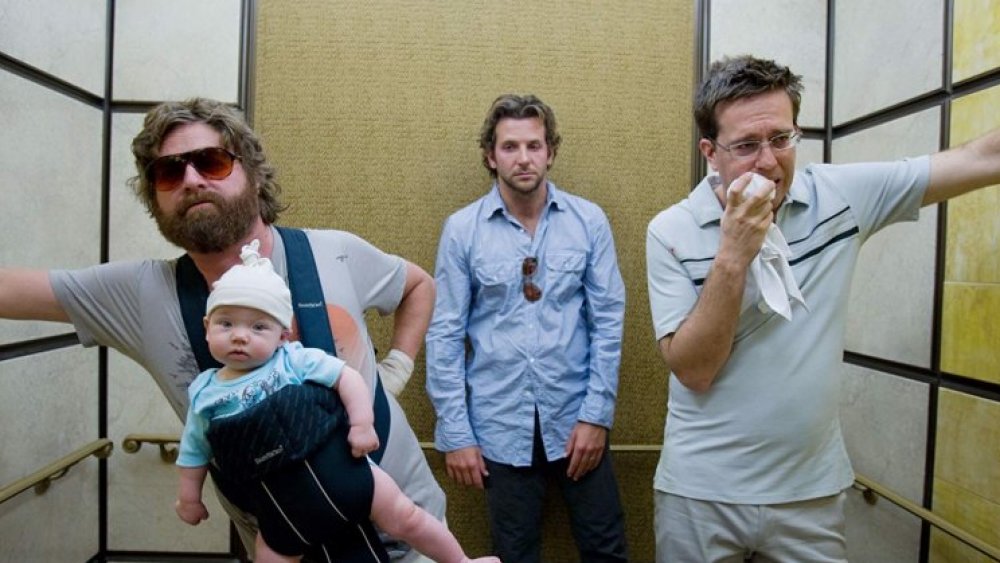 The beginning of the 21st century saw a rise in raunchy, raucous comedies, and that trend hit a peak in 2009 with The Hangover, which turned the familiar "bachelor party" premise on its head by using an inventive new framework and stacking the film with an extraordinarily talented cast. When friends Phil (Bradley Cooper) and Stu (Ed Helms) take their buddy Doug (Justin Bartha) and his odd future brother-in-law Alan (Zach Galifianakis) out to Las Vegas for his bachelor party, things get off to a good start — but the celebrations quickly go awry when Phil, Alan, and Stu wake up in the morning and realize they've lost Doug.
If you somehow missed The Hangover, we'll let you discover where Doug is for yourself, but all in all, this still-funny film set a new standard for dirty comedies. It remains a favorite over a decade after its release, and even won the 2010 Golden Globe for Best Musical or Comedy. In that vein, it makes sense that The Hangover ultimately spawned two sequels, creating a trilogy nobody saw coming. It's also understandable that in 2020, one big question remains: Will there ever be another Hangover movie? 
In the years since the first film, its stars and its director Todd Phillips have only gotten more popular — earning Academy Award nominations and huge opportunities left and right. This leaves a fourth Hangover film up in the air. 
From the cast's feelings on a third sequel to what the cast has been up to since The Hangover 3, here's why we might never revisit Phil, Alan, and Stu's messy adventures in yet another Hangover movie.
Diminishing returns on The Hangover sequels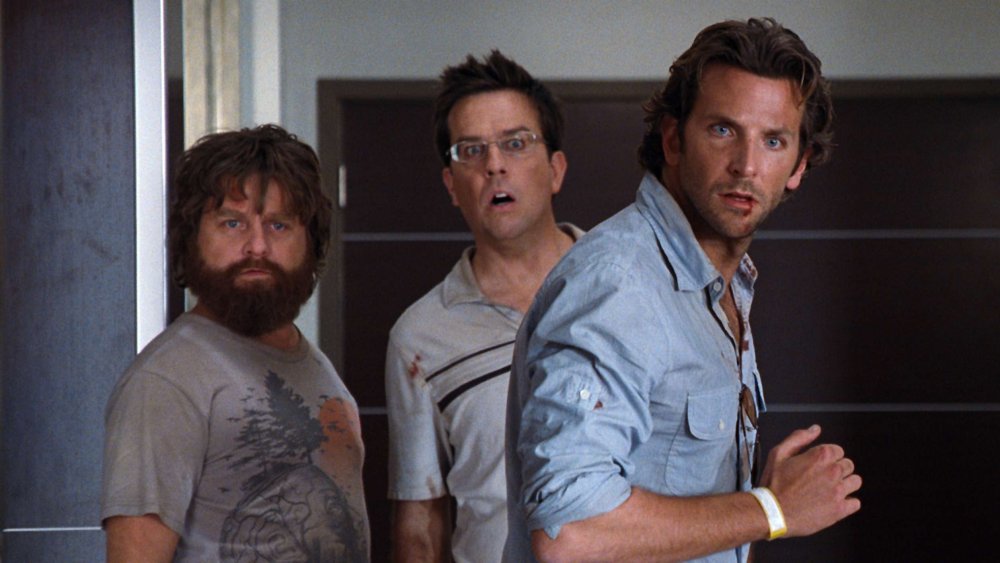 The original Hangover film felt like a breath of fresh air, combining a hilarious story with excellent performances from Cooper, Galifianakis, and Helms (and Bartha, during the moments he was actually on screen). Unfortunately, filmmakers didn't bottle that same lightning with the two ensuing movies. 
Since the first film's premise is what made it stand out, it's easy to see why such a super-specific framework might not work if you repeat it twice more. However, The Hangover performed well critically and absolutely crushed the box office — earning nearly $470 million on a $35 million budget and becoming one of the highest-grossing R-rated films in cinematic history — so it made sense that a sequel would eventually emerge. In 2011, The Hangover Part II hit theaters.
The sequel flick finds the gang stuck in an all-too familiar situation; instead of Las Vegas, though, they land themselves in big trouble in Thailand ahead of Stu's wedding to Lauren (Jamie Chung) after a wild night during which they lose Lauren's younger brother Teddy (Mason Lee). Just like in the first Hangover film, Part II sees the gang retrace their steps and get into even more sticky situations in the process, ultimately finding Teddy just in time. Rehashing this formula didn't go over particularly well with critics, and sparked controversy over possible animal cruelty and tone-deaf jokes about race. 
In 2013, The Hangover Part III tried to do recreate the magic of the first film one more time, but it sadly left critics even more disappointed than before and put the fate of the franchise in flux.
However, from a studio's perspective, a fourth Hangover film would be a no-brainer. Despite disappointing reviews, both sequel movies earned plenty of money at the box office, though Part II outstripped Part III by hundreds of millions of dollars.
What the cast thinks about a fourth Hangover film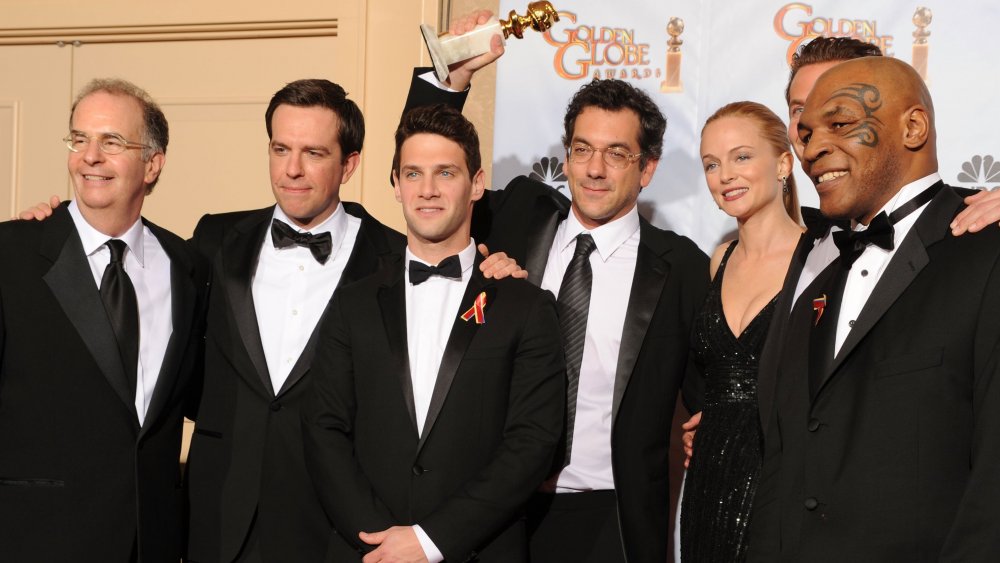 Kevin Winter/Getty Images
The studio's thoughts aside, the most important question is whether director Todd Phillips and the original cast would return to make The Hangover 4.
As far as Ed Helms is concerned, the answer is a resounding "no," and he's been pretty clear that he's done with the series over the years. During a January 2020 interview with Access Hollywood (via US Magazine), Helms played a game called "Helms yes or Helms no." When asked about a fourth Hangover, he chose "Helms no," adding that he believes the franchise ran its course.
This isn't the first time Helms has said no to another Hangover movie. In 2018, during an interview with CinePop (via ScreenRant), Helms was extremely blunt about the chances of a sequel: "I'd say the chances of a fourth movie are between zero and zero."
Cooper, Phillips, and Galifianakis haven't been as upfront as Helms has about their thoughts on a possible Hangover 4, but the fact is that these three are pretty busy with other, much bigger projects. Cooper, in particular, has become a Hollywood fixture — earning Academy Award nominations for co-writing, directing, and starring in A Star is Born alongside Lady Gaga in an extraordinarily successful directorial debut. Galifianakis starred on FX's critically acclaimed series Baskets and scooped up an Emmy Award for his cringe-worthy comedy series, Between Two Ferns, which ultimately scored its own Netflix film (and also has some hilarious bloopers). As for Phillips, he may be done with raunchy comedies after hitting critical mass with Joker, which earned a whopping 11 Oscar nominations (including Best Director) and won star Joaquin Phoenix his first Best Actor award.
Everything considered, a fourth Hangover movie may well never happen, but you can always revisit the first three films on streaming anytime you want.