Why Margot From The Sleepover Looks So Familiar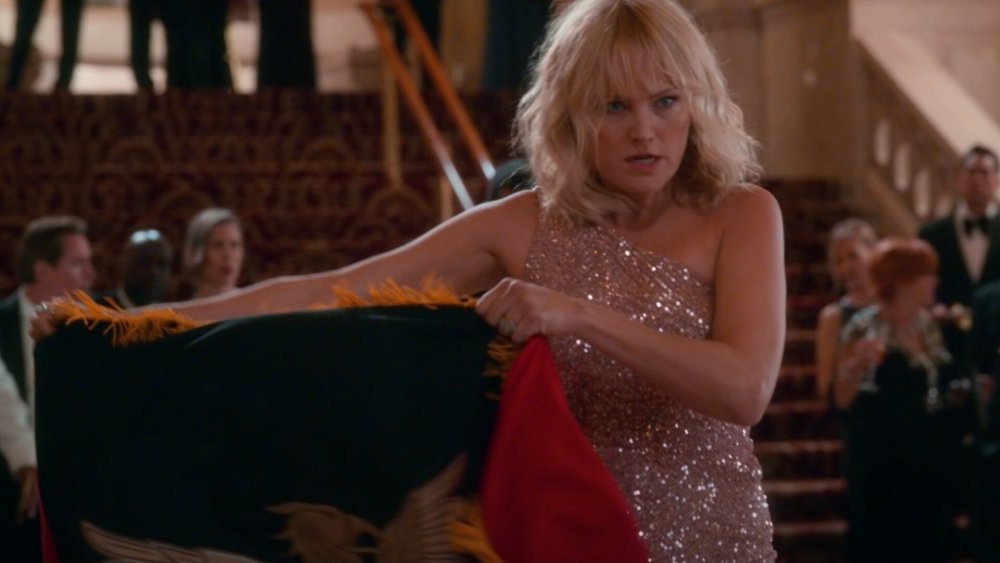 Netflix
Do you ever have the feeling your seemingly average mother is a former master thief who's doing all she can to keep a low profile in the witness protection program, and that she's being forced into action for one last big score? According to Netflix, you might just be onto something, as that's the pretty much plot to the streaming giant's latest action-packed original, The Sleepover.
That near-unbelievable plot unfolds mostly under the watchful gaze of four precocious tweens (Sadie Stanley, Maxwell Simkins, Cree Cicchino, and Lucas Jaye) who set out to rescue their uniquely gifted Mom and their embarrassingly fumbling Dad from the clutches of crime-loving captors. Yes, that is a very Disney Channel-esque sort of setup, with the youngsters engaging in all manner of hilarious, pseudo-spy movie-slash-heist movie-slash teen comedy hijinks. And yes, The Sleepover more than fits the bill among Netflix's current slate of summer movie-type releases (see also Eurovision Song Contest, The Old Guard, and Project Power), with director Trish Sie fronting laughs and action-a-plenty every step of the way.
Sie also delivers charming performances from her young stars, most of whom will be relative unknowns to viewers who aren't actually raising tweens. The Sleepover's adult cast will likely seem quite familiar to many though, with Joe Mangianello (Magic Mike), Karla Souza (How to Get Away With Murder), and Erik Griffin (Workaholics) all joining the fray in supporting roles. Older viewers should also recognize the film's fumbling Dad, as Ken Marino has become one of the premiere comedic talents of the 2000s.
As for badass Mom Margot, she should look quite familiar as well, as Malin Akerman has been steadily working her way up Hollywood's "not-quite-A-list" for a couple of decades now. Here's why Margot from The Sleepover looks so familiar.  
Malin Akerman plays the stunning and cunning ex-wife on Billions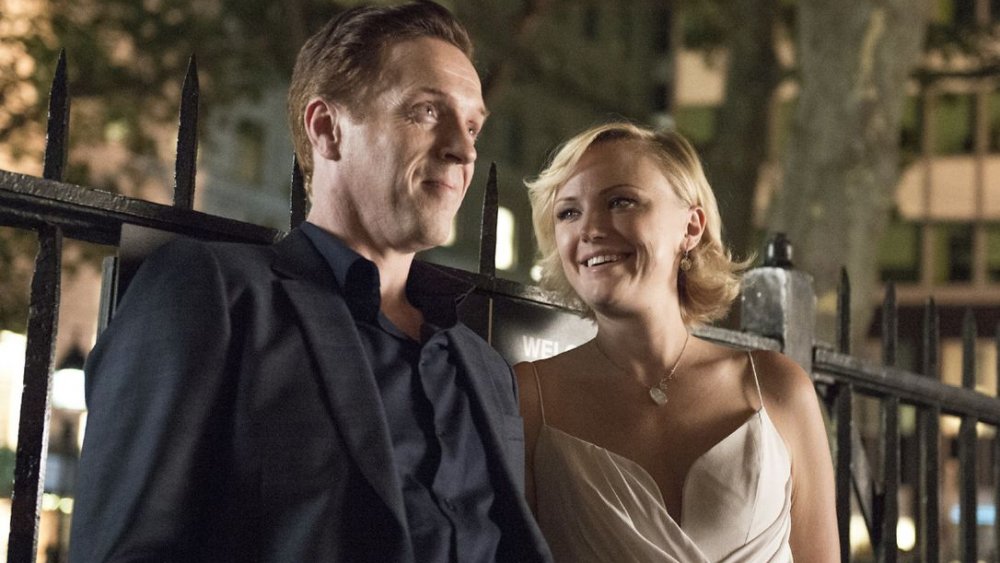 Showtime
Malin Akerman has worked extensively in both film and television mediums since the early 2000s, so it's possible you've seen her in any number of projects over the years. The talented actor did, however, make a bit of a small screen splash in 2016 when she joined the cast of Showtime's lauded, high-finance drama Billions. 
For those who've never seen the Showtime drama, Billions follows the ongoing clashes between hotshot hedge fund manager Bobby "Axe" Axelrod (Damien Lewis) and the US Attorney (Paul Giamatti) tasked with keeping him in check and/or bringing him down. Those two heavy-hitting performers are generally at the center of every narrative twist and turn on Biillions, but over the years, the show has developed a truly fascinating cast of supporting characters to keep the drama fresh. 
For the first three seasons of Billions, Malin Akerman was a highlight among those supporting players, and served as a key element in the series' narrative. She portrayed Axelrod's would-be trophy wife Lara, a powerful woman behind the power hungry-man. We'd go so far as to say Akerman made as dramatic an impact on Billions' multiple storylines as any other cast member, with the actor delivering one of her strongest performances to date in a 37-episode run. 
Unfortunately, her Billions screen time has dwindled significantly since season 3, with the Axelrod's finalizing their divorce and essentially going their separate ways in season 4. As of this writing, Akerman hasn't yet appeared in a single season 5 episode of Billions, but Lara is still listed as a "recurring" character, so there's hope still she might turn up later in the pandemic-delayed season.  

Malin Akerman kicked butt in 2009's Watchmen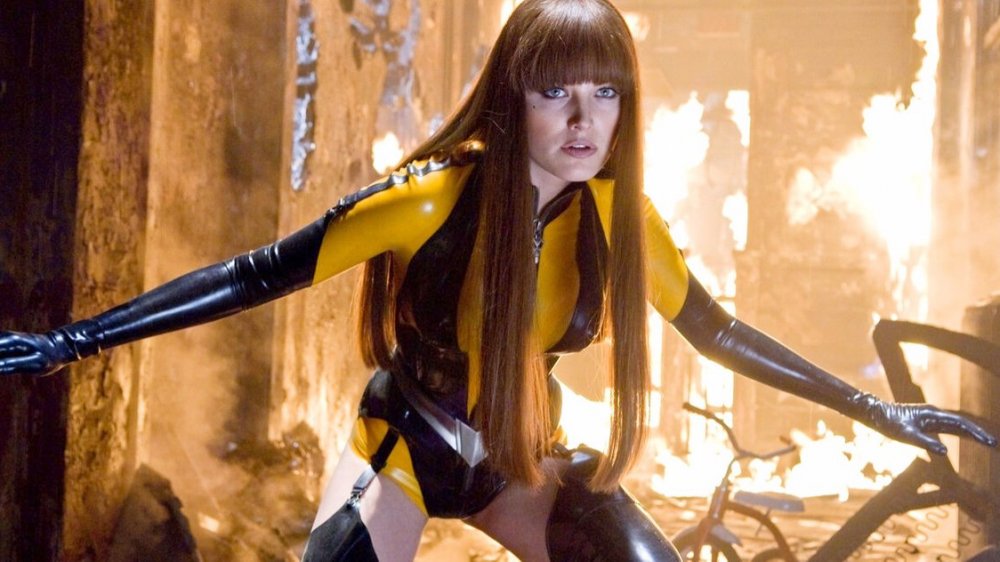 Warner Bros. Pictures/DC
Opinions were sharply divided on Zack Snyder's faithful-ish adaptation of Alan Moore's iconic anti-superhero graphic novel Watchmen when it was released back in the Spring of 2009. Over a decade later, opinions are still sharply divided, particularly in the wake of HBO releasing its universally adored mini-series "continuation" of Watchmen lore. While the initial backlash against Snyder's Watchmen has certainly faded a bit over the years, some still believe the style-over-substance confection drastically softened the barbed edges of Moore's source material, and that the film almost insultingly over-sexualizes its female characters. There's also the matter of a certain absurdly over-the-top sex scene that pretty much everyone agrees is beyond ridiculous.  
Unfortunately, Malin Akerman was at the center of the conversation for those last two complaints, with the actor stuffing herself into a skimpy latex costume to portray Laurie Jupiter (aka Silk Spectre II) in the film, and playing a key role in that aforementioned sex scene. That's sort of a shame, because Akerman's work in the film continues to be overshadowed by all that chatter.
Whatever you think of Watchmen on the whole, most can agree the deeply flawed but frequently fascinating film was exceedingly well-cast, with the likes of Jeffrey Dean Morgan, Jackie Earl Haley, Matthew Goode, and Billy Crudup more than delivering the goods in their respective roles. As for Akerman's turn as Silk Spectre II, we freely admit it's uneven at best, but we'd also have to admit the actor nearly makes a three-dimensional character from one who's not done any particular service by a lackluster screenplay overstuffed with horny fanboy flourishes and a director who fully leans into them, which is impressive in and of itself. 

Malin Akerman tried to seduce Harold & Kumar on their way to White Castle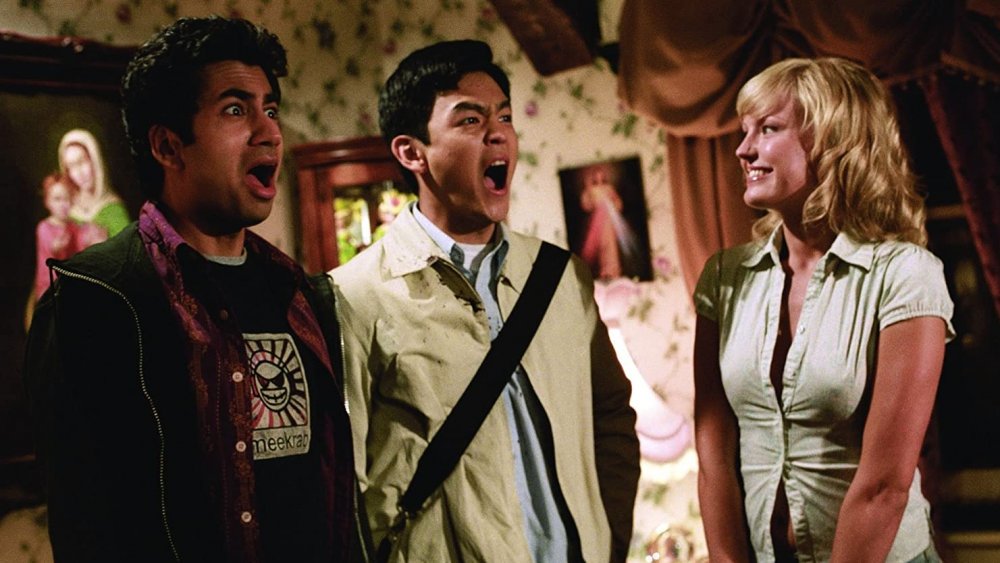 As far as cinematic legacies go, 2004's stoner comedy Harold & Kumar Go to White Castle might have seemed unlikely to become a cultural touchstone. And yet, that's exactly what the film is for an entire generation of film lovers, with its absurdist tale of the titular pals (played with comic zeal by then-up-and-comers Kal Penn and John Ho) being frequently thwarted in their desperate pursuit to stave off the munchies continuing to find favor event today
To be clear, we're not here to argue the artistic merits of Harold & Kumar Go to White Castle. As a movie, it sort of just is what it is. It also, however, happens to be an oddly astute little snapshot of up-and-coming Hollywood players that reaches far beyond Penn's and Ho's star-making turns. As a reminder, Harold & Kumar also features beyond-memorable supporting turns from Ryan Reynolds, Neil Patrick Harris, David Krumholz, Fred Willard, Anthony Anderson, and Christopher Meloni.
You no doubt recall Meloni portrayed a trucker called Freakshow in Harold & Kumar who was covered in oozing boils, but you might've forgotten Malin Akerman (in one of her first film roles) portrayed Freakshow's hot-to-trot wife Liane in the film. It was one of the funnier moments in a movie utterly full of them, thanks largely to Meloni's winkingly over-the-top portrayal, and it's worth noting the moment wouldn't have landed quite as hilariously without Akerman's equally overblown contributions.