Lucifer Stars Answer Your Burning Questions About The Show - Exclusive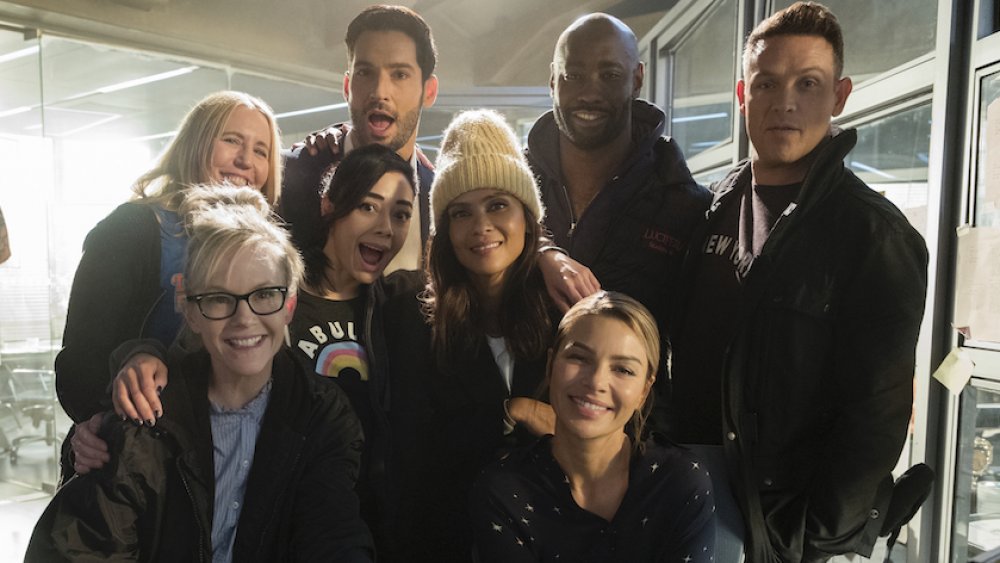 John P. Fleenor/Netflix
What happens when Satan has had enough of Hell and decides to walk among us on Earth? That's the question the comical fantasy crime series Lucifer poses — and the answer, according to the hit Netflix show, isn't what you'd expect.
Lucifer follows the Devil himself (Tom Ellis) as he lives out his playboy-style life in Los Angeles using the name Lucifer Morningstar and running his own nightclub. When he gets entangled in a murder case, he teams up with Detective Chloe Decker (Lauren German) to help solve the crime by utilizing his wily charms. As the series unfolds, Lucifer comes to terms with his newfound humanity as he gets closer to Chloe while the two build a dynamic crime-solving team that includes Detective Dan Espinoza (Kevin Alejandro) and forensic scientist Ella Lopez (Aimee Garcia).
Executive produced by Jerry Bruckheimer (CSI, Cold Case) and based on the DC comic of the same name, Lucifer has had a unique trajectory on its way to cheeky cult classic. Having been cancelled by Fox after three seasons, it was subsequently picked up by Netflix after the massive social media campaign #SaveLucifer. Lucifer's fifth season, whose first eight episodes premiered on the popular streaming service on August 21, was supposed to be its last, but Netflix surprised everyone — even the cast — by renewing the series for a sixth and (supposedly) final season.
Looper recently had exclusive video chats with both Aimee Garcia and Kevin Alejandro about the shocking renewal and what to expect from the current season. (Caution: spoilers ahead!)
What to expect from the first half of Lucifer season 5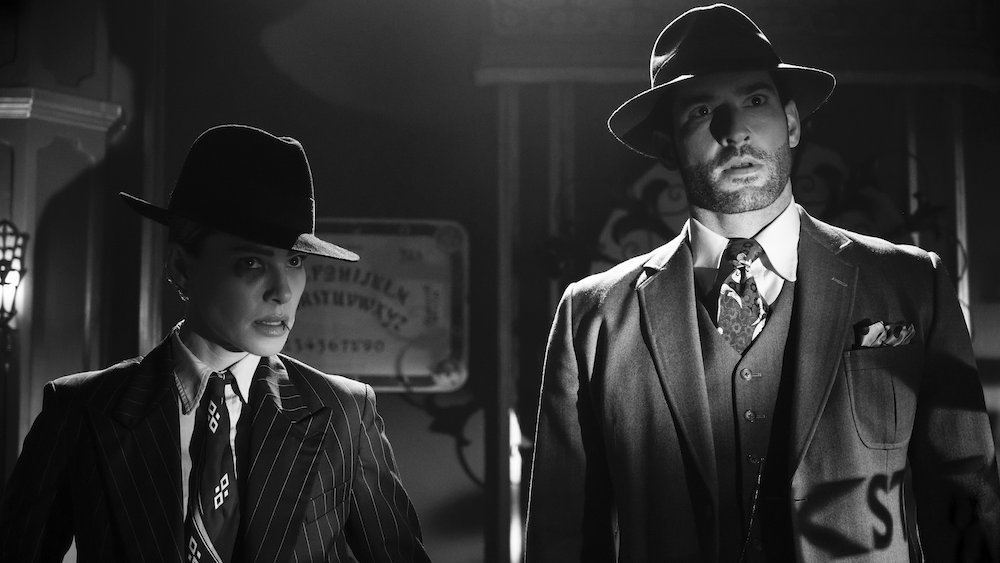 John P. Fleenor/Netflix
Season 5 of Lucifer is split into two eight-episode parts, the first of which is currently streaming on Netflix and the second of which doesn't have a release date yet. If you haven't binge-watched the first part, here's what you can expect.
Part 1 picks up where season 4 left off — after Lucifer returned to Hell, leaving Chloe and the rest of the team behind. It's only been a few months on Earth, but thousands of years in the netherworld when Luci, as he's affectionately called, graces the human world with his presence again. But this time, he's not alone: He's been followed by his evil twin brother Michael — and all hell breaks loose.
"You can expect to laugh, cry, and gasp," Garcia tells Looper. "Obviously we have a Big Bad played by Tom Ellis, and then Michael [also played by Ellis] stirs up all sorts of ruckus. It's like having a Thanksgiving dinner where that one uncle or cousin shows up and you're like, 'Oh, gosh, there's going to be drama.' So, yeah, expect a lot of drama, which is really fun."
She also teases of Lucifer season 5, "There will also be some fun Deckerstar moments, which we all love, and a film noir episode that will bring us back to the 1940s."
When it comes to her character Ella, Garcia reveals that the usually-silly scientist will face some trying times this season.
"We will see her in the darkest place we've ever seen her, which is disheartening because she's such a bright light," she shares. "For me personally, that was out of my wheelhouse because, as an actor, I'm used to just coming in, doing some dork dancing, and cracking some jokes. But this season, she has a crisis of self when really she just wants to spread love and light and be optimistic and positive. And so, yeah, we're going to see Ella in one of the darkest, most uncomfortable scenes of the series."
As for Dan — aka "Detective Douche," as Lucifer calls him — expect to see more of the same character you've come to love (or hate).
"Dan is still trying to figure out how to navigate through life, and he makes some pretty dumb choices," says Alejandro, who directed the mid-season finale (episode 8, entitled "Spoiler Alert"). "But it's all from a place of kindness and genuine heart. He's faced with some really big challenges this season. And not only do you watch him navigate through how to self-heal and deal with whatever is put in front of him, you also want to help push him along. This is the audience's opportunity to really have the chance to put themselves in Dan's shoes and say, 'What would I do?'"
Lucifer's surprise renewal meant that season 5 had to be tweaked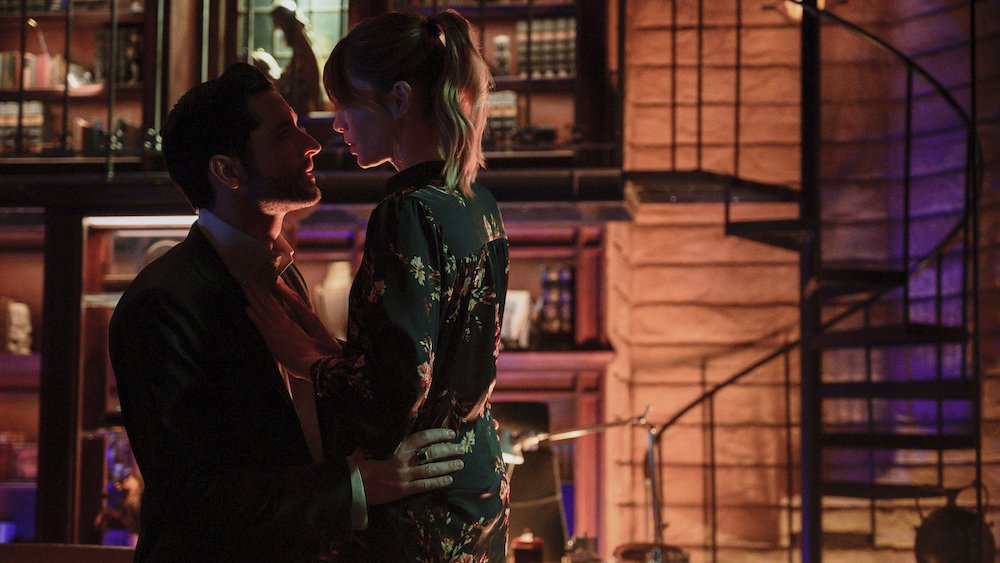 John P. Fleenor/Netflix
The surprise season 6 renewal of Lucifer was revealed to the cast and crew in March 2020, right before production of part 2 of season 5 came to a halt because of the COVID-19 pandemic. (The renewal was made public in June 2020.)
"It came out of nowhere," Alejandro says of the pick-up. "At first, I thought it was a joke. It was like, 'But everything's done.' The season was written, the series finale was written.' We came into season 5 firing on all cylinders. From the cast to the crew to the writers, everyone came in giving 110 percent thinking this was it. There was confusion and joy and tears and also the fear of 'how can we possibly do better than what we just did?' But thank goodness Netflix changed their mind for one reason or another."
Garcia believes she knows why the streaming service had a change of heart: "The fans, obviously." She adds, "The show is very relatable. We deal with family, love, sibling rivalry, acceptance, forgiveness, heartbreak, loss — all universal things, and that really resonates. It's great to have something that brings people together in a time where there's so much divisiveness."
But it also has to do with the writing and acting. "Tom is an incredible, ridiculously handsome actor, and the whole cast is all-star," continues Garcia. "And the writers are so talented, they're constantly throwing curveballs. I think part of the appeal of the show is that you have these larger-than-life celestial characters dealing with everyday things like getting stuck in traffic or having a crush on a guy or girl, it just it humanizes them."
As for the Lucifer season 5 finale — which was initially supposed to be the series finale and was in the middle of production at the time of the COVID-19 shutdown — the storyline had to be tweaked on the fly to accommodate the surprise renewal.
"Our showrunners and writers did a really good job of ending season 5 in such a way where I feel like our audience would've stepped away going, 'Wow,'" says Alejandro about what was supposed to be the series' very last episode. "That being said, they can't do it that way anymore. They have to save that for the next season. So, yeah, they had to make some minor changes to the finale to extend the show's life and end it the way it's supposed to for season 6 now."
He concludes, "The writers have figured it out, and we're so excited to come back for yet another final season. We're all just really anxious and excited waiting [to get back to filming] and leave this show in a great, positive place where our audience will be like, 'What a journey.'"
The first half of Lucifer season 5 is available to stream on Netflix right now.