The Truth About Bill And Ted's Excellent Origins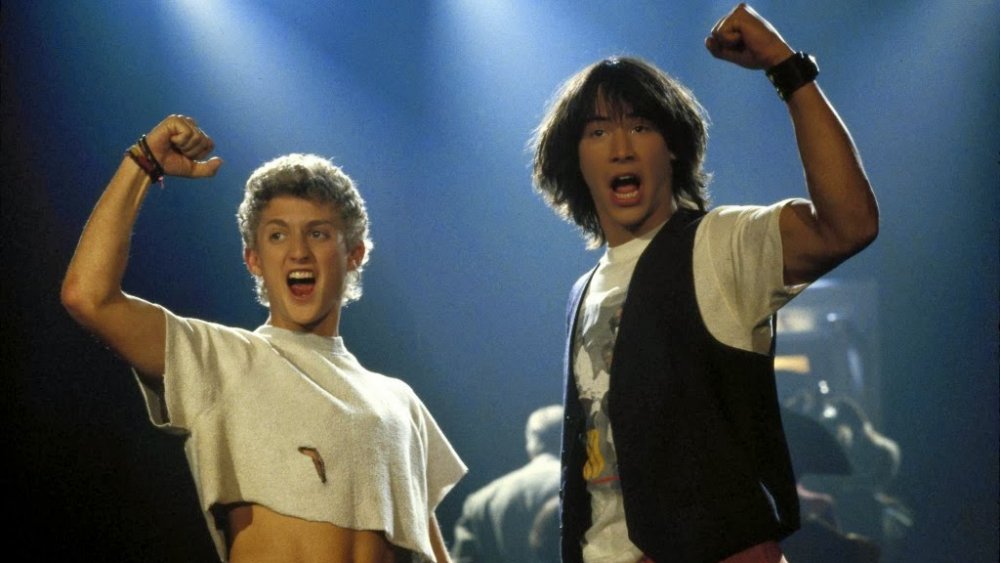 Orion Pictures
It's been nearly 30 years since Bill S. Preston, Esquire (Alex Winter) and Ted "Theodore" Logan (Keanu Reeves) cheated death, defeated the "evil us-es," and rocked their way to world harmony in Bill & Ted's Bogus Journey (the most excellent sequel to 1989's breakout hit Bill & Ted's Excellent Adventure). Now, franchise fans are finally gearing up for another rocking adventure with the boys behind Wyld Stallyns.
Of course, if you've seen the trailer for Bill & Ted Face the Music, you know those boys are now full-grown men. You also know things are about to get trickier than ever for Bill and Ted, and that they'll once-again hop into their time-traveling phone booth in hopes of sorting things out. We're now weeks away from the release of Bill & Ted Face the Music, so the wait is almost over to find out exactly how tricky life gets for the hard-rocking duo. 
For those who haven't heard, the original release for the long-awaited trilogy-capper was delayed thanks to the decidedly bogus pandemic that's still running rampant in the world. Luckily, Bill & Ted Face the Music didn't go phone-boothing too far into the future for its rescheduled release. That date is now officially September 1, 2020, and will find Face the Music hitting a handful of theaters and (most excellently) all VOD platforms. To mark the momentous occasion, producers have released a shiny new 4K remaster of the O.G. flick that includes all the sexy extras you'd expect from such a release.
As detailed by Yahoo! News, one of those extras is an in-depth interview that finds Bill & Ted co-writers Chris Matheson and Ed Solomon briefly talking about how their iconic characters came into being. Perhaps not surprisingly, a team effort brought Bill and Ted to life, with Solomon and Matheson conjuring the excellent duo during a fevered session of comedic riffing.
Bill & Ted were totally improvised into existence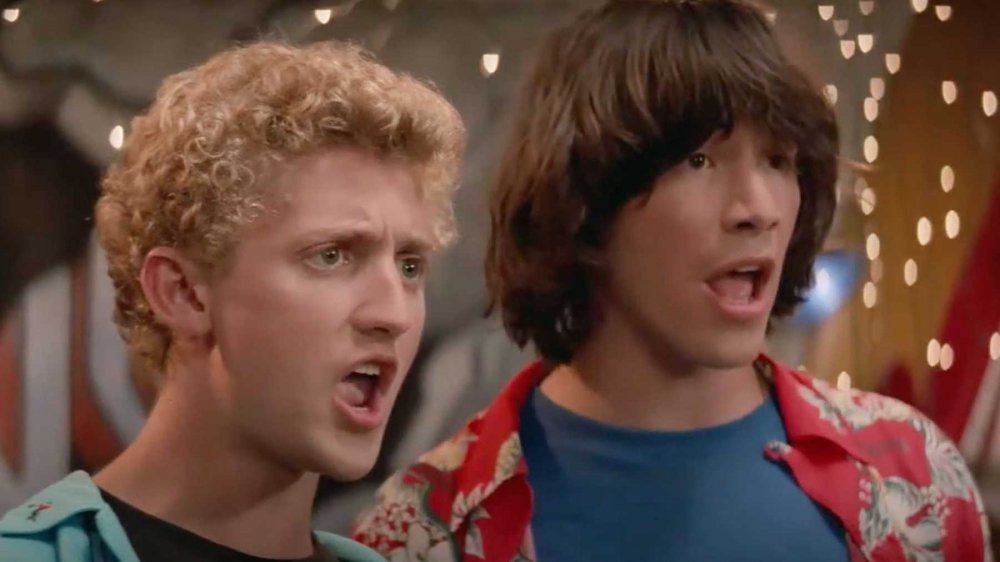 Orion Pictures
While discussing Bill and Ted's origins for that DVD extra, Matheson and Solomon recount that a lively improv session was where the clueless characters started their excellent journey to the big screen. As the story goes, Matheson, Solomon, and a few pals had taken to renting a vacant theater space in L.A. in the late '80s for the purpose of honing their comedic skills and writing chops through improv workshops.
It seems the seeds of the Bill & Ted cinematic universe were sown with the simple idea of friends trying to make each other laugh. The concept of a couple of teens, "Sitting around trying to study, without having any idea about what they're talking about" apparently served that goal quite well. Matheson added that the duo were conceived as "Really, really ignorant teenage boys who know nothing about anything, trying to talk about world affairs," adding the original idea had nothing to do with time travel. "It had nothing to do with history at that point," he says. "It was just current events."
Per Solomon's account, the idea for the character's absurdly simplistic world view quickly came into focus as well, offering that, "Everything was either 'bogus' or 'excellent.' Their entire spectrum was covered."
Not for nothing, but one can legitimately see the genesis of Bill & Ted's Excellent Adventure in those sparse original sketches. Still, Solomon and Matheson likely never imagined their characters would resonate so deeply with moviegoers, or that they'd still be writing them over 30 years after that fateful improv session. 
As it is, we're sincerely happy they are, and we can't wait to see what's ahead for the duo in Bill & Ted Face the Music.