Bill & Ted Face The Music - What We Know So Far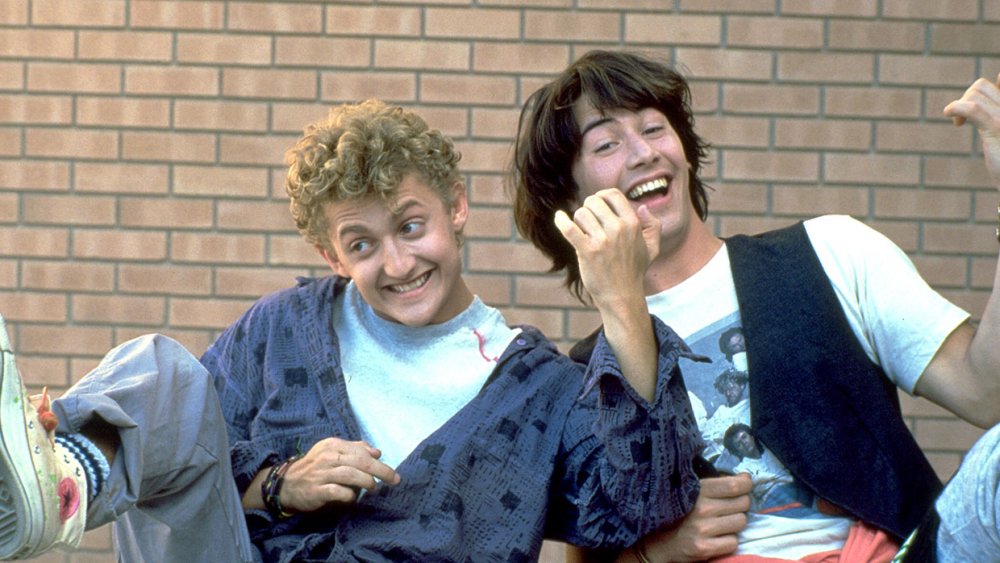 Most triumphant! A little over three decades after Bill and Ted first traveled through time to ace their history project, we're finally getting a threequel in the saga of Bill S. Preston, Esquire, and Ted "Theodore" Logan. After breaking the bonds of both time and mortality in 1989's Bill & Ted's Excellent Adventure and 1991's Bill & Ted's Bogus Journey, the titular duo will team up for a third time in Bill & Ted Face the Music, which will see the Wyld Stallyns face off against their most formidable foe yet: middle-aged mediocrity. 
Returning for Bill & Ted Face the Music are writers Chris Matheson and Ed Solomon, who penned both of the existing Bill & Ted films, while franchise newcomer Dean Parisot (Galaxy Quest) is coming aboard to direct. Matheson and Solomon, along with star Keanu Reeves, will have been working to get a third Bill & Ted movie off the ground for at least a decade by the time Face the Music hits theaters. The reunion appears to be a true labor of love for everyone involved, with Solomon telling EW, "All of us really want to give the people who love Bill & Ted, and people who haven't even discovered Bill & Ted yet, a movie that is worthy of their affection." 
While we sadly can't time-travel into the future to watch Bill & Ted Face the Music right now, we've got the next best thing. We've rounded up everything we know so far about Bill and Ted's next — and assuredly, still most excellent — adventure.
What's the release date for Bill and Ted Face the Music?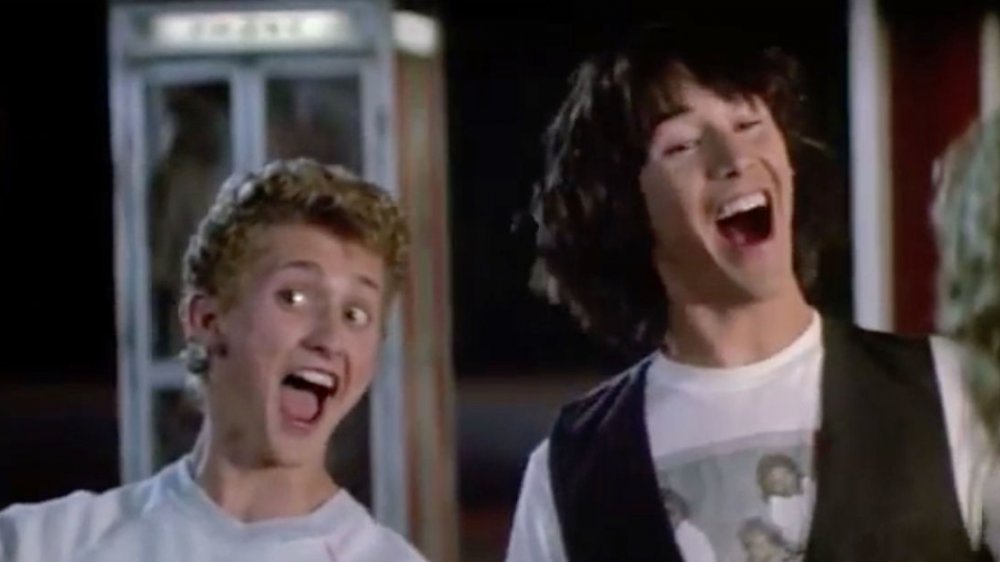 Bill & Ted Face the Music was originally slated to hit theaters on August 21, 2020 (8 + 21 + 20 + 20 = 69, dudes), a scant 29 years after the duo's heinous trip to Hell and back in Bogus Journey. Of course, like so many other 2020 releases, the trilogy capper found itself momentarily adrift in the space-time continuum in the face of industry-wide shutdowns. Fortunately, the duo didn't take too long to touch down in their flying phone booth, landing on a September 1 release date on VOD and in select theaters. Then, that release was pushed back up to August 28.
After so long a wait, a new Bill & Ted film could feel like it's simply riding the same wave of nostalgia that has brought us everything from Stranger Things to The Dark Crystal: Age of Resistance to Terminator: Dark Fate, Bill & Ted Face the Music is actually the culmination of many years of dedicated campaigning on the parts of of Chris Matheson, Ed Solomon, Keanu Reeves, and Alex Winter. 
Speaking to EW, Reeves revealed back in March of 2018 that Face the Music has been in the works for a long time. "Chris and Ed came to [Reeves and Winter] in 2007 with the idea of doing it," Reeves said. "They pitched us an idea. It sounded great." Yet it took many false starts to finally get a new Bill & Ted movie greenlit, with Matheson and Solomon ultimately writing the entire script on spec (also known as "for free") before they were finally able to secure financing for the film. But now, Bill & Ted Face the Music is finally more reality than dream.
Whoa! Keanu Reeves is back as Ted "Theodore" Logan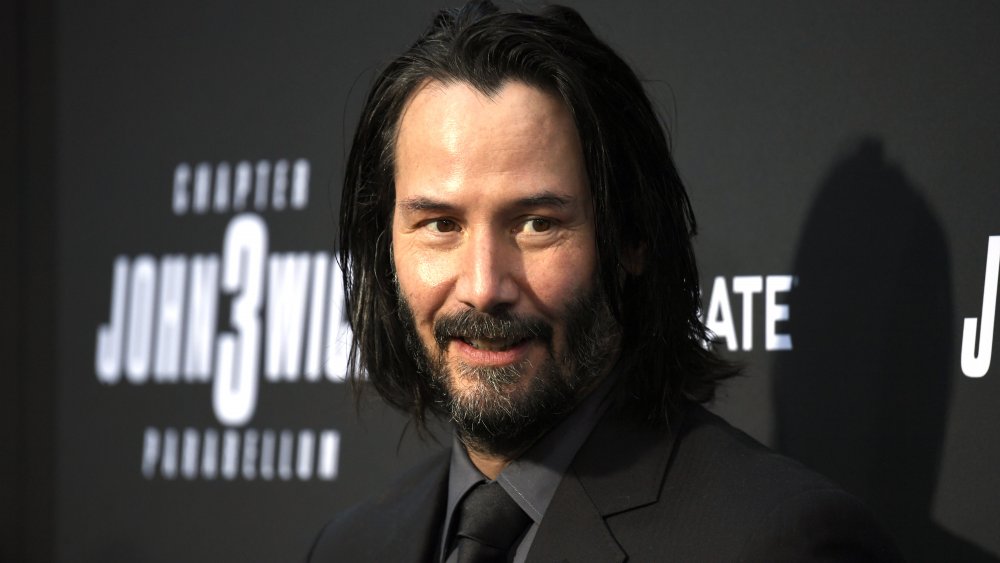 Frazer Harrison/Getty Images
Before he was Johnny Utah, Neo, or John Wick, Keanu Reeves endeared himself to audiences as the lovably dimwitted Ted "Theodore" Logan, who wanted nothing more than to make a triumphant music video (preferably with Eddie Van Halen) and become a famous rock star. Opposing Ted was his rigid father, whose threats of sending his son away to military school motivated Ted to do whatever it took to pass his History class and stay in San Dimas, CA. 
Reeves has been talking about a Bill & Ted sequel for years, although a decade ago, it barely resembled the movie in its current form. Back in 2008, when Reeves talked to MTV about a third Bill & Ted, he said it would be a remake that wouldn't necessarily involve him, although he still spoke affectionately about the possibility. Even back then, though, the seed for Face the Music seemed to have been germinating in Reeves' imagination, with him saying, "I had once mentioned about doing it when we were 40. Now maybe the only shot we have is to do it when we're 50." 
Turns out, he was close; Reeves will be turning 56 just one day after Face the Music arrives.
Excellent! Alex Winter is returning as Bill S. Preston, Esquire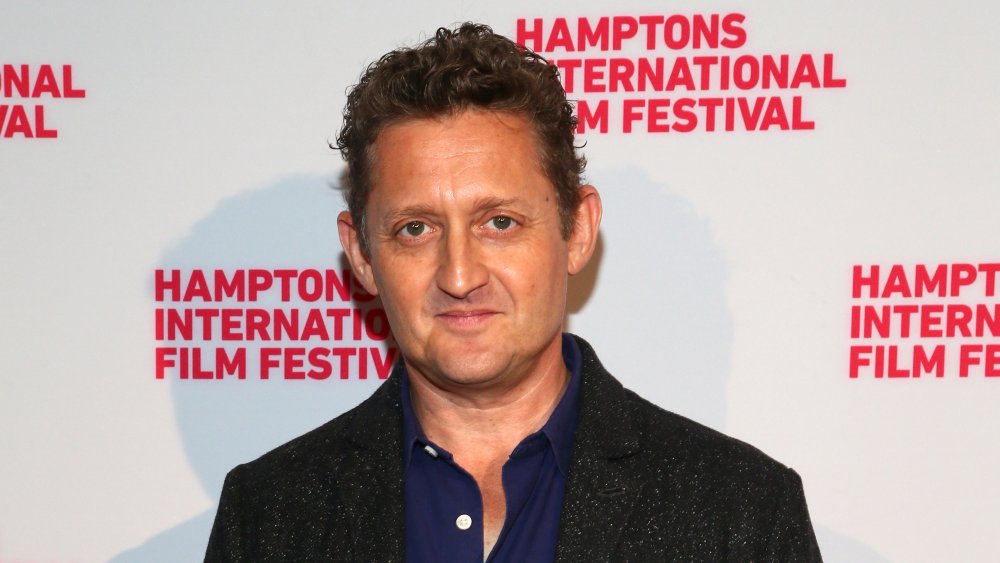 Astrid Stawiarz/Getty Images
As much as we all love Keanu Reeves, Bill & Ted doesn't work without a Bill. Fortunately, Alex Winter is just as stoked as Reeves to be returning to the role that made him famous — as long as it's done right. Speaking to IndieWire in 2018 (back when Face the Music was still more of a dream than a reality) Winter said, "We've been pretty philosophical about it, like if we could get it made, great, but if it's not going to get made to our creative specifications, we're all perfectly happy not doing it."
Fortunately, Winter seems to agree with the consensus that Face the Music is indeed the film the original creative team wanted to make, saying that it's a "sweet, enduring, and legitimately funny movie." Face the Music will be Winter's first major starring role in more than 25 years, after he walked away from acting to pursue his passion for documentary filmmaking, and to give himself space to heal from the trauma of his childhood. In recent years, Winter has made several documentary films focusing on technology, including Downloaded and Deep Web, and says that making documentaries is "the most creatively gratified I've ever been."
Still, Winter was excited to take a short hiatus from documentaries to step back into Bill's high top sneakers and inexplicable crop top (okay, probably not the crop top). "I really just need to turn that entire side of my brain off," Winter said before filming started, "and be the dumbass that Bill is for three months."
Bogus! William Sadler is reprising his role as the Grim Reaper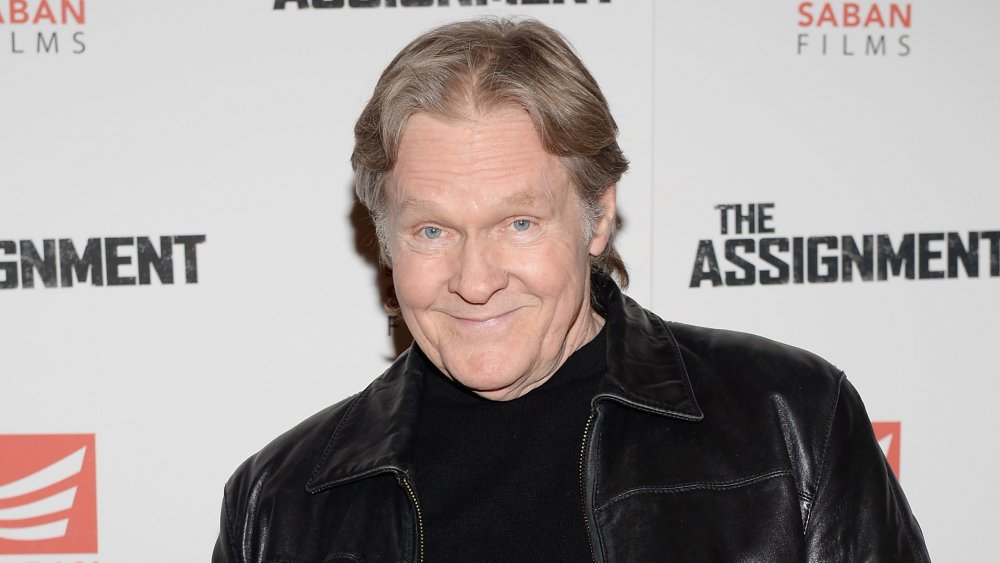 Andrew Toth/Getty Images
Although we're pretty sure that Bill & Ted Face the Music wouldn't dare kill Bill and Ted again, there's still going to be some role for Death to play in their midlife crisis. William Sadler is "totally" reprising his role as the Grim Reaper, who failed to permanently collect the souls of the Wyld Stallyns after losing at games of Battleship and Twister in Bill & Ted's Bogus Journey, and subsequently became their servant. 
No further details have been revealed about how Death will figure into Bill & Ted Face the Music, or whether he'll be functioning as an ally or an antagonist to the two adorably boneheaded heroes. Who knows, maybe he's still a member of Wyld Stallyns on the upright bass, or has become a superstar in his own right following a resurgence of the popularity of his Reaper Rap, even though (as we learn at the end of Bogus Journey) his solo album sadly flopped. 
Samara Weaving and Brigette Lundy-Paine are playing Bill and Ted's daughters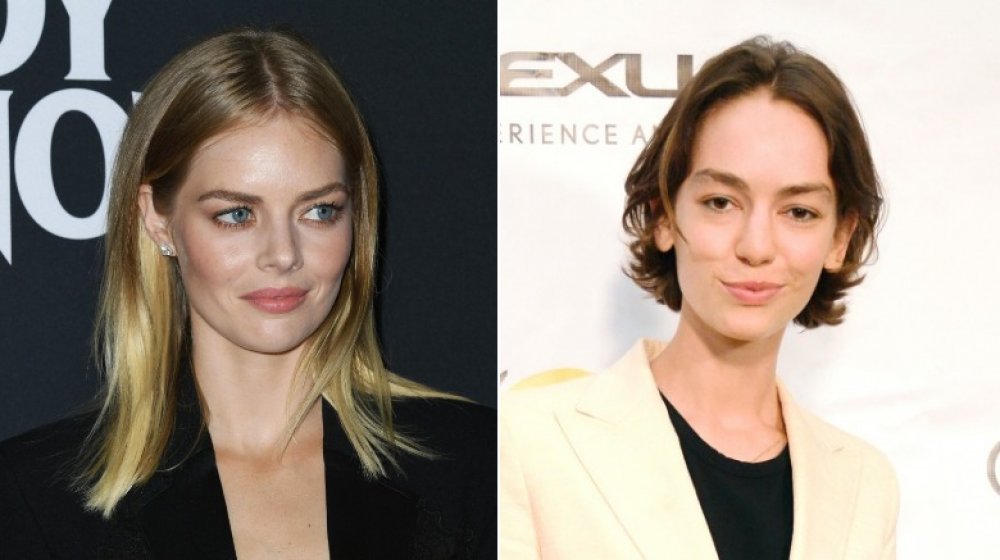 Jon Kopaloff, Chelsea Guglielmino/Getty Images
Just when you thought that Bill & Ted Face the Music's road to release couldn't get any more heartwarming, the production had to go and announce the names of Bill and Ted's daughters. Ready or Not actress Samara Weaving will be playing Thea Preston, while Brigette Lundy-Paine (The Glass Castle) will be portraying Billie Logan. Yes, you read that right — Bill and Ted named their daughters after each other. This was technically revealed at the end of Bogus Journey, though many fans simply assumed that "Little Bill" and "Little Ted" were boys. As writer Ed Solomon pointed out on Twitter, though, the kids were played by girls to begin with.
Producer Scott Kroopf described Weaving and Lundy-Paine as "funny and unique," and said that seeing them together was like "déjà vu," reminding the production team of the first time they ever saw Winter and Reeves as Bill and Ted. No word yet on exactly what the pair will be up to in Face the Music, but according to the film's official synopsis, Billie and Thea will be instrumental in helping their dads write the song that will save the universe. 
Jayma Mays and Erinn Hayes will be playing Princesses Joanna and Elizabeth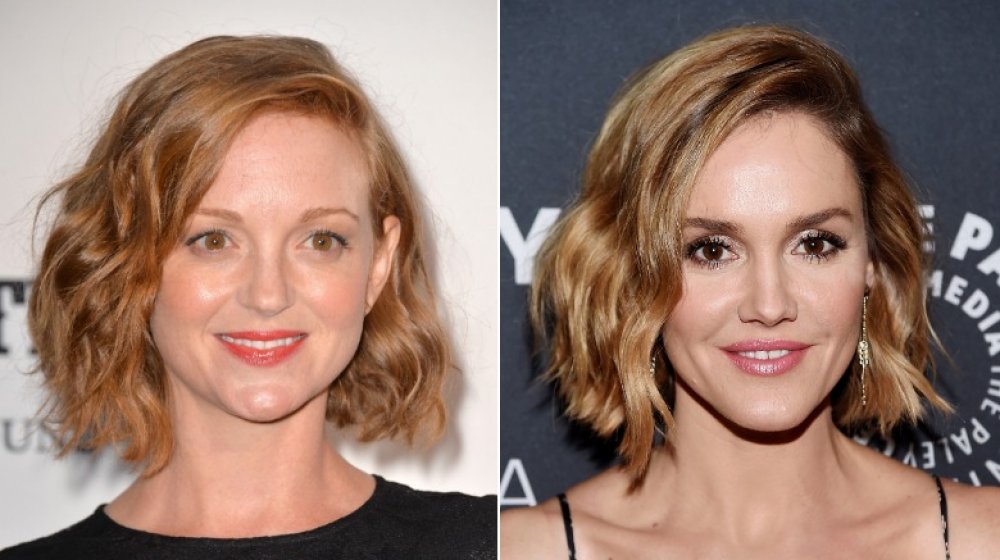 Frazer Harrison, Nicholas Hunt/Getty Images
One of the most excellent parts of Bill and Ted's first time-hopping adventure was their stop in medieval England, where they rescued princesses Joanna and Elizabeth, who were both betrothed to men they didn't want to marry. Bill and Ted went on to marry the two princesses off-screen at the end of Bogus Journey during their 16 months of intensive guitar training, and arrived back at Battle of the Bands carrying their infant children on their backs. Those 16 months also included some music training for the princesses, with Joanna brushing up on her drumming skills, although it's unclear if Elizabeth leveled up in her piano playing (we're assuming yes).
Now the princesses are back, although they've been recast for Face the Music. Jayma Mays (Glee) will play Bill's wife Joanna, and Erinn Hayes (Childrens Hospital) will play Elizabeth Logan. While we're excited to see Joanna and Elizabeth again, it's a little strange that Face the Music would cast actresses so much younger than Winter and Reeves to play their wives, since the princesses were supposed to be about the same age as Bill and Ted in the first two films (Excellent Adventure's Diane Franklin and Kimberley LaBelle were replaced by Annette Azcuy and Sarah Trigger for Bonus Journey).
While this definitely seems to play into Hollywood's troubling tendency to pair male actors with significantly younger female love interests, we're going to assume that a time travel mishap explains the incongruous age gap, since accidentally losing a decade seems like something that would definitely happen to Bill and Ted. 
Bill & Ted's families will feature some new and returning faces.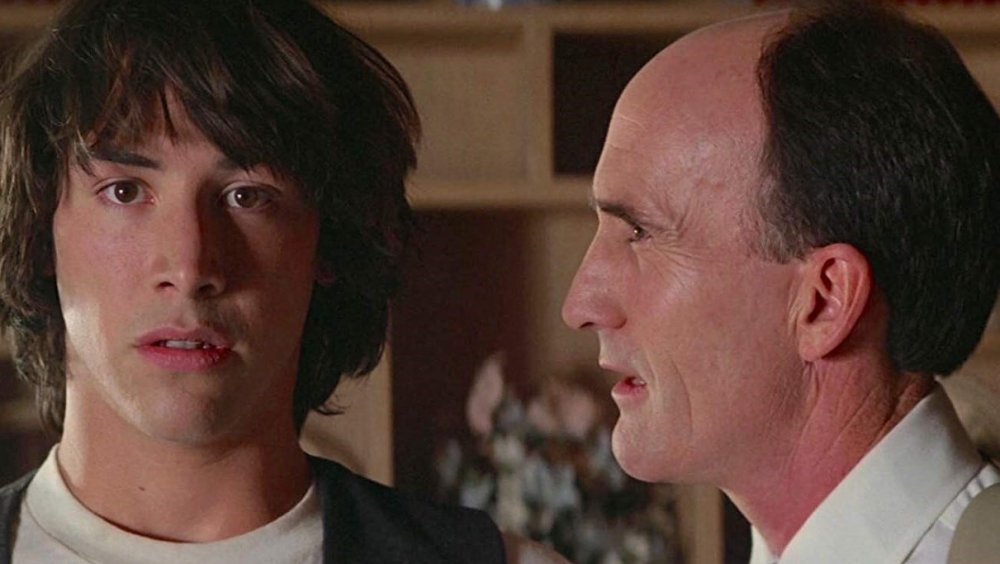 Were it not for Ted's strict father, Bill and Ted may never have felt the need to work so hard to pass history, and embark on their first voyage through time. So it's only fitting that the Logan family will be back for Face the Music, led by Hal Landon Jr., who will be reprising his role as Ted's father, while Beck Bennett will be taking over the role of Ted's brother Deacon (replacing Frazier Bain, whose career has shifted from acting to producing). Hopefully after 30 years, Captain Logan will have mellowed out a bit when it comes to his desire to control his son — after all, Ted is now a married man in his 50s, with adult children of his own — but we wouldn't be surprised if the Captain still somehow manages to work the phrase "military school" into conversation. 
Meanwhile, Amy Stoch is also returning as Bill's disturbingly youthful ("Remember when she was a senior and we were freshmen?") ex-stepmom Missy, who married his dad before the start of Bill & Ted's Excellent Adventure, only to divorce him and marry Ted's dad before Bogus Journey. At the end of that film, it's implied that Missy divorces Captain Logan too, then gets engaged to the villainous De Nomolos, although it's never confirmed if she goes through with the wedding. Since Missy has now divorced both of their fathers, it's unclear what role she'll play in the adult Bill and Ted's lives in Face the Music, but we're sure that however Missy factors in, it's sure to make Bill uncomfortable. 
What can we learn from the Bill & Ted Face the Music trailer?
Although Bill & Ted fans have long been champing at the bit at the bit to see our favorite time-traveling bozos back in action, we had a long wait to see any actual footage from Face the Music. To tide us over while we waited for an official trailer, Keanu Reeves and Alex Winter — introducing themselves in character as "Wyld Stallyns" — filmed a short video at the Hollywood Bowl, "where we'll never play," says Winter. "Never play," confirms Reeves. In the video, which was uploaded to YouTube in March of 2019, the pair first announced the threequel and its title, thanked fans for sticking with them, and ended by reminding us all to be excellent. 
Finally, in June of 2020, Orion Pictures delivered the full trailer for Bill & Ted Face the Music, and it quickly became clear that the ride would be worth the wait. The sneak peek offered our first look at our middle-aged heroes, their kids, and their old friend Death. A second trailer followed, promising a return trip to Hell and setting up the most dire stakes of their mission. It's clear from what we've seen so far that the classic Wyld Stallyns style of fun is alive and well, and we can't wait to see more in September.
Bill & Ted Face the Music will be a tribute to the late George Carlin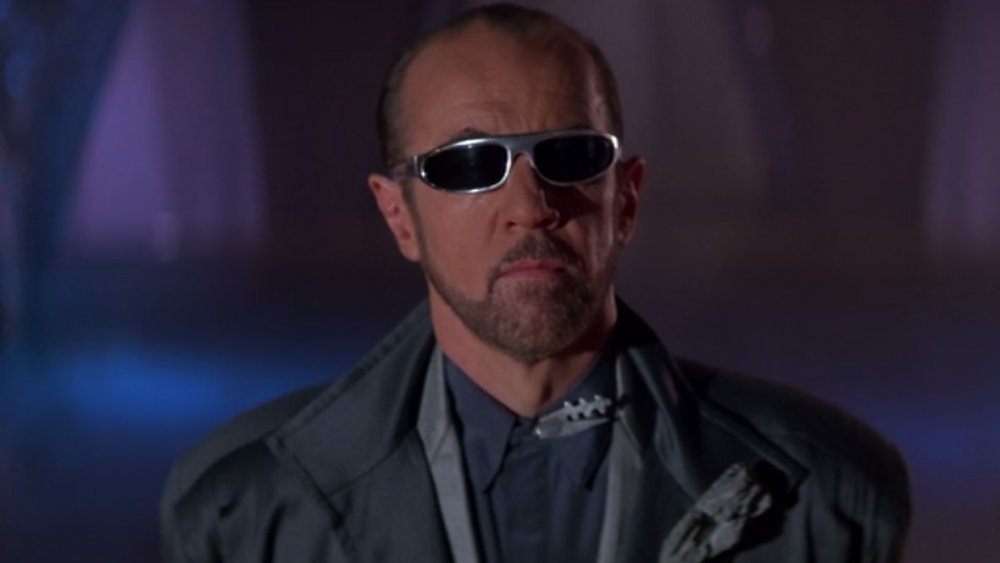 The only major Bill & Ted character not returning to Face the Music is the duo's time-traveling mentor Rufus, played by legendary comedian George Carlin, who passed away in 2008. Rather than recast Rufus or attempt to sweep his absence under the rug, Ed Solomon says that the third Bill & Ted film will serve as a tribute to both the character and the actor who portrayed him. 
"George Carlin is so deeply missed by all of us," Solomon said in an interview with Digital Spy in 2018. "There is a... not just an homage to him, it's more than that. His absence is a part of the whole movie." Solomon went on to reveal that Bill & Ted Face the Music will see Bill and Ted interact with their younger selves and Rufus by incorporating footage of Carlin, along with the younger Reeves and Winter, from Bill & Ted's Excellent Adventure. Additionally, Kristen Schaal's character, Kelly, is named for Carlin's real-life daughter. "George is a deep, deep part of it," Solomon said, assuring us that while Rufus may be gone in Bill & Ted Face the Music, he definitely won't be forgotten. 
Bill & Ted Face the Music picks up a few decades after Bill and Ted's brush with Death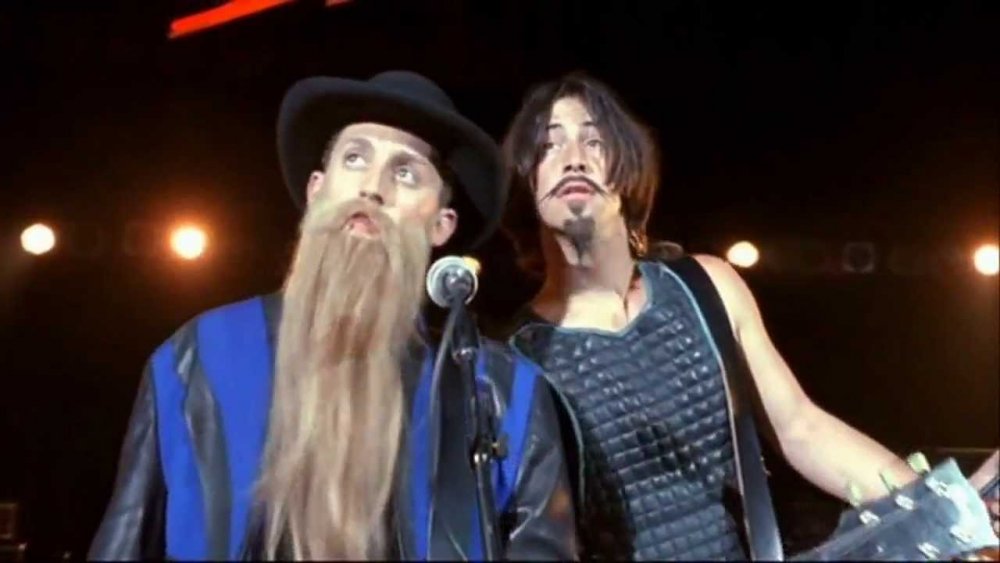 The first Bill & Ted film, 1989's Bill & Ted's Excellent Adventure, saw the rockin' duo (a.k.a. the someday-greatest-band-of-all-time Wyld Stallyns) journey to various pivotal points in human history. In each time period, they convinced/kidnapped important historical figures ranging from Socrates (a.k.a. SO-crates) to Beethoven (a.k.a. BEETH-oven) to Billy the Kid (a.k.a. Mr. The Kid) to travel back to California for an end-of-term presentation the kids of San Dimas High wouldn't soon forget. In the second film, Bill & Ted's Bogus Journey, things turn deadly when Bill and Ted are assassinated by evil robots from the future, and have to bargain their way back to the world of the living by beating Death himself at a series of games.
Bill & Ted Face the Music will pick up about 30 years after the end of Bogus Journey, which showed Bill and Ted using their time traveling phone booth to finally learn how to play guitar in order to win Battle of the Bands. Although the end of that film seemed to show that Wyld Stallyns did indeed achieve international fame and world peace at a young age, with magazine covers and newspaper headlines outlining the band's stratospheric career trajectory, some of the other articles seemed to imply that not all was completely well in the world — in the same paper that announced a Wyld Stallyns concert on Mars, we could also see that there had been recent, brutal killings in Baghdad and Lithuania. 
Bill and Ted will feel the pressure of not saving the world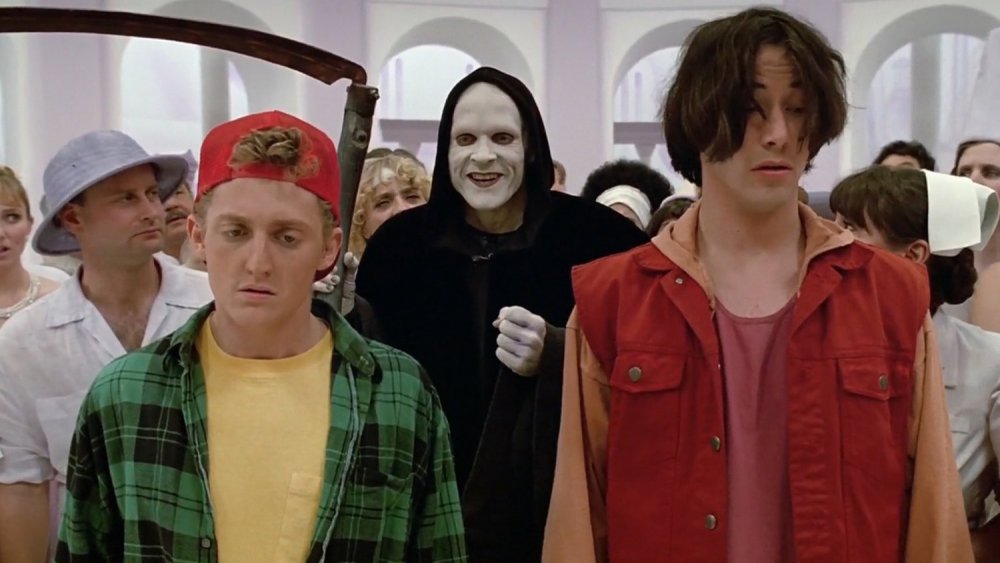 Although Bill and Ted actually learned how to play their instruments and seemingly became famous at the end of Bogus Journey, the synopsis for Face the Music tells us that they never did compose the greatest song ever written, and middle age will find them feeling the pressure of a destiny unfulfilled. According to writers Chris Matheson and Ed Solomon, the script tackles the pressure of being told they're going to save the world and not having done it yet, and of being 50 and wondering if you should give up on the dreams you still haven't achieved. 
The screenwriters went on to explain that the idea of exploring what it feels like to be told you're going to save the world at 17, then never doing it, felt much more interesting than telling a Bill & Ted story in which they'd already become famous, saved the world, and had some kind of falling out. Solomon said, "I think it's kind of like A Christmas Carol with Bill and Ted. Looking at their lives, and really kind of rediscovering what they're about." 
Bill & Ted Face the Music will feel true to the first two films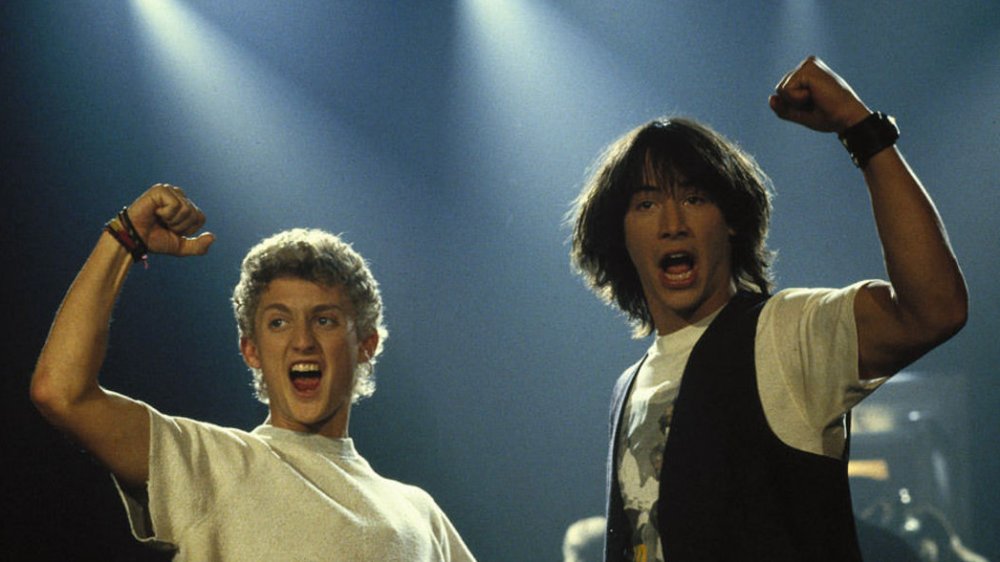 The script for Bill & Ted Face the Music has gone through a lot of changes since Solomon and Matheson first pitched the idea to Reeves and Winter in 2007, but one thing that's always remained constant is everyone's desire to make a film that feels like it belongs alongside Excellent Adventure and Bogus Journey. No one involved wanted to lose the elements that make Bill and Ted special, and it sounds as though they think they've succeeded. "I love the characters so much," Reeves said, "who they are, the spirit of their voice that Chris and Ed have given [them]."
"The whole trajectory of getting the next one off the ground has been pretty much exactly like the experience of getting the original," Winter told EW, speaking about how the experience of Face the Music feels similar to Excellent Adventure. "Going to every studio, and they're like, 'What the eff is this?' It's this kind of independent spirit, and the films have an anachronistic quality to them that's a big part of what they are, fundamentally. I'm really happy that this one is the same. It doesn't feel like some stale knockoff that a studio would have immediately gone, 'Oh, this feels right. We have rebranded very successfully.'"
Bill and Ted will be up against a tight deadline in Bill & Ted Face the Music
Ever since the official synopsis for Bill & Ted Face the Music was first revealed, we've known that the plot would revolve around the two main characters facing the pressure of not having yet written their world-saving song as they stare down the barrel of retirement age. However, it now sounds as though the window in which the duo must deliver their song is much narrower than we previously thought. Speaking to EW about Bill and Ted's predicament in the threequel, writer Chris Matheson revealed, "[They've] got literally 80 minutes or all of reality will come to an end." With less time to save the world than it would take to watch either of their previous two movies, Bill and Ted will have to make every second count if they're going to have a chance of succeeding.
Fortunately, it sounds like they'll have help from a variety of sources, including their daughters, (who, according to Matheson, "really love their dads' music and want to help them") and Kid Cudi's character, who is, apparently... Kid Cudi? "He plays Kid Cudi," director Dean Parisot told EW. "He gets mysteriously thrown around through various times, because all time and space is coming unglued." Whether Parisot means that Cudi will play a fictional character similar to his real-life persona, or an alternate-reality version of himself (perhaps in the vein of Reeves' own bizarro cameo as himself in Always Be My Maybe?), we'll have to wait to find out.
As for the Grim Reaper, it's unclear whether he'll be friend or foe as Bill and Ted race toward their swiftly approaching finish line. "Death was in the band in the second film. Things didn't go all that well," Parisot said to EW, teasing the character's role in Face the Music. "But I'll leave it at that!" Could Parisot be hinting at a deeper rift between the former bandmates? Most non-triumphant indeed.