The Little-Known Michael Cera Drama You Need To Watch On Hulu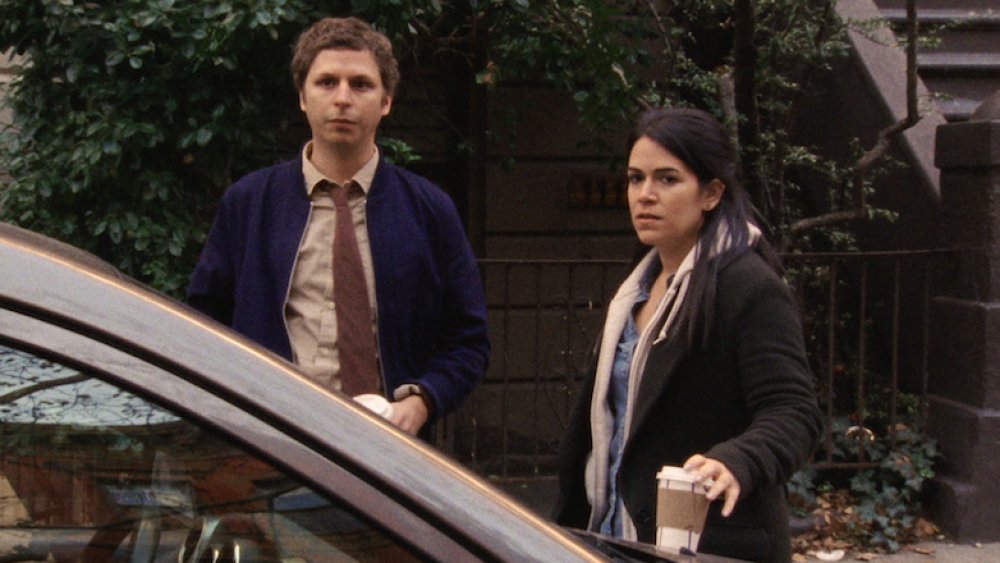 Magnolia Pictures
Before he was the charmingly awkward everyman in a handful of our favorite movies and TV shows, there was a time when Michael Cera was just a young actor trying to get his foot in the proverbial door of Hollywood. Cera's status as struggling newcomer quickly changed to talented up-and-comer after he landed the role of George Michael Bluth on Fox's (and later Netflix's) beloved cult sensation Arrested Development. Circa 2007, his star grew even brighter through his impressive performances in the classic teen comedy Superbad (opposite fellow breakout Jonah Hill) and the Oscar-winning indie charmer Juno (alongside The Umbrella Academy's Ellen Page).
After that momentous year, many industry insiders believed Cera was on the verge of superstardom, and he had the pick of virtually any project he wanted in Tinseltown. Cera, however, had a different career track in mind for himself. Save for the occasional dalliance with big-budget Hollywood flicks (see Scott Pilgrim vs. the World), Cera has frequently side-stepped such projects in favor of quirky indie flicks and cult-friendly fare.
Among Cera's lesser known indie gems is a peculiar 2017 ensemble dramedy that happens to be rife for discovery by the actor's fanbase — and indie film fans at large. The film is Person to Person, and it's currently catching many eyes on Hulu.
Person to Person finds Cera delivering one of the more unsettling and oddly heartbreaking performances of his career as a morally ambiguous, heavy-metal-loving New York City journalist named Phil, who tries to crack a murder case while training (and desperately trying to impress) a potential new recruit named Claire (played by Broad City star Abbi Jacobson).
Unfolding over a single day, Person to Person follows the duo as they feverishly chase down leads for their story and encounter just the sort of New York types you'd expect to find in such a quirky tale — even if this particular quirk-fest dwells a bit more in starkly refined pathos than most.
Person to Person is a kaleidoscopic indie about unique New Yorkers
Person to Person certainly delivers its share of awkward laughs, but as scripted and directed by relative newcomer Dustin Guy Defa, it more frequently sits in the strained light of human disconnection. Cera and Jacobsen's central story is the most obvious personification of that theme, but it's just one of many being explored in Defa's kaleidoscopic narrative.
In similar, meandering fashion to the early films of indie icons like Richard Linklater (Slacker) and Jim Jarmusch (Stranger than Paradise), the multiple stories unfolding within Person to Person's overarching narrative aren't entirely connected — though they do occasionally overlap in intriguing ways. Among those secondary narratives, viewers will find the tale of an obsessive record-collector hunting a rare piece of wax, a pair of brothers seeking revenge against a man who posted nude pictures of their sister online, and an unmoored teen exploring her own sexuality.
Indie film lovers will also see a few familiar faces amongst those players — with no-budget vets like Bryan Tyree Henry (Atlanta, Widows), Michaela Watkins (Casual, Search Party), Isiah Whitlock Jr. (Da 5 Bloods), and Philip Baker Hall (Boogie Nights, Magnolia) making memorable appearances. The sharp-eyed viewers out there might also recognize the faces of indie filmmakers Benny Safdie (Good Time, Uncut Gems) and David Zellner (Damsel) among the Person to Person cast.
Familiar faces aside, those who wander into the weird world of Person to Person are certain to experience a film at once stylistically similar to dozens of low-budget New York set films that've come before and also indefinably unique. While certain narratives flow considerably better than others (Cera and Jacobsen's being the clear standout), you're still likely to find Person to Person a charmingly off-beat, unexpectedly insightful little film with style and wit to burn — one that's undoubtedly better than its meager 53 percent Tomatometer rating might lead you to believe.