Why Action Movie Fans Will Love Stuntwomen: The Untold Hollywood Story
Calling all action fans! Get ready for a scintillating new doc that will give some unsung heroes of Tinseltown their due.
Stuntwomen: The Untold Hollywood Story, based on the bestselling 2015 non-fiction book by Mollie Gregory, will soon be hitting VOD platforms, and its new trailer has us beyond pumped. The doc is narrated by Fast and Furious series star Michelle Rodriguez, and in addition to conversations with some revered Hollywood directors, we'll be hearing from a plethora of the women that have delivered some of the most pulse-pounding stunt work in film over the years.
The doc will cover the entirety of the age of Hollywood, from the silent film era to the modern day, and in addition to shining a light on some of the amazing personalities that chose to go into one of the most difficult lines of work in all of entertainment, the trailer promises a fascinating behind-the-scenes look at how stunts are designed and executed. In a statement announcing the project, the flick's producers said, "These unheralded heroines are the generations of stuntwomen who risked their lives in front of the camera, while behind it they fought for equal rights with male stunt performers, battled sexism and harassment, sustained life-threatening injuries and returned to the fray after each battle" (via Deadline).
Stuntwomen will feature conversations with a trio of talented directors: Paul Feig (Bridesmaids, Ghostbusters), Anne Fletcher (Step Up, Hot Pursuit), and Paul Verhoeven (RoboCop, Starship Troopers), each of whom will offer their unique takes on the importance of female stunt performers to their work. Also appearing will be Turner Classic Movies film historian Ben Mankiewicz, who will give viewers a guided tour of the early days of women in stunt work, and producer Al Ruddy, whose career reaches all the way back to the '60s and includes classics from The Godfather to Million Dollar Baby. Of course, we'll also hear from the performers themselves ... lots of them. 
Who are the performers interviewed in Stuntwomen: The Untold Hollywood Story?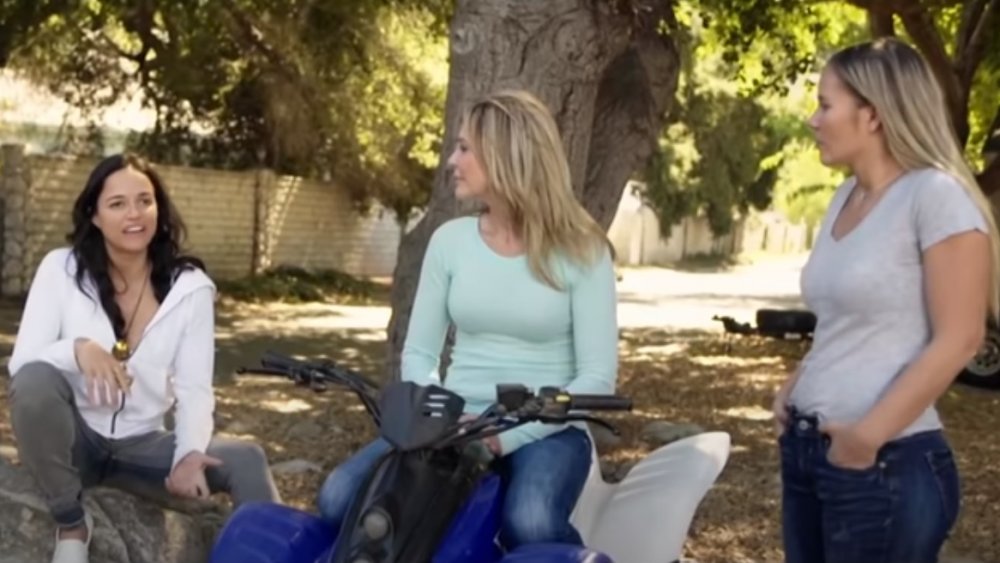 Shout! Studios
Director April Wright has assembled an absolute ton of the most talented women in the stunt business to talk about their experiences on film, many of whom have plied their trade in some of the most popular films of all time. Perhaps the most famous face among the bunch is Jessie Graff, a perennial competitor on the hit NBC sports program American Ninja Warrior, whose mile-long list of film and television credits includes The Dark Knight, X-Men: First Class, Sons of Anarchy, Marvel's Agents of S.H.I.E.L.D., Supergirl, and Alita: Battle Angel. 
Also appearing in the doc: Kelly Roisin (The Walking Dead, Venom), Cheryl Lewis (I Am Legend, Luke Cage), Julie Ann Johnson (Spider-Man 2, Crank), Jeannie Epper (2 Fast 2 Furious, Kill Bill Vol. 2), Debbie Evans (Castle, Captain America: The Winter Soldier), Heidi Moneymaker (Captain America: Civil War, Avengers: Endgame), Deven McNair (Future Man, Cloak & Dagger), Donna Keegan (The Aviator, Angels and Demons), Jadie David (Lethal Weapon 3, Escape from L.A.), Amy Johnston (Deadpool, Lucifer), Keisha Tucker (Black Panther, Captain Marvel), Alyma Dorsey (Joker, Lovecraft Country), Angela Meryl (Furious 7, Blue Bloods), Jennifer Caputo (Legion, Fear the Walking Dead), and Donna Evans (Iron Man, Bird Box).
All in all, it's a ridiculous amount of talent encompassing decades upon decades of experience, all together for what promises to be an eye-opening, adrenaline-pumping, thought-provoking ride through Hollywood history. Stuntwomen: The Untold Hollywood Story will drop on all of your favorite VOD platforms on September 22, 2020.