Why James From The Invisible Man Looks So Familiar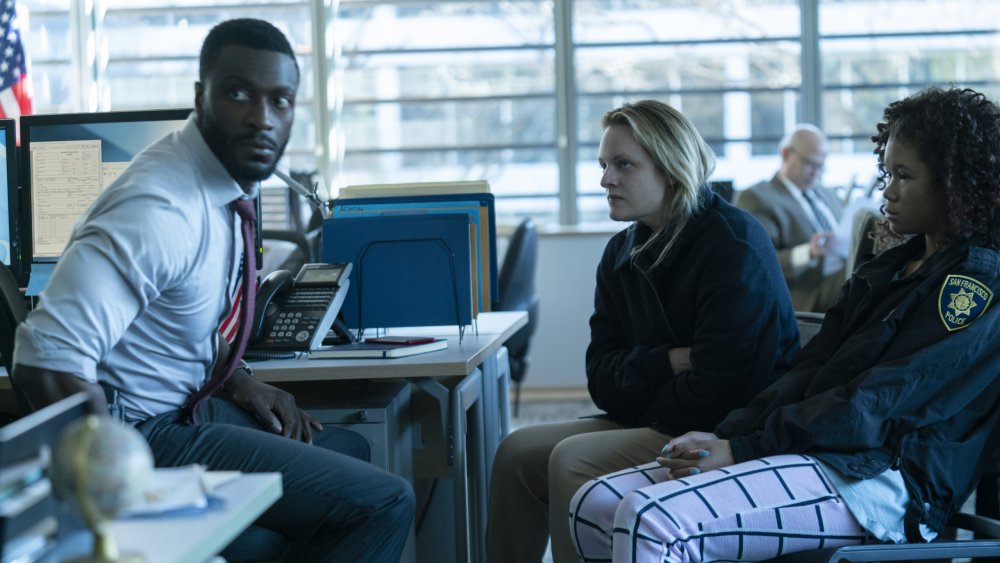 Blumhouse Productions/Universal Pictures
After the cinematic debacle that was 2017's Tom Cruise-starring The Mummy, most Hollywood insiders presumed we'd seen the last of Universal's planned monster movie revival that had come to know as the "Dark Universe." Fortunately, The Mummy wasn't the end in terms of Universal's efforts to resurrect its classic creatures. In fact, one of those frightful creations finally found its way to the multiplex in high fashion in 2020.
The monster in question is The Invisible Man, and when Leigh Whannell's bold re-imagining of the classic creature feature hit multiplexes earlier this year, it did so to critical praise and better-than-solid box office. It still ranks as the fifth highest-grossing flick of 2020, though it should be noted The Invisible Man was also among the last movies to actually have a theatrical release this year.
Set in the fog-ridden Bay Area, The Invisible Man finds a young woman named Cecilia (the great Elisabeth Moss) desperately trying to escape a physically and emotionally abusive relationship with a wealthy tech engineer (Oliver Jackson-Cohen). Upon making her getaway, she discovers her would-be ex has not only committed suicide, but also left her millions in his will. Things get dicey when Cecilia begins to suspect she's not entirely alone in her own home, and that her vile ex may not be as dead as he's made the world believe.
In seeking to extricate herself from her perilous existence, Cecilia seeks the help of her long-time friend, SFPD Detective James Lanier. We're guessing you probably recognized the actor who played Det. Lanier in The Invisible Man, even if you couldn't quite place from where. His name is Aldis Hodge, and he's been a regular on screens both big and small in recent years. Here's why James from The Invisible Man looks so familiar. 
Aldis Hodge took a short trek to be part of Star Trek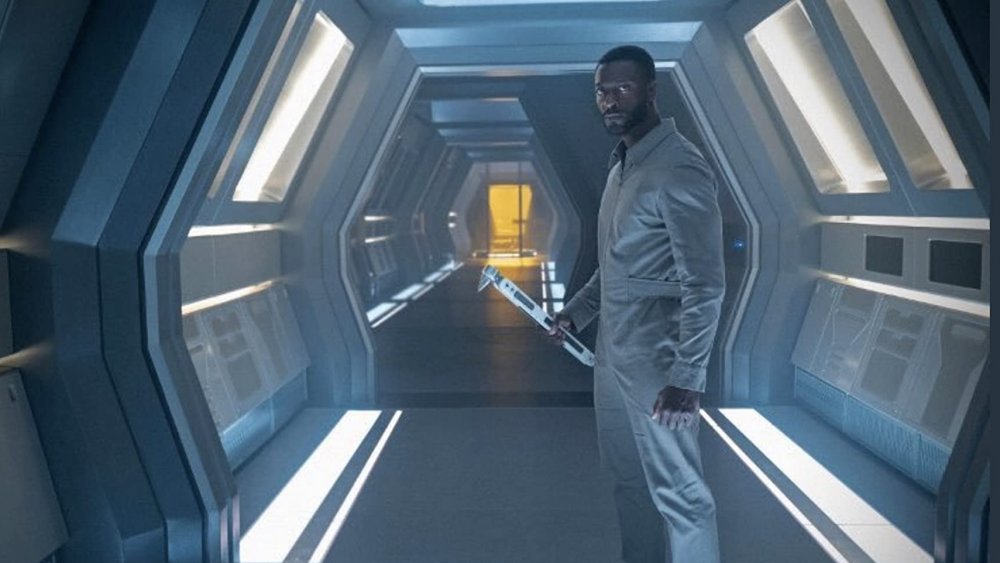 CBS All Access
Since first being conjured for television audiences over five decades ago by the late, great Gene Roddenberry, the world of Star Trek has become iconic both in pop culture and in the far more scrutinized realm of sci-fi fandom. Such a part of our culture has Rodenberry's world become, it seems producers are bent on re-visiting, re-booting, or re-hashing it for every new generation of sci-fi fans, either in the guise of further big screen adventures or in those more suited to the small screen. 
The latest Star Trek venture is the CBS All Access series Star Trek: Discovery, which follows the crew of the titular Starfleet vessel in a series of adventures that predate those of Kirk, Spock, and the crew of the USS Enterprise by a full decade. Along with each season of hour-long Discovery episodes, series creators Bryan Fuller (Pushing Daisies, Hannibal) and Alex Kurtzman (Fringe, Sleepy Hollow) further fleshed out their own take on Rodenberry's world with a series of online-only shorts called Star Trek: Short Treks.
Aldis Hodge made his Star Trek debut in the season 1 episode of Short Treks titled "Calypso," and it remains one of the finest moments from the short-form Trek series. The episode finds Hodge pulling a one-man-show as Craft, a man who wakes up in the sick bay of a deserted ship, only to find his only companion is the ship's A.I. Zora. Things get weird for man and machine when Zora begins to develop romantic feelings for Craft, and as they do, Hodge delivers one of the most memorable performances from the Short Treks series. 
Aldis Hodge played a hip-hop icon in Straight Outta Compton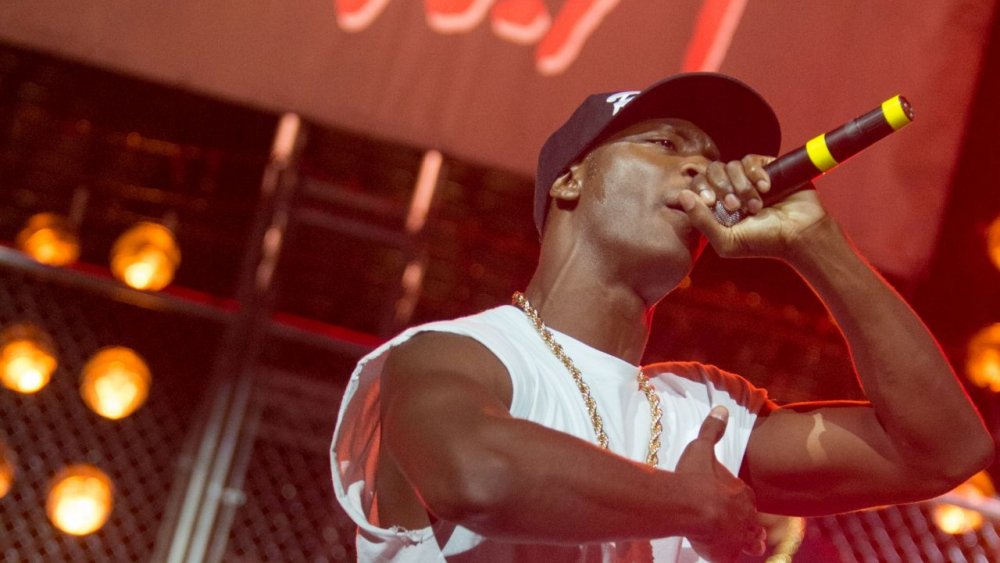 Universal Pictures
For fans of late-'80s and early-'90s hip-hop, Aldis Hodge will likely need no introduction, as he portrayed a legit icon of the era in an Oscar-nominated biopic. The icon in question is the one and only MC Ren, and the film is 2017's Straight Outta Compton, which explored the rise of the Southern California hip-hop supergroup N.W.A.
That group infamously rose to prominence in the late-'80s for their bracing, no b.s. songs about the perils and struggles of day to day life in the 'hood, essentially birthing the hip-hop sub-genre later dubbed "gangsta rap." They were also very much of the sparkle-and-fade mold, though, releasing just two proper albums before the rising stars in their ranks (i.e., Dr. Dre and Ice Cube) set out on their own genre-defining solo careers. One of the slightly lesser known names in N.W.A (though no less talented than his bandmates) is MC Ren, who provided more than his share of rhymes on those N.W.A. releases.
Aldis Hodge was the actor chosen to portray young MC Ren in the 2017 biopic. Even if the film itself dramatically underplays Ren's contributions to the work of N.W.A., Hodge still imbues the character with enough soul, spirit, and attitude to ensure his on-screen legacy should last as long as his legacy in hip-hop does. Just FYI, he also rocks the mic harder than his co-stars (including Ice Cube's real-life son O'Shea Jackson Jr.).   
Aldis Hodge fought the good fight on Leverage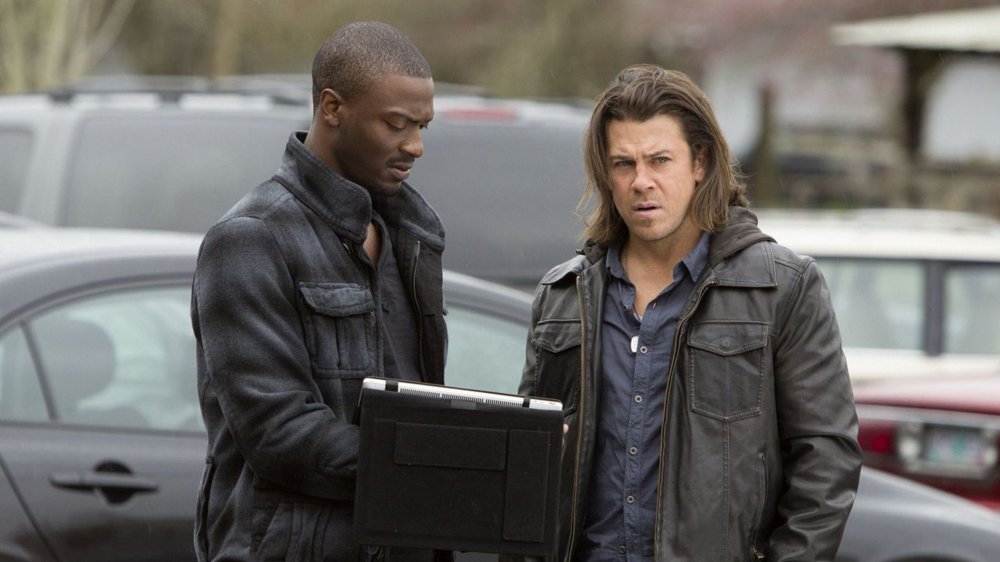 TNT
Since dipping a toe into the world of scripted original content a couple of decades ago, the extended cable network TNT has produced its share of hits and misses. One of its unquestionable hits came in 2008, when TNT aired its first episode of the con-centric crime series Leverage. 
For those who never caught an episode of Leverage, the series followed a small group of do-gooding crooks who use their various skill sets to set up elaborate cons designed to right certain wrongs done by the rich and powerful to less fortunate citizens. Equal parts Robin Hood and The A-Team, the series was fronted by Timothy Hutton, who portrayed the group's "mastermind" Nathan Ford. Filling out his talented crew were Gina Bellman's Sophie Devereaux (aka "The Grifter"), Christian Kane's Eliot Spencer (aka "The Hitter"), and Beth Reisgraf's Parker (aka "The Thief").
Leverage ran for five full seasons on TNT, airing a total of 77 episodes between 2008 and 2012. If you're wondering where Aldis Hodge fit into the equation, his character Alec Hardon appeared in every single episode of Leverage as "The Hacker,' which made him the genius-level computer whiz-slash-gadget master tasked with ensuring the the group's elaborate plans came off without a technical hitch. Throughout Leverage's run, Hardon was frequently the most well-rounded of the show's characters, with Hodge giving the self-proclaimed "geek" and the series itself a warm-hearted, down-to-Earth edge and wicked intellect that might otherwise have been lacking. 
He also became the romantic heart of the show when Hardon and Parker eventually took their relationship to a very personal level, which remains one of Leverage's better-executed narrative turns. 
Aldis Hodge didn't exactly play by the rules on Friday Night Lights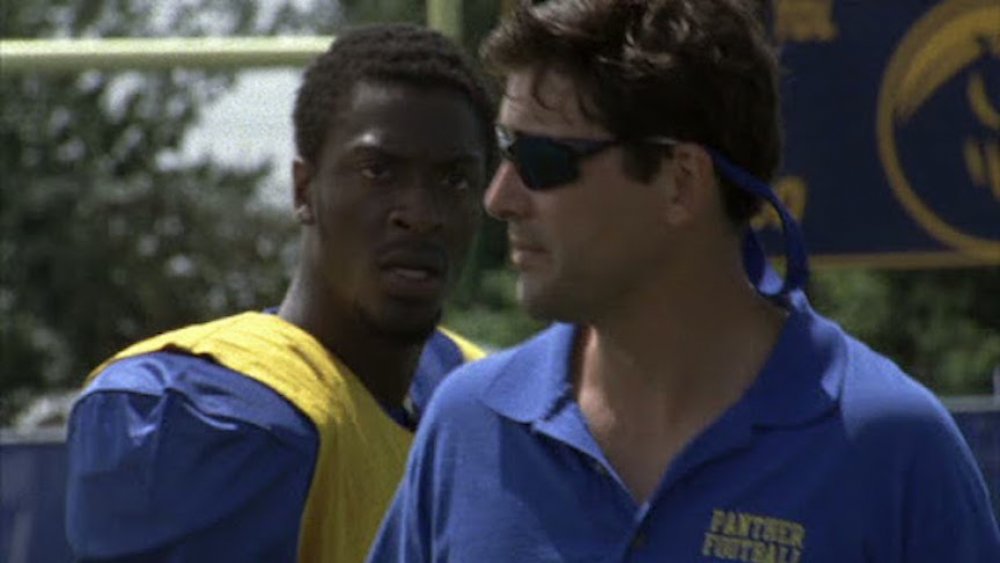 NBC Television
Of all the small-screen series that came and went between 2000 and 2011, few are quite as well regarded by the masses as NBC's beautifully presented high school football drama Friday Night Lights. Based on the 2004 film of the same name (itself based on H.G. Bissinger's beloved 1990 work of non-fiction), Friday Night Lights followed the ongoing personal and on-field dramas of a powerhouse high school football program in a sleepy Texas town.
For the record, the emphasis should be put on the "drama" part of "high school football drama," as Friday Night Lights elevated itself above your typical small-screen high school silliness by treating the lives of its younger character with as much reverence as those of their seniors over its five-season run. The series' producers aided in that noble endeavor by assembling a cast full of up-and-coming actors that reads like a who's who of current stars (Jesse Plemmons, Michael B. Jordan, Jurnee Smollett, Taylor Kitsch, and Caleb Landry Jones among them). 
Aldis Hodge joined Friday Night Lights' esteemed cast in the early days of season 3, when his character Ray "Voodoo" Tatum (a star quarterback in Louisiana who came to Dillon High after being displaced by Hurricane Katrina) comes in to claim the tragically vacated starting quarterback job. Without spoiling much, we'll simply say that, while Ray's talent is never in doubt, his style and attitude just did not mesh with that of Dillon High Head Coach Eric Taylor (Kyle Chandler). As such, Tatum's time in Dillon, Texas was short-lived, even if Hodge's marvelous work in the role continues to astound.