The Constantine Movie Sequels You Didn't Get To See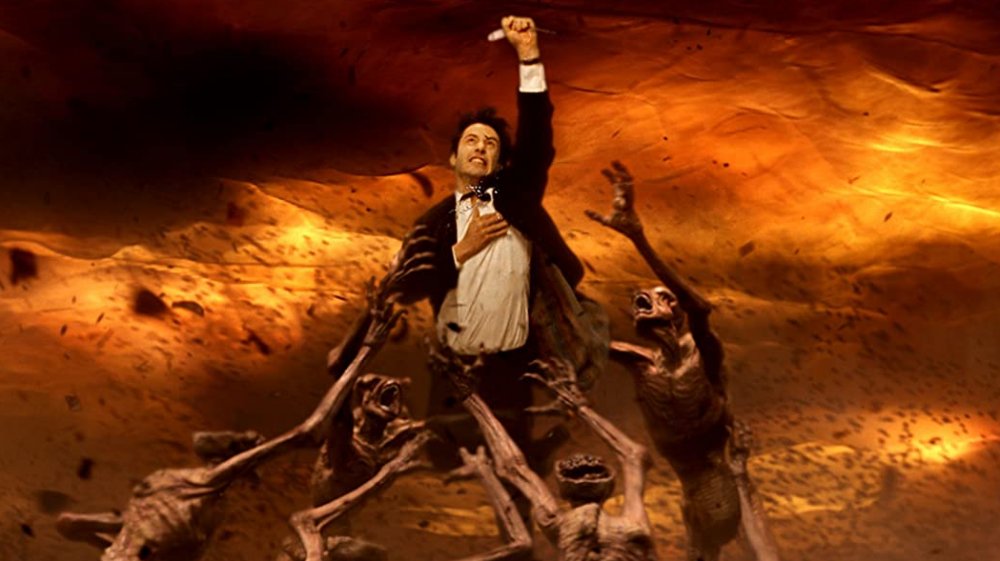 Warner Bros. Pictures
When the Keanu Reeves-led flick Constantine debuted in 2005, it fit in perfectly alongside the likes of the Blade trilogy and Hellboy amid a golden era of dark comic book adaptations. Fifteen years after the film's debut, Constantine star Reeves, director Francis Lawrence, and producer Akiva Goldsman reunited for a ComicCon@Home retrospective panel to discuss the journey of bringing the iconic Alan Moore-created character and his hellish world to life on screen. 
During the conversation, Goldsman and Lawrence shared their strong desire to do Constantine sequels, and ultimately why the movies never happened. 
According to the Constantine producer, the creative team not only had a lot of interest in continuing the anti-hero's story, but they also saw continuations getting even darker. "Yes. Oh my God, yes. [Sequels] endlessly came up. Boy, we wanted to, we wanted to do a hard-R sequel," said Goldsman. "I think we'd probably make it tomorrow." 
20th Century Studios going R-rated with Deadpool in 2016 spurred its very own news cycle, as did the possibility of Marvel taking its Mahershala Ali-led Blade reboot in the same direction. But an R-rating for superhero films, especially at that time Constantine was released, wasn't entirely out of the ordinary. Films like 1994's The Crow and 2004's The Punisher had already broken that ground, and titles like Kick-Ass and Watchmen followed without a hitch in the late '00s and early 2010s. Constantine's R rating — which came as a result of its tone that the Motion Picture Association of America found too dread-filled to be PG-13 — wasn't a huge issue, Lawrence noted there were some creative challenges when it came to locking in a story for a sequel.
"We worked on the sequel for a while," he said in a separate interview with Slashfilm published ahead of Comic-Con@Home. "It was tricky to come up with where to take it. What I really liked about the first one was it was a really personal story, so I thought it'd be a mistake to get caught up in the supernatural gobblygook. The idea of a personal story was really interesting, and that was the hard thing to come across."
The film's initial reception kept a Constantine sequel featuring Jesus from happening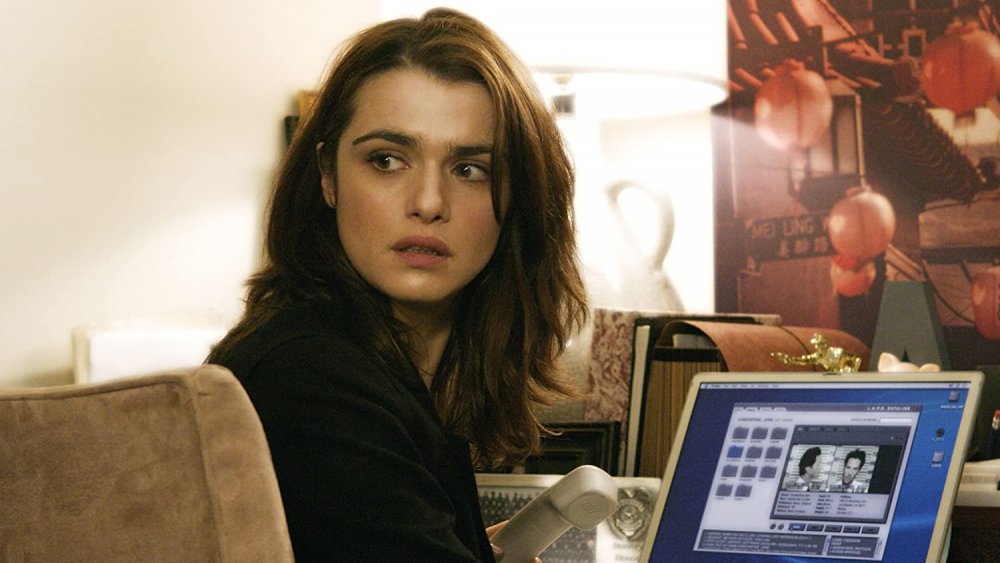 Warner Bros. Pictures
Despite those creative challenges, the team did end up envisioning a few storylines that could have helped launch a sequel, and one involved a run-in with Jesus. As Goldsman shared during the film's Comic-Con panel, screenwriter Frank Cabello came up with the idea, which would have seen John waking up in a prison cell and needing to identify a prisoner. "He was Jesus. He comes up and he's in New York," said Goldsman.
Still, those few mapped-out scenes weren't enough to counter the film's initial critical and commercial reception, Lawrence explained during the panel. In addition to mixed reviews, that accounts for Constantine's $230 million worldwide earnings on a $100 million budget (via Box Office Mojo). 
"We definitely talked about sequels more than the studio. The movie did fairly well — and this was also a time when people still sold DVDs — so I think it did decently at the time, but it wasn't a knockout success," said Lawrence. "And it also wasn't really critically acclaimed by any means at the time."
Goldsman had a different point to make about why studios may have been reluctant to do a second Constantine film back then. At the panel, he noted the film's mix of genres and Lawerence's unique approach to telling an intimate-yet-action-packed story as additional reasons studio executives weren't quick to act on more Constantine movies. A film that was "equally comfortable in a character scene between Keanu and Rachel [Weisz] as it is with demons hurling themselves at a man who is going to light his fist on fire and expel them" might have been too odd, according to the producer. 
"To the studios who make it, which was Village Roadshow and Warner Bros., it was always sort of a feathered fish," Golsman said of Constantine. "It's not really action-packed, it just has a bunch of action. This movie isn't really a thing — it's a few things, which is what I think is beautiful about it. But those seem to get harder and harder to make."
The Constantine team are now up against rights issues and DC's shared universe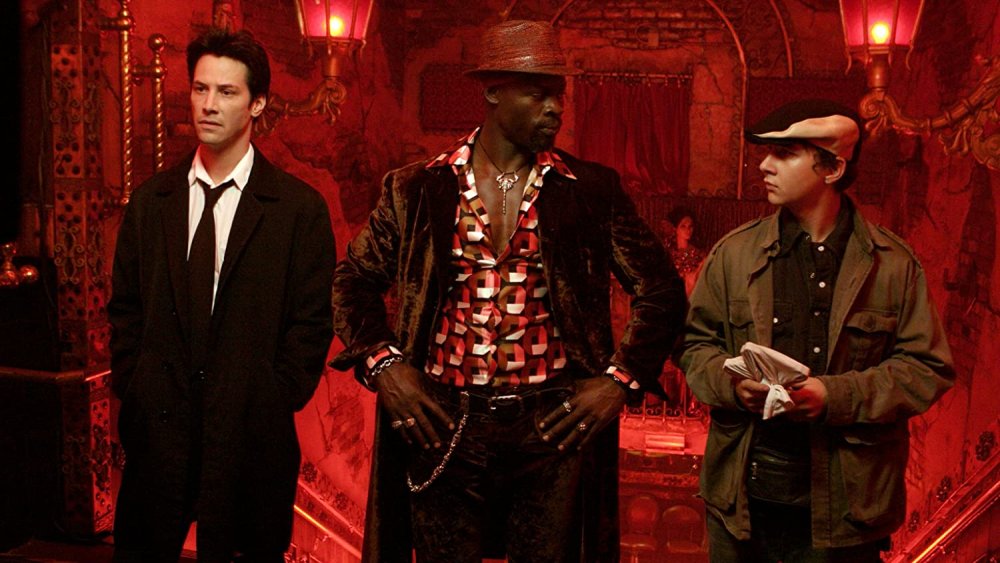 Warner Bros. Pictures
The Constantine creative team is clearly down to make sequels, but what about the man behind the demon hunter and occult detective? In that same aforementioned Slashfilm interview, Lawrence shared that Reeves is just as onboard as he and Goldsman are: "It's always stuck with all of us because we all love the movie, and especially realizing there's a real cult following for this movie, it'd be fun to make. Keanu, Akiva, and I have actually talked about it."
That's a big statement considering Reeves once reportedly not interested in Constantine sequels, and now he's in major demand amid a Hollywood renaissance. But there's plenty of evidence that the actor would be up for it. The Constantine star has a decades-long awaited follow-up in Bill & Ted 3 coming out this September, and according to TMZ, The Matrix 4 may already be gearing up to resume filming after pausing due to international production shutdowns. Reeves is using this moment to embrace his resume, so a return to Constantine isn't totally unreasonable. 
Unfortunately, a new set of challenges has emerged in trying to return Reeves' version of the character to the big screen: The tighter reins companies have on artists using their characters. 
"I don't even remember who has it, but with all these shared universes that exist now, with Constantine being a part of Vertigo, which is a part of DC, people have plans for these shared universes," Lawerence told Slashfilm. "Right now, we don't have that character available to us for TV or movies, which is a bummer." 
That may have been the most surprising development on the team's road back to Hell. "We all investigated it," Lawerence said. "But I think it's kind of crazy when you have Keanu, who would love to do another Constantine, and us wanting to do another Constantine, and people are like, 'Uh, no, we got other plans.'" 
Here's to hoping that somehow, some way, we'll see more Constantine some day.