San Diego Comic-Con 2020: The Best Panels To Watch On Day 2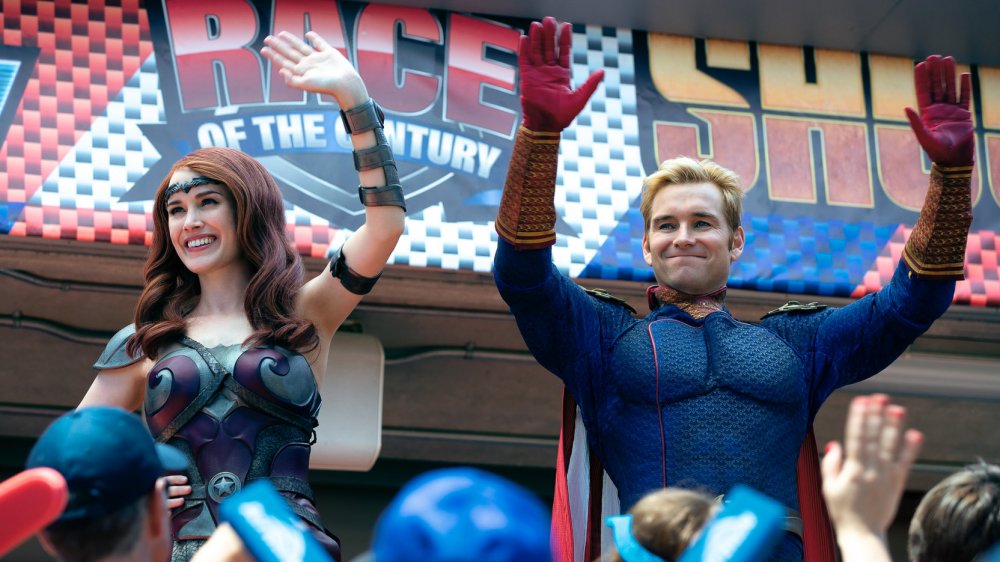 Amazon Prime Studios
As avid con-goers can tell you, the San Diego Comic-Con party doesn't truly start until the second day. That day is here for the 2020 edition of convention — this time held entirely online, accessible to everyone around the world from their own homes, and totally free of charge. 
But with dozens of panels and presentations taking place during Comic-Con@Home (the apt name for the 2020 event) on Thursday, July 23 — and hundreds over the course of the five-day convention — fans are left wondering how they can make the most of their day of viewing. Which panels are the most hype-worthy? What series and movies will show up and show out on day 2 of Comic-Con@Home? How should you divvy up your precious time between presentations?
Settle down, pop culture fanatics. Looper has your back with the full run-down of the best panels to stream (via the Comic-Con International YouTube channel) during the second day of San Diego Comic-Con 2020.
Must-see TV panels during 2020's Comic-Con@Home on Thursday, July 23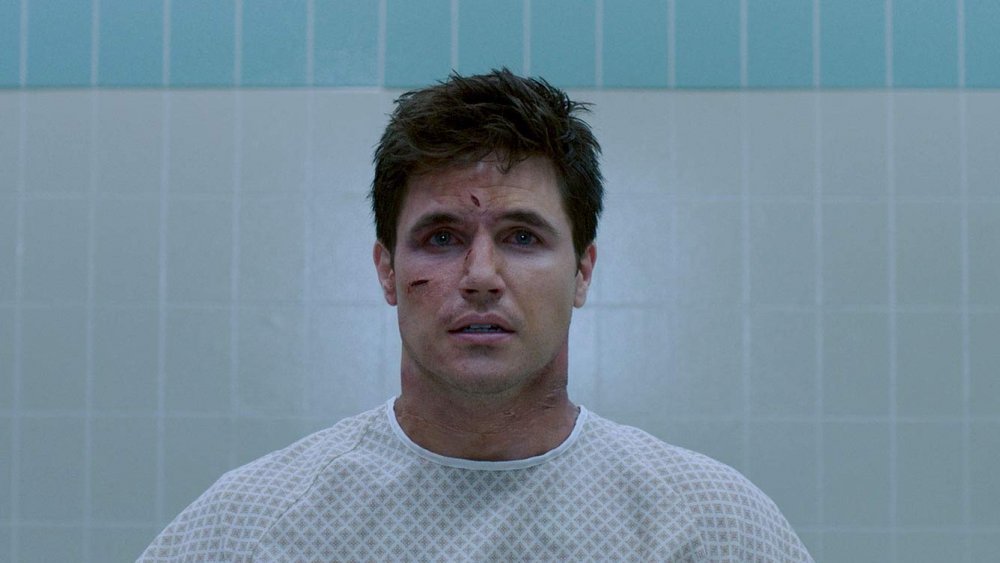 Amazon Prime Studios
The second day of San Diego Comic-Con 2020 kicks off with the first round of panels at 9 AM PT (12 PM ET, 5 PM BST) — but the fun for TV fanatics starts an hour later, with the Star Trek Universe panel that begins at 10 AM PT (1 PM ET, 6 PM BST). 
Throughout the course of the day, viewers will be treated to presentations from shows including the animated comedy Duncanville; HBO and BBC's adaptation of His Dark Materials; the much-adored Amazon Prime original The Boys; another Amazon Prime series, Upload; NBC's sitcom Superstore; the animated show from Rick and Morty co-creator Justin Roiland, Solar Opposites; the gritty Syfy series Van Helsing; and Mystery Science Theater 3000. 
Additionally, there will be panels for the upcoming Simon Pegg and Nick Frost collaboration Truth Seekers, as well as Utopia, the forthcoming series based on the British original, created for U.S. audiences by Gone Girl author Gillian Flynn.
Star Trek Universe — 10 AM PT (1 PM ET, 6 PM BST): "Star Trek broke barriers when it first premiered more than 50 years ago, inspiring people of all walks of life by championing cultural diversity, scientific advancement, and the exploration of new frontiers. Today, this legacy carries on through the Star Trek series on CBS All Access, where Starfleet and new characters alike take on exciting missions and explore uncharted areas of the universe while keeping true to the ideals of Star Trek that society needs now more than ever. Join us as we virtually bring together the casts and producers from Star Trek: Discovery, new animated series Star Trek: Lower Decks, and Star Trek: Picard. Dominic Patten, Deadline's senior editor, moderates the overall Star Trek Universe panels, with an introduction and discussion with Secret Hideout executive producers Alex Kurtzman and Heather Kadin who give a glimpse of what's ahead in the ever-expanding franchise."
Solar Opposites – 11 AM PT (2 PM ET, 7 PM BST): "Your favorite Shlorpians are getting together for Comic-Con@Home! As Hulu's most-watched original comedy premiere to date, Solar Opposites centers around a team of four aliens who escape their exploding home world ... only to crash land into a move-in ready home in suburban America. They are evenly split on whether Earth is awful or awesome, while protecting the Pupa, a living super computer that will one day evolve into its true form, consume them, and terraform the Earth. Join Justin Roiland (Korvo), Thomas Middleditch (Terry), Sean Giambrone (Yumyulack), Mary Mack (Jesse), and executive producers Mike McMahan and Josh Bycel for all things Solar Opposites – including an exclusive clip from the upcoming second season!"
Truth Seekers – 12 PM PT (3 PM ET, 8 PM BST): "A new original supernatural horror comedy by Simon Pegg (Shaun of the Dead), Nick Frost (Hot Fuzz), James Serafinowicz (Sick Note), and Nat Saunders (Sick Note). Join as they discuss the making of the hilarious eight-episode series about a team of part-time paranormal investigators who team up to uncover and film ghost sightings across the UK, sharing their adventures on an online channel for all to see. Discussion and Q&A moderated by Empire magazine's Chris Hewitt."
Duncanville — 12 PM PT (3 PM ET, 8 PM BST): "Executive producers Mike & Julie Scully, executive producer and star, Amy Poehler, along with stars Ty Burrell, Riki Lindhome, Joy Osmanski, Yassir Lester, Betsy Sodaro, and guest stars Rashida Jones and Wiz Khalifa discuss their favorite moments from the season and what they're excited for in the upcoming second season; returning next Spring on FOX."
Utopia — 1 PM PT (4 PM ET, 9 PM BST): "A twisted, eight-episode thriller about a group of young comic fans who discover the conspiracy in a graphic novel is real, and embark on a high-stakes adventure to save humanity from the end of the world. Join writer and executive producer Gillian Flynn (Gone Girl) and series stars John Cusack (High Fidelity), Rainn Wilson (The Office), Sasha Lane (American Honey), Ashleigh LaThrop (Fifty Shades Freed), Dan Byrd (Cougar Town), Desmin Borges (You're the Worst), Javon 'Wanna' Walton (Euphoria), and Jessica Rothe (Happy Death Day) for a Q&A moderated by Entertainment Weekly's Christian Holub."
His Dark Materials — 1 PM PT (4 PM ET, 9 PM BST): "Adapting Philip Pullman's award-winning trilogy of the same name, which is considered a modern masterpiece of imaginative fiction, HBO/BBC's His Dark Materials concluded its debut season in December. Join executive producers Jane Tranter and Jack Thorne, as well as cast members Dafne Keen (Lyra), Ruth Wilson (Mrs. Coulter), Ariyon Bakare (Lord Boreal), Amir Wilson (Will Parry), Andrew Scott (John Parry), and Lin-Manuel Miranda (Lee Scoresby) in a virtual panel discussion about the hit drama series which will be moderated by award-winning journalist Stacey Wilson Hunt."
Upload — 2 PM PT (5 PM ET, 10 PM BST): "Creator, executive producer, and director Greg Daniels (The Office, Parks and Recreation) and stars Robbie Amell (Code 8), Andy Allo (Pitch Perfect 3), Kevin Bigley (Undone), Allegra Edwards (New Girl), and Zainab Johnson (American Koko) discuss how they brought this futuristic comedy to life, share behind-the-scenes details from season one, and tease what fans can expect in season two. The panel will be moderated by Engadget's Cherlynn Low. Upload season 1 is a ten-episode, half-hour, sci-fi comedy that takes place in the near future, where people can be "Uploaded" into a virtual afterlife of their choice."
Superstore — 3 PM PT (6 PM ET, 11 PM BST): "The cast and showrunners of Superstore come together for a fun-filled hour stocked with their favorite shared moments over the past five years. Watch the cast celebrate Comic-Con from home, and treat fans with what to expect when the series returns next season on NBC. You never know what surprises are in store! Cast members Ben Feldman, Mark McKinney, Lauren Ash, Colton Dunn, Nico Santos, Nichole Sakura, and Kaliko Kauahi will all join the conversation, along with showrunners Gabe Miller and Jonathan Green."
The Boys – 3 PM PT (6 PM ET, 11 PM BST): "Executive producer Eric Kripke, along with series stars Karl Urban, Jack Quaid, Antony Starr, Erin Moriarty, Jessie T. Usher, Laz Alonso, Chace Crawford, Tomer Capon, Karen Fukuhara, and Aya Cash, with moderator Aisha Tyler, gather for a behind-the-scenes look at the upcoming second season of The Boys. Executive producers Seth Rogen and Evan Goldberg will also make a special appearance. Based on The New York Times best-selling comic by Garth Ennis and Darick Robertson, The Boys is a fun and irreverent take on what happens when superheroes — who are as popular as celebrities — abuse their superpowers rather than use them for good. The even more intense, more insane season 2 finds the Boys on the run from the law, hunted by the Supes, and desperately trying to regroup and fight back against Vought."
Van Helsing — 5 PM PT (8 PM ET, 1 AM BST): "This panel will answer some fan questions, find out where Vanessa Van Helsing is, and take a closer look at her epic meeting with The Dark One in Metamorphosis. They will also discuss what it was like filming overseas, the challenges we've faced during COVID-19, and how Van Helsing is getting back on track for Season 5."
LGBTQ Characters on Television – What's Next – 5 PM PT (8 PM ET, 1 AM BST): "Jamie Chung (Once Upon A Time), Jamie Clayton (Roswell: New Mexico), Wilson Cruz (Star Trek: Discovery), Tatiana Maslany (Perry Mason), Anthony Rapp (Star Trek: Discovery), J. August Richards (Council of Dads), Harry Shum, Jr. (Shadowhunters), Brian Michael Smith (9-1-1: Lone Star) discuss the past, present, and future of representation of LGBTQ characters on television in a Q&A session moderated by Jim Halterman (TV Guide magazine)."
Mystery Science Theater 3000 — 6 PM PT (9 PM ET, 2 AM BST): "Erik Adams (The A.V. Club) leads a discussion with MST3K creator Joel Hodgson and former cast members Bill Corbett (Crow T. Robot #2) and J. Elvis Weinstein (Tom Servo #1) as they engage in some good old-fashioned Q&A.
The one movie panel you'll want to watch during Comic-Con@Home on Thursday, July 23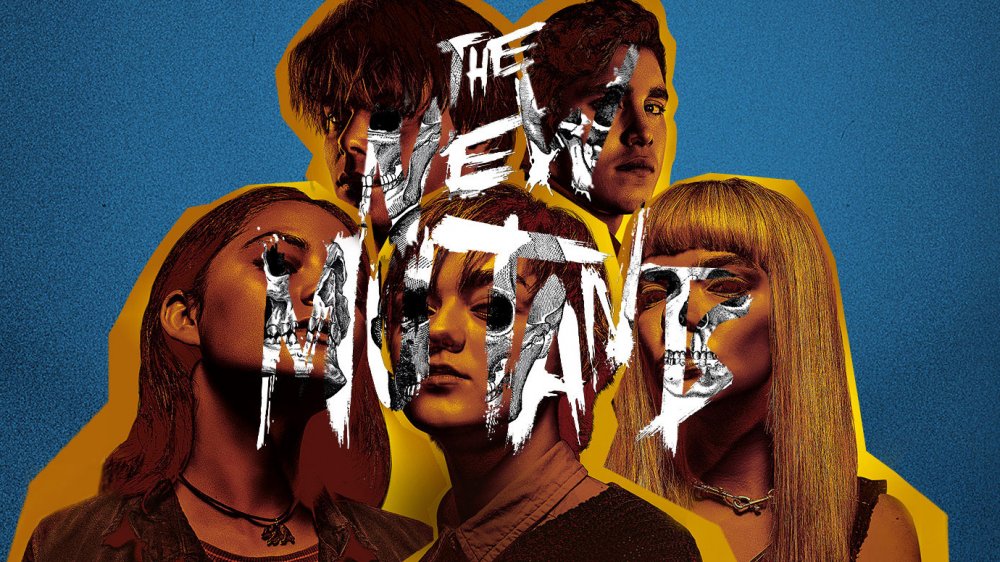 Disney/20th Century Studios
When it comes to the selection of movie panels on day two of Comic-Con@Home, there's good news and there's bad news. We'll start with the bad: There's only one presentation about a big-name film that will stream on Thursday, July 23. The good? It's a panel for The New Mutants, the final entry in the formerly-Fox-owned X-Men franchise that has seen more delays than the silver screen has seen Spider-Man actors. 
Any and all updates about The New Mutants are in high demand these days. The latest chatter centers on the idea that the movie — originally slated to hit theaters over two years ago on April 13, 2018 and now scheduled for an August 28, 2020 launch — will go straight to streaming on Disney+, the platform owned and operated by the X-Men series' new owner, the Walt Disney Company. As of this writing, there's no telling whether that speculation is true, but fans are hoping to get some sort of confirmation during the movie's San Diego Comic-Con 2020 panel. Short of that, a fresh trailer or other juicy New Mutants info should suffice.
The New Mutants – 2 PM PT (5 PM ET, 10 PM BST): "Writer-director Josh Boone and the cast of 20th Century Studios and Marvel Entertainment's The New Mutants – including Maisie Williams, Anya Taylor-Joy, Charlie Heaton, Alice Braga, Blu Hunt, and Henry Zaga — discuss the upcoming original horror-thriller. Moderated by Ira Madison III."