Most Excellent News Just Dropped For Bill & Ted Face The Music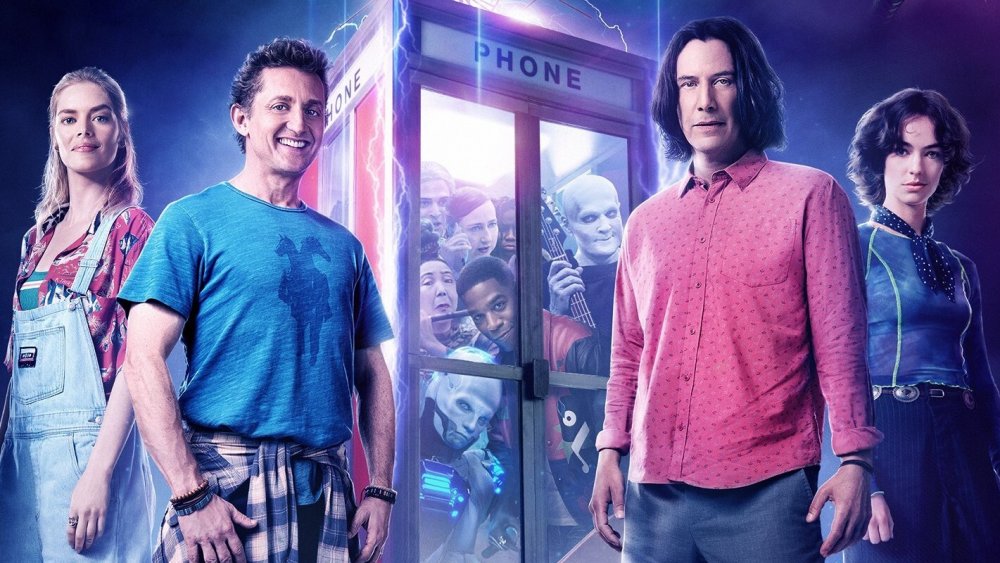 Orion Pictures
Bill & Ted fans, get ready to Face the Music ... at home.
Orion Pictures has just announced that the long awaited sequel to Bill & Ted's Excellent Adventure and Bill & Ted's Bogus Journey, continuing the adventures of Ted "Theodore" Logan and Bill S. Preston, Esq., will drop simultaneously in theaters and on video-on-demand platforms. The flick also received another — presumably final — release date: September 1, 2020.
For those keeping score at home, Bill & Ted Face the Music was originally slated for release on August 14 before being pushed back to August 28. This, of course, is because of the ongoing COVID-19 pandemic, which has forced virtually every movie with a 2020 drop date to be delayed, released on VOD, or simply removed from the schedule altogether until the situation stabilizes.
The VOD release of Bill & Ted Face the Music is great news for fans who have been waiting for this picture forever. Additionally, some theater chains are tentatively re-opening with social distancing measures in place; by the first of September, there could be enough venues operating to give Face the Music a respectable national release. It's nice to know that regardless of how that situation plays out, we'll finally be able to get the flick in front of our faces in just a little over five weeks from the time of this writing.
Bill & Ted Face the Music will present an excellent Comic-Con panel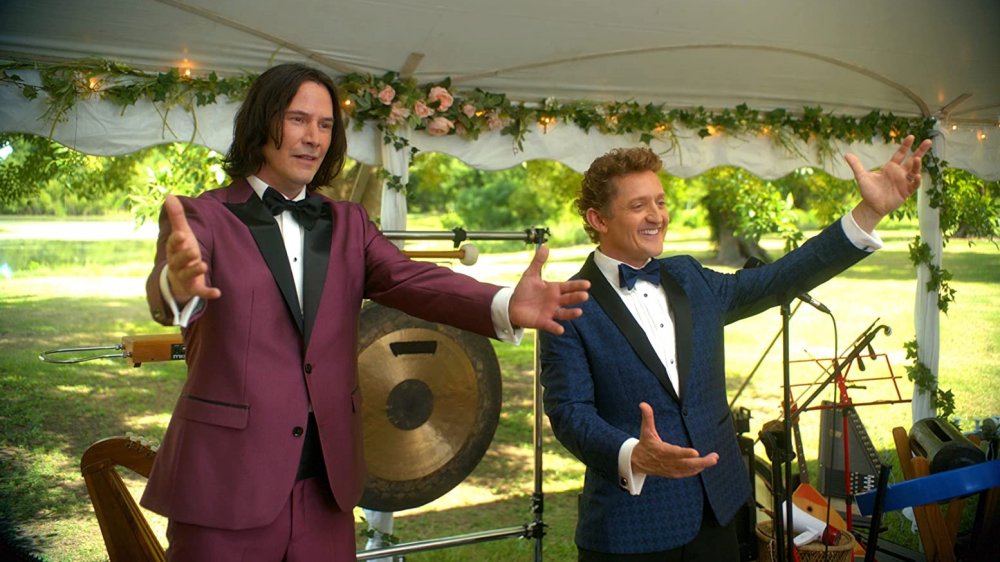 Orion Pictures
There's even more news to go along with the announcement of Bill & Ted Face the Music's VOD release. The film will be part of this year's San Diego Comic-Con, a virtual event dubbed Comic-Con@Home. It will be free to "attend" for folks the world over, and will feature presentations centered on awesome stuff like The Walking Dead, The Boys, The New Mutants, and much more.
Bill & Ted Face the Music's Comic-Con@Home panel will include all of the righteous dudes and dudettes that you would hope, and then some. Stars Keanu Reeves and Alex Winter will be taking part, as will Samara Weaving (who portrays Bill's daughter Thea "Little Ted" Preston) and Bridgette Lundy-Paine (who plays Ted's daughter Billie "Little Bill" Logan). Also making appearances are William Sadler, who's reprising his role as Death from 1991's Bill & Ted's Bogus Journey; the flick's screenwriters Chris Matheson and Ed Solomon; and director Dean Parisot. Kevin Smith, the Prince of All Geeks, will oversee the Bill & Ted Face the Music Comic-Con@Home panel, which will begin on  Saturday, July 25, at 5 PM ET. Those interested can stream the panel on Comic-Con's YouTube channel.
Pretty bodacious, right? Well, along with these announcements, Orion also saw fit to reveal a brand-new poster for Bill & Ted Face the Music.
That's most excellent, and honestly, we weren't sure if we could get any more pumped for this movie. But there's one last piece of awesome Face the Music news that just dropped.

An excellent new trailer for Bill & Ted Face the Music helps nail down the story
There were a ton of small details in the first trailer for Bill & Ted Face the Music that hinted strongly at its story, but this newly released second trailer helps pin down just what our heroes will be dealing with in the film. 
In the new trailer, we finally get a look at the duo's wives — the princesses, portrayed by Jayma Mays and Erinn Hayes. As the trailer opens, they're in group couples' therapy — all four of them, since they're a "couple of couples." This portends trouble at home — and it also seems that Ted's dad, Captain Jonathan Logan (Hal Landon Jr.), believes them to be delusional. While the pair are attending the wedding we saw in the first Bill & Ted Face the Music trailer (it's still not clear whose), Captain Logan berates the Bill and Ted: "You didn't time travel, and you didn't go to Heaven and Hell. Here's a real idea for you: be role models to your daughters! Get real jobs!"
We see a lot more of Little Bill and Little Ted in the new trailer, but first, we watch a panel of futuristic-looking dudettes explain to Bill and Ted the gravity of their situation. A song that Preston-Logan — not Wyld Stallyns, which has always been the name of their band — performs will "save reality as we know it." The catch? It has to be performed that very night.
Then, as we were shown in the first trailer, the duo gallivant through different futures to steal the song from themselves — or, rather, alternate versions of themselves. Meanwhile, Thea and Billie — who figure out that their dads are "totally in trouble" — basically apply our heroes' strategy from the first film, heading off to different points in the past to assemble "a most extraordinary band." At the trailer's conclusion, we see that the girls, along with all of the musicians they've collected, are stuck in Hell — but no worries, they're still doing pretty good.
Could Preston-Logan actually be ... Thea and Billie? Will Ted's dad ever get off his case? Will Death stop playing solo hopscotch long enough to help our heroes escape from Hell and perform their reality-saving tune? All will be revealed when Bill & Ted Face the Music drops on VOD — and, hopefully, in select theaters — on September 1, 2020.