Fan-Favorite Reno 911! Characters That Show Up In The Revival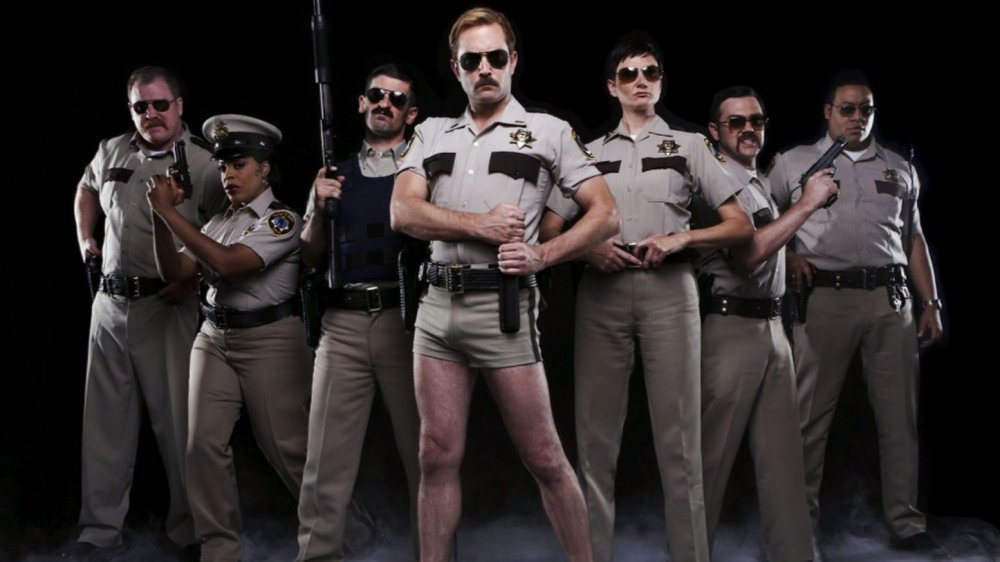 Comedy Central
This content was paid for by Quibi and created by Looper.
This summer, cult classic Reno 911! returned on the new short-form streaming platform, Quibi. Fans were excited to see the whole gang get back together for one more run in the Reno Sheriff's Department, and the revival did not disappoint. All of the show's main cast is present for more laugh-out-loud moments, but they aren't the only ones back for the new season. A good number of fan-favorite supporting characters from prior seasons have stopped in for an episode or two, as well.
Reno 911!'s comeback season consists of 12 episodes, each packed with hilarious new situations. Interestingly, it deals with a lot of topics that were not necessarily mainstream during its initial run from 2003-2009. Police brutality, systemic racism, gender-fluidity, and more current social issues all get brought up within the satirical Reno 911! framework. Even though the material is fresh and current, the crew didn't forget about their roots.
Throughout season 7, among the cameos and fresh faces, are a handful of returning characters that longtime fans will recognize. They all generally stay on-brand and don't deviate from what made them so popular in the first place. It's not for nothing, either, as most get substantial screentime to rekindle the humor of their first appearances. The Reno 911! creative team made sure to keep their committed followers in mind with more than a few returns during their Quibi reunion.
T.T. returns in boisterous fashion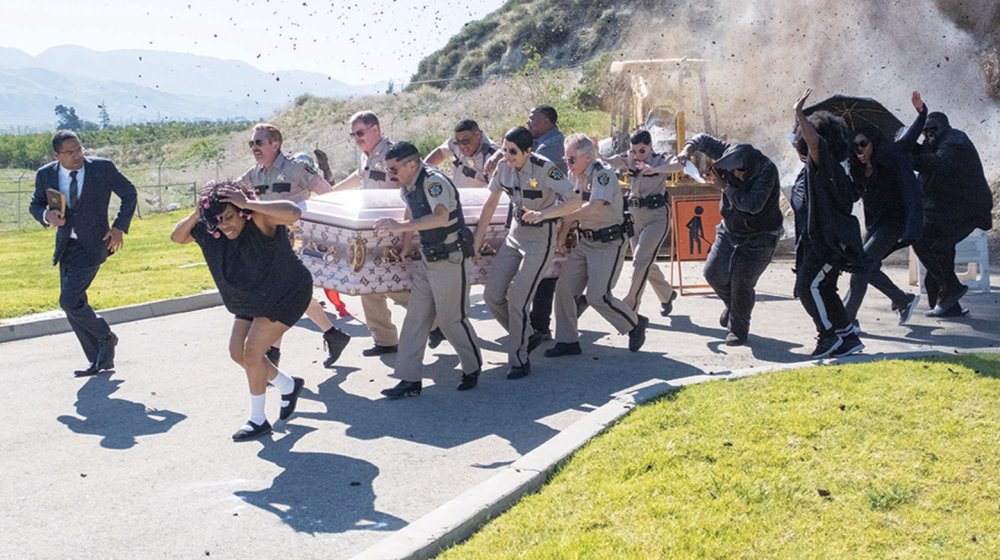 Quibi
T.T. (Niecy Nash) appropriately returns in the episode "T.T.'s Auntie's Funeral." As the title suggests, T.T.'s aunt has passed away, and the Reno Sheriff's Department offers to help out with the service. As the incoherent screeching of grieving T.T. continues, they struggle to bring the casket to its intended burial site (in a clever reference to the 2019 hit 1917). They eventually make it, lazily toss it into the hole, and run for the hills, leaving T.T. alone to continue processing her loss.
Even in the event of losing a loved one, T.T.'s personality doesn't change very much from her usual self. From the moment she appeared in Reno 911! she's been loud, hysterical, and by no means easy to understand. She looks the same as she did during the series' Comedy Central run, from the oversized teeth to the lack of bra. Niecy Nash pulls double-duty to portray the character, and is surprisingly not the only Deputy to do so.
Craig Pullin rises from the dead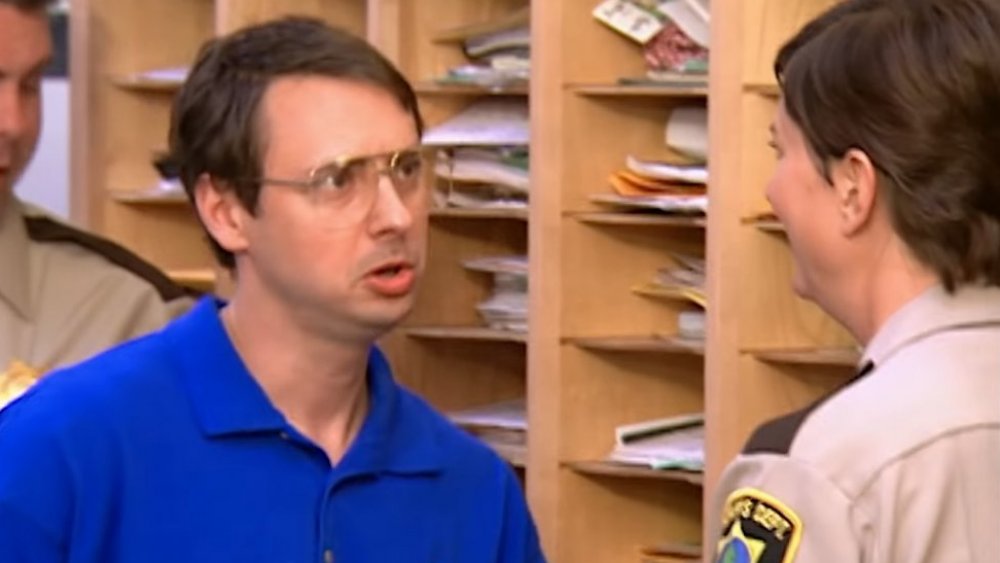 Comedy Central
"Truckee River Revenge" sees the return of Craig Pullin (Kyle Dunnigan) from beyond the grave. After putting it off for far too long, Deputy Wiegel (Kerri Kenney-Silver) finally goes in to investigate a crime scene that Pullin was responsible for. During her search in the run-down, dingy house, she speaks to her ex-husband in his ghost form. The two chat for some time before they reveal that a gas leak has caused her to pass out, which explains how she saw Pullin in the first place.
Pullin first appeared in the first season's sixth episode, calling 911 over reports of a missing snow cone. He soon hit it off with Wiegel, and the duo started dating in no time. Despite his awkward nature, he's got some serious skeletons in the closet. As the RSD discovered, he was a serial killer known by the alias the Truckee River Killer. He was sentenced to death by lethal injection for his crimes, but he and Wiegel continued their relationship right up until he died.
Jackie DeMartino is back in Reno 911!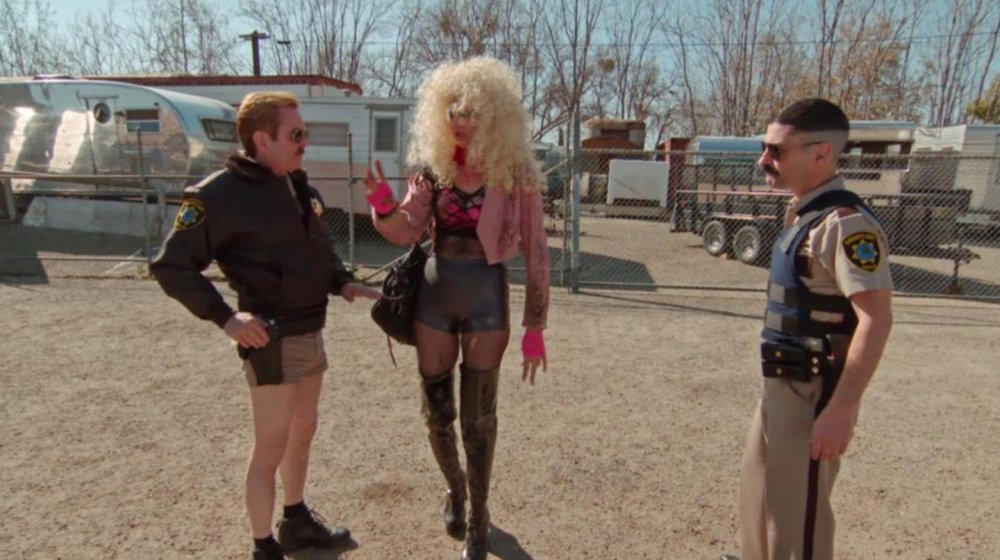 Quibi
Jackie DeMartino (Kerri Kenney-Silver) makes her less-than-triumphant comeback in the episode "Weekend at Bernie." Sergeant Declan (Ian Roberts) and Deputy Jones (Cedric Yarbrough) are to take her in for drug use and prostitution. Her refusal to get into their patrol vehicle willingly results in them pretending to solicit sex from her. She falls for their bait and gets in the back seat to go off to the station. In the episode "Jackie's Birthday," she appears again and is subsequently taken away by Dangle and Junior in the department's new, undersized patrol car.
Jackie has been around since Reno 911!'s first season, and her characterization in the revival is repulsively consistent. She's still a drug addict and a rather unsuccessful prostitute, as evidenced by her frequent run-ins with the RSD. Still, her entanglements with the deputies often produce some pretty memorable comedic moments. Much like before, the character is brought to life by Kerri Kenney-Silver, who also plays Deputy Wiegel.
Andrew is getting into trouble yet again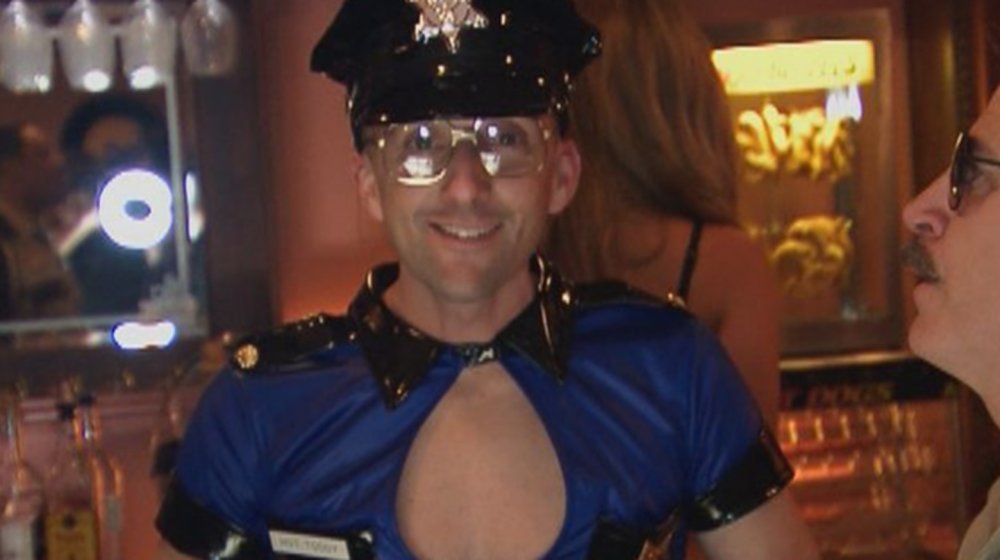 Comedy Central
This reemergence comes from the same episode as Pullin, "Truckee River Revenge." Deputy Garcia (Carlos Alazraqui) and Deputy Jones respond to a call from an airline about a disruptive passenger. They walk into the middle of an argument between Andrew (Jim Rash) and the plane's flight attendant. The officers take a statement from the attendant, who claims that Andrew was pleasuring himself in his seat to Lady and the Tramp, before forcefully removing him from the aircraft. He continues to yell and attempts to stick his hand back down his pants on the way out.
Andrew is one of the series' longest-running supporting characters, having debuted in the second episode of the first season. Since then, he's appeared in 16 subsequent installments, rarely for good reason. He's been a recurring thorn in the side of the Reno Sheriff's Department, for offenses that range from the perverse to the simply flamboyant. Regardless, he's grown into a staple of the Reno 911! universe.
Big Mike is back and crazier than ever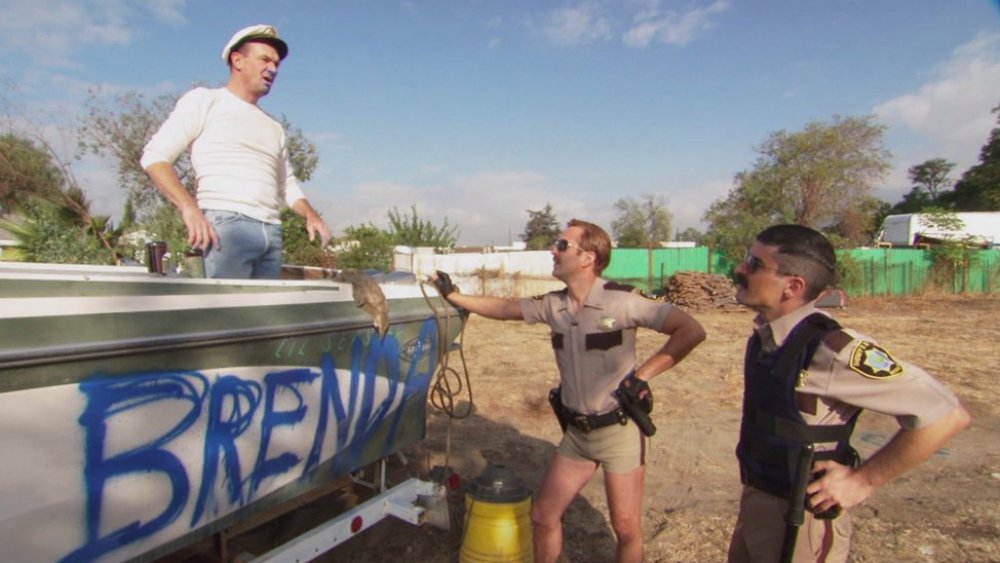 Comedy Central
Big Mike (Toby Huss) is back to his methamphetamine-induced antics yet again. In the episode "Big Mike's Rocket Rascal," Reno's resident daredevil is prepared to jump an empty pool using only a Rascal scooter covered in fireworks. Lieutenant Dangle (Thomas Lennon), Deputy Junior (Robert Ben Garant), and Deputy Wiegel are notified of his stunt via social media since he's chosen to stream it. They try to dissuade him, but it's to no avail, eventually permitting him to go for the leap. Before he can pull it off, he accidentally sets fire to his cape and frantically tries to put it out.
Reno 911! has quite a few reappearing characters this season, but few have such a long backstory as Big Mike. Years before Dangle and the gang joined the Reno Sheriff's Department, Mike was the former Lieutenant. A crime scene introduced him to hard drugs, which put him on the downward spiral he's been on for the better part of the series. It's a sad story in hindsight, and gives tragic context to his out-of-control misadventures. Either way, it's good to see him and his fellow fan-favorites back for this new seventh season.