Why Nimue From Cursed Looks So Familiar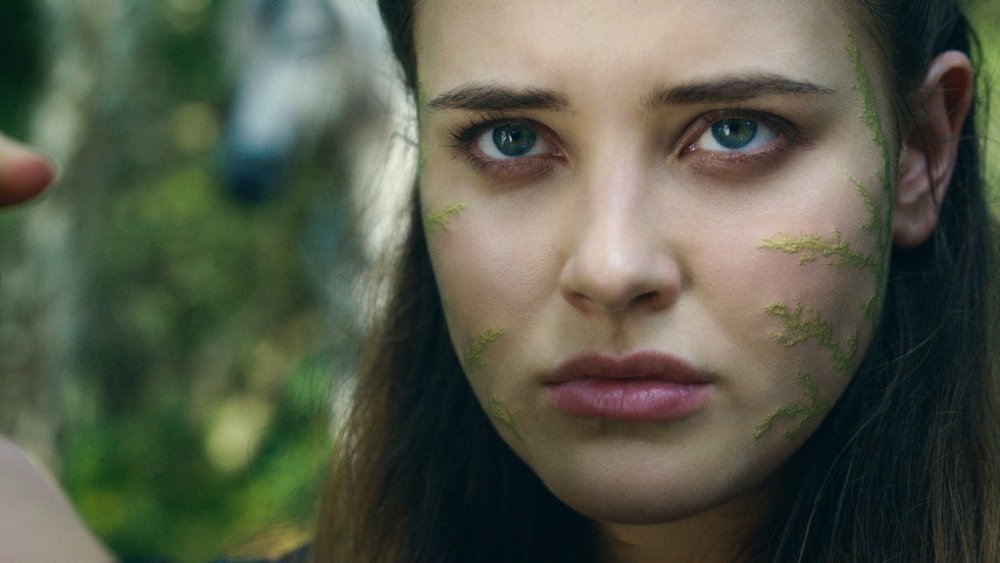 Netflix
2020 continues to be a fantastic year for Netflix, as the streaming giant has released new original after new original on a seemingly constant loop. The latest offering from Netflix is Cursed, the fantasy series that takes a fresh approach to a well-known Arthurian legend. Based on the illustrated novel of the same name by Frank Miller and Tom Wheeler — who also co-created Cursed – the show centers around the tale of a brave individual's quest to find the ancient sword Excalibur. This time around, however, it isn't King Arthur who wields Excalibur — it's Nimue. 
In this iteration of the classic tale, Nimue is the sorceress commonly known as "the Lady of the Lake." Per the mythology, she will be the one to hand the sword Excalibur to King Arthur, thus securing his ascension to the throne. Many actresses have played the mysterious character in film and on TV over the years — from Caroline Ford on Once Upon a Time to Milla Jovovich in 2019's Hellboy – but who's responsible for the Cursed incarnation of this British sorceress? And why does she look so familiar?
That honor belongs to Katherine Langford, the Australian actress who actually got her start on Netflix. Here's where you've seen her before.
Katherine Langford's best-known TV role is on 13 Reasons Why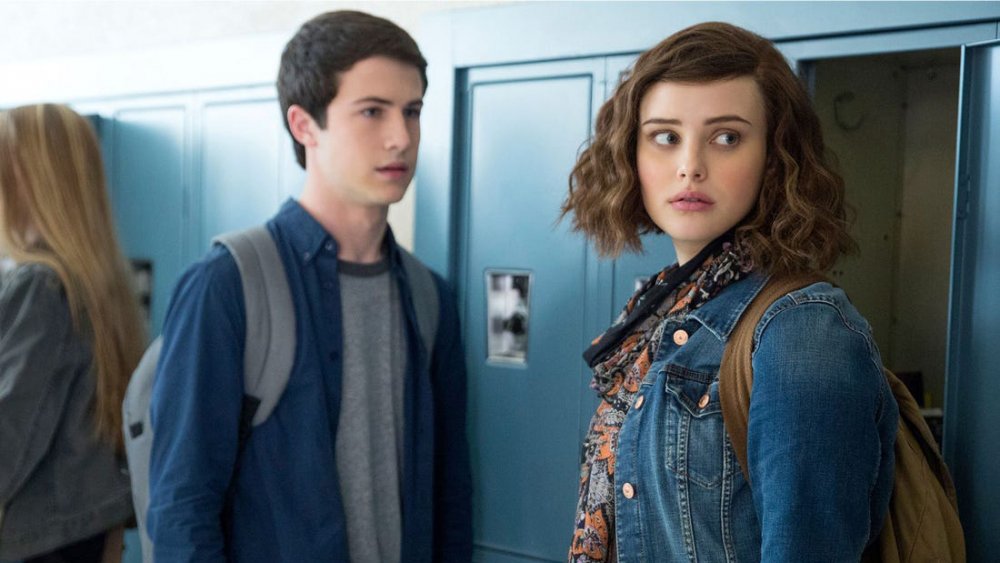 Netflix
Langford is quite comfortable on Netflix at this point. The streamer is the home of her breakout TV role: Hannah Baker on the teen drama series 13 Reasons Why. An adaptation of Jay Asher's 2007 novel of the same name, 13 Reasons Why begins with Hannah's story: After experiencing harassment, assault, bullying, and emotional neglect, the young teen takes her own life. She leaves behind a series of tapes — 13, to be exact — each addressed to someone who played a part in shaping her decision to commit suicide.
The show debuted on March 31, 2017, and took the streaming world by storm. At the time of its release, the show was controversial for its treatment of suicide and serious mental health issues, and Langford's evocative performance as the deceased was likely a contributing factor to the controversy. During her tenure on the first two seasons, she produced some truly chilling moments of high drama. This was the part that shot her into the mainstream and made her a household name in the process. 
After the second season, she was no longer a regular on the show, but she did come back for one last run. Langford guest starred on the series' fourth season, reviving the character that helped put her on the map one last time before finally letting Hannah Baker rest in peace.
Katherine Langford impressed in Love, Simon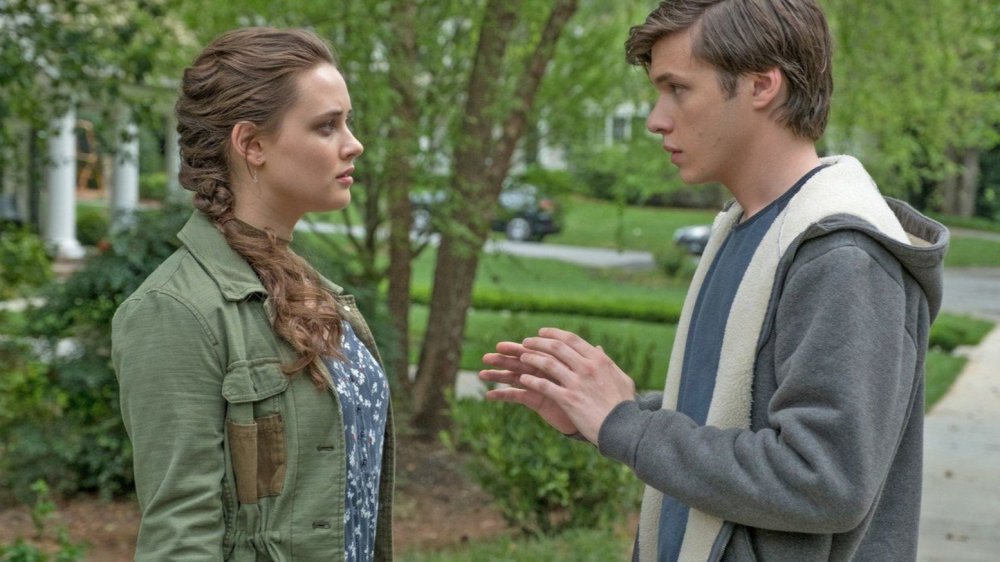 20th Century Studios
Making the jump from television to film is no easy feat. Following her impressive outing on 13 Reasons Why, the Hollywood brass thought Langford was movie material and opened the door for her to try her hand. In 2018, she finally got her chance to show the world what she could do in a new medium when she was cast in the teen drama Love, Simon. 
Nick Robinson plays the lead, Simon Spier, a gay high school student struggling to hide his sexuality, maintain a solid social life, and figure out the identity of the person threatening to out him. Meanwhile, he's attempting to also use his sleuth skills to find out which of his classmates anonymously professed their love for him. Langford took on the role of Leah Burke, one of his best friends who later admits she likes him. Although she's heartbroken once she learns she has no chance with him, the two make up and remain friends by the film's end.
This part served as a fine introduction to the world of feature films, keeping her in a familiar genre but a much different format. Much like on 13 Reasons Why her character and the world she inhabits is grounded in reality. Leah is just a normal girl living a normal high school life. Suffice to say, Langford delivered on the role, and Love, Simon proved to everyone that she had what it takes so succeed under a bigger spotlight.
Katherine Langford was supposed to be in Avengers: Endgame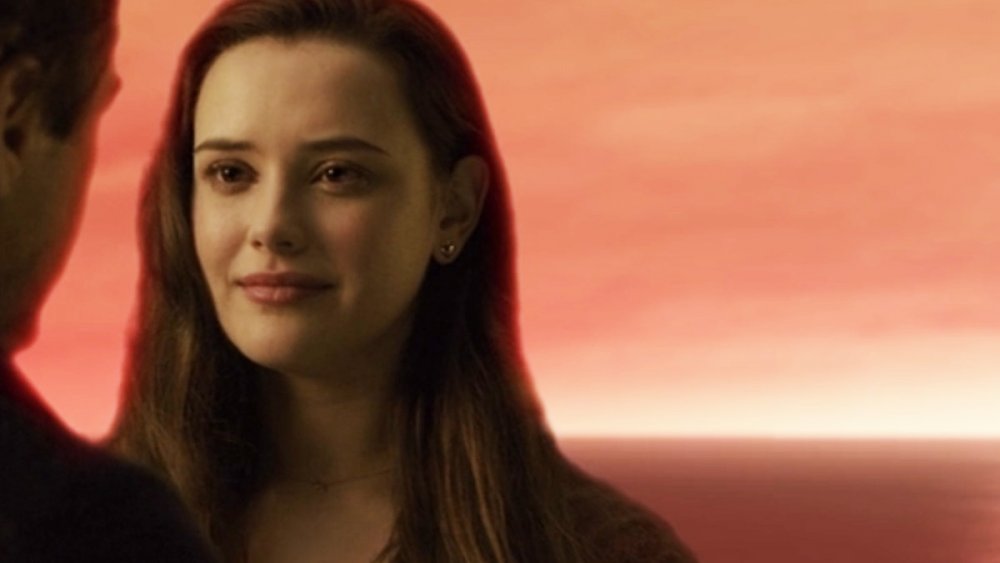 Disney/Marvel Studios
Avengers: Endgame is the highest-grossing movie ever, and the capstone of the Marvel Cinematic Universe's Infinity Saga story arc. Despite its over three-hour runtime, there were a handful of scenes left on the cutting room floor that didn't quite fit. One featured Tony Stark (Robert Downey Jr.) entering the Soul World following his Earth-saving snap. Once there, he encountered a grown version of his daughter, Morgan Stark, who was played by Katherine Langford.
In the deleted scene, the two share a few words as Tony comes to terms with the consequence of his action. She explains to him that by saving the universe, he allowed her to go off and live a normal life. She grew up, went to school, and became the person he raised her to be. They embrace and he leaves her with the now-iconic "I love you 3,000" line. Sadly for her, the scene did not make the theatrical cut.
While it was a nice moment, even with its unfinished CGI, it didn't quite work in the context of the rest of the movie. According to Insider, directors Joe and Anthony Russo felt the scene hurt Endgame's emotional end. The age difference between her and the much younger Morgan was jarring and took the audience out of the movie for too long. Still, to entrust a rising star like Langford with such an important scene shows Marvel Studios had a lot of faith in her. It doesn't get much bigger than joining the MCU, and perhaps someday she could return to the franchise in a greater capacity.
Knives Out is Katherine Langford's most high-profile film appearance to date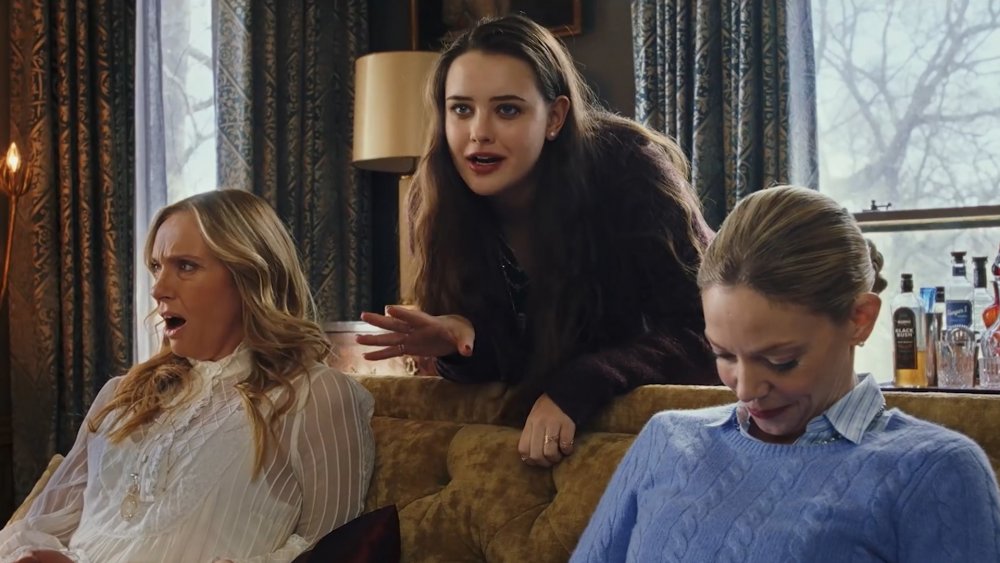 Lionsgate
After her time on 13 Reasons Why concluded, Katherine Langford was riding a serious wave of momentum. She used it to her advantage and nabbed a handful of solid film parts, as evident by her Endgame cameo. While that remained out of the public eye for some time, another one of her major works made waves with critics and audiences. That film was Rian Johnson's Knives Out, a movie that arguably contains her most impressive performance to date.

Knives Out is a throwback to the classic whodunnits of old, such as 1974's Murder on the Orient Express and 1985's Clue. It follows detective Benoit Blanc, the man tasked with investigating the murder of Harlan Thrombey, a successful novelist and patriarch of the Thrombey family. The detective pegs nearly all of Thrombey's family as suspects, including his granddaughter Meg, a college student. This wasn't a leading role by any means, but it's still an important feather in Langford's cap.
The murder mystery turned out to be a huge hit with fans, and for good reason. It revived a genre many considered dead and did so in grand fashion, garnering an impressive 97% on Rotten Tomatoes as of this writing. Not to mention this role gave Langford a ton of exposure and got her to rub shoulders with some of cinema's biggest names. She got to work alongside Chris Evans (Captain America), Jamie Lee Curtis (Blue Steel), Daniel Craig (Spectre), and several other established stars. This solidified her as someone who could hang with the best in the business, and will hopefully help to send more opportunities her way soon.
Katherine Langford will do Nimue justice and likely help in making Cursed another Netflix hit.