Cursed Creators Reveal The Inspiration Behind Their Netflix Series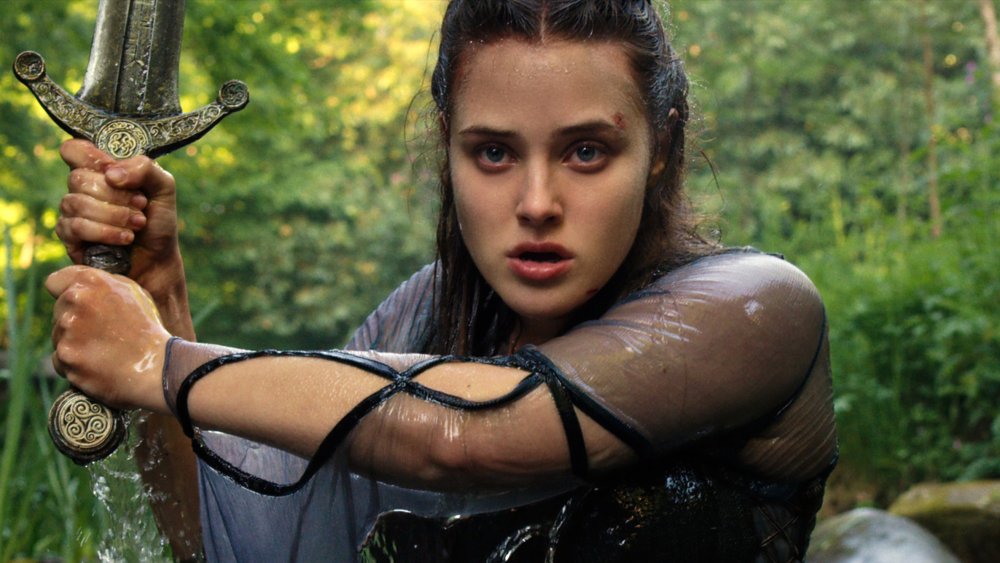 Netflix
Cursed might tread on familiar ground, but make no mistake: This is a brand new re-telling of the classic Arthurian legend. While familiar faces like Arthur, Merlin, King Uther Pendragon, and more pop up on the Netflix series (debuting on Friday, July 17), they're not the characters you know and love quite yet. Plus, they all play second fiddle to 13 Reasons Why star Katherine Langford's Nimue, whom fans of Arthurian mythology know best as the Lady of the Lake.
As such, Cursed manages to be both a faithful adaptation and radical reinvention of the source material. So, where did it come from? Frank Miller, the comic book legend behind Sin City and The Dark Knight Returns, and screenwriter Tom Wheeler together co-created the illustrated novel that Cursed is based on. Miller and Wheeler also serve as executive producers on the series, and during a roundtable interview ahead of Cursed's Netflix premiere, the duo revealed they took inspiration from a number of sources.
"For me, it starts with Disney's The Sword in the Stone, and it carries on to when I saw the film version of Lerner and Loewe's Camelot," Miller told Looper when asked about what inspired Cursed. He continued, "Then onto things like John Boorman's Excalibur, and [it] carries on into the Adventures of Robin Hood. All of these are either directly addressed [on Cursed], the same storyline or part of it."
Wheeler added Monty Python and the Holy Grail to the list, which led to some funny moments during location scouting. He recalled that while looking at castles in the United Kingdom, he suddenly recognized a location: "It was the castle where Lancelot slaughters the whole wedding party. [...] Cool as this castle is, I'm not sure that's the immediate association we want with this show, but I will say, [it's] still one of the best King Arthur renderings."
For Miller, the fact that Monty Python and the Holy Grail is still so beloved emphasizes the underlying strength of Arthurian mythology. "That does address a larger point, which is that this legend is a big, strong, broad one," he shared. "It's not just a gloomy, ponderous epic. There's room for magic and for humor."
Why Cursed is such a personal project for Tom Wheeler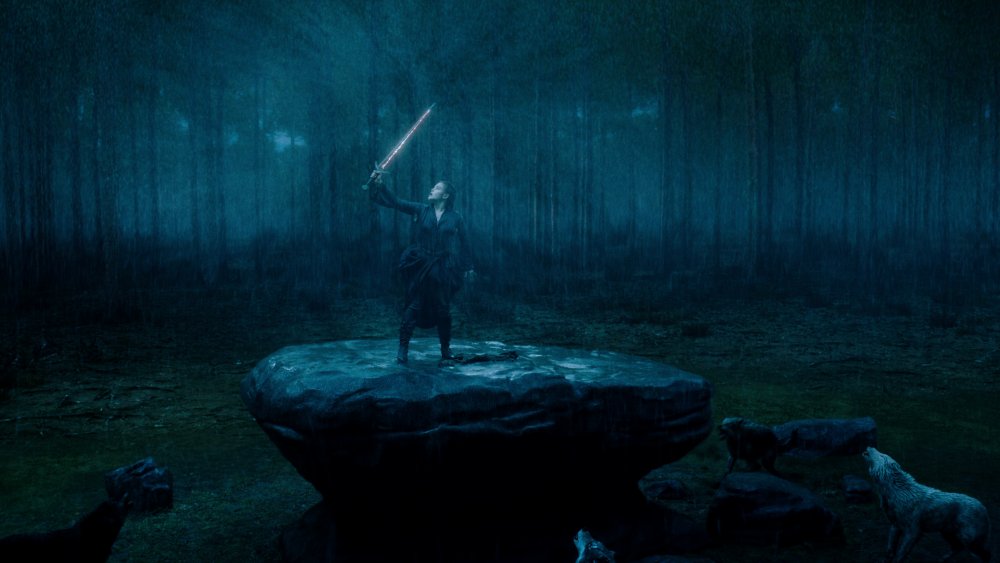 Netflix
While Miller was primarily inspired by previous Hollywood epics while creating Cursed, Wheeler's way into the material was much more intimate. "When we were working on this story, my daughter was 10 or 11 years old," Wheeler said, addressing a question from Nightmarish Conjurings' Shannon McGrew. "It occurred to me that my daughter didn't have the same opportunities through these characters to attach herself."
He continued, "As Nimue began to come to the surface — no pun intended there — as the character that we would really lock on to and follow, it felt like maybe my daughter would have the opportunity to see herself as the hero that can seize the sword. These are themes that matter to everyone and can impact anyone's life.
That paid off, quite literally, once the Cursed entered production. As Wheeler shared, "There was actually a moment, early on in production, when my daughter came to set and saw Katherine in her full Nimue regalia [with] the sword. That was my daughter's first connection with the Arthurian myths. That was a cool, geek-out moment for myself and for Katherine, that my daughter really saw Nimue as the hero."
How Frank Miller's influence made Cursed unique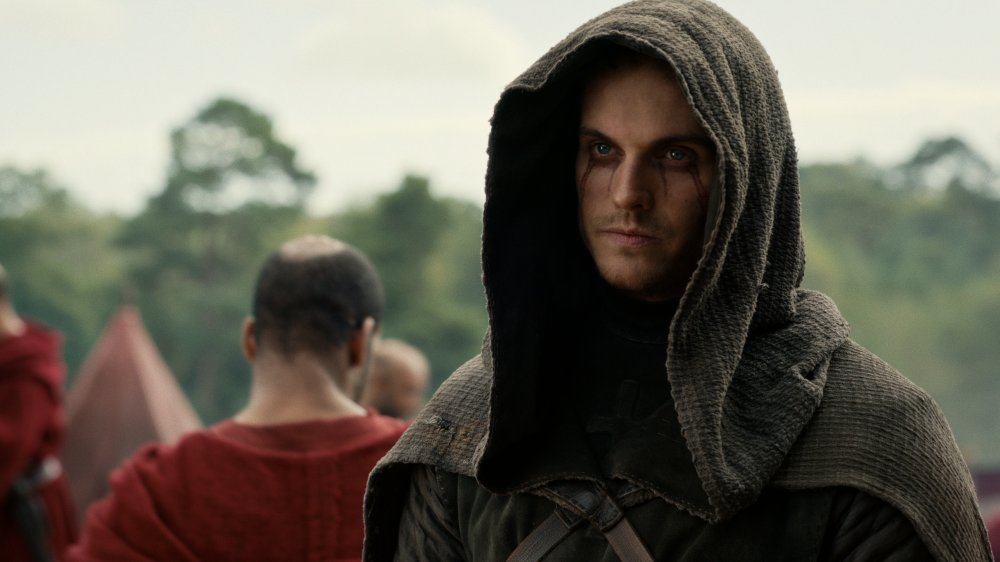 Netflix
Cursed's cast might seem familiar, but these aren't the traditional versions of the characters from Arthurian legend. On Cursed, Nimue is the one wielding Excalibur, Arthur is merely her sidekick, and Merlin is a drunk. You won't even recognize the other Knights of the Round Table — many of whom might as well be brand-new characters ... at least at first.
In response to a question from All Your Screens' Rick Ellis, Miller said, "The source material is like a volcano planet already. So it's almost like Tom and I are mining. It's very alive territory. What I sense, particularly on Tom's end of it, is that he's sorting through all this volcanic material to organize it in such a way that it follows a storyline, rather than just being a carnival. There's so much good stuff here that I feel like we're dancing on ignition points." 
That makes sense: These are well-known stories, and sticking too closely to the source material would've made surprising the audience impossible.
"To really give them a big epic tale and story to go on, they have to start from a very different place," Wheeler explained while answering a question posed by Bryce Olin from FanSided. "You can't be too loyal to any particular version. You just have to approach it from a sense of play and enthusiasm for these characters and these themes."
Obviously, the Frank Miller element helped. Over the course of his 42-year career, Miller's gritty, kinetic art style has become well-known within the comic book community, and helped the artist and his co-writer find new takes on Nimue, Merlin, and the rest. "For me, it was imagining these characters through a Frank Miller lens, which gives you the sense of the light and the darkness," Wheeler stated. "To have Frank there — guiding his pen, so to speak, through the look of these characters — was amazing."
Wheeler named Daniel Sharman's the Weeping Monk, one of Cursed's early antagonists, as an example. "The Weeping Monk, as a character, felt like the right synthesis of the tone we wanted to bring, the kind of Frank Miller vibe we wanted this to have," he said, tackling another inquiry from Ellis. "If we were on set and Frank would be working with, say, the Weeping Monk, as we were getting his look down, it was almost like Frank was drawing in three dimensions."
The end result is an Arthurian epic unlike any you've seen before. Sound good? Then make sure to check out Cursed on July 17, 2020, when the entire first season drops on Netflix.