The Best Movies And TV On Netflix For Stress Relief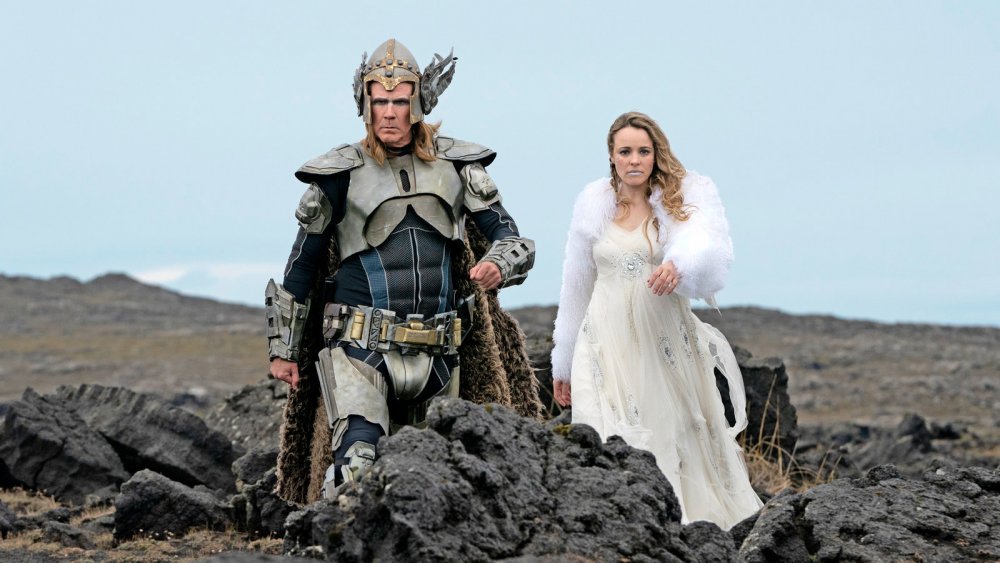 Sometimes, when you're looking for a movie to watch on a cozy night in or or a new TV show to binge on a lazy Sunday afternoon, you look for something that challenges your worldview, changes your perspective, or gives you insight into something you've never considered before. But sometimes, you just want the mental equivalent of comfort food, to relax with a film or television show that's either a familiar favorite or just something light, fun, and soothing.
If you're in desperate need of stress relief, Netflix has you covered, thanks to the streaming service's wide variety of films that include everything from original content to award-nominated classics, from comic book adaptations to uproarious comedies. Even though Netflix's offerings shift around from time to time, with titles coming and going from the service, there's always plenty of comforting fare for filmgoers who just need a bit of a break and an escape into a happier, funnier time. If you're in desperate need of stress relief, here are the best movies and TV on Netflix that are guaranteed to make you feel better.
Queer Eye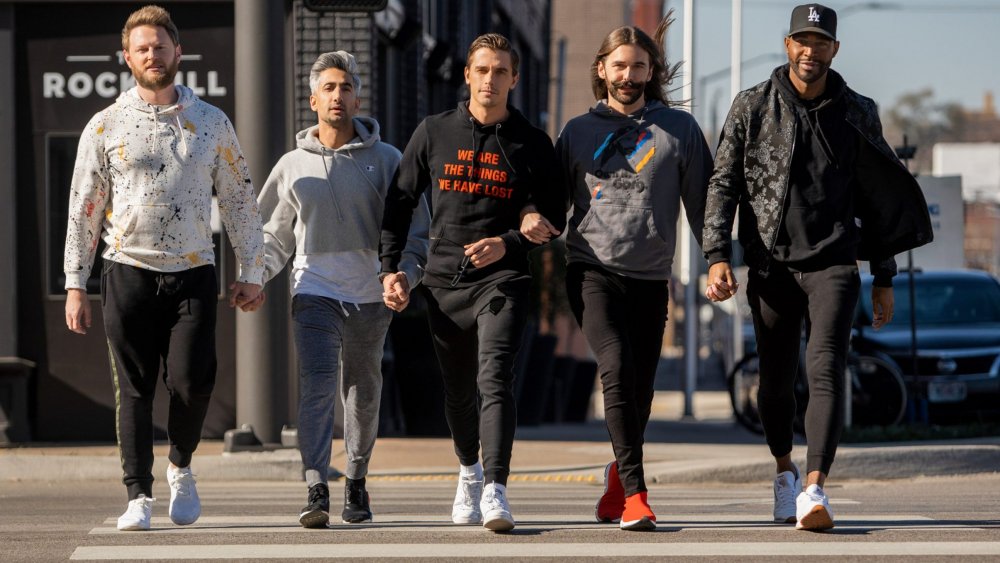 Given how the original Queer Eye for the Straight Guy made waves on Bravo in 2003, a reboot for a new decade seemed inevitable. In 2018, Netflix struck gold with their own reboot of the series, in which five gay men band together to change somebody's life for the better. With each season taking place in an entirely different city, each respective episode opens with the Fab 5 — comprised of Jonathan Van Ness (who handles hair and grooming), Karamo Brown (the show's "culture expert"), Tan France (the fashion maven of the group), Bobby Berk (who's in charge of interior design), and Antoni Porowski (the gang's chef de cuisine) — preparing to meet a person who needs their help. From there, the Fab 5's subject, who is always nominated by friends and family, undergoes a transformation both inside and out, revitalizing their life from top to bottom.
Whether you loved the original Queer Eye or you're a first time viewer, it's impossible to resist this iteration's undeniable charms. Thanks to the Fab 5's delightfully sunny, optimistic attitudes, the care they put into their makeovers, and the sweet, touching stories of everyone involved, this Queer Eye reboot is sure to put a spring in your step when you're feeling down.
Mary Poppins Returns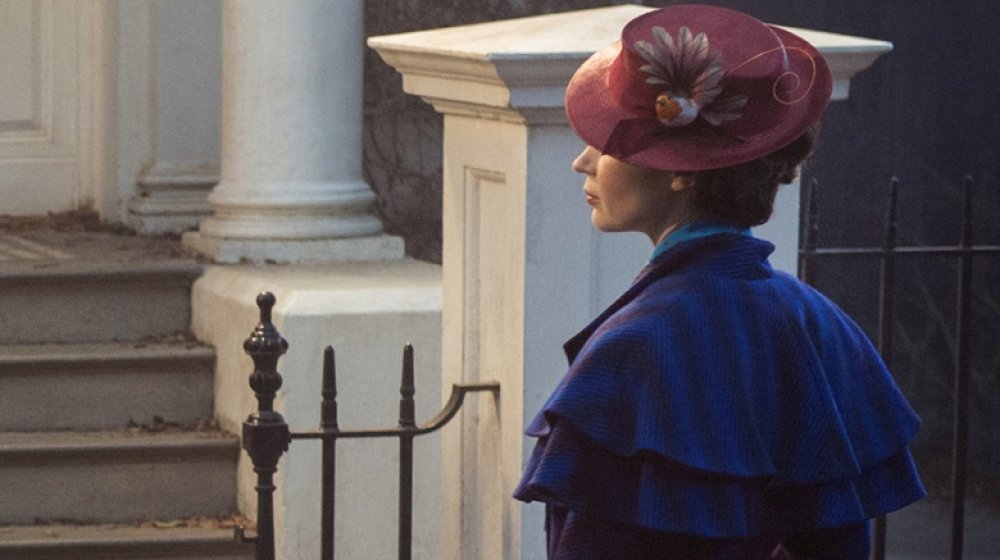 If you're having a bad day, a spoonful of sugar and a childhood favorite might help, which is where Mary Poppins Returns comes in handy. The continuation of one of pop culture's most famous stories, this 2018 sequel features Emily Blunt in the role Julie Andrews once made famous, casting a new British actress as the magical nanny. Alongside Blunt, Ben Whishaw and Emily Mortimer headline as the grown-up Michael and Jane Banks, who struggle with the banalities and trials of everyday life until their childhood nanny, Mary Poppins, makes a reappearance to help them keep their family home.
With a charming supporting turn from Hamilton creator Lin-Manuel Miranda, small appearances from huge stars like Colin Firth and Meryl Streep, and even a cameo from original Mary Poppins star Dick Van Dyke, Mary Poppins Returns manages to capture much of the magic of its predecessor while putting a familiar and heartwarming spin on a new story. If you're looking for a pick-me-up, Mary Poppins Returns will definitely do the trick.
Schitt's Creek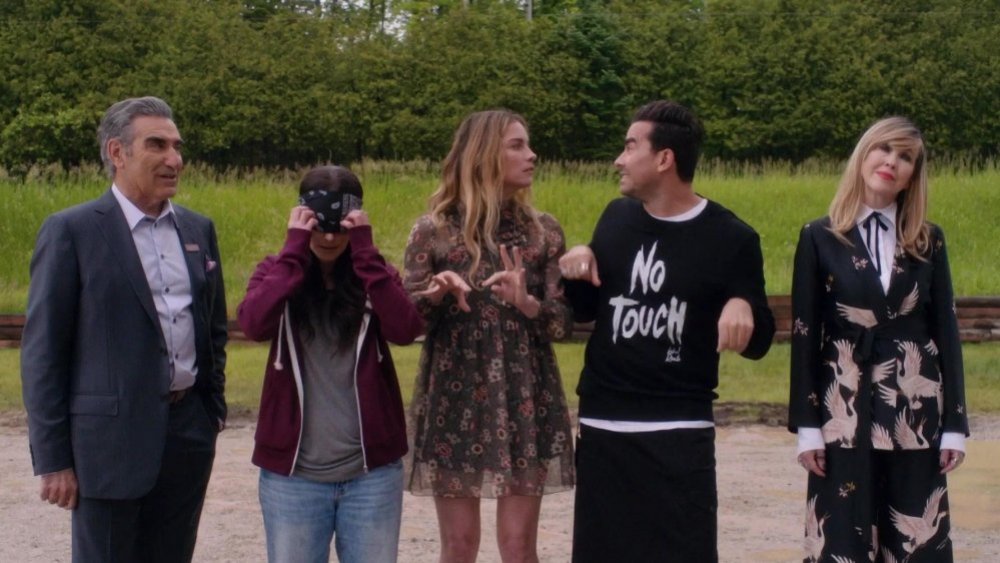 Despite its vulgar-sounding title, few shows have blended crackling, biting wit and heartfelt emotional beats like Schitt's Creek. Created by father-son duo Dan and Eugene Levy, who also appear as father and son on the show — flanked by the elder Levy's frequent collaborator Catherine O'Hara and newcomer Annie Murphy — Schitt's Creek tells the story of the uber-rich Rose family. The clan's sudden financial fall from grace means they have to start new lives in their only remaining asset, a small town called Schitt's Creek which they once purchased as a joke.
Throughout its six seasons, Schitt's Creek grew from a little-watched cult favorite to a bona fide Emmy nominee thanks to its devoted fanbase, eminently GIF-able jokes, and enormous heart. Whether you can't get enough of Moira Rose's (O'Hara) wig collection, love the love story between David (Dan Levy) and his eventual husband Patrick (Noah Reid), adore Alexis' (Murphy) histrionics, or identify with the deadpan Stevie Budd (Emily Hampshire), there's never a bad time to revisit Schitt's Creek — and if you haven't started yet, you're certainly in for a cheerful, comforting treat.
Eurovision Song Contest: The Story of Fire Saga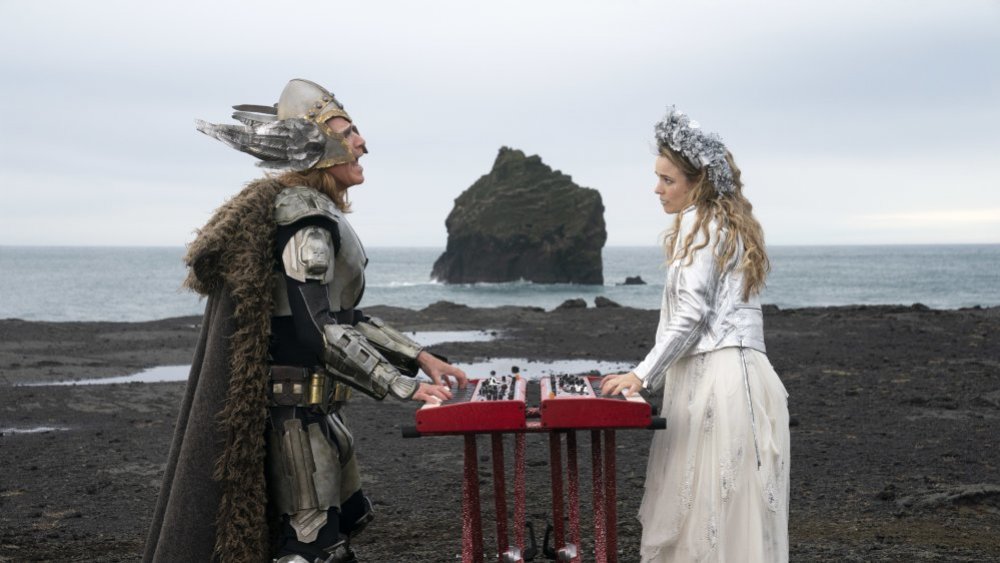 After a rough day, you might want to find a solid escapist comedy to soothe your soul, and 2020's Eurovision Song Contest: The Story of Fire Saga fits the bill perfectly. A longtime passion project from star and enormous Eurovision fan Will Ferrell, who co-wrote the film with Andrew Steele and re-teamed with his Wedding Crashers director David Dobkin and co-star Rachel McAdams, Eurovision is set in the very real world of the Eurovision Song Contest, a massive talent competition that takes place throughout Europe every year. In the film, Ferrell and McAdams play Lars and Sigrit, two Icelandic dreamers desperate to compete for their country in Eurovision. When all of their competition unexpectedly ends up out of the running, the duo — known as Fire Saga — must do their best to represent Iceland on the international stage.
Originally slated for theatrical release in May 2020 (which would have coincided with the real Eurovision contest), Eurovision ended up going directly to Netflix in June due to the theater industry shutdown of 2020, which simply meant that fans of Ferrell or Eurovision could stream this funny, sweet movie from home. Filled with cameos from real Eurovision winners and favorites, Eurovision succeeds on its earnestness alone, lifting the characters up rather than mocking them, which makes it the perfect movie to make you laugh after a long day.
Jane the Virgin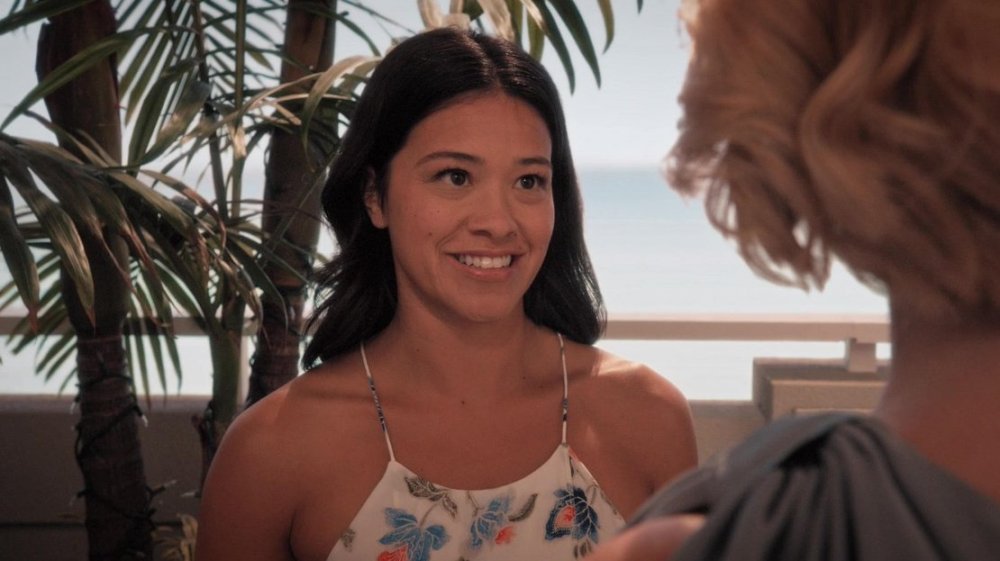 A loving ode to classic telenovelas that's actually based on a famous one from Venezuela, the CW's sunny, smart, and over-the-top series Jane the Virgin ran for five seasons from 2014 to 2019 and stars Gina Rodriguez as Jane Villañueva, a driven young girl with big dreams of becoming a writer. However, her plans change radically after a simple doctor's visit results in an accidental pregnancy thanks to a distracted OB-GYN. Jane, who is a virgin, finds herself carrying a complete stranger's baby, much to the chagrin of her mother Xiomara (Andrea Navedo), her grandmother Alba (Yvonne Coll), and her boyfriend Michael (Brett Dier). As she tries to figure out her next steps with her unborn child's father, Rafael (Justin Baldoni) and his controlling wife Petra (Yael Grobglas), another complication arises with the return of her long-lost father Rogelio de la Vega (Jaime Camil), a telenovela star who wants a relationship with his daughter.
Packed with twists befitting any of the best telenovelas, Jane the Virgin offers a glimpse into the lives and loves of three generations of Villañueva women, all while playing with the form and making incredible use of its unseen narrator, whose identity is finally revealed in the series finale. Jane the Virgin might sound ridiculous, but its big heart, incredibly smart script, and pitch-perfect central performances will keep you de-stressed and happy during a long binge-watching session.
About Time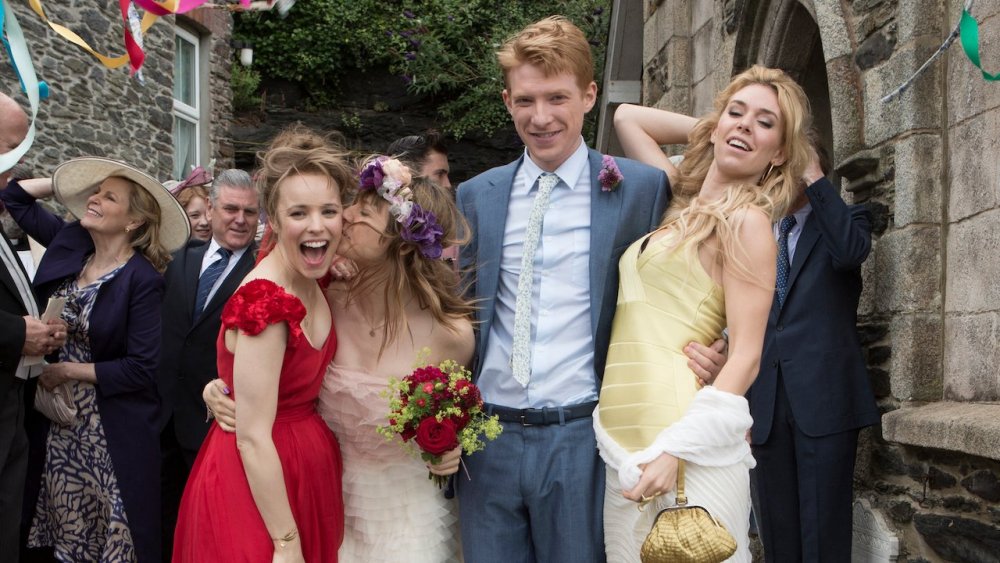 High-concept time-travel narratives are usually reserved for big action movies, which makes a sweet film like About Time all the more special. Directed and conceived by Love Actually and Four Weddings and a Funeral's Richard Curtis, About Time stars Domhnall Gleeson as Tim Lake, who makes a startling discovery about his family thanks to his father James (Curtis regular Bill Nighy): every man in the Lake family can travel through time. By going into a small, dark space and focusing on the moment to which they'd like to return, both James and Tim, and generations before them, can manipulate time to their will. However, they can't make any huge changes; the power needs to be used simply to make sure their lives are as full and as happy as possible.
Before long, Tim meets Mary (Rachel McAdams), the girl of his dreams, and uses his newfound powers to romance her, but as they start a family and life moves on, Tim must make sure he travels responsibly and safely. Ultimately, About Time is a sweet story about appreciating even the smallest, most mundane moments of your life, a message which will definitely make you feel better after a bad day.
Parks and Recreation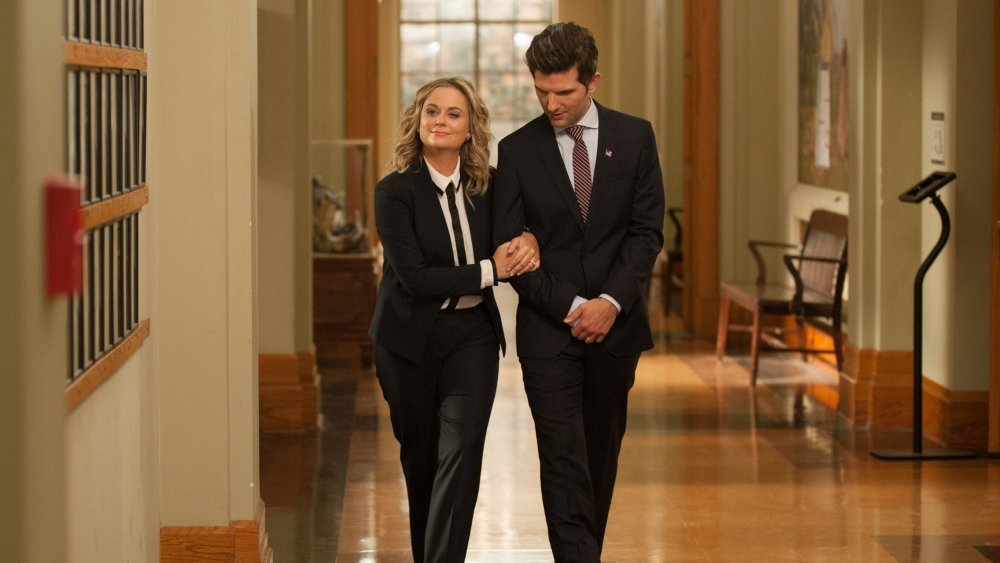 Showrunner Michael Schur is known for his whip-smart and unrelentingly optimistic shows, a reputation which he earned in large part thanks to the success of Parks and Recreation. This Office-style mockumentary, which ran on NBC from 2009 to 2015, stars Saturday Night Live favorite Amy Poehler as Leslie Knope, an intrepid, hardworking, and irritatingly overeager employee of the Parks and Recreation department in the small town of Pawnee, Indiana. Alongside her coworkers, including the gruff libertarian Ron Swanson (Nick Offerman), the deadpan and shrewd April Ludgate (Aubrey Plaza), lovable goofball Andy Dwyer (Chris Pratt), aspiring entrepreneur Tom Haverford (Aziz Ansari), Leslie's best friend Ann (Rashida Jones) and more, Leslie does her best to make Pawnee an amazing place to live, even when her constituents beg her to stop.
Despite an iffy first season, Parks and Rec quickly became a comedy classic, especially after adding Rob Lowe and Adam Scott during the show's third season. Above all, Parks and Rec allowed its characters to grow, succeed, and find happiness by the show's sentimental, pitch-perfect ending. If you're in a bad mood, Parks and Rec is sure to lift you up.
Walk Hard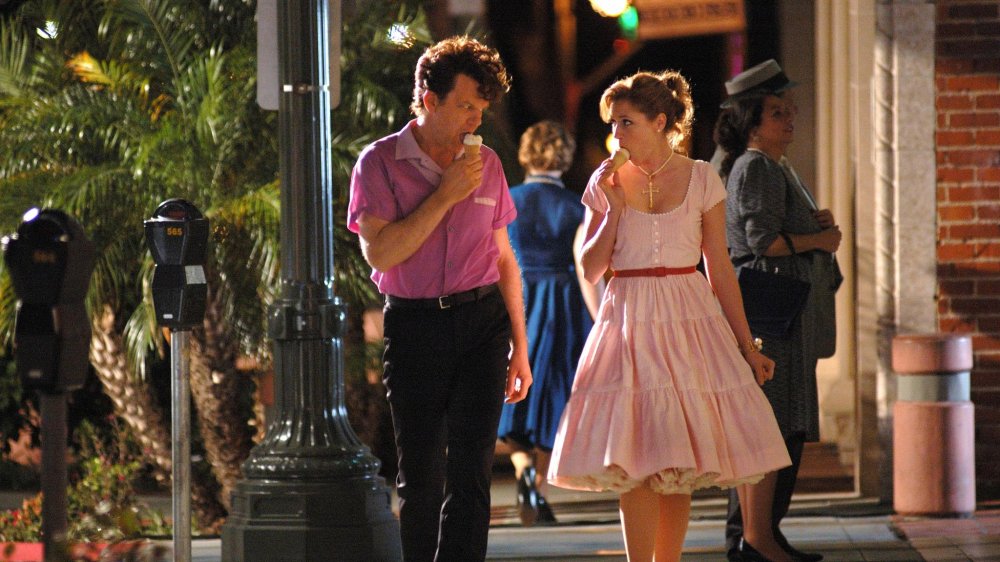 Moviegoers are plenty familiar with musical biopics, which have become a dime a dozen within Hollywood and are definitely ripe for parody. Enter Walk Hard: The Dewey Cox Story, which stars Academy Award nominee John C. Reilly as the fictional Johnny Cash-esque Dewey Cox, whose rock and roll career is marked by drug abuse, controversy, and a troubled marriage to longtime love and onstage partner Darlene (Jenna Fischer). Despite tackling ostensibly serious "issues," Walk Hard is unrepentantly silly, whether you're giggling at Tim Meadows' increasingly heightened pleas for Dewey to stay off drugs, marveling at the movie's ridiculous roster of cameos, or just enjoying the ride of this ridiculous, over-the-top parody.
Reilly's central performance, to which he commits without hesitation, anchors this incredibly goofy film, which makes sure that it always stays grounded and gut-bustingly hilarious all at the same time. In fact, years later, very serious musical biopics would find themselves compared, inexplicably, to Walk Hard. If you need a big belly laugh, look no further than Walk Hard.
The Good Place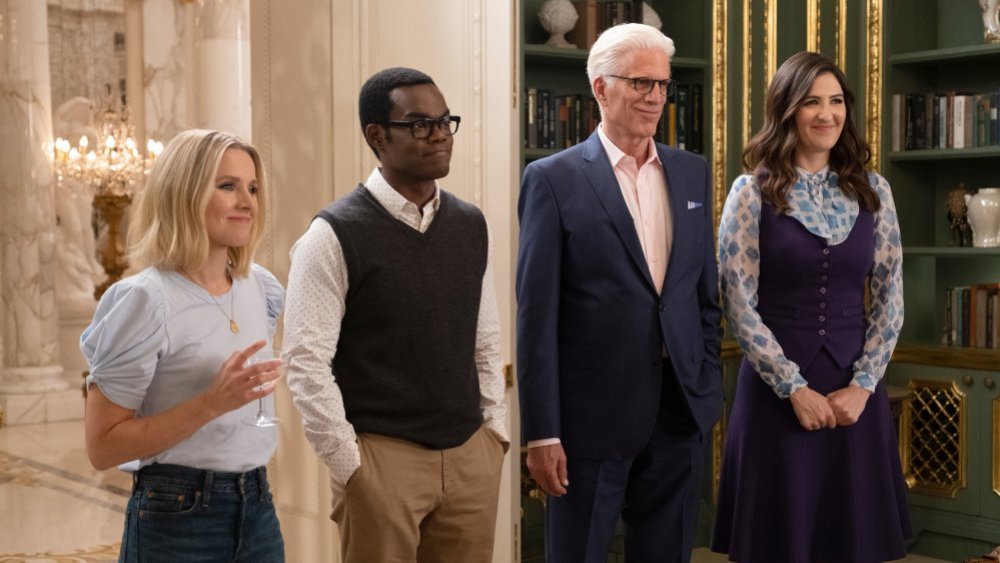 After cutting his teeth on beloved favorites like Parks and Recreation and Brooklyn Nine-Nine, Michael Schur struck gold again with The Good Place, an incredibly ambitious and stunningly smart show that ran for four seasons from 2016 to 2020. In just 53 episodes, The Good Place told the story of Eleanor Shellstrop (Kristen Bell), a woman from Arizona who arrives in the afterlife and is told by her neighborhood's architect, Michael (Ted Danson), that she's in "the Good Place." However, there's one big problem: Eleanor isn't supposed to be there, a secret that complicates her relationships with her assigned soulmate and philosopher Chidi (William Jackson Harper), socialite Tahani (Jameela Jamil), and Jason (Manny Jacinton), a Florida DJ masquerading as a Buddhist monk.
Together, the gang must work with Janet (D'Arcy Carden), a sort of humanized AI, to keep Eleanor safe, but as it turns out, there are plenty of secrets hiding within the Good Place. The show's many twists and turns are way too good to spoil here, but rest assured, The Good Place is ultimately a show about what we owe to each other and how we can grow as humans, leaving you with an optimistic, hopeful feeling after each and every episode and making you laugh along the way.
Always Be My Maybe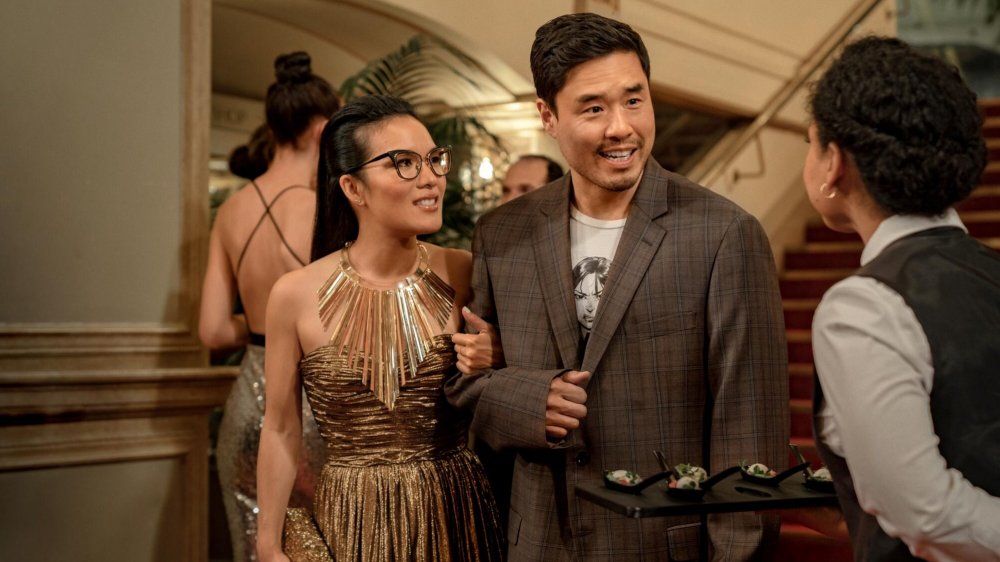 Netflix
Sometimes, a romantic comedy is the perfect cure when you're in a bad mood, and Netflix's original movie Always Be My Maybe fits the bill perfectly. The film, which tells the story of two childhood friends who reconnect after several years, stars Ali Wong as Sasha, a celebrity chef who returns to her hometown of San Francisco to open a restaurant, and Randall Park as Marcus, who still lives there with his father. After Sasha's long-term relationship ends unexpectedly, she and Marcus find themselves drawn to each other once again. Now, though, their lives are so radically different that the two have some trouble making adjustments for each other.
Thanks to crackling chemistry between Wong and Park, a hilarious script, and a ridiculously perfect cameo from Keanu Reeves as an incredibly narcissistic and absurd version of himself, Always Be My Maybe is a lighthearted yet grounded look at what can happen to childhood relationships in adulthood, and of course, it offers up a sweet and satisfying happy ending for Marcus and Sasha. If you're looking to lose yourself in a romance and laugh along the way, Always Be My Maybe is a perfect choice.
The Chef Show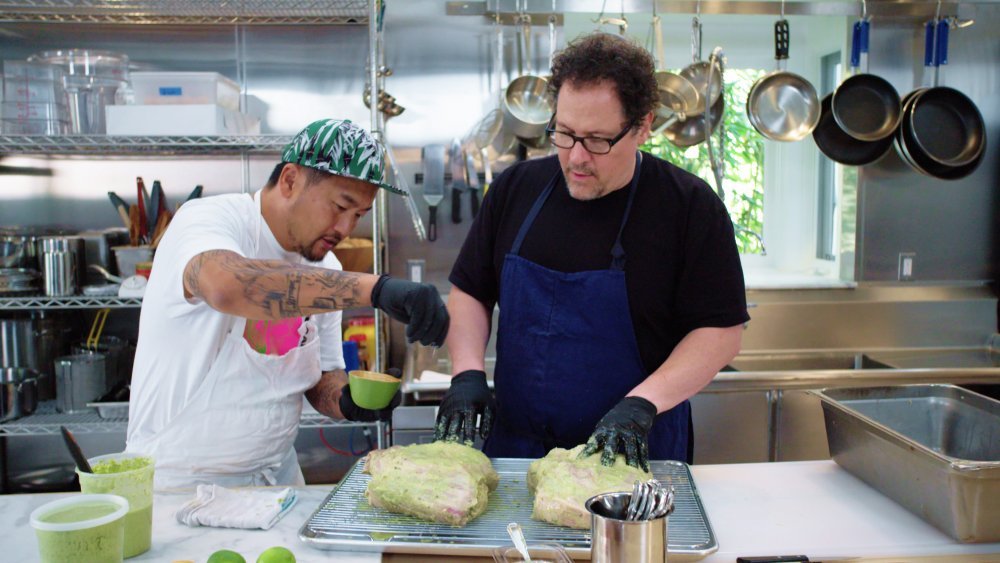 Cooking can be an incredibly soothing activity, but if your kitchen skills aren't quite up to par, you can sit back, relax, and queue up Netflix's original series The Chef Show, which focuses on the culinary adventures of director-actor Jon Favreau and his good friend, chef Roy Choi. After working together on 2014's feel-good film Chef — which Favreau wrote, directed, produced, and starred in, and on which Choi consulted as an expert chef — Choi and Favreau have remained close. In 2019, they decided to bring their shared love of cooking and international food back in front of the camera.
In each episode, Choi and Favreau visit another chef's kitchen before making a variety of recipes themselves, and more often than not, they bring in famous faces to help them along the way, including Favreau's Marvel co-stars Gwyneth Paltrow, Robert Downey Jr., and Tom Holland. This joyful collaboration between two friends — who both happen to be skilled chefs — is the televised equivalent of comfort food, and it's the perfect thing to watch when you need a pick-me-up.
Set It Up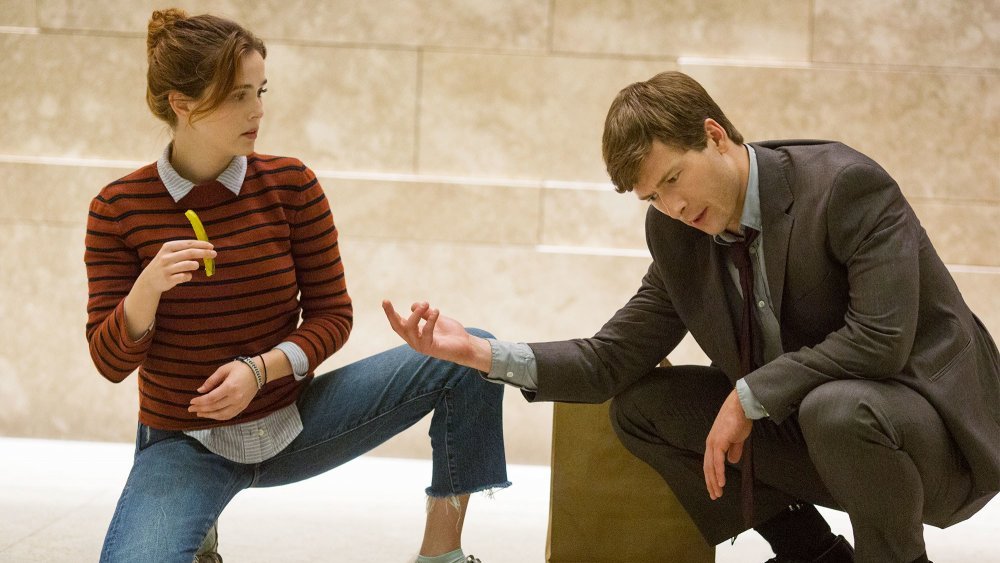 If you've had a terrible day at work, you might want to check out Netflix's original romantic comedy Set It Up, which may make you feel pretty grateful that you're not one of the two overworked assistants leading the film. When director Claire Scanlon's 2018 film begins, Harper (Zoey Deutch) and Charlie (Glen Powell) are entirely at the mercy of their insanely demanding bosses — sports journalist Kirsten Stevens (Lucy Liu) and venture capitalist Rick Owens (Taye Diggs), respectively — but once they come up with the idea to set up their bosses to distract them, their lives get immeasurably easier. However, complications arise when Rick and Kirsten's relationship gets way too serious way too quickly, especially because Harper and Charlie are developing feelings for each other as well.
Deutch and Powell carry the film impressively, thanks to their considerable comedic chops and their undeniable chemistry, and the script from Katie Silberman (Booksmart) crackles consistently throughout the movie. If you're looking for a smart and incredibly fun romantic comedy to take your mind off of work, look no further than Set It Up.