The Ending Of Parks And Recreation Explained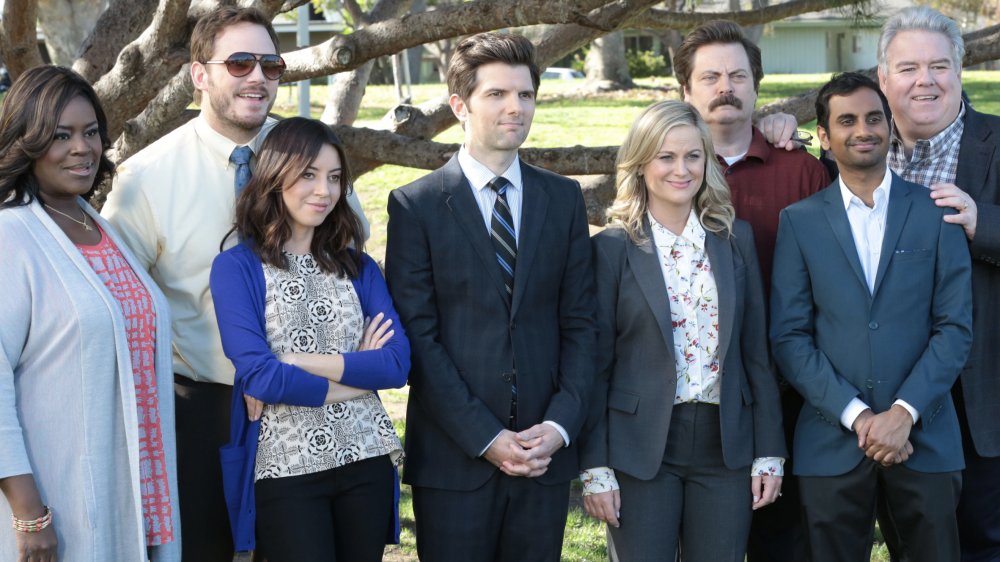 NBC
When Parks and Recreation closed out its run on NBC in 2015, it provided a perfectly satisfying ending to the long-running series — wrapping up seven seasons' worth of plotlines, relationships, and government work with laughter, joy, and pure, unbridled optimism. Thanks to showrunner Michael Schur, each character — from protagonist Leslie Knope (Amy Poehler) to side character Jean-Ralphio Saperstein (Ben Schwartz) — got a conclusion that fit them beautifully, making it easier for fans to let go of the series they loved for years.
But it would only be a few years before Parks and Recreation returned for a brief moment. In April 2020, Schur and his team decided to brighten the world a little as it suffers through a global pandemic, announcing that the original cast would reunite for a brand-new special, which imagines what would happen if the Pawnee crew also had to live through an age of social distancing.
However, it's been a while since Parks came to an end, so if you don't remember exactly where each character left off, you're probably not alone. During the finale, each time Leslie touched one of her friends and colleagues, the episode flashed forward, showing audiences exactly where everybody ended up. Here's what happened to the characters at the end of Parks and Recreation.
What happens to Jean-Ralphio, Craig, and Jerry at the end of Parks and Recreation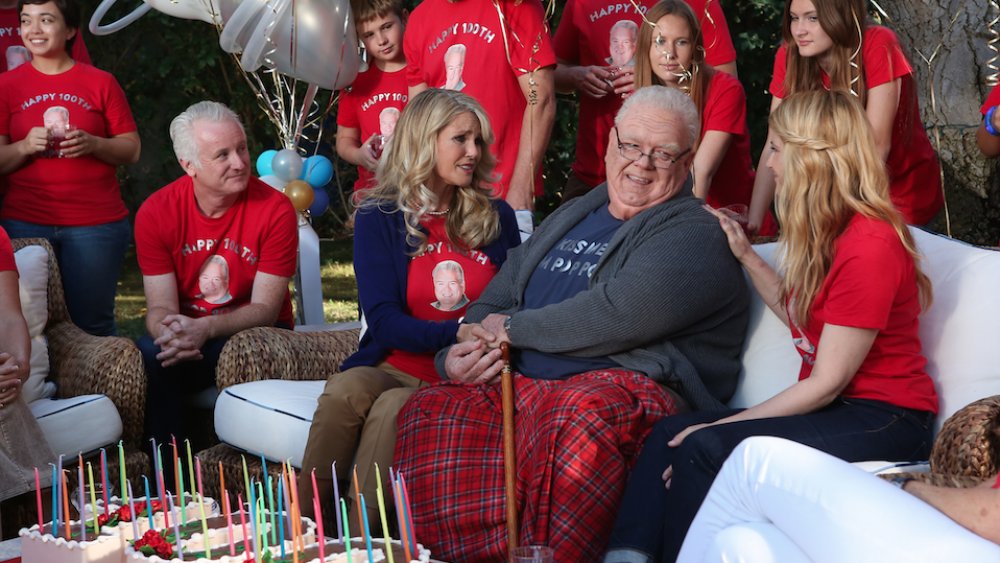 NBC
In true Parks and Rec fashion, every character got a sweet sendoff — even the Parks department's resident punching bag Jerry Gergich (Jim O'Heir), as well as relatively small characters like Jean-Ralphio Saperstein and Craig Middlebrooks (Billy Eichner). 
Though Jean-Ralphio's future seems dark at first — his flash-forward cuts directly to his gravestone during his 2022 funeral — it turns out to be yet another Jean-Ralphio scam, as he and his awful sister Mona Lisa (Jenny Slate) scheme to take his life insurance money and open a casino in Tajikistan. (Unsurprisingly, they're caught right away.) 
Meanwhile, Craig meets and marries the eventual love of his life, local hairdresser Typhoon (Rodney To). Though they share a fulfilling future, Craig still always finds some reason to complain.
Jerry, the most-picked-on member of Pawnee's Parks and Recreation department, ends up with one of the show's happiest endings. After becoming interim mayor of Pawnee, Jerry — whose real name is Garry — ends up serving as the city's mayor for ten straight terms, eventually leaving his inexplicably beautiful wife Gail (Christie Brinkley) and their brood of stunning daughters behind at the age of 100.
Donna lives a life of both luxury and charity, while Tom strikes gold with a new idea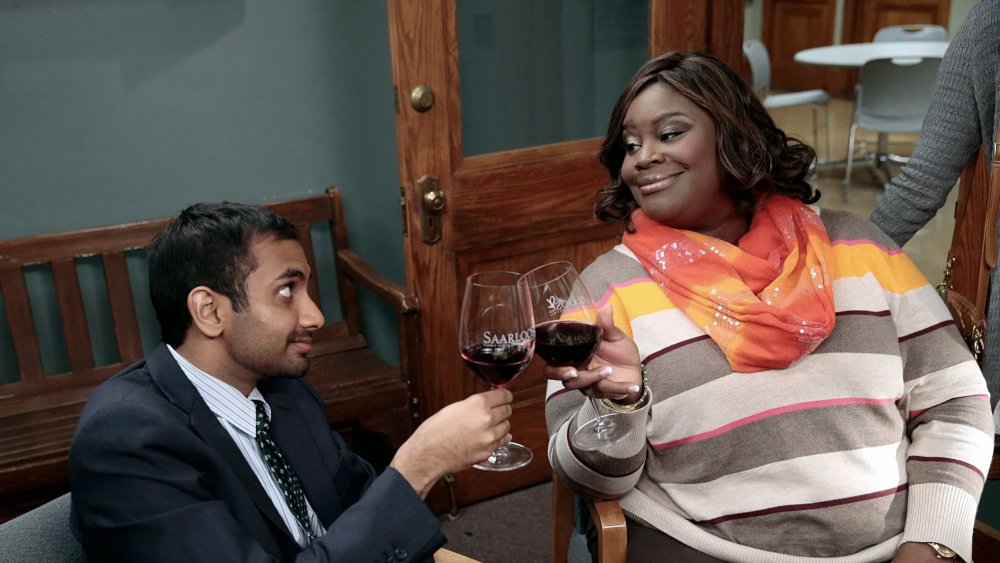 NBC
Two of the Parks department's closest and most fabulous friends, Tom Haverford (Aziz Ansari) and Donna Meagle (Retta), got their happy endings as well, finding both success and love in their own individual ways. 
After moving to Seattle to become a successful real estate agent with her loving husband Joe (Keegan-Michael Key), Donna relishes in planning extravagant outings for the two of them year after year. However, when Donna finds out that Joe's school has made major budget cuts — including, somehow, the entire math department — she uses the money she would have spent on their trip to set up a foundation, "Teach Yo Self," with the help of her longtime friend April Ludgate (Aubrey Plaza).
As for Tom, his restaurant empire seems stable enough at first, but after a huge economic recession, the enterprising entrepreneur goes bankrupt. Tom must find a new venture to dive head-first into — and luckily, he has both his wife Lucy (Natalie Morales) at his side and a fresh idea up his sleeve. He ends up writing a self-help book that becomes a bestseller. It's based around the idea of failure, and uses Tom's friends as "personality types" that tell readers how they'll either fail or succeed (except for the "Jerrys," who will definitely fail).
At the end of Parks and Rec, April and Andy start a family, and Ron's dream comes true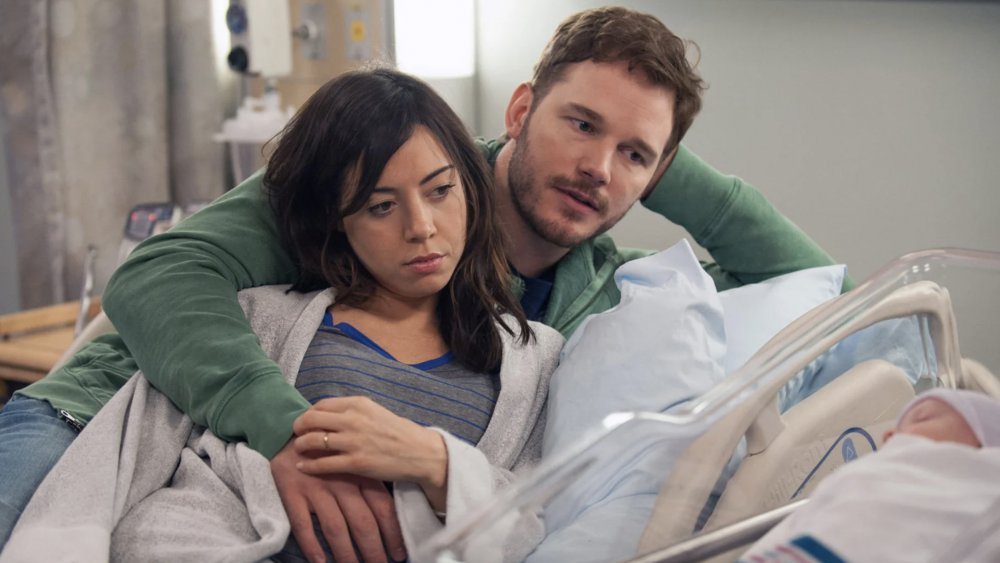 NBC
As Parks and Recreation comes to a close, married couple April Ludgate and Andy Dwyer (Chris Pratt) join fellow married folks Leslie Knope and Ben Wyatt (Adam Scott) in a big move to Washington, D.C., where April joins the American Service Foundation. However, by 2022, Andy is starting to get restless; he wants kids, and April is still on the fence about becoming a mother. After talking to Leslie, April decides she really does want to raise a family with Andy; she gives birth to their son, Jack, on Halloween. (In true April fashion, she wears monster makeup during labor, and Jack is technically named after a jack-o'-lantern.) Later, viewers learn the couple is expecting a second child.
Meanwhile, after years in local government and a turn running his own company, Very Good Building Company, Ron Swanson (Nick Offerman) turns to Leslie for help as he approaches a pivotal point in his professional life. Naturally, Leslie has the perfect idea. She installs Ron as the newest superintendent of Pawnee's beautiful, serene National Park, where the gruff and taciturn Ron can spend his days traversing nature completely alone — just like he's always wanted.
Leslie and Ben are living a (seemingly) presidential life at the end of Parks and Recreation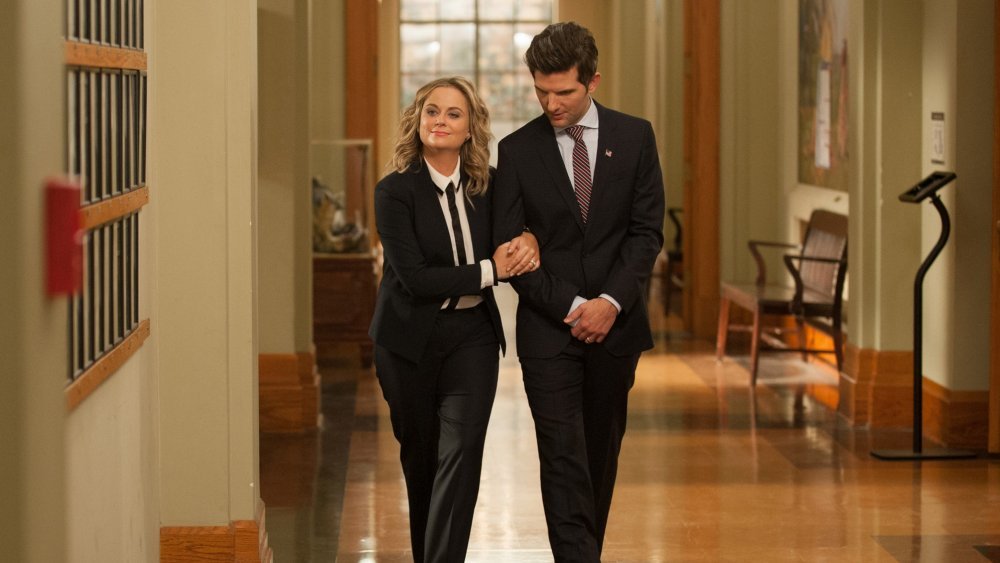 NBC
When it comes down to it, Parks and Recreation has always been about Leslie Knope, and the series finale delivered a perfect ending for the character (while still leaving one unanswered question in its wake). 
During their time in Washington, D.C., Ben and Leslie are thriving — Leslie has even achieved her lifelong dream of becoming friends with Joe Biden — but when they're separately approached to run as the Democratic governor of Indiana, they find themselves at a serious crossroads. Though Leslie wants to debate which one of them should run using reason and logic, Ben knows best. After bringing her back to the Parks department in 2025 to reunite with her beloved friends, including Ann Perkins (Rashida Jones) and Chris Traeger (Rob Lowe), Ben tells the entire room Leslie will run for governor, much to her surprise.
Ten years later, in 2035, we see Leslie, who has served as Indiana's governor for two terms, accept a special honor from Indiana University — though unfortunately for Leslie, she ends up lending her name to a library, which she hates. But that's still not the end of Leslie's story. In 2048, we visit Ben and Leslie one last time as they attend Jerry's funeral. As they go to leave, they're approached by Secret Service agents — indicating that either Ben or Leslie is either the President or Vice President of the United States (a question Schur has left completely open-ended).
Now that you're all caught up on Parks and Recreation, you'll be ready to return to Pawnee for NBC's new half-hour special. You can catch the Parks and Rec reunion on Thursday, April 30 at 8:30 PM ET.