Sad News Just Dropped For Halloween Kills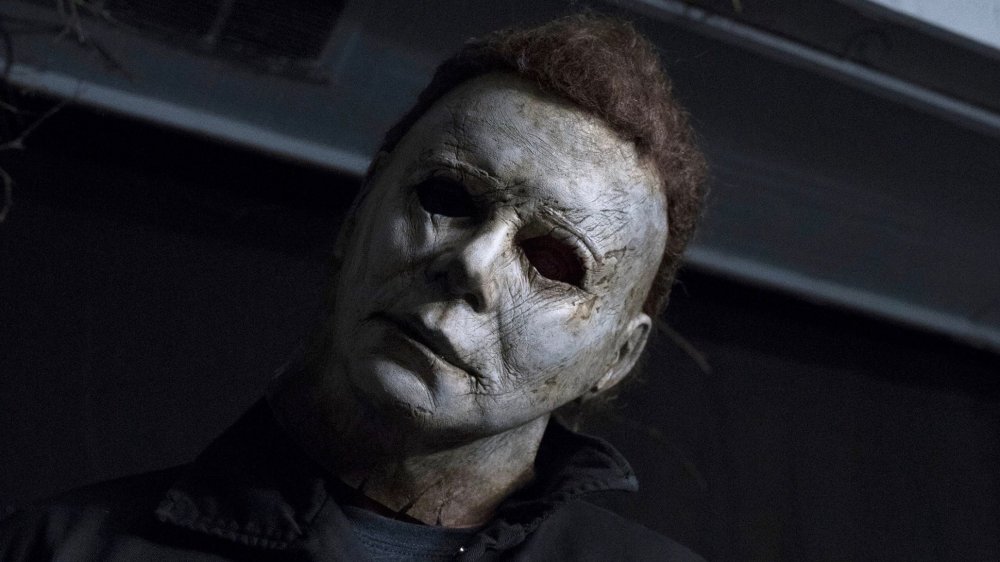 Universal Pictures
There are few screen villains more terrifying than Michael Myers, but while he can't be stopped, he has been slowed down by something even more terrifying.
Legendary director, producer, and franchise creator John Carpenter recently took to Twitter to inform fans that, due to the ongoing COVID-19 pandemic and the uncertainty surrounding potential theater openings later this year, Halloween Kills — the sequel to 2018's Halloween and the second film of a planned trilogy — will see its release pushed back by an entire year. The flick was originally slated to drop on October 16, 2020.
Carpenter posted a lengthy letter to fans on behalf of himself and the film's director, David Gordon Green. In it, he stated that everyone involved was "heartbroken over the fact that the delay of our film is even a discussion," but that he and his "film family" had been watching developments in the theatrical exhibition industry with a wary eye since theaters were forced to shut down earlier this year. While it's a fairly safe bet that most theaters will be open in some form or another by October — likely at a diminished capacity, with social distancing and other safety measures in place — Carpenter indicated that he didn't want to short-change fans by only giving them the option to watch the flick "in a compromised theatrical experience." 
There were, however, a few bright spots in his announcement. First, Carpenter stated that distributor Universal Pictures had agreed to an IMAX release on top of standard showings when the film finally hits screens in 2021, and to this end, work had begun on the IMAX sound mix "with one of the greatest design teams that can slash, scream, and creep their way under your skin." Also, he dropped the news that pre-production has already commenced on Halloween Ends, the third installment in Green's trilogy, although there was no word as to how far that flick will also be pushed back, considering that Halloween Kills will be co-opting its planned release date.
Also, ladies and gentlemen ... we have a teaser.
John Carpenter softened the blow with a teaser trailer for Halloween Kills
Carpenter felt compelled to mitigate his bad news by near-simultaneously tweeting a new teaser trailer for Halloween Kills, and while it's very brief, it establishes clearly that the flick will take place immediately after the events of the 2018 edition of Halloween (which, in case you forgot, ignored all previous canon and positioned itself as a direct sequel to the 1978 film of the same name). You'll recall that at the end of that film (spoilers), Laurie Strode (Jamie Lee Curtis), her daughter Karen (Judy Greer), and granddaughter Allyson (Andi Matichak) had managed to get the upper hand on Michael, injuring him severely and trapping him in the basement of Laurie's burning house. Laurie, herself pretty grievously injured, was last seen being hauled into the back of a passing pickup truck flagged down by Karen and Allyson — and this is where the teaser finds the trio.
Following a shot of the house engulfed in flames, we see Karen and Allyson tending to Laurie's bleeding abdomen, but their attention is quickly grabbed by a phalanx of emergency vehicles racing in the opposite direction. Realizing that they're en route to extinguish Michael's death trap, the women react with abject horror, especially Laurie, who screams at the top of her lungs for them to let the house burn. After a title card, we get a brief glimpse of a masked Michael turning to partially face the camera; the clip ends with the flick's new release date of October 15, 2021.
For those keeping score at home, that is indeed the previously announced release date for Halloween Ends. We're going to go out on a limb, however, to guess that the third and final installment may not be pushed back all the way to October 2022. Instead, we suspect that the three-quel will drop much earlier that year, as forcing fans to wait solely in the interest of keeping the release date thematically appropriate would make little sense. Of course, we'll be keeping an eye out for that announcement, and we'll be sure to keep you informed.