Why Kevin From Eurovision Song Contest: The Story Of Fire Saga Looks So Familiar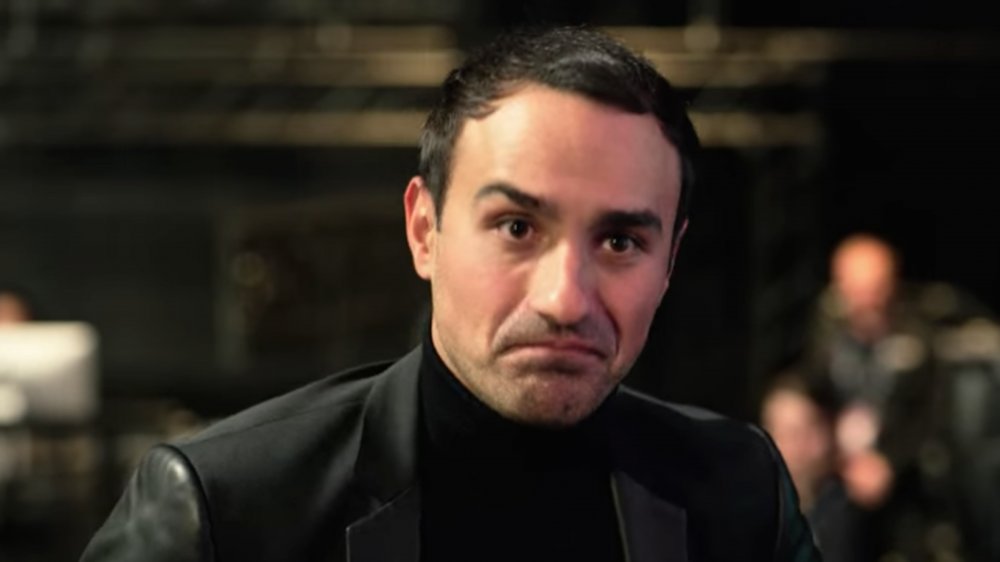 Netflix
Will Ferrell is back in peak form on Netflix, and his outrageous new musical comedy Eurovision Song Contest: The Story of Fire Saga is exactly what you needed to refresh your streaming watch list.
The film follows a team of Icelandic performers, Lars Erickssong (Ferrell) and Sigrit Ericksdottir (Rachel McAdams), as they represent their island nation in the annual Eurovision Song Contest. For those outside the know, the Eurovision Song Contest is an actual singing competition held every year in which performing groups representing constituent European nations compete in an American Idol-style talent competition. It has to be seen to be believed. If ever there was an international event worthy of Ferrell's particular brand of parody, the Eurovision Song Contest is it.
The Story of Fire Saga was supposed to drop back in May, a release date timed to coincide with the actual Eurovision Song Contest. Unfortunately, the pandemic put a damper on the annual event, and the film quietly slid back to a June 26 release date on Netflix.
In addition to the dynamic duo of Ferrell and McAdams, the laugher also stars Pierce Brosnan (GoldenEye), Dan Stevens (Legion), singer Demi Lovato, and one British comedian who probably looks familiar. Deadpan funny man Jamie Demetriou appears in the film in the role of artistic director Kevin Swain, and we really shouldn't be surprised to see him anywhere at this point. He's been a pretty busy man about town for the last few years.
Jamie Demetriou got his big break on the mini-series Rovers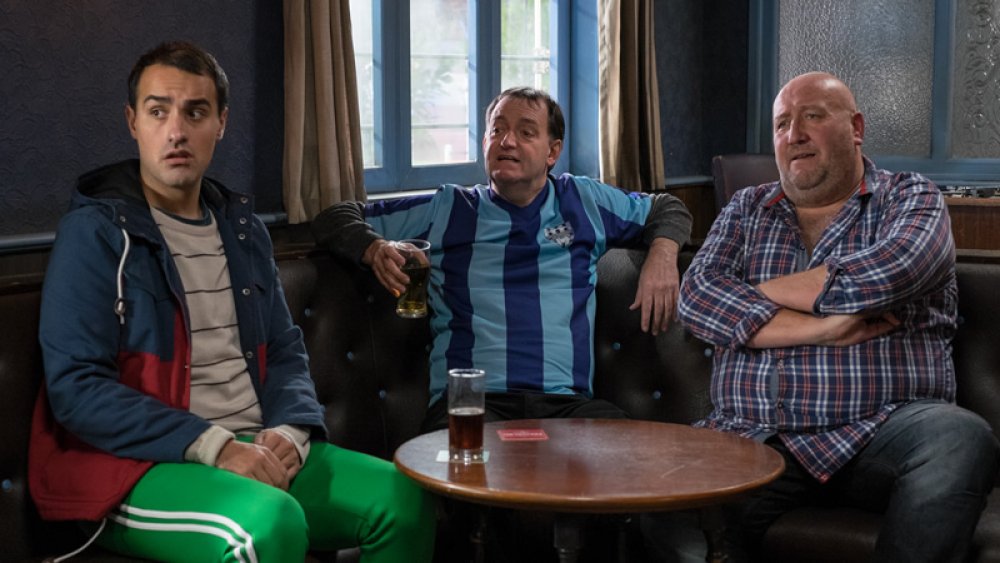 Sky One
Demetriou is actually a multi talent. One of his earliest projects was the six-part series Stath Lets Flats, which he starred in, but also wrote. The series ran on Channel 4 in the U.K. back in 2018 where it earned widespread acclaim. To this day, what began as Demetriou's pet project still holds a 100% fresh rating from Rotten Tomatoes. 
Even before Stath Lets Flats, however, there was another six-part British mini-series starring Demetriou that really put him on the map as a talent to watch. While Demetriou had been a known commodity in the British comedy world since the early 2010s, he got his first major television break in 2016 on the UK sitcom Rovers. 
Rovers concerns — what else? — football. And not that American football game with all the helmets and the tackling — real football. Founded in 1884, the Rovers are one of England's oldest non-league football clubs. The mini-series explores the life and times of the Redbridge Rovers' miscreant membership, and Demetriou's Tom is one of its youngest joiners.
While the mini-series was pretty short lived, it helped paved the way to Stath Lets Flats and provided Demetriou with a springboard across the pond to Hollywood.
Jamie Demetriou did one for the kids in Paddington 2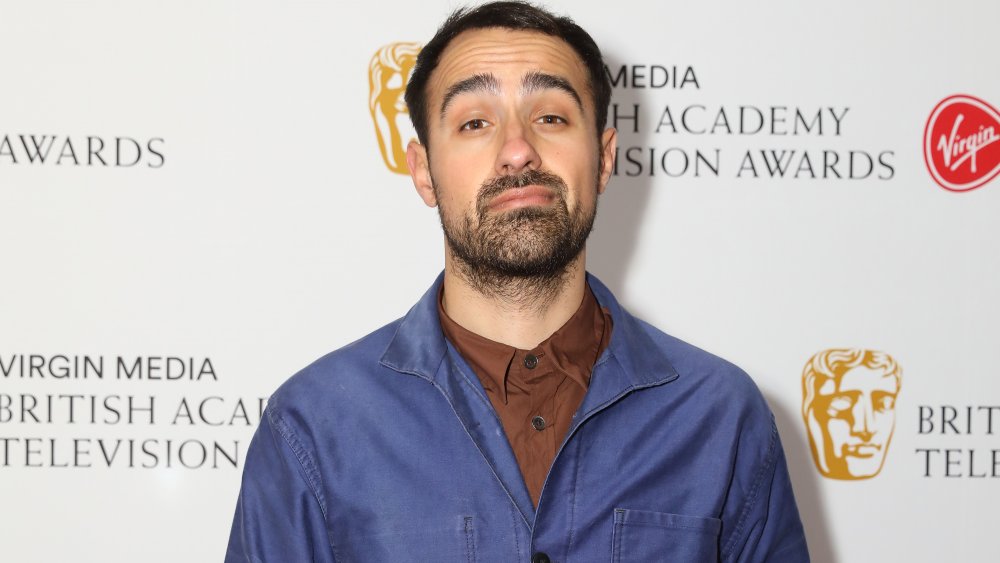 David M. Benett/Getty Images
Demetriou has played so many crass characters in adult comedies that it may come as a surprise that he actually landed a role in Paddington 2. The heartfelt sequel follows everyone's favorite animate teddy bear into an unlikely new setting: prison. 
It all starts out well enough for Paddington Bear. He's living a quiet life in Windsor Gardens, spreading joy with his boundless capacity for emotional support, when he's quite unexpectedly framed for stealing an antique book and summarily tossed in the big house.
Paddington's stint in the clink isn't all that bad, however. He befriends many of the inmates and generally operates just as well as he would on the outside. He even gets to wear one of those rocking pink-and-black striped jumpsuits! Very fashion forward.
Demetriou's small role as the Professor in Paddington 2 likely doesn't rank among his most memorable appearances, but for the younger demographic it's definitely the one that stands out.
Jamie Demetriou attended Four Weddings and a Funeral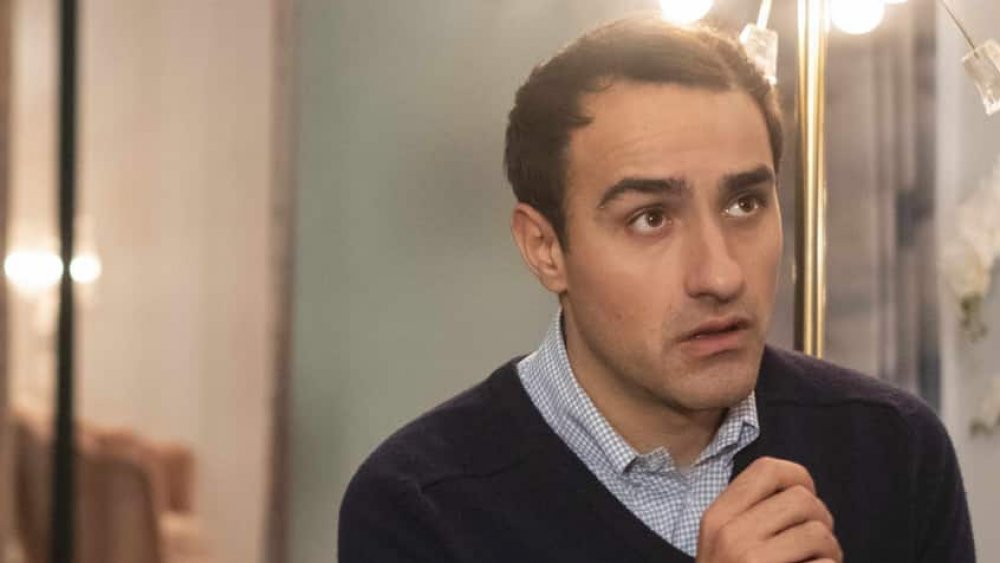 Hulu
Mindy Kaling's Four Weddings and a Funeral on Netflix is an outstanding update of the classic English comedy of the same name. The original 1994 version starred Hugh Grant and Andie MacDowell in its lead roles, so it makes sense that Kaling and her producing team had to dig deep for some talent that could stack up.
Demetriou stars in this remake alongside a truly stellar ensemble, which includes Nathalie Emmanuel (Game of Thrones), Nikesh Patel (Indian Summers), Rebecca Rittenhouse (The Mindy Project), John Reynolds (Search Party), and Brandon Mychael Smith (You're The Worst). The mini-series moves the action of the classic film across the pond to follow a set of four American friends who reunite to attend a London wedding. A shocking turn of events at the wedding sends the whole group into turmoil, precipitating a year of heartbreaking dark comedy that makes good on the titular promise of four weddings and one death.
Demetriou's Marcus is only a recurring cast member, but the scene-stealing comedian definitely leaves his mark.
Recently, Jamie Demetriou has been spending time with Empress Catherine on The Great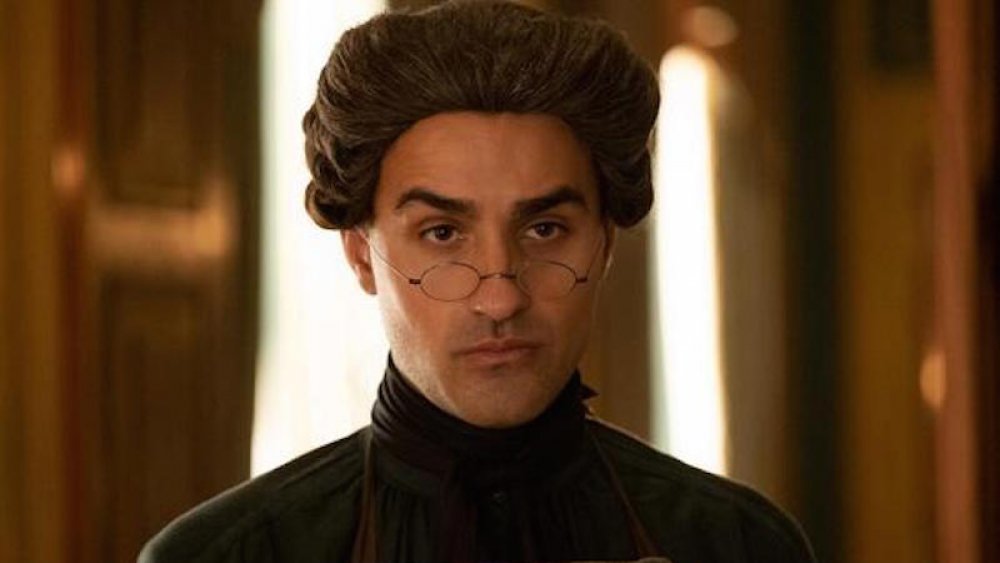 Hulu
After a long string of stand-out guest and recurring performances on successful series, someone in Hollywood finally got the memo and cast Demetriou in a role he could really sink his prominent teeth into.
The first season of The Great landed on Hulu in May 2020. The period comedy follows the historical Russian monarch, Catherine the Great (Elle Fanning) as she presides capriciously over her Slavic domain. While The Great is certainly a work of satire, the series includes enough historical details to satisfy most history buffs — as long as they have a sense of humor. Demetriou's wry Doctor Chekhov, a hilarious interpretation loosely inspired by the famed Russian playwright, appears on four episodes of the first season's ten, and we've got our fingers crossed for an expanded role whenever the popular comedy returns for season 2.
With a major Will Ferrell movie now under his belt, Demetriou appears poised to really break out in the back half of 2020. We're certainly looking forward to whatever he does next.