Mindy Kaling Says Marvel Is 'Really Interested' In A Ms. Marvel Project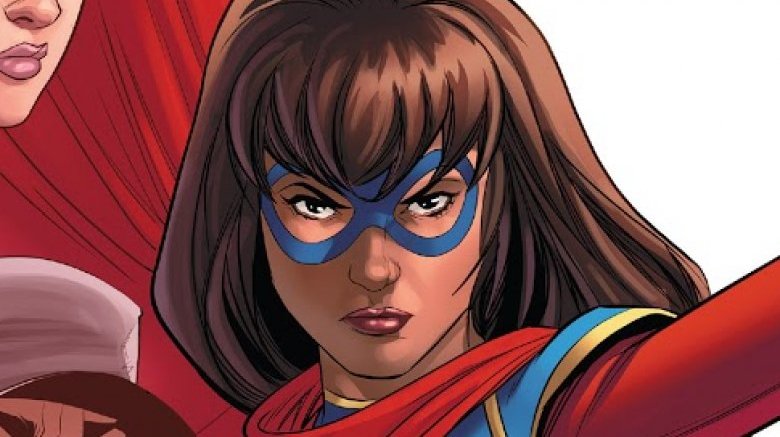 Marvel Comics
Could one of Marvel Comics' coolest and most impactful characters make her way onto a screen near you? According to Mindy Kaling, it's more likely than you think. 
The Late Night actress recently opened up to MTV News about her love for Marvel's Muslim superhero Ms. Marvel, also known as Kamala Khan, created by G. Willow Wilson, Adrian Alphona, Sana Amanat, and Stephen Wacker in 2014. Like many others on the internet, Kaling is a huge supporter of Marvel introducing its first Pakistani-American vigilante to its cinematic universe in one way or another. During her chat with MTV News, she dished that she has actually spoken to a few folks at Marvel about developing some kind of Ms. Marvel project — either a film or a television series on Disney+ — and that the team is "really interested" in pursuing the idea. 
"I think the people I've spoken to [at] Marvel about it are so excited about the character and I think that they're trying to figure out what to do with it, and I told them I would help in any way because I truly love her," Kaling said. "They really seemed interested, and I think they will probably do something. Now that there's like this streaming platform with them, it might be something like that, but I think they understand how much excitement there is." 
She added that she would love to see an "unknown" actress portray Ms. Marvel. 
Kaling, an Indian-American woman herself, later clarified her comments in a post on her Twitter account. She explained that she isn't officially involved with any sort of Ms. Marvel-oriented project, though she absolutely loves the character, and that she hasn't heard explicit word about whether Marvel plans to greenlight a movie or series about the young superhero. All Kaling knows from her personal discussions with Marvel is that interest is there and that the studio knows how excited fans would be to see Ms. Marvel on the big or small screen. 
"Hi everyone, I love Ms. Marvel (aka Kamala Khan) and the geniuses behind her @GWillowWilson @MiniB622 @Marvel, but I have no information about any tv or film adaptation! Wish I did though, when that hits the screen it's gonna be huge," Kaling tweeted, adding a heart-eyes emoji to the end of the post.
Kaling let her admiration for Ms. Marvel be known back in May of 2018, when Venom actor Riz Ahmed tagged her and The Big Sick star Kumail Nanjiani in a tweet that read, "So when do @MarvelStudios want me @mindykaling @kumailn to get started on the MsMarvel screenplay ?" Kaling retweeted the post and added her own comment: "Riz! I am obsessed with this comic book, I've read them all. I love Kamala Khan."
Though Kaling may not have any concrete details about a Ms. Marvel movie or TV series, Marvel Studios head Kevin Feige has previously said that such a project is "definitely sort of in the works." He told the BBC in 2018, "We have plans for that once we've introduced Captain Marvel to the world." Captain Marvel debuted in March of this year, so the time is ripe for a Ms. Marvel project to get off the ground — especially since the third phase of the Marvel Cinematic Universe is coming to a close with Spider-Man: Far From Home in July.
Many people at Marvel have also promised that the MCU will be more diverse moving forward, with casting director Sarah Halley Finn stating that fans will "see even more new faces — and faces from all different backgrounds, all ages, all ethnicities, LGBTQ, people who are differently abled" in upcoming projects. A Ms. Marvel film or TV show could be a major step in the right direction for the studio.