Read This Before You See Eurovision Song Contest: The Story Of Fire Saga
This content was paid for by Netflix and created by Looper.
We have some good news and some bad news. First off, the bad: the Eurovision Song Contest, an international music competition that features music from over 40 countries, has been canceled, making 2020 the first year that Eurovision's taken off in its 64-year history. The good? We're still getting Eurovision Song Contest: The Story of Fire Saga, a comedy movie based on the real event that promises to be just as silly as the real thing.
Starring Will Ferrell and Rachel McAdams as the Icelandic duo known as Fire Saga, Eurovision Song Contest is full of everything that Eurovision fans love: power pop ballads, elaborate costumes, over-the-top production numbers, and more than a little national pride. If you're not a Eurovision fan quite yet, don't worry. The movie's cast is absolutely stacked, and it's made by people who know how to make very, very silly movies. If you're a comedy fan, you're in good hands.
Don't jump right in, though. Eurovision Song Contest: The Story of Fire Saga is better if you know a little bit about how the Eurovision Song Contest itself works, as well as if you're familiar with the people who brought the movie to life. Before you watch, here's everything you need to know.
But first, what is the Eurovision Song Contest?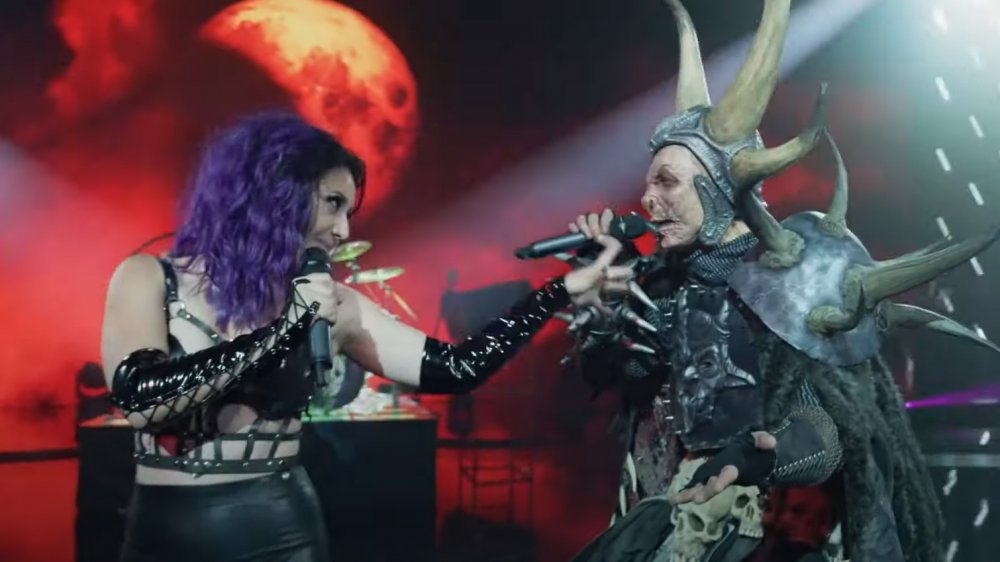 The real-life Eurovision Song Contest may not be that well known in America, but it's a huge deal overseas. Over 182 million people tuned into Eurovision's 2019 contest, which was almost double the number of people who watched that year's Super Bowl. So, yeah, it's pretty big.
It's relatively simple, too. Any nation that's part of the European Broadcasting Union, which spans 56 countries, can submit a song to the Eurovision Song Contest. Participating countries can't choose just any song, however. All submissions must be completely original — no covers, remixes, or samples allowed — and can't have debuted before September 1 of the previous year.
During the three-day broadcast that follows, participating nations perform their songs on television for the world to see. Then, pre-selected jurors from the countries in the competition and the general public, who participate electronically, vote for their favorite songs (a country can't vote for its own entry). The votes are tallied up, a winner is announced, and history is made.
The Eurovision Song Contest is a great showcase for some supremely talented singers (while pre-recorded instrumental tracks are allowed, all vocals must be performed live), but the music is only half of the show. In 2006, Finnish metal band Lordi dressed up as Lord of the Rings-esque demons before taking the stage (and, ultimately, winning the whole thing). In 2009, a group of Russian grandmothers baked cookies in between synchronized dance steps. In 2015, Austria's representatives, The Makemakes, set their piano on fire. Sure, Eurovision is a musical competition, but it's also a visual spectacle — and a heck of a lot of fun.
Meet Fire Saga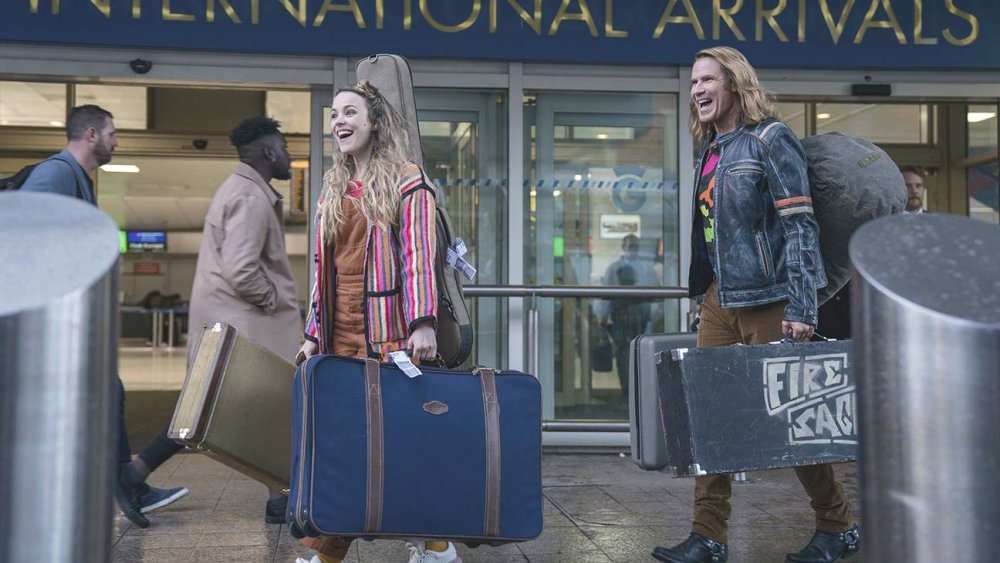 In other words, the Eurovision Song Contest is kind of the perfect setting for a Will Ferrell movie. Ever since his Saturday Night Live days, Ferrell has built a career out of playing characters who take themselves incredibly seriously, even as they're embroiled in increasingly ridiculous situations. Given how ridiculous Eurovision can get, Ferrell should fit right in.
In Eurovision Song Contest: The Story of Fire Saga, Ferrell plays Lars Erickssong, one half of the music group Fire Saga. The other half of the duo, Sigrit Ericksdottir, is played by Rachel McAdams. While you might know McAdams best for dramas like The Notebook and Spotlight, don't forget that she cut her teeth on the cult Canadian comedy Slings & Arrows and had her big break in Mean Girls. When it comes to comedy, she does just fine.
As Eurovision Song Contest: The Story of Fire Saga's trailer reveals, the members of Fire Saga want nothing more than to represent Iceland at Eurovision. Just one problem: they're not great musicians, and no one in Iceland seems to like them. Seriously. Not even their parents. Somehow, though, Fire Saga gets its big break anyway. Lars and Sigrit get a chance to prove their critics wrong on the biggest imaginable stage, and if you think things are going to go smoothly, well, you've clearly never seen a movie like Eurovision before.
All hail the Volcano Man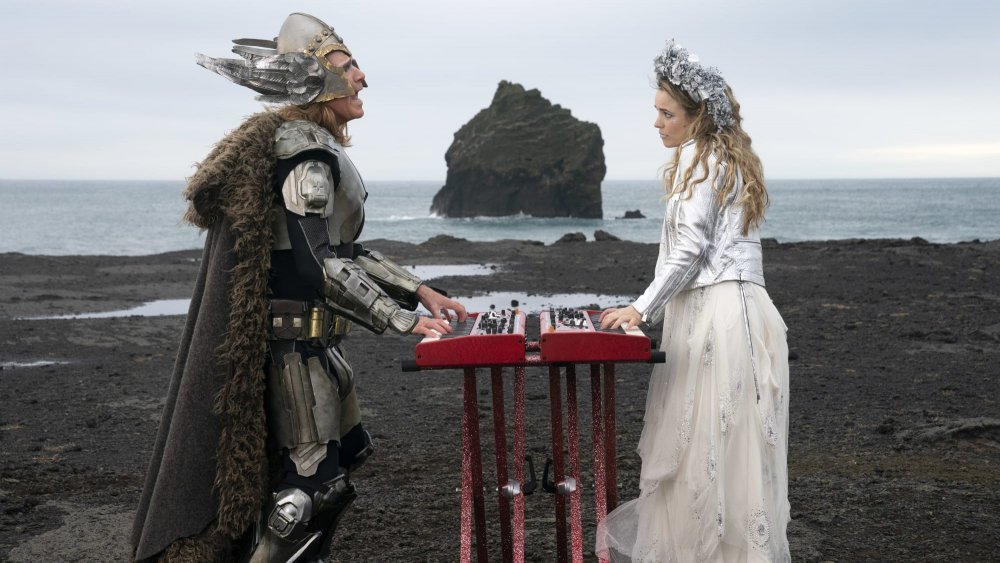 You don't have to wait until you watch Eurovision Song Contest: The Story of Fire Saga to hear what Fire Saga sounds like, either. On May 16, the same day that finals of the real Eurovision Song Contest were supposed to air, Netflix released a music video for Fire Saga's hit single, "Volcano Man."
Like many official Eurovision selections, "Volcano Man" is a pop tune with a heavy techno beat, and while the lyrics are ludicrous, the song itself isn't actually that different from an actual Eurovision number. Because Eurovision is, in part, a popularity contest, selected songs tend to veer heavily towards pop and power ballads. Among those, "Volcano Man" fits right in. Same goes for Lars and Sigrit's nordic-style costumes, too. Out of context, they look silly. At Eurovision? You wouldn't even blink an eye.
Believe it or not, but "Volcano Man" actually has a real-life Eurovision pedigree. Not only did Ferrell visit the 2018 edition of the competition in order to do research for the movie, but McAdams' vocals on "Volcano Man" were performed by Molly "My Marianne" Sandén, who represented Sweden at Eurovision in 2006 (Ferrell, who's sung many times on both Saturday Night Live and in his various movies, performed his parts himself). 
As it turns out, "Volcano Man" was a pretty appropriate subject for Fire Saga's first big single, too: During production, volcanic activity in Iceland threatened to derail filming. Clearly, Fire Saga's plea to Iceland's volcanic gods made its way to the right people. As McAdams explained, the crew was lucky that they got to finish filming at all.
The rest of the team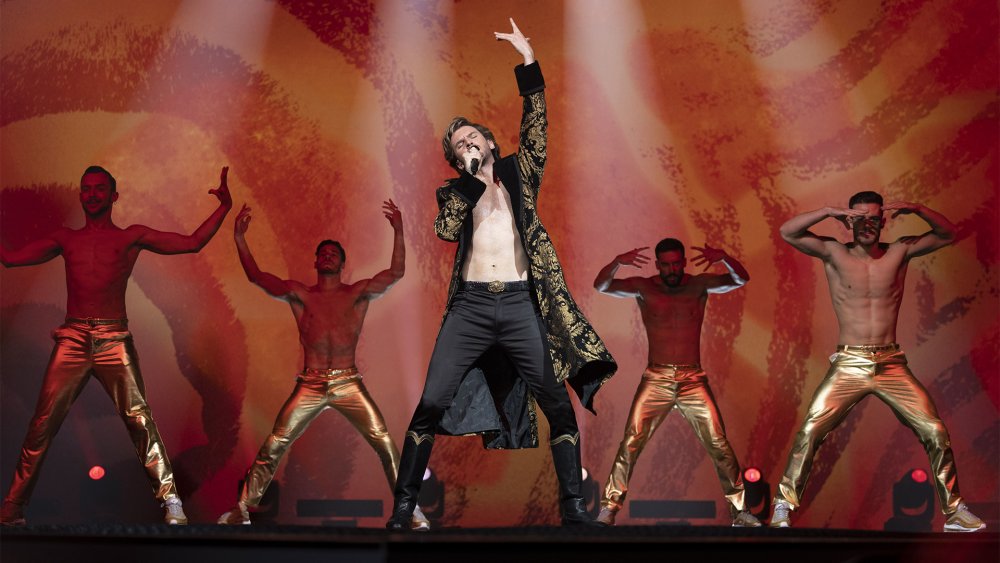 Ferrell and McAdams are Eurovision Song Contest's headliners, but they're not the only big act in the movie. Lars' impossibly handsome and incredibly judgemental father, Erick Erickssong, is played by none other than 007 himself, Pierce Brosnan. This isn't Brosnan's first appearance in a musical: In 2008, the former superspy appeared in Mamma Mia! and returned for its sequel, Mamma Mia! Here We Go Again ten years later, although his singing wasn't exactly a crowd or critical favorite.
Ferrell, McAdams, and Brosnan are joined in Eurovision by Dan Stevens, who plays Fire Saga's number one rival, singer Alexander Lemtov. Even if you don't recognize Stevens' name, you've almost certainly seen him before. Between his time on the early seasons of Downton Abbey, his lead role on Legion, his harrowing turn in Apostle, and his performance as the Beast in Beauty and the Beast, he's been everywhere. Also keep an eye out for actress and singer Demi Lovato and TV personality Graham Norton, both of whom also appear in the film.
Behind the camera, David Dobkin of Wedding Crashers, Shanghai Knights, and The Change-Up fame handles directorial duties, while Ferrell himself co-wrote the script alongside long-time Saturday Night Live writer Andrew Steele (allegedly, Ferrell's wife, who is Swedish, introduced the comedian to the singing competition). Those are all funny people, and they've made movies like this before. With a crew like that, Eurovision is in very, very good hands.