Why Missandei From Game Of Thrones Looks So Familiar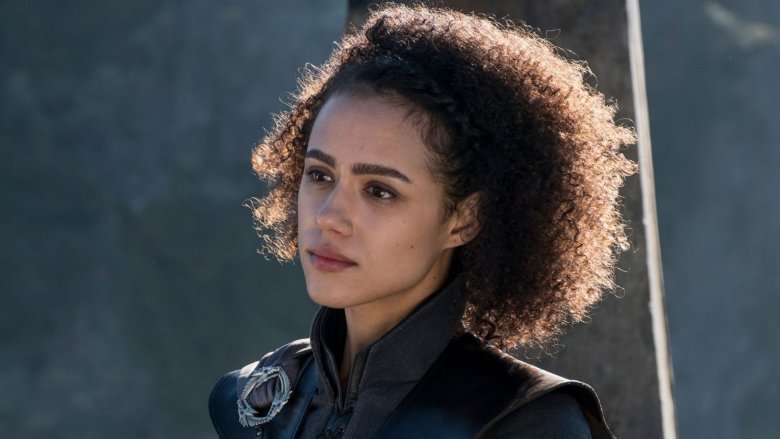 You probably know her best as Missandei, the capable translator and assistant to Daenerys Targaryen on Game of Thrones, but actress Nathalie Emmanuel may also look familiar from some of her other roles. Starting with an early stage career in the 1990s and continuing on to a successful career on television and in film, Emmanuel has built quite an acting résumé for herself. Let's take a look back at some of the roles you might have seen her in before Game of Thrones.
Hollyoaks (2007-2010)
For nearly 200 episodes, Emmanuel starred in the British young adult soap opera Hollyoaks in the role of Sasha Valentine, a good girl gone bad who struggles with the death of her mother, heroin addiction, the influence of a bad-boy boyfriend, binge drinking, betrayals, and even prostitution. 
Her character (and the rest of the Valentine family) moved away from Hollyoaks after the producers decided to overhaul the show and cut down on their storylines, but the show served as a launching pad for her career as well as her onscreen brother, played by Ricky Whittle, who's recently appeared in the hit Starz series American Gods.
Casualty (2011)
In 2011, Emmanuel appeared in an episode of the British emergency medical drama series Casualty as a sales representative named Cheryl Hallows. The longest-running medical series of its kind, Casualty debuted in 1986 and now has aired more than 1,000 episodes. Emmanuel's appearance, in the March 2011 episode "Only Human," saw her playing a character brought in as a potential replacement for Hannah, who was gravely injured after surviving a bus crash that left her face disfigured.
Misfits (2011)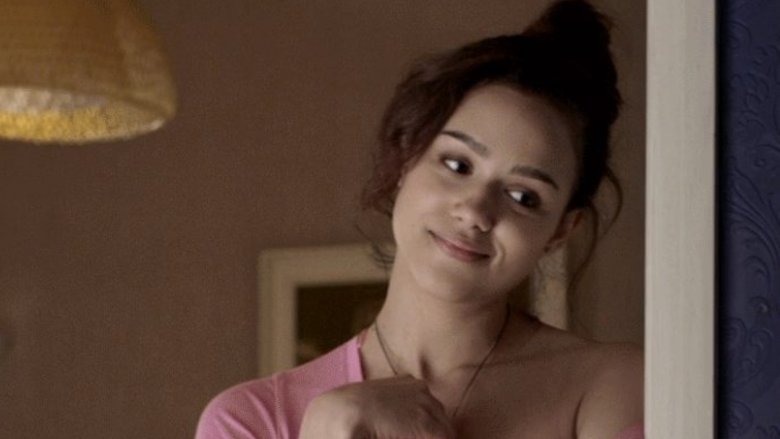 Emmanuel also put in a 2011 appearance in the British sci-fi dramedy Misfits, about a group of young criminal offenders sentenced to work together in a community service program, after which several characters obtain strange and supernatural powers during an electrical storm. 
In her episode, Emmanuel joins the community service program as a character named Charlie, who becomes romantically involved with series regular Rudy—setting off another girl named Tanya, who uses her powers to freeze time, kill Charlie, and frame Rudy for the death. Her deception is later discovered, however, and Rudy eventually kills Tanya in retribution.
Websex: What's the Harm? (2012)
In 2012, Nathalie Emmanuel hosted the BBC investigative documentary Websex: What's the Harm?, which explored the emerging role of technology in sexuality, particularly among the younger generation. Interviewing young people who use the latest technology in social networking, mobile communications, and webcams to initiate and maintain online relationships, she also discussed the issue with psychologists and scientific researchers, exploring changing trends in young adult sexuality. Finally, Emmanuel and the other presenters offered an assessment of the dangers teens and young adults expose themselves to when they use the internet to initiate relationships.
Twenty8k (2012)
Emmanuel landed an early big-screen credit in the British crime thriller Twenty8k, which follows the twisted events that unravel after a teenaged boy is gunned down outside of a nightclub—and, in a seemingly unrelated case, a young woman is killed in a hit-and-run car accident. Paris fashion executive (Parminder Nagra) must return to her native London in order to clear her brother's name after he's accused of the murder. Emmanuel's Game of Thrones co-star Stephen Dillane also stars in the movie as a corrupt British police inspector who'll stop at nothing to prevent the young woman from uncovering a much wider conspiracy.
Furious 7 and The Fate of the Furious (2015-2017)
Emmanuel made her blockbuster debut in 2015's Furious 7, the seventh installment in The Fast and the Furious franchise and the last to include Paul Walker—who died in an unrelated car accident while the movie was being filmed. Emmanuel plays Ramsey, a hacker who's been taken captive by a mercenary; the crew sets out to rescue her so she can hack into and shut down a tracking program she created. Following the completion of their mission, Ramsey joined the team, and Emmanuel reprised her role in the 2017 sequel The Fate of the Furious.
Maze Runner: The Scorch Trials (2015)
Emmanuel joined Game of Thrones castmates Thomas Brodie-Sangster (Jojen Reed) and Aidan Gillen (Petyr Baelish) for the 2015 dystopian sci-fi action film Maze Runner: The Scorch Trials. Emmanuel plays Harriet, one of the co-leaders of Group B—another test group (comprised of mostly females) who successfully made it through the Maze. After Thomas and his group of Gladers escape the facility where they're being held, they must survive in the desolate outside world of the Scorch, where they eventually encounter Harriet and the rest of the Group B survivors. Emmanuel is slated to reprise her role as Harriet in the franchise's next installment, Maze Runner: The Death Cure.
Commercials (Various)
Like many up-and-coming actors, Emmanuel has appeared in several commercials over the years. According to advertising insight company iSpotTV, she was seen in a 2016 commercial for Dole's "Mixations" fruit and applesauce cups; the following March, she also joined Speedo as a brand ambassador for their #Make1KWet campaign, explaining how she's worked swimming into her regular exercise regimen.