Bill & Ted 3: Face The Music Scores Release Date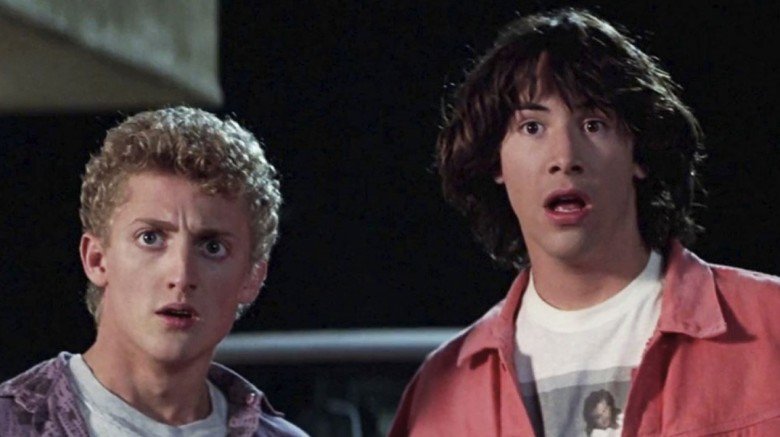 The world is about to get a lot more excellent. 
Bill & Ted film series stars Alex Winter (the Bill of the duo) and Keanu Reeves (the Ted) released a video on Wednesday afternoon announcing that they are partnering up for the three-quel everyone's been waiting for: Bill & Ted 3: Face the Music. And for real this time — as studio Orion Pictures has dated the project for release on August 21, 2020. 
Posted to the official YouTube channel for Orion Pictures, the announcement clip sees Winter and Reeves once again declare themselves the Wyld Stallyns (only the greatest band of all time), thank the fans who have shown their love and support for Bill & Ted's Excellent Adventure from 1989 and Bill & Ted's Bogus Journey from 1991, and confirm that they "might, actually, hopefully" make a movie this summer. 
"It's all because of you," Winter said of the fans. "We owe you a huge debt of gratitude." 
Added Reeves, "Thank you... be excellent."
Directed by Galaxy Quest's Dean Parisot from a script penned by Chris Matheson and Ed Solomon, Bill & Ted 3: Face the Music is said to be like the famous tale A Christmas Carol, only with Winter's William "Bill" S. Preston Esq. and Reeves' Theodore "Ted" Logan front and center.
"I think it's kind of like A Christmas Carol with Bill and Ted," Solomon told Entertainment Weekly in March of 2018. "Looking at their lives, and really kind of rediscovering what they're about."
Bill & Ted 3: Face the Music will see the titular duo, now pushing 50 years old, venturing out on a new quest to use the power of rock and roll to bring about the utopia they were prophesied to create. When a time-traveling visitor (a new face following in the footsteps of the late George Carlin's Rufus) reaches them in the present day and tells them that one of their songs is the key to everlasting peace throughout the universe, Bill and Ted must literally face the music and realize that their middle-age, marriages, and children shouldn't stop them from finally fulfilling their destiny of saving the world. 
Matheson said of the film's story, "You're told you're gonna save the world. And now you're 50 and you haven't done it. Now they're married, and it affects their marriages, and it affects their relationships with their kids, and it affects their everything."
Reeves said that "everybody's a little older now, a little afraid" in Bill & Ted 3: Face the Music, and Winter shared that Bill and Ted will hit a crossroads in the new movie. 
There's certain comparisons. A rock band that never goes to the place it thought it was going to get to. Having that moment in their life of going: 'Do we try to get there, or give up the dream?'" he said, to which Reeves added, "Indomitable spirits confronted with, 'Is this the end?' Of course, there is a little caveat in that someone comes from the future and says: 'Not only do you have to save the world, you have to save everything.'"
Winter then shared with the outlet at that time that the upcoming movie won't "feel like some stale knockoff," and will capture the spirit of the first two films. 
"The whole trajectory of getting the next one off the ground has been pretty much exactly like the experience of getting the original. Going to every studio, and they're like, 'What the eff is this?' It's this kind of independent spirit, and the films have an anachronistic quality to them that's a big part of what they are, fundamentally. I'm really happy that this one is the same. It doesn't feel like some stale knockoff that a studio would have immediately gone, 'Oh, this feels right. We have rebranded very successfully,'" he stated. 
Reeves agreed, adding that there's still so much fun to be found in the Bill & Ted franchise. "I love the characters so much — who they are, the spirit of their voice that Chris and Ed have given [them]," he said. "You can't go wrong with: 'Be excellent to each other.' And: 'Party on!' I mean, it might actually be the beginning, one of the first examples of contemporary modern apocalyptic art."
The third Bill & Ted movie has been cooking up behind closed doors for a while now, the project first kicking up in 2010 when Reeves revealed that Matheson and Solomon had started working on a script. A year later, Reeves stated that the scribes were "six weeks away from a draft," with Winter confirming a few weeks later that the script was complete. August 2012 saw Parisot join the project, and the year 2013 was filled with promises of pulling things together to make the movie happen. It was much of the same slow pre-production process and a lot of enthusiasm from the team behind it as they worked to make it perfect until early 2018, when Reeves and Winter were confirmed to return for the film. In February of this year, we learned that filming was initially scheduled to begin in March. (There's seemingly been a slight delay in the shooting start date based on Winter and Reeves' comments in this video.)
Of the film spending years in development hell, Solomon once explained, "We have a script that we really are proud of, that we worked very hard on, that we've done many iterations of – and we did it on spec, meaning we spent years working on it because we wanted to get it right, creatively. This is not, 'Hey let's all cash-in on the Bill & Ted thing for money' – this is the opposite. This is, 'We love these characters, they've been with us for our whole lives' — Chris and me, and Alex and Keanu — and we wanted to visit them again as middle-aged men. We thought it would be really fun, and funny, and sweet ... All of us really want to give the people who love Bill & Ted, and people who haven't even discovered Bill & Ted yet, a movie that is worthy of their affection. And we're trying!"
He added, "Chris and I have said this to each other many times, if the only thing we put into the world ever was this notion of 'Be excellent to each other,' we could look each other in the eye and feel like we did something right. I really feel that, and I'm really proud of that."
After all this time, it's wonderful to hear that Bill & Ted 3: Face the Music is coming to fruition. Though it's getting off the ground nine years after it was first dreamt up, there's no two ways about the truth of this update: Bill and Ted really are coming back next summer. Most excellent!