What It's Really Like Working On A John Wick Movie - Exclusive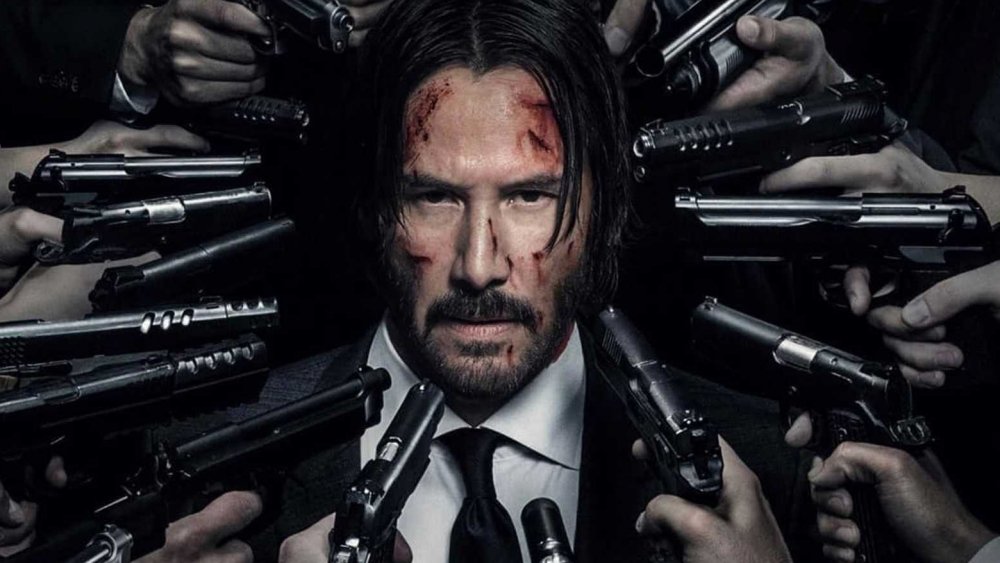 Summit Entertainment/Lionsgate Films
In 2014, the movie landscape was overwhelmingly the territory of established franchises based on much-beloved licenses. Titles like Marvel's Guardians of the Galaxy, The Hunger Games: Mockingjay – Part 1, Transformers: Age of Extinction, and The Hobbit: The Battle of the Five Armies dominated the release schedule, seemingly showcasing moviegoing audiences' appetite for the familiar. Given all that, one might not have expected a relatively low-budget action film starring an actor who was seemingly past the peak of his stardom to make much of an impact.
Fast-forward to today, and you'll find the name "John Wick" has become synonymous with two things: the resurgent popularity of lead actor Keanu Reeves, and incredible on-screen action that has now wowed moviegoers through three increasingly successful films. Helmed by veteran stunt coordinator Chad Stahelski, the John Wick franchise has proved there's a mainstream appetite for the kind of stylish brawls, gunfights, and chases that made movies like The Raid cult hits with Western audiences.
So, what's it like being a part of the John Wick world? To find out, we spoke with two people who've played an instrumental role in bringing the films to life: Heidi and Renae Moneymaker, sisters whose resumes as stunt performers over the past couple of decades are almost embarrassingly loaded. In an exclusive interview with Looper, the Moneymakers clued us in on just what it is that sets the John Wick film series apart, and what makes working on it a singular experience.
Keeping up with Keanu in John Wick
According to Heidi Moneymaker, who doubled Ruby Rose in John Wick: Chapter 2 and worked stunts in John Wick: Chapter 3 – Parabellum, Stahelski's drive to utilize his actors — especially his lead — in the franchise's action scenes is what puts it in a league of its own.
"With the John Wick series, it's a different ballgame because you've got your lead actor, Keanu Reeves, who's training harder than anybody else on the whole film and just giving it his all [...] every single moment of every training session," she says.
For John Wick stunt performers, this created a unique challenge. "You're trying to make sure that you're staying up to speed with them," explains Heidi. "We don't have to do as much training because we already have a lot of skills that he's learning. But at the same time, you've got to put in the same effort and you've got to show up — especially when your lead actors is getting thrown around and everything."
Apparently, this vibe extended beyond Reeves to other name members of the John Wick cast. Responsible for working with Halle Berry on John Wick: Chapter 3 – Parabellum, Moneymaker relates that the Academy Award-winning star brought her A game. "When training Halle, I was spending the first half of my day in the gym with other professionals, training my a** off and coming up with choreography and drills and different things for her, because she came in at 150 percent every day. I had to make sure that I was there at 150 percent."
This commitment from the franchise's talent created an on-set vibe that Moneymaker characterizes as "intense." She tells us, "Not only did I have everything set out and ready to go — A-plus training for her — but I [also] had backup stuff in case she nailed all that we need to move forward. The John Wick prep and training is really intense. Totally worth it. Really, really intense. I'd say that's the difference there. Not that the Marvel stuff is not hard and we don't do a ton of rehearsals and everything else, but you don't have your lead actors literally doing all their own stunts."
John Wick's shooting style demands excellence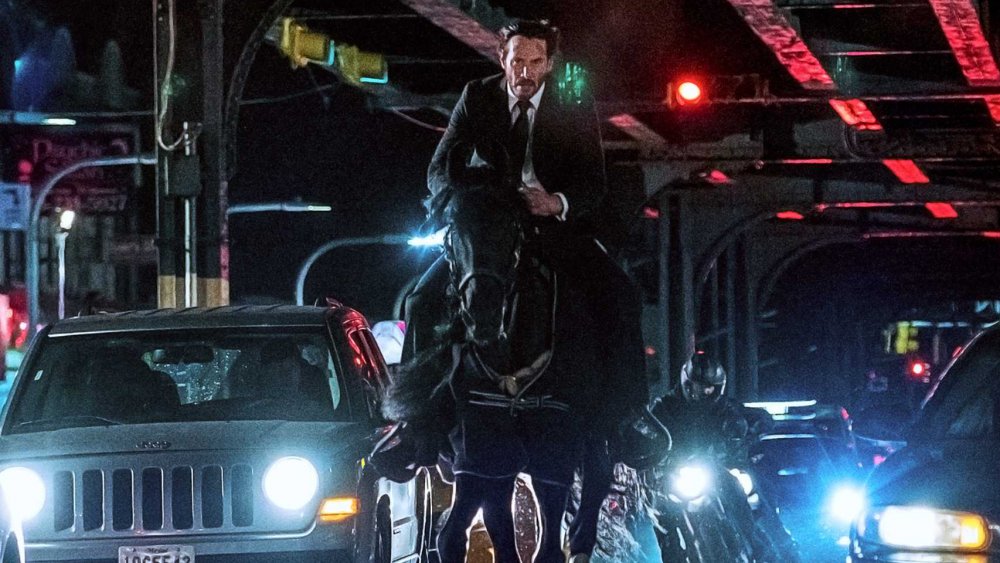 Summit Entertainment/Lionsgate Films
When it comes to separating the John Wick series from its action peers, it's not just about the talent in front of the camera. Throughout the three films, Stahelski has made use of long takes and wide-angle shots to showcase his action beats — which stands in stark contrast to the dramatically chopped-up, heavily edited style popularized in American movies by the likes of the Jason Bourne films. As Renae Moneymaker, who doubled Adrianne Palicki in John Wick, explains to Looper, it's a way of working that requires a lot of the stunt team.
"Well, it's great when they're like, 'Hey, we're going to just do fight beats and cut it all to pieces,' because you're just, like, 'Great. I want to do fight beats and that's it,'" says Renae. "You can hide a ton. You can make it look really exciting without having a lot of amazing performances in them." 
Longer takes, meanwhile, carry a greater risk and reward. "The longer takes are [advantageous] because when you get into the flow of something and you can see the big picture of what's happening, sometimes great things happen," she details. "But the problem with long takes is that, if you're doing one big long take, it's really hard to hide bad [stunt] performances. There's often bad performances — not always — and sometimes you throw a punch and it's just off."
So, how does Stahelski overcome that challenge? Renae Moneymaker says it's all about perfect preparation — driven in part by the fact that Reeves, Berry, and other members of the main cast are often engaged in performing their own stunts. "With John Wick, Chad does very long takes and uses his actor," she says. "The only reason he can do that is because he's trained his actor so proficiently that he's very good at what he's doing. You can watch it wide and it does look good, but it doesn't always work."
We'll find out if Stahelski's model — and the efforts of dedicated stunt professionals like Heidi and Renae Moneymaker — continue to pay off when John Wick 4 arrives on May 27, 2022.