The Jonah Scene From Ozark Season 3 That Might Mean More Than You Realize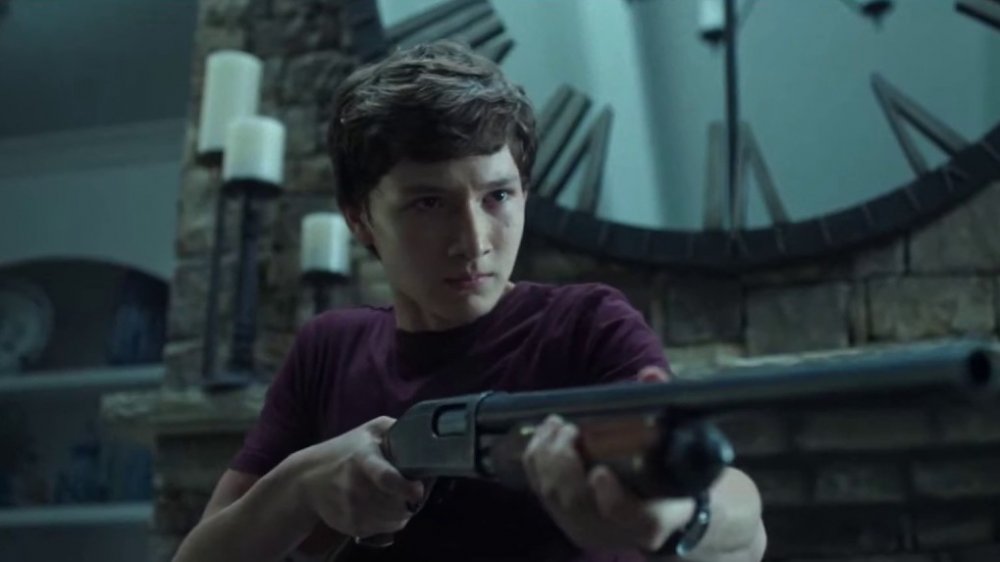 Netflix
Spoilers follow for Ozark season 3
If you're anything like us, your head is probably still spinning from your binge of Ozark's beyond tense third season. To put it mildly, season 3's ten-episode arc not only expanded the world of Ozark in nerve-wracking new ways, it tested the mettle of even its staunchest fans by putting Marty and Wendy Byrde (Jason Bateman and Laura Linney) through the wringer in ways we simply couldn't have fathomed prior to the season premiere. That was especially true of the final two or three episodes, which saw the Byrdes' loyalties and criminal acumen tested in shocking new ways, and concluded with their bloodied ascension to the right hand of cartel boss Omar Navarro (Felix Solis).
As bad as matters continue to get for Marty and Wendy, things are getting more and more complicated for their kids as well. While Sofia Hublitz's Charlotte had a relatively quiet season 3, the same cannot be said for her kid brother Jonah (Skylar Gaertner), who continues to have trouble adjusting to life on the other side of the law. The character has been particularly struggling to find companionship since the Byrdes' arrival in the Lake Ozark region. He quickly latched on to his troubled Uncle Ben (Tom Pelphrey) in season 3, only to have the man violently wrenched from his life soon after.
That act sent Jonah into a spiral that saw him very nearly killing Helen Pierce (Janet McTeer) in the season finale. Tense as that encounter was, Jonah's final scene in season 3 is the one that continues to have Ozark fans talking. That moment finds young Jonah in tears as he pours through what may or may not be the ashes of his departed uncle, before turning and firing his shotgun through a window in an apparent rage. Seems there may be more to that beyond taut scene than we thought. 
Jonah's final scene in Ozark season 3 could mean even darker times for the Byrdes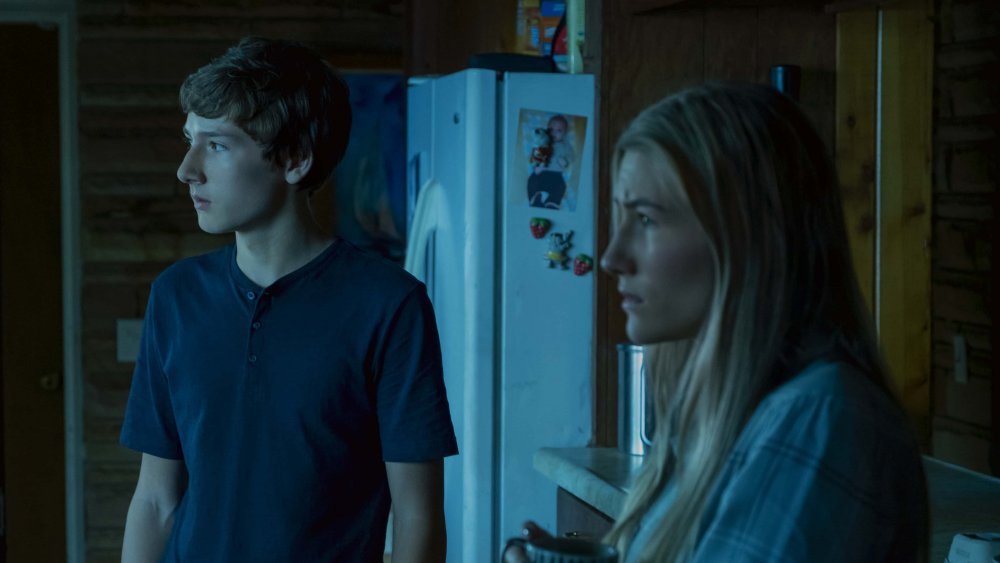 Netflix
As it happens, the importance of the moment is overshadowed by the more outwardly shocking narrative twists in Ozark's season 3 finale. But some savvy fans believe the scene was more than just an outpouring of emotion, and are convinced Jonah was actually shooting at someone when he pulled the trigger. Upon revisiting the scene ourselves, it definitely sounds like you can hear someone walking, and potentially rattling the window before he shoots.
To be clear, you never see an actual person on the other side of the window, nor do you hear the guttural sounds of someone in pain after being shot. The suspicious noises are unquestionably there, though, and it certainly seems like Jonah sees something outside too. Either way, the ramifications of the moment could signal even more darkness coming to the Byrde family's torturous Ozarks existence.
Theories abound on the subject of who Jonah might've shot, with fans hotly debating whose blood the troubled youngster might now have on his hands. Frontrunners are emerging on the subject as well, with Jonah's sister Charlotte leading the way in what would be a truly grueling twist of fate for the Byrdes. Other possibles include Erin Pierce, with whom Ben shared his first kiss just episodes prior, though Jessica Frances Dukes' very pregnant F.B.I. Forensic Accountant Maya Miller (who spent the season trying to turn Marty against his Cartel bosses) would make for an equally tragic twist.
Perhaps the most traumatic theory of all involves the big mystery surrounding his Uncle's apparent death. If Uncle Ben didn't meet his end at the hands of cartel toughs, it would be absolutely brutal for Jonah to have inadvertently done the deed himself. Alas, the questions surrounding this potentially devastating scene will remain a mystery until season 4 of Ozark makes its way to Netflix.