Why Navarro's Hug In Ozark Season 3 Means More Than You Think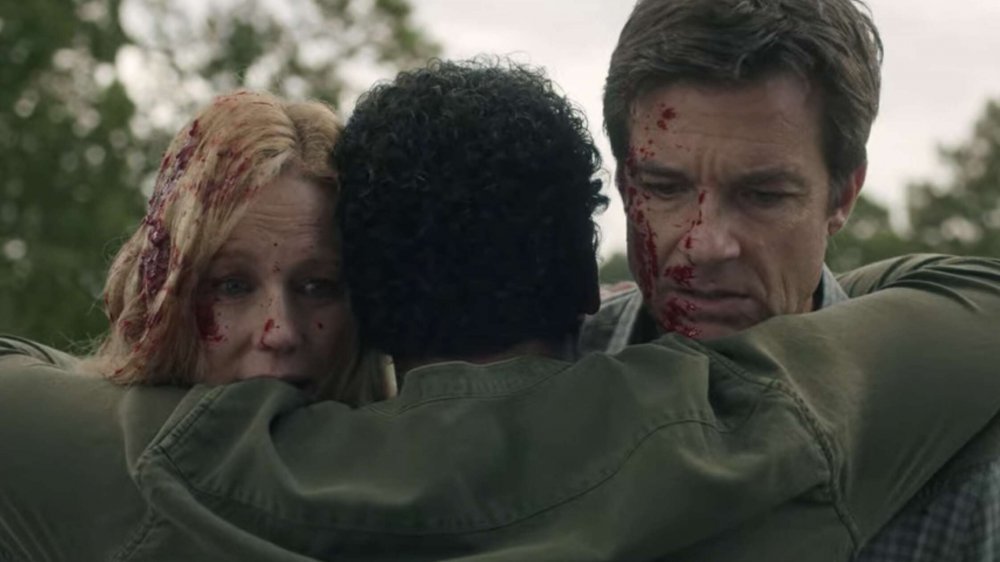 Netflix
This article contains spoilers for Ozark's third season.
Over the course of its three white-knuckle seasons on Netflix, Ozark has taken no uncertain pleasure in repeatedly pulling the rug right out from under its viewers. And to the surprise of absolutely no one familiar with the series' narrative acrobatics, the rug pulls continued to come fast and furious throughout Ozark's third season. In fact, shocking twists and turns came so frequently in season 3 that there was hardly any time to catch your breath. Still, even as marvelously head-spinning as the season was, Ozark's creators saved some of the season's biggest shocks for for a finale that, well, we still haven't quite recovered from.
The season had no shortage of twists, as we saw Ruth Langmore (Julia Garner) split with the Byrdes and ally with Darlene Snell (Lisa Emery). Then there was how Darlene dealt with the detestable Kansas City mobster Frank Cosgrove Jr. (Joseph Sikora). And let's not forget having to watch youngest Byrde Jonah (Skylar Gaertner) unravel after the loss of his Uncle Ben (Tom Pelphrey). Nevertheless, Ozark's season 3 finale unquestionably saved its most shocking moment for last. That moment, of course, found Marty and Wendy Byrde (Jason Bateman and Laura Linney) covered in blood and in the warm embrace of cartel boss Omar Navarro (Felix Solis), himself waxing poetic on the trio's new beginning.
If you're wondering whose blood the Byrdes were covered in, it was that of their former "handler" Helen Pierce (Janet McTeer), who'd just been brutally let go from her role as Navarro's attorney and right hand woman. The stunning move came even as Helen was moving to have Marty and Wendy removed from all cartel business in the Ozarks, and likely the mortal realm as well. Luckily, the Byrdes' own behind-the-scenes maneuvering had recently made them more valuable to Navarro's operation, so they lived to scheme another day.
The Byrdes are now officially the right hand of the Navarro Cartel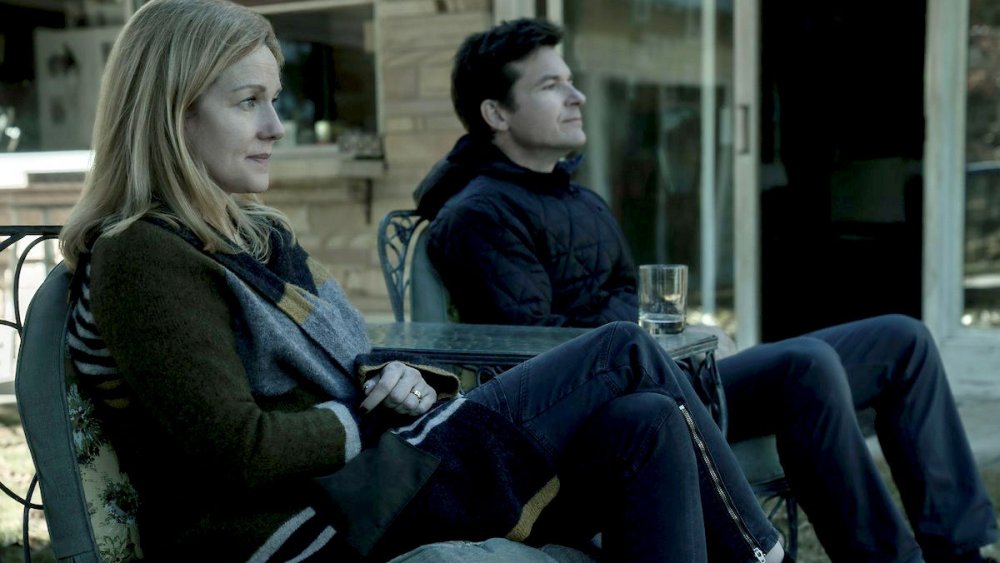 Netflix
As genuinely shocking as Helen's dismissal was, it still wasn't entirely a surprise. The tagline for Ozark's third season was "They're all in," meaning the Byrdes were indeed attempting to fully align their interests with the nefarious Navarro, if only because that's the only way to ensure the safety of their family. Even still, no one could've anticipated the callous brutality that came with Navarro's embrace of the Byrdes as his new confidants, nor could they have anticipated that embrace would actually come in the guise of a warm, welcoming hug from the big, bad cartel boss.
Make no mistake, if season 3 was about Marty and Wendy going "all in" with Navarro, that hug clearly wasn't meant as a consolation to the blood-spattered Byrdes as much as it was Navarro reciprocating their fidelity by going all in with the duo himself. And yes, that means life is about to get complicated for the Byrdes in ways they never could've foreseen when they made their fateful trip to Ozark country.
Even with Helen out of the way and Navarro firmly on their side, the duo is still facing increased scrutiny from the FBI, and the lingering ire of a vengefully insane Darlene Snell (herself recently allied with the KC mob). Perhaps more concerning is that they'll also have to find a way to sate the anger of their own son, now firmly convinced his mother ordered the murder of his poor Uncle Ben.
With all of that looming on the horizon, there's little question season 4 of Ozark is lining up to be full-on barn burner. And we cannot wait to get back out on the lake.