Cursed Netflix - What We Know So Far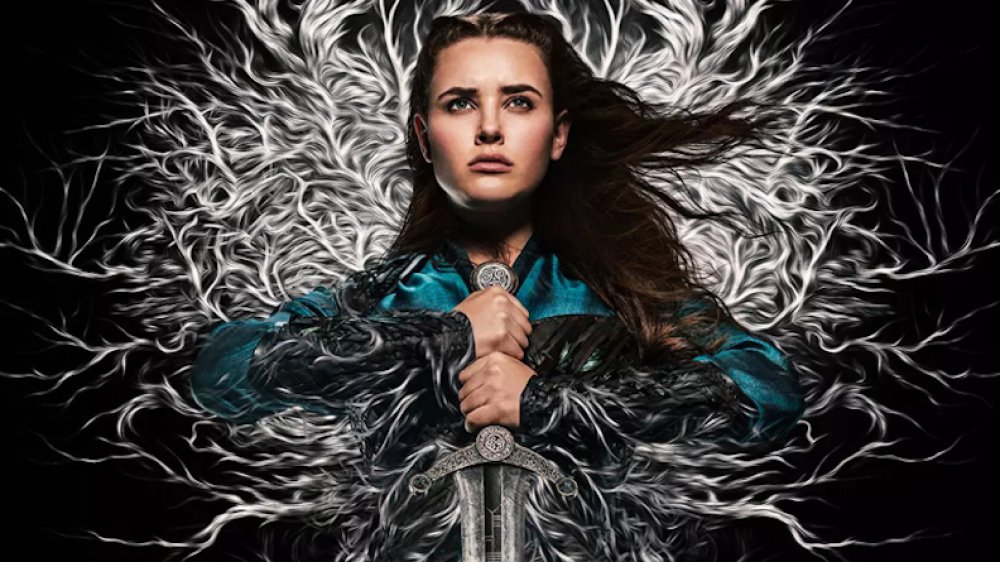 Netflix
With HBO's Game of Thrones having officially come to a decidedly inauspicious end, History's Vikings on the verge of raiding its last village, and the second season of The Witcher delayed by a global pandemic, fans of operatic sword-and-sandals action fare are facing a serious drought in their fantastical viewing slate. Not to worry, though, because Netflix's high-powered production machine is still cranking out loads of original films and series, at least one of which should easily fill the void left by those esteemed fantasy treats.
Indeed, the streaming giant is about to introduce a gritty new fantasy epic to its platform that's bound to find favor with any viewer boasting a taste for magical action — one that also puts a dramatic new twist on the tried and true Arthurian legend that has inspired so many copycat epics over the centuries. The new series is called Cursed, and the twist is that Cursed isn't exactly about the legendary King Arthur, or his noble roundtable knights, at all. Rather, Cursed turns its eye toward Nimue, a young sorceress who encounters the future king in the years ahead of his reign, and enlists the future noble in the search for a powerful ancient sword.
Yes, we're as excited about that Arthurian alt-history as you likely are; so much so that we've gone digging to find out more about the new streaming series. Here's everything we know so far about Netflix's Cursed.
When will Cursed be on Netflix?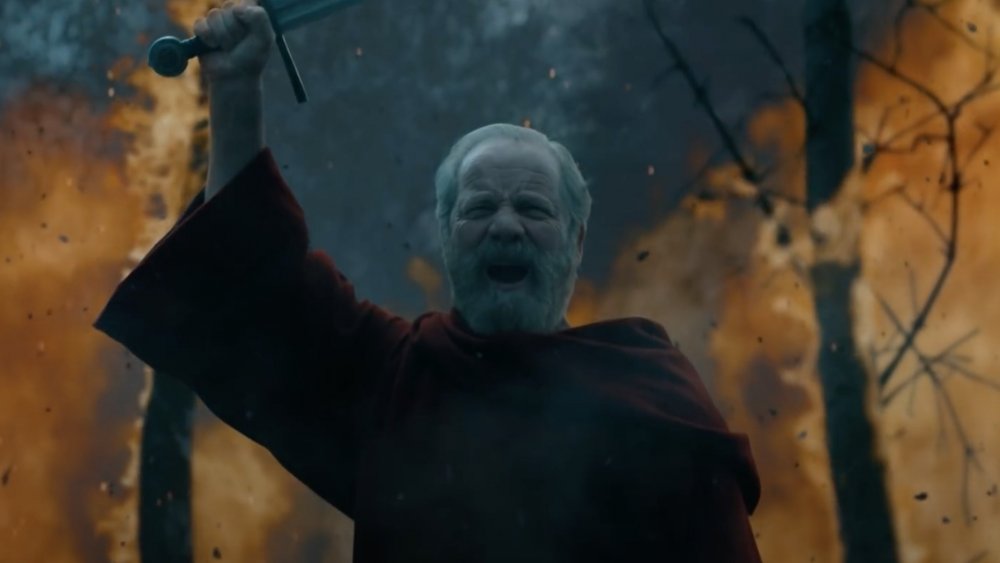 Netflix
First things first, because before we all get too excited about the fantastical insanity to come in Netflix's Cursed, it's important to know exactly how long we're going to have to wait to actually get our eyes on it. The good news on that front is that the wait to see Cursed will be a decidedly short one. In fact, the epic new series is slated to arrive on the platform just in time to help not only fill the void of other fantasy series, but also the void currently occupying the 2020 summer movie season. 
Barring any last-minute release drama, Netflix will drop Cursed on July 17, 2020. As is the norm with Netflix original series, every episode of Cursed will be available to stream on release day. The good news is, that not-too-distant release day should give you plenty of time to wrap up whatever show you're currently devouring on Netflix and prepare to binge the hell out of Cursed. What's more, judging from everything we know about the series, once you start Cursed, it's going to be pretty hard not to proceed with a full-on binge. 
Who will star in Netflix's Cursed?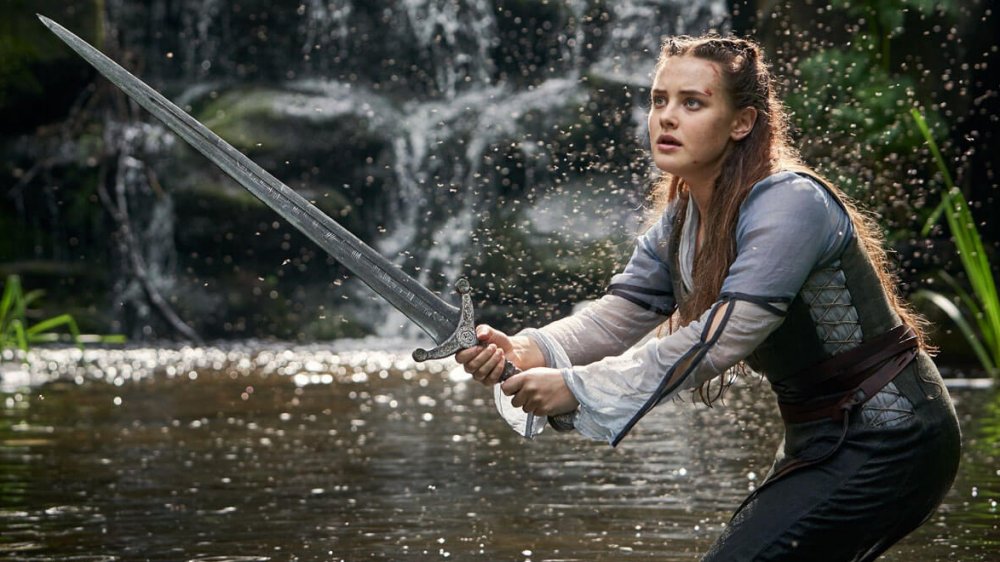 Netflix
Now that we know when Cursed arrives, the next obvious question is who will be in it. Fans of Netflix's daring teen suicide drama 13 Reasons Why and Rian Johsnon's 2020 mystery smash Knives Out will no doubt be elated to find out that the star of Cursed is none other than Katherin Langford, who featured prominently in both. Langford has already proven herself as capable of getting a laugh as she is of delivering stark drama. Cursed will find her pushing her talents further than ever, as Nimue will require her to flex not just her dramatic muscles, but also her sword-slinging physicality.
Langford will be joined on-screen by another Netflix vet in Peter Mullan, who recently met a most unfortunate end on the streamer's hit crime drama Ozark. Cursed will find Mullan playing an as-yet-unnamed role, and no doubt bringing his signature intensity to the proceedings. Filling out Cursed's mythological cast is Devon Terrell (Barry) as young Arthur, Gustaf Skarsgård (Vikings) as the legendary wizard Merlin, Sebastian Armesto (Harlots) as King Uther Pendragon, and Matt Stokoe (Bodyguard) as Gawain. 
Some of those names might seem more familiar than other, but we can assure you they'll make for an intriguing ensemble on the first season of Cursed.

What is the plot of Netflix's Cursed?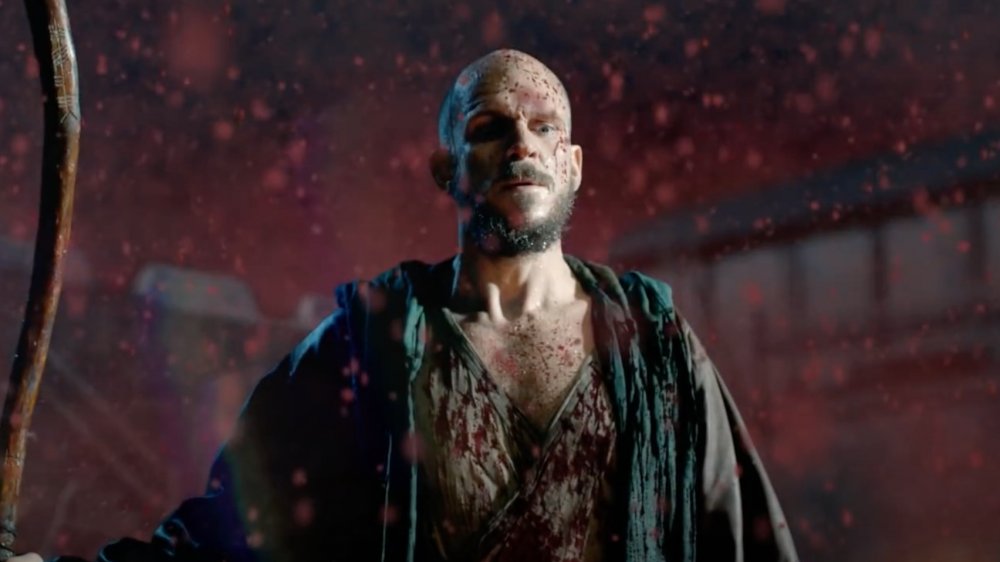 Netflix
Regarding the plot of Cursed, we can say that, if you're at all familiar with Arthurian legend, you know the ancient sword at the center of the story is Excalibur. Even if Arthurian legend isn't really your bag, however, you might be familiar with Cursed's narrative via another medium. The series is actually based on a graphic novel of the same name penned by iconic comic book scribe Frank Miller (Sin City, Batman: Year One, 300), who adapted Cursed for Netflix alongside the book's co-creator, Tom Wheeler.
As mentioned, Cursed is primarily focused on Langford's Nimue, who's fated to become the enchantress known as the "Lady of the Lake," herself central to King Arthur earning access to Excalibur in some versions of his tale. Cursed flips the narrative a bit on classic Arthurian lore, instead positing Nimue as a powerful young sorceress ordered by her mother to unite the magical sword with the powerful wizard Merlin. Teaming with a young mercenary named Arthur, Nimue sets out to do just that. Along the way, it's revealed Nimue herself is the one chosen to wield the sword in battle, and the story proceeds as such.
With the wild mind of Frank Miller guiding the action in Cursed, there's little question Nimue's journey will be a brutal, and likely a jaw-droppingly gorgeous sight to behold.   
Is there a trailer for Netflix's Cursed?
In case there were any worries about Cursed's narrative edginess or lavish production design, Netflix more than put them to rest with the release of the series' official trailer. And the action-packed trailer for Cursed leaves little question about either, opening with vividly-depicted images of caped men violently laying waste to seemingly innocent villagers over a percussive score. Those images are accompanied by a voice-over proclaiming, "They came while we slept, to cleanse the world of our kind," before cutting to an image of Merlin standing before a sword in a stone in a downpour of blood. 
The sword transports us to a different scene, one of a man picking it from the ground and facing a charging foe, only to be quickly cut down. He falls into a lake, from which Langford's Nimue quickly rises wielding the sword herself, and preparing for battle. This scene continues the voice-over, adding "The legend says this sword belongs to the one, true king. But what if the sword chooses a Queen?"
It's absolutely thrilling stuff, to be certain, and it should more than get the blood pumping for folks in dire need of a sword-swinging fantasy fix. Cursed's trailer also ably sets the tone for the magic-bound madness to come, and that madness really can't get here soon enough.