The Best Pirate Movies Ever Made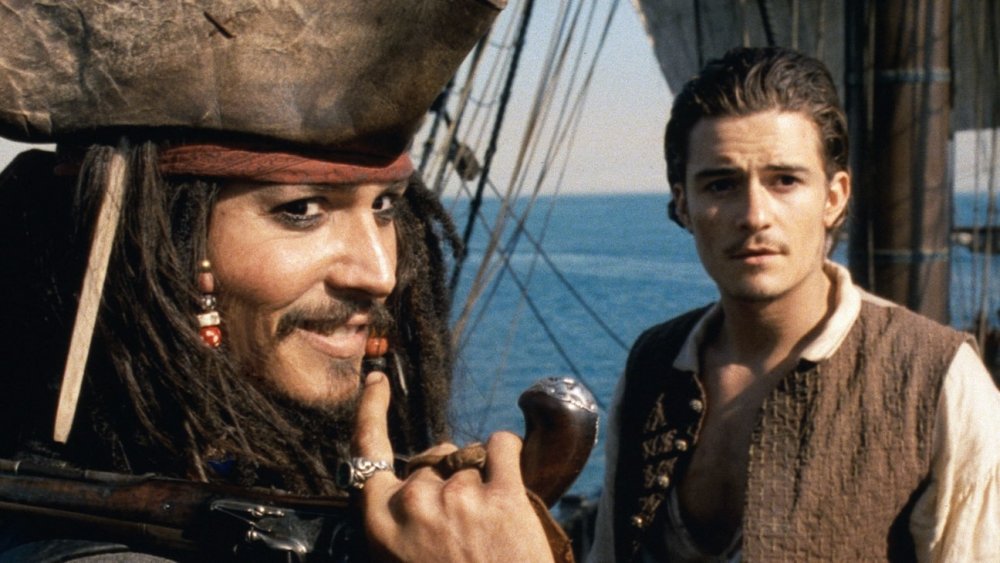 When the Pirates of the Caribbean franchise first hit the big screen back in 2003, a new generation of moviegoers became enamored with the idea of living a pirate's life. Sure, it's far less glamorous and exciting in reality, but the movies sure make it look like a swashbuckling adventure. Legends of famous pirates like Blackbeard have always fascinated the public: There's something about the thought of living a life without regard for the rules that draws people to these tales. A ship, a crew, and the wide, wild ocean — it's all you need for the good life, according to pirate movies.
There's more to the fantastic world of pirate films than the infamous Jack Sparrow, however. From the classic films of the 1930s to modern tales of sea-swept adventure, there's a pirate film for everyone. These are the greatest pirate movies of all time — eye patch and talking parrot not required.
The Crimson Pirate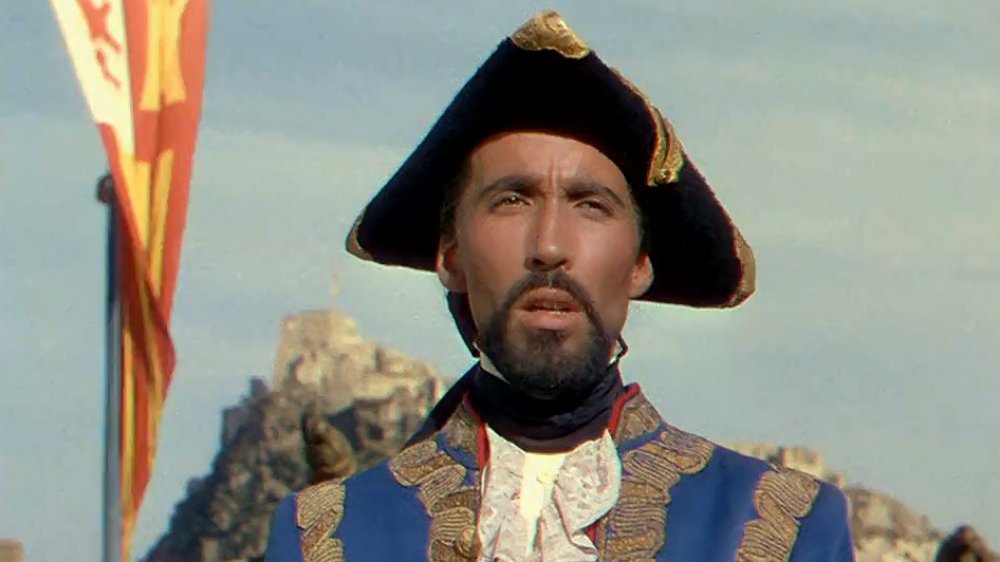 Pirate movies saw major success in the 1950s. While they didn't have the fancy special effects and CGI that modern directors have at their disposal, adventure films like The Crimson Pirate still provide the viewer with thrilling escapism, clever action sequences, and scallywags worth rooting for.
The Crimson Pirate begins with the Caribbean pirate Captain Vallo and his crew capturing a ship that belongs to the King's navy. Little does Vallo know that he's about to get his crew tangled up in a rebellion against the monarchy on the island of Cobra, where the ship was headed. Vallo immediately begins scheming, and comes up with a plan to sell weapons to the rebels on the island. In time, however, he's persuaded into abducting their leader, El Libre, in exchange for a reward instead. Another twist quickly complicates things: Upon arrival at Cobra, Vallo begins falling for El Libre's daughter. Bursting with romance, comedy, and plenty of action, The Crimson Pirate has everything you could want in a pirate film.
The Sea Hawk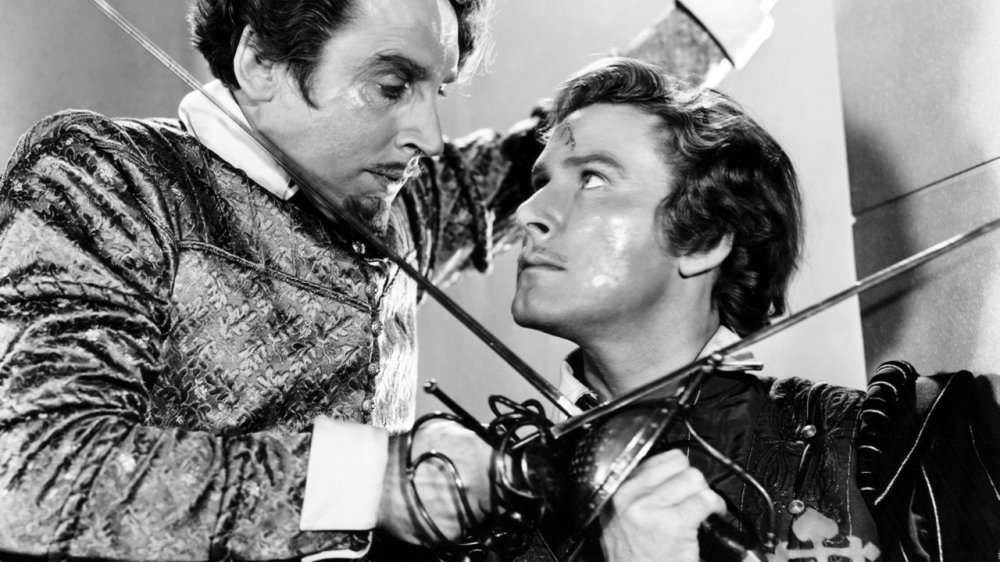 If you're looking for an action-packed pirate movie with a plot grounded in historical events, look no further than 1940's The Sea Hawk. In the midst of the Elizabethan era, King Phillip II of Spain wants to expand his empire by attacking England. He moves forward with plans to begin building a massive armada capable of defeating England's armies, and takes great pains to hide his mission from Queen Elizabeth I. He sends a ship carrying his ambassador, Don Alvarez, to England to mislead her, which is captured by Geoffrey Thorpe, a privateer and captain of the Albatross. This wouldn't be a pirate movie without a forbidden romance, and naturally, Thorpe falls for Alvarez's niece, Dona Maria. Torn between his love for Dona Maria and his duty to the crown, Thorpe must decide where his true loyalties lie.
This film definitely paints the British side in an explicitly positive light, so it's not exactly the most nuanced portrayal of the events that transpired. But as long as you keep in mind that it's not a documentary, you'll certainly be entertained, and you'll probably pick up on a few interesting historical facts while watching.
Treasure Island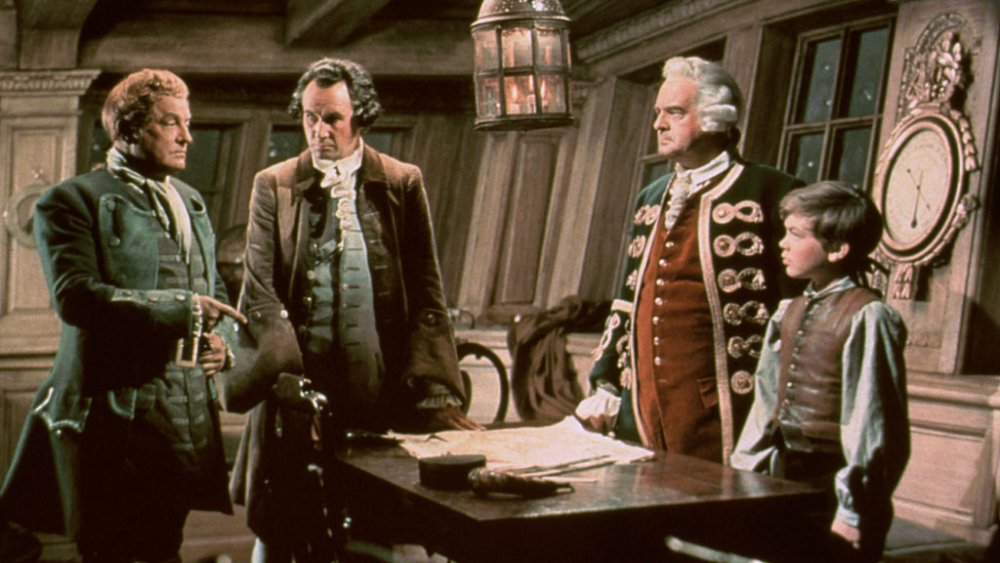 Robert Louis Stevenson's beloved novel Treasure Island has been adapted for the screen several times. However, Disney's 1950 adaptation, which was actually the first completely live-action film produced by the studio, definitely stands out. It's a classic family film, as entertaining to kids as it is to adults. After all, what child doesn't dream of discovering buried treasure, and what adult doesn't grow nostalgic in remembering that very same dream?
When a young boy named Jim Hawkins comes into possession of a pirate's mysterious treasure map, he's determined to find out what's buried deep below the sand. But he can't get to the faraway island on the map on his own — he's going to need a little assistance. With the help of Dr. Livesey, Squire Trelawney, and even the notorious pirate Long John Silver signing on to join his makeshift crew, Hawkins makes his way to Treasure Island aboard the Hispaniola. But Hawkins and his crew aren't the only people after the treasure. Everyone wants a piece of it — and there's no telling what they'll do to get their hands on those fabled riches.
Captain Phillips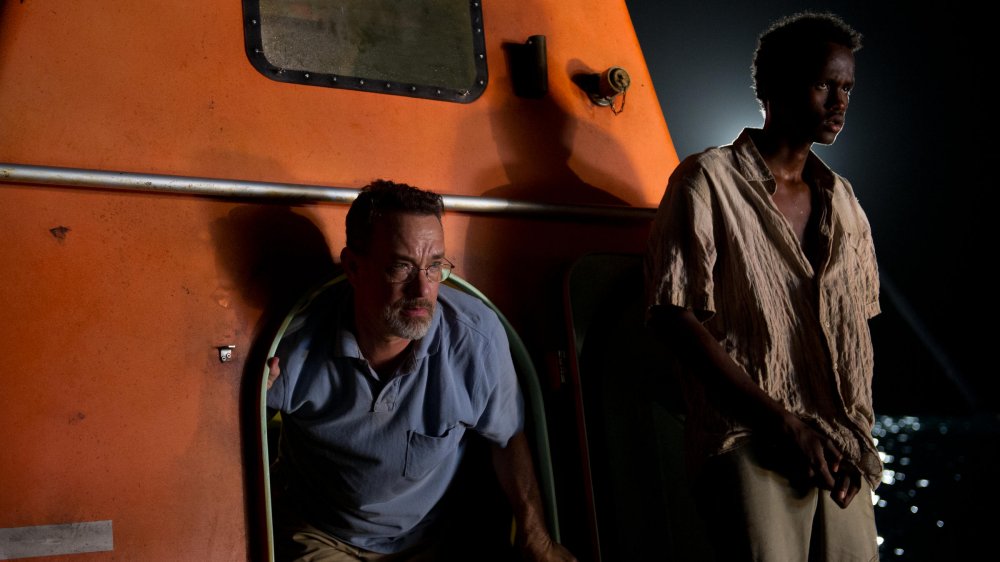 Captain Phillips is not your typical pirate movie set in a bygone era of sail — in fact, this film is based on relatively recent events. This biographical thriller tells the story of the 2009 Maersk Alabama hijacking, which occurred in the waters of the Indian Ocean, off the coast of Somalia. Four pirates boarded and seized the ship, eventually taking Captain Richard Phillips as their hostage.
While many other pirate films occasionally explore the dark side of piracy, this movie does not gloss over the reality at all. Captain Phillips shows modern-day piracy for what it really is, and you'll come away from it feeling shocked at what the real-life Captain Phillips and his crew had to endure.
Captain Phillips was praised for its strong acting, particularly in regards to Tom Hanks' performance as Phillips and newcomer Barkhad Abdi's role as Abduwali Muse, the leader of the pirates. The film was a huge critical success, receiving six Academy Award nominations, including Best Picture.
A High Wind in Jamaica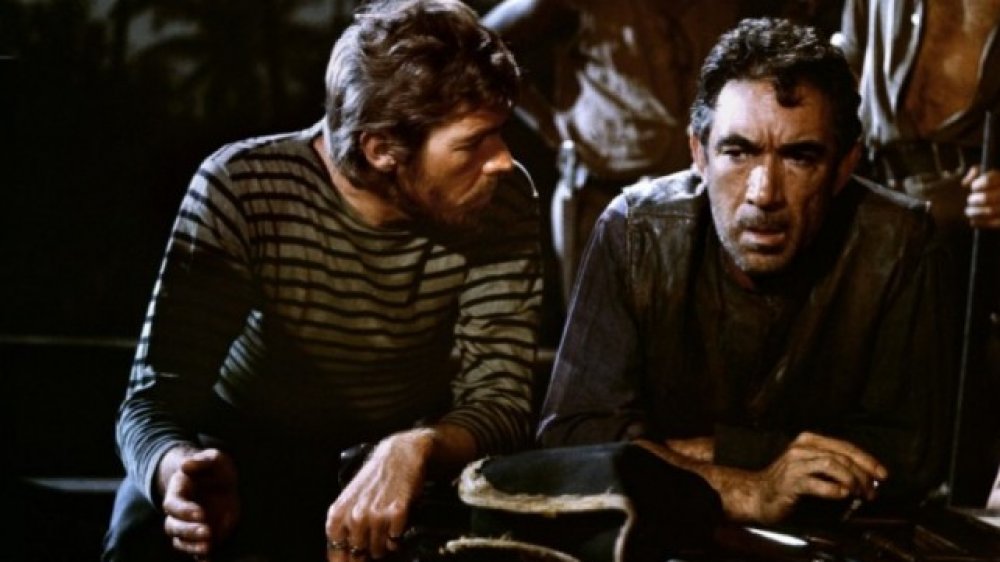 Based on Richard Hughes' novel of the same name, A High Wind in Jamaica is an old-fashioned pirate adventure. The year is 1870, and a hurricane has made landfall in Jamaica. A British couple living on the island with their five children decide that it's finally time to send their kids to England for a proper education, fearing that they will grow up "uncivilized" if they stay in Jamaica.
But the voyage across the Atlantic doesn't exactly go off without a hitch. When their ship is boarded by pirates, the children become confused in the midst of all of the commotion and accidentally end up on the pirate ship. Naturally, the pirates want nothing to do with them, and try to figure out a place where they can leave the kids behind without raising suspicion. But everything changes when tragedy strikes, and suddenly, the pirates undergo a change of heart. Perhaps it's the colorful costumes and settings that give this film a dreamlike quality, perhaps it's the presence of altruistic pirates. Regardless, A High Wind in Jamaica will sweep you away to another time and place.
Hook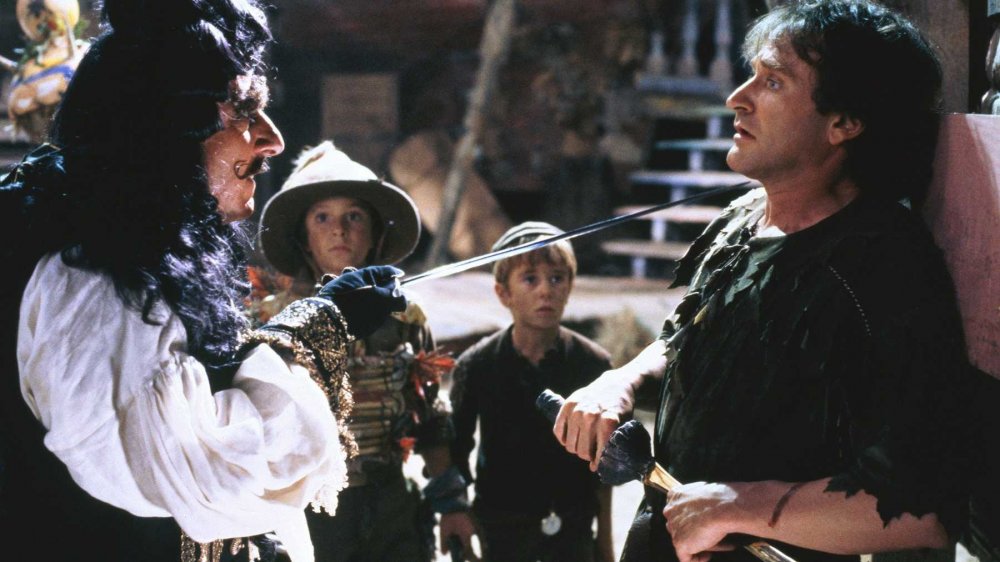 1991's Hook is director Steven Spielberg's fresh take on the classic story of Peter Pan. You may remember that Peter Pan never wanted to grow up — but what would happen if he had to leave Neverland and settle down into a normal, adult life? That's exactly what Hook examines, to adventurous and surprisingly heartfelt effect.
In Hook, Robin Williams stars as Peter Banning, a man who has forgotten all about his childhood as Peter Pan in Neverland. He is married to Wendy's granddaughter, Moira, and the couple have two children. He's had quite a successful career as a lawyer, but he spends far too much time working, and he's lost his imaginative spark. Everything changes with the return of an enemy from his past: Captain Hook, back on the prowl. After Peter and Moira go out one evening to have dinner with elderly Wendy, they return home to find that their children are missing, and the only clue to their whereabouts is a ransom note left by none other than the fearsome pirate captain. It's time for Peter to return to Neverland, find his children, and rediscover who he really is.
The Buccaneer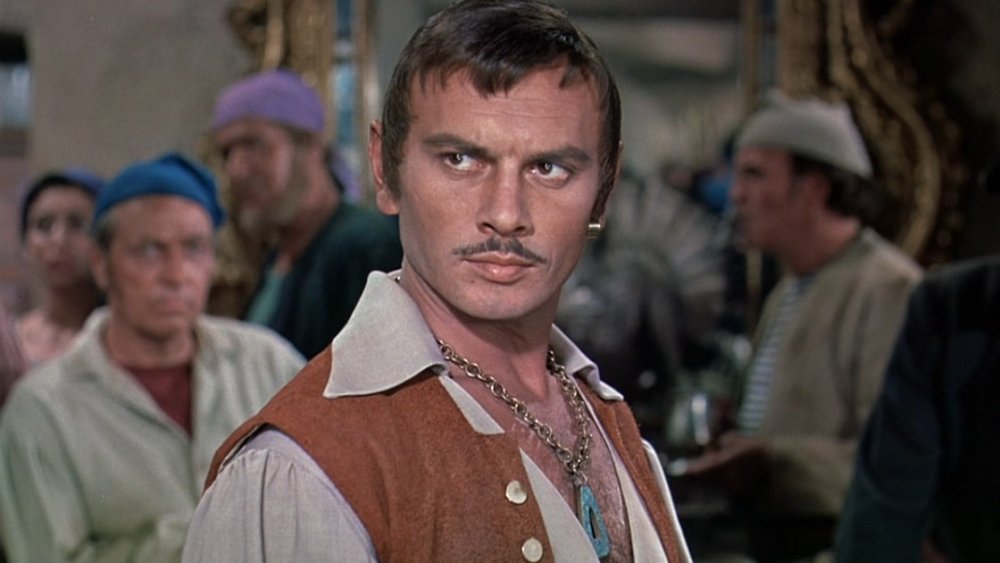 If you're interested in historical fiction and war movies, The Buccaneer is the perfect pirate film for you. The Buccaneer is set during the War of 1812, and tells the tale of the privateer Jean Lafitte, who took part in the Battle of New Orleans.
With a massive British fleet closing in on New Orleans, Andrew Jackson is left with a relatively small army of Americans to defend the city. He knows that he can only beat the British back by utilizing every tactical advantage he's got. Taking control of a nearby island could prove to be the winning strategy for either army, but it's under the command of the buccaneer Jean Lafitte. As both sides work to win his loyalty, Lafitte is torn. He wants to support the Americans, but will he ally with the British instead because of their likely victory?
Keep in mind, this movie is definitely a highly fictionalized version of the history it depicts, so take everything you see with a grain of salt. Still, it explores events in American history that many people don't know much about, and it's definitely a wild ride. 
The Goonies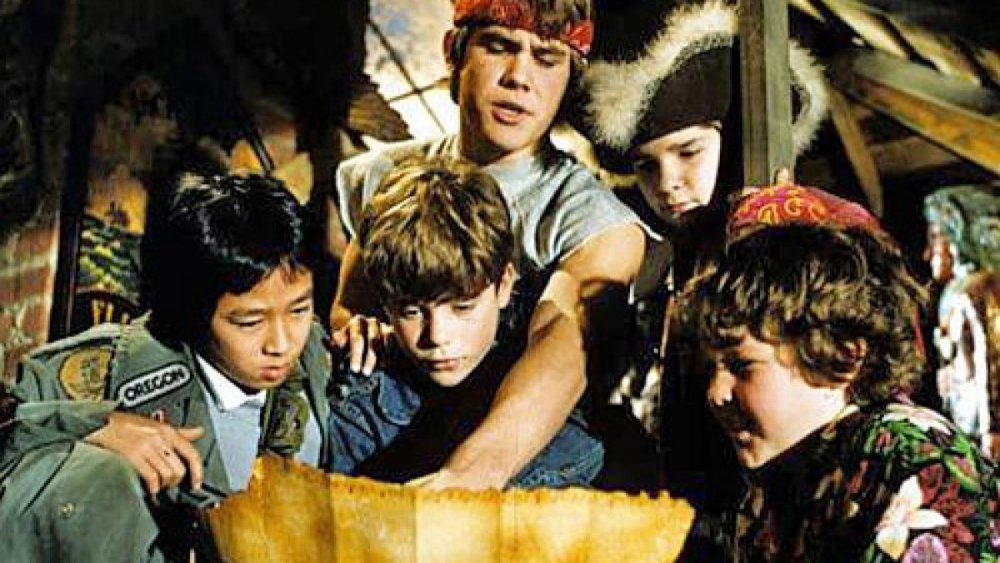 The Goonies may not be a traditional pirate movie, but if you've never seen this classic 1985 comedy flick, rest assured that it does involve a hunt for buried treasure, a pirate ship, and even a walk down the plank.
A group of five friends who live in a neighborhood known as the Goon Docks refer to themselves as "the Goonies." When they find out that wealthy property developers plan to foreclose on their homes in order to expand a local country club, they're not very optimistic about their community's chances. But in an unexpected turn of events, they happen to find an old map that could possibly lead them to the famous pirate "One-Eyed" Willy's hidden treasure. The Goonies aren't the only ones on the hunt, however, and it's a race against time to see if they can scrounge up enough treasure to save their neighborhood.
Pirates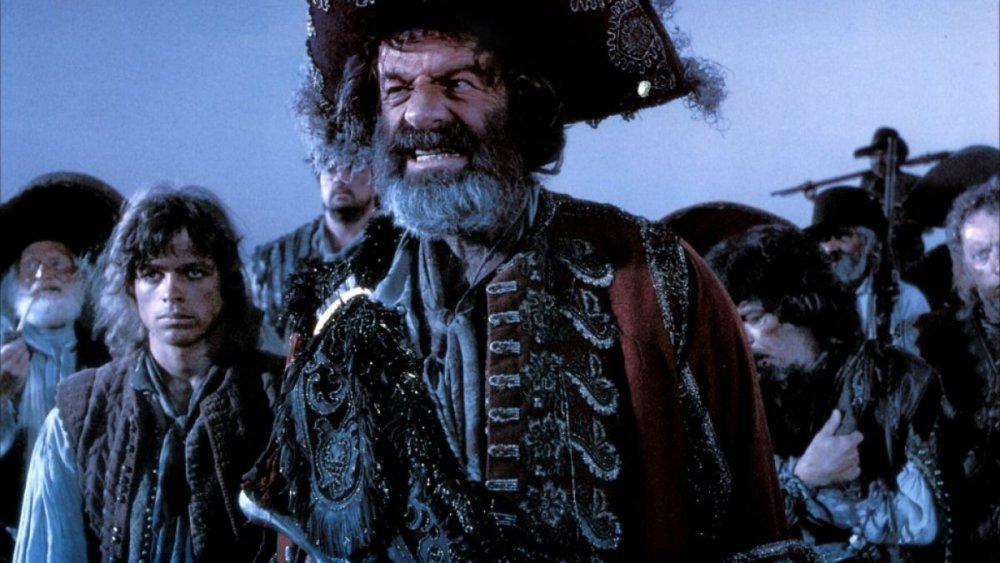 1986's Pirates begins with two men in a serious predicament: Captain Red, an English pirate with a formidable reputation, and Jean-Baptiste, AKA "Frog," the teenage cabin-boy from his ship, are floating on a raft in the open ocean with no supplies. Luckily, they are picked up by the Neptune, a Spanish ship heading back to Spain. They're saved! Right?
Not so fast. Once they get on board, they find that they have stumbled onto a ship in serious turmoil. Red and Frog discover that the ship's former cook was accused of poisoning Captain Linares, all because he wanted the treasure in the hold for himself, which just so happens to include a golden throne stolen from the king of the Aztecs. Hearing this gives Red a few ideas of his own, and he decides that he'll do whatever it takes to get that throne. When he eventually takes command of the ship, the adventure truly begins. Romance, double-crosses, and incredible action sequences ensue.
Captain Blood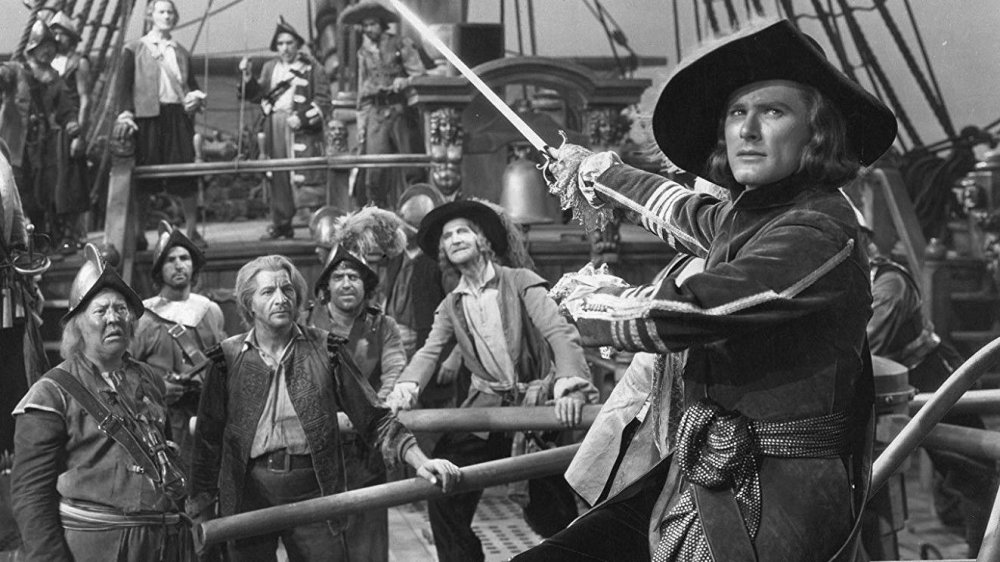 Captain Blood, a 1935 pirate film based on Rafael Sabatini's novel of the same name, established actor Errol Flynn as a bonafide superstar. Shot in black and white, it may not be quite as colorful as your average modern pirate film, but the story is so engaging that you'll barely notice the difference.
Flynn stars as Irish doctor Peter Blood, who is arrested after assisting a man who participated in the Monmouth Rebellion. The rebels were attempting to overthrow King James II, who rules over England, Scotland, and Ireland. Blood is convicted of treason against the king, and as a result, he is sentenced to death. He has an opportunity to escape, however, when the king decides to send Blood and a small group of rebels to the West Indies to be sold into slavery instead. After being purchased by a military commander's niece, he and his fellow rebels seize a Spanish ship, and Captain Blood's new life as a pirate begins. It's as exciting today as it was in 1935.
The Black Swan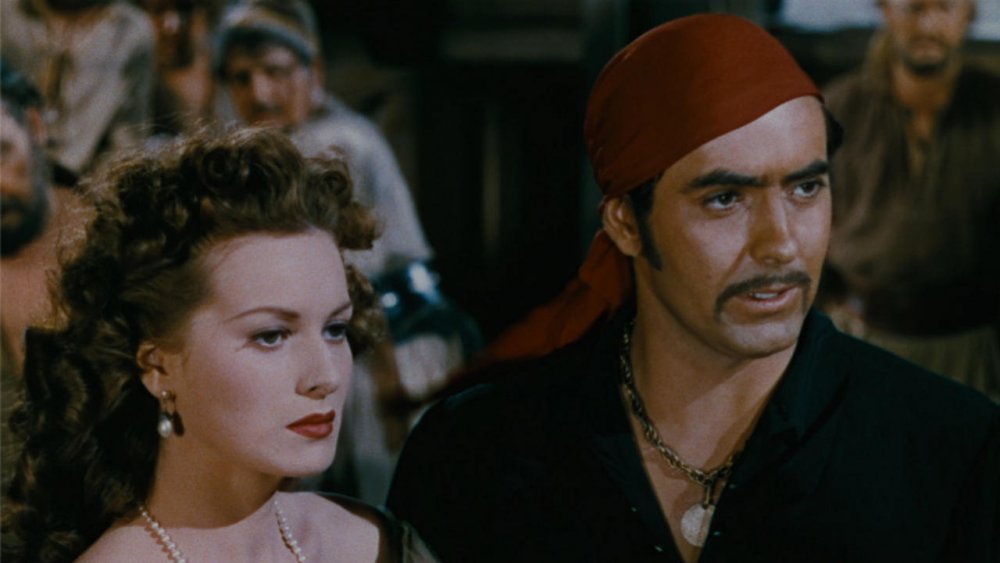 This 1942 pirate movie was praised for its stunning visuals at a time when many films were still shot solely in black-and-white. The Black Swan actually won an Academy Award that no longer exists today: Best Cinematography, Color. Coincidentally, The Black Swan is also based on a novel of the same name by none other than author Rafael Sabatini, who wrote Captain Blood.
The Black Swan kicks off with former pirate Henry Morgan deciding to say goodbye to his criminal past as England and Spain come to a peace agreement. In exchange for his commitment to reforming, he is handsomely rewarded by being appointed the new Governor of Jamaica. But there's one catch — his new job involves kicking all of his former "comrades" out of the Caribbean, and if they won't cooperate with his demands, he'll have to resort to force. Can this pirate really "retire" and leave his old habits behind? And what will happen now that Morgan must turn against the men he once plundered the seas with?
Pirates of the Caribbean: The Curse of the Black Pearl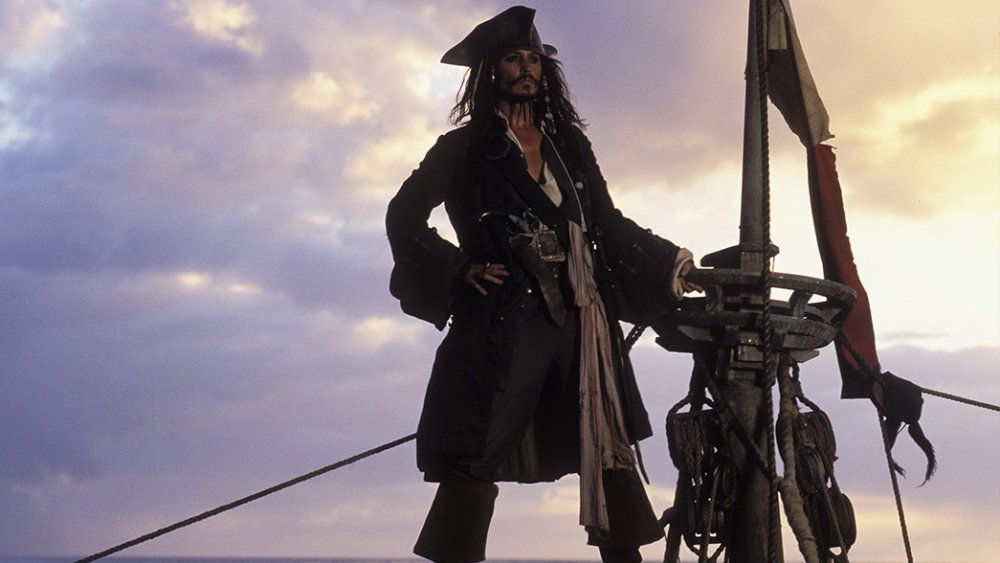 It's still hard to believe that a series of films based on a ride at Disneyland could become such a phenomenon, but the Pirates of the Caribbean franchise was indeed a massive hit with moviegoers of all ages. The first installment, 2003's Curse of the Black Pearl, introduced audiences to the iconic Captain Jack Sparrow, and in so doing, changed pirate movies forever.
While en route to Jamaica with his daughter Elizabeth, Governor Swann and his small crew rescue a young shipwreck survivor named Will Turner. Elizabeth notices that he is wearing a pirate medallion around his neck, and she decides to keep it so that no one else will discover his secret.
Years later, when Captain Jack Sparrow steps off the mast of his sinking ship onto the docks of Port Royal, he rescues Elizabeth from drowning. But when she fell into the water, her medallion alerted the doomed, undead crew of the Black Pearl to her presence. Now, Elizabeth and Will are caught up in breaking an ancient curse, and there's no telling if they'll make it out alive. This is where the franchise begins, and it still boasts some of its finest, funniest, and most exciting sequences.