This Is Robert Downey Jr.'s Most Underrated Movie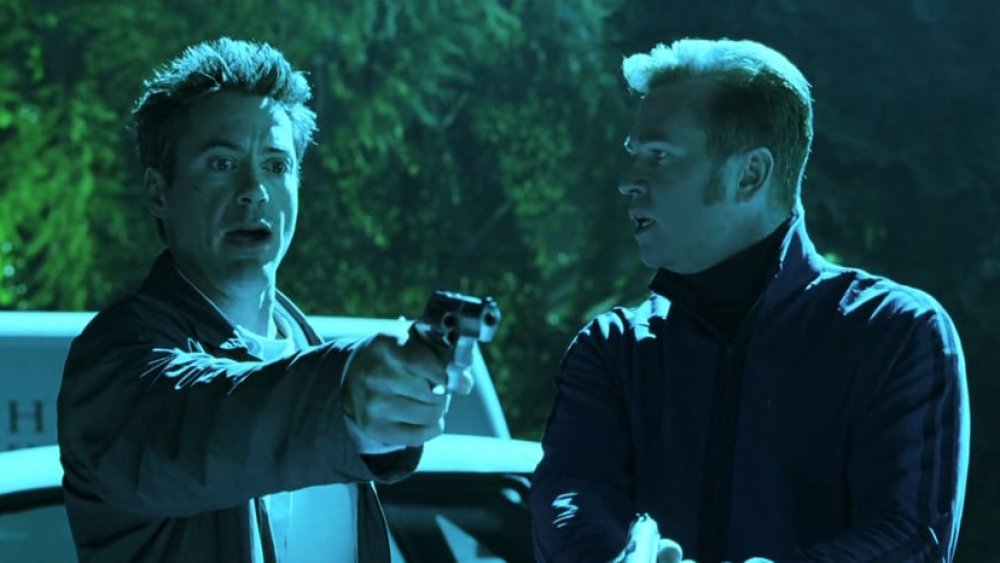 Warner Bros. Pictures
Typically, there aren't many happy endings when people spiral into the perilous world of addiction, even in Hollywood  While he's become one of the most beloved actors in the world after his decade-plus run as Iron Man in the Marvel Cinematic Universe, there was a time when many wondered not only if Robert Downey Jr. would ever find favor in Tinseltown again, but if he'd even survive his own very public struggles with substance abuse. 
The actor shot to fame in the '80s on the strength scene-stealing turns in dramas and comedies, alike. Through the early '90s, RDJ was hailed as one of the most promising young talents in Hollywood, even earning a Best Actor Academy Award nomination for his work in the biographical drama Chaplin. Many believed this bravura turn as the legendary silent film star to be the first of many award-worthy performances to come. While the actor continued to deliver solid work on the big screen throughout the '90s, however, his off-screen issues continued to make him a risky hire in the eyes of most producers.
After losing his Golden Globe-winning gig on Alley McBeal in the early 2000s, Downey Jr. was deemed all but unemployable. He finally got himself sober in 2003, however, and quickly set out to rebuild his professional reputation. He did so by delivering some of the best performances of his career in smaller-scale movies like 2003's The Singing Detective and David Fincher's masterful 2007 thriller, Zodiac. It was Shane Black's bleak, beautiful, and absolutely hilarious crime thriller Kiss Kiss Bang Bang, however, that really signaled to Hollywood's elite that Robert Downey Jr. was back. Oddly enough, the 2005 film remains the most underrated efforts in RDJ's post-addiction oeuvre – which, of course, means it's rife for discovery, or re-discovery, by any and all comers.
Kiss Kiss Bang Bang deserves better than cult classic status
Warner Bros. Pictures
Even if you haven't seen Kiss Kiss Bang Bang, you've probably still heard about it, because it's the sort of movie people can't stop talking about after they have seen it. Don't worry if you missed it in theaters, though, because most people did. That's likely  because Warner Bros., presumably unsure how to market a film starring a recovering problem child in RDJ and a fading heartthrob in Val Kilmer, essentially banished Kiss Kiss Bang Bang to video markets after a shamefully limited theatrical run.
Still, Black's pitch-perfect neo-noir comedy has developed legit cult classic status in the years since via overwhelmingly positive word-of-mouth. As for RDJ, Kiss Kiss Bang Bang was such a positive experience, he actually lobbied Marvel to bring Black aboard for the MCU's trilogy-capping Iron Man 3.
While Iron Man 3's status in the MCU continues to be debated, the duo's Kiss Kiss Bang Bang collaboration remains a highlight for both. Equal parts crackerjack murder mystery, lively buddy cop comedy, and incisive exploration of the fleeting perversity of showbiz, the film (Black's first foray as director) sees Downey Jr. portraying petty criminal Harry, who unexpectedly becomes a cog in the Hollywood machine when he's offered an audition for a major movie. Once in L.A., he's paired with a private detective (Kilmer) who's tasked with training him for the role.
The plot cleverly thickens when a late-night training session finds the duo witnessing a body being dumped, and when Harry's high school flame (Michelle Monaghan) enters the picture. We'd like to say more about Kiss Kiss Bang Bang, but you'll enjoy it all the better the less you know going in. Just be aware it features some vintage Shane Black scripting throughout (see also: Lethal Weapon and The Nice Guys), and a sparkling performance from Robert Downy Jr. that makes such marvelous use of his affably egoistic charm, it almost feels like a tune-up for his iconic work as Tony Stark.