Scarface Reboot - What We Know So Far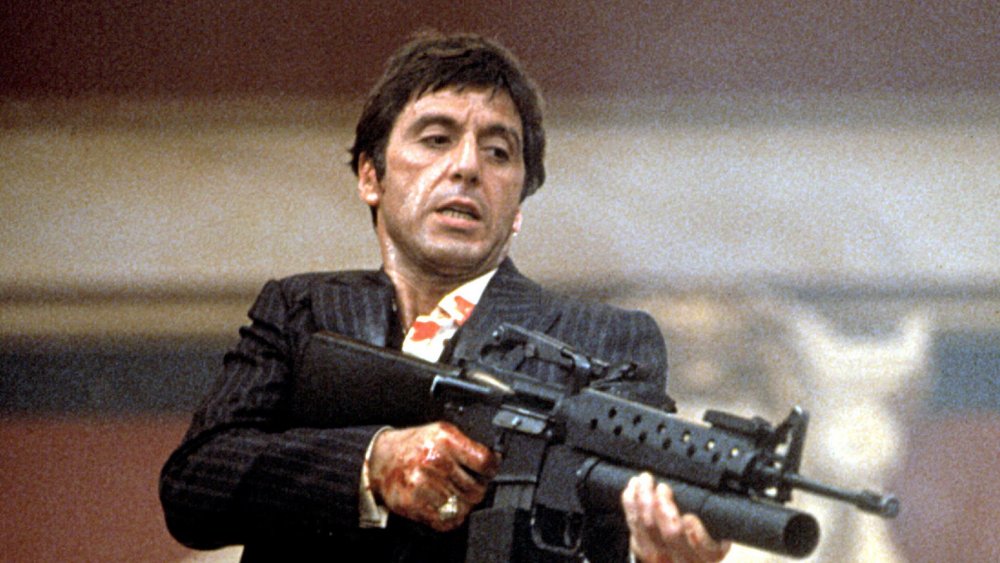 Universal Pictures
Universal Pictures has been keen on getting a new version of Scarface before cameras for some time now, but it hasn't been an easy road. Retelling the incendiary story of an immigrant, a small-time hood, who comes to America to rise to the top of his local drug trade was always going to be a tricky proposition, but remaking the 1983 Al Pacino-starring classic (which is itself a remake of the 1932 original) has proven to be more complicated than expected.
First, there were concerns over the script, which was penned by David Ayer, Jonathan Herman, and the legendary Joel and Ethan Coen; wary of having the immigrant story come under fire for cultural insensitivity, a pass was taken by Mexico-born scribe Gareth Dunnet-Alcocer, who wrote last year's Miss Bala. Then, the director's chair refused to stay filled. Ayer, originally slated to direct, departed in 2017, and Universal spent some time dancing around Antoine Fuqua, a pursuit which ended up going nowhere.

Actor Diego Luna, who had been attached to the project for years, also recently bowed out, leading to questions about whether the flick would be made at all. But with the recent hiring of director Luca Guadagnino (Suspiria), the production is back on track — and hopefully, there will be no further derailings as the blood-soaked tale barrels toward theaters. Here's everything we know so far about the Scarface reboot.
What is the release date for the Scarface reboot?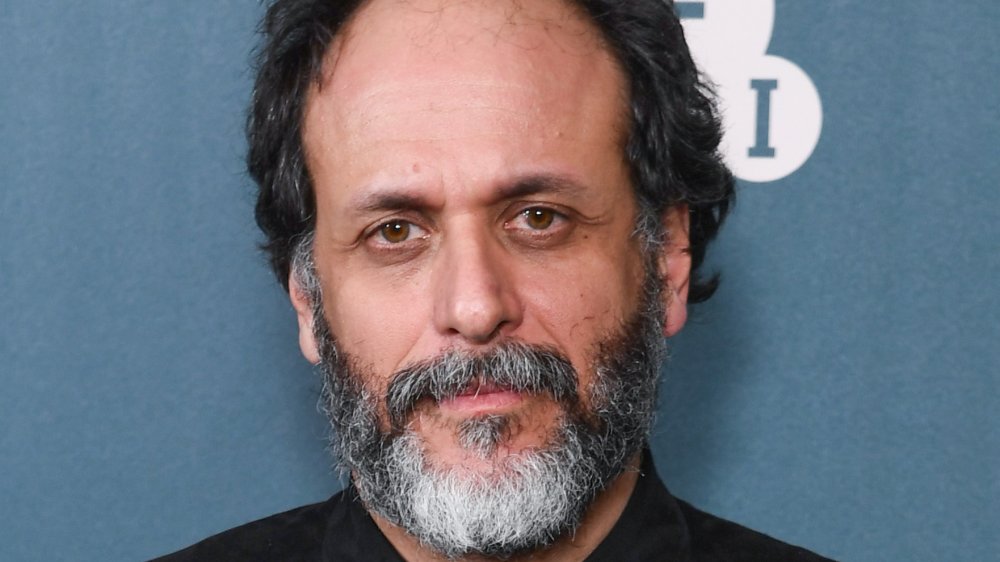 Gareth Cattermole/Getty Images
While we don't yet have an official release date for Scarface, we can probably expect to get one sooner rather than later now that Guadagnino has been hired. Assuming that the game of musical directors stops, Guadagnino's first order of business will be to start casting — and if Hollywood studios are able to resume business as usual in the coming months, the project could go before the cameras as soon as early next year.
Of course, there's then likely to be a three- to four-month shoot, followed by a post-production period in the neighborhood of eight months to a year. Taking all of that into account, we wouldn't expect to see Scarface hit theaters anytime before the spring or summer of 2022, and it wouldn't necessarily shock us if it ended up taking even longer than that for the flick to reach the screen.
Who is in the cast of the Scarface reboot?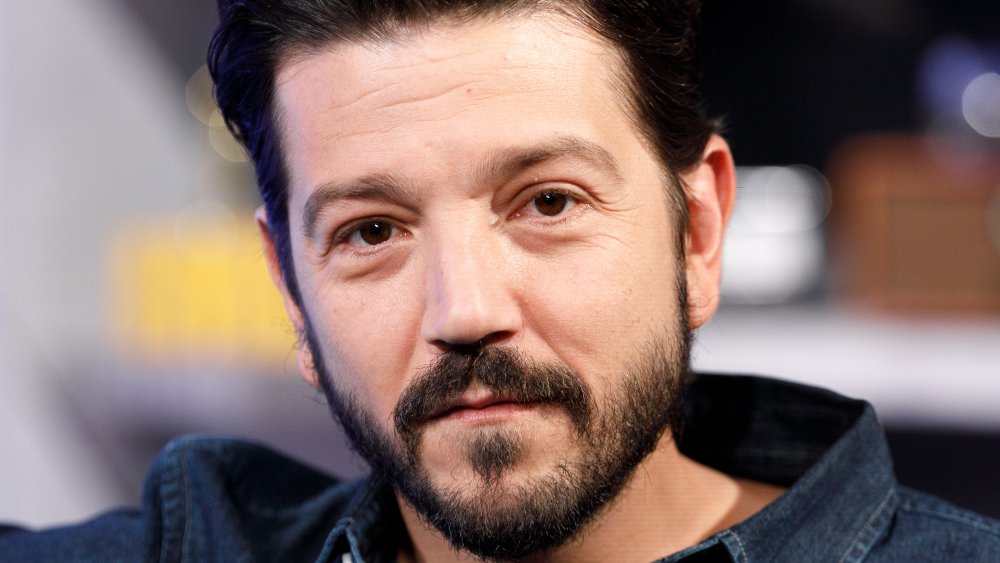 Rich Polk/Getty Images
With Diego Luna having departed, we now have no idea who could possibly be taking on the iconic role of Tony Montana, and there has been absolutely no word as of yet as to who else Guadagnino and Universal might be eyeing for the cast. We certainly have a few ideas as to who we would like to see, though, and you know us — we're not shy with our opinions.
We think the studio could do a lot worse than to bring in Pedro Pascal, he of Game of Thrones, Narcos, and The Mandalorian. Pascal is in pretty high demand, and season 3 of The Mandalorian is already in the works — but if the actor could make it work with his busy schedule, that would be dream casting. Another interesting possibility: Gael García Bernal, star of The Motorcycle Diaries and the Amazon series Mozart in the Jungle. Or, consider our dark horse contender: Michael Peña, who is best-known for playing Ant-Man's motor-mouthed buddy Luis in the Marvel Cinematic Universe, but who has proven to have dramatic chops aplenty with his lead role on the first season of the Netflix series Narcos: Mexico.
Only time will tell who scores the lead and who Guadagnino fills out the rest of his cast with, but we know one thing: the newest version of Scarface will follow in the footsteps of the 1983 version in one important way.

What is the plot of the Scarface reboot?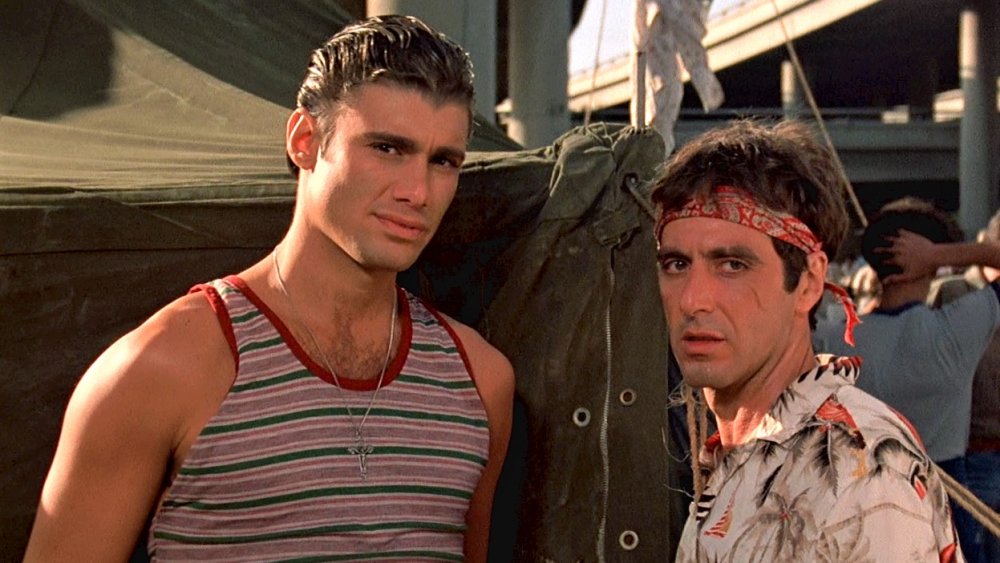 Universal Pictures
The new Scarface will be a remake in the same way that the 1983 film was; that is to say, it will build on the core narrative of a two-bit criminal immigrating to the U.S. and pursuing a dark, twisted version of the American Dream with his right-hand man by his side (via Vibe). In the original 1932 film, this was an Italian immigrant named Tony Camonte who rose through the ranks of the Chicago underworld. Pacino's version was, of course, a Cuban named Tony Montana who grew his criminal empire in Miami.
For the new film, the story will be transposed to Los Angeles, and its main character will be Mexican (but presumably still named Tony Montana). We can expect a few of the same character archetypes that are featured in both films: the crime boss who mentors Tony, only to betray and be murdered by him; that boss' younger sister of whom Tony is extremely overprotective in a downright creepy way; and the best friend who dooms himself by secretly marrying said sister.
But while it will certainly hit some of the same beats as both previous versions, we can also expect Guadagnino to offer something of a fresh take on the material, like he did with his excellent remake of the horror classic Suspiria. Hopefully, we'll get more details on Scarface in the coming months as production ramps up. You may want to bookmark this page, because we'll be updating it with all the news that's fit to report as soon as it becomes available.