The Best Westerns You Can Watch On Netflix Right Now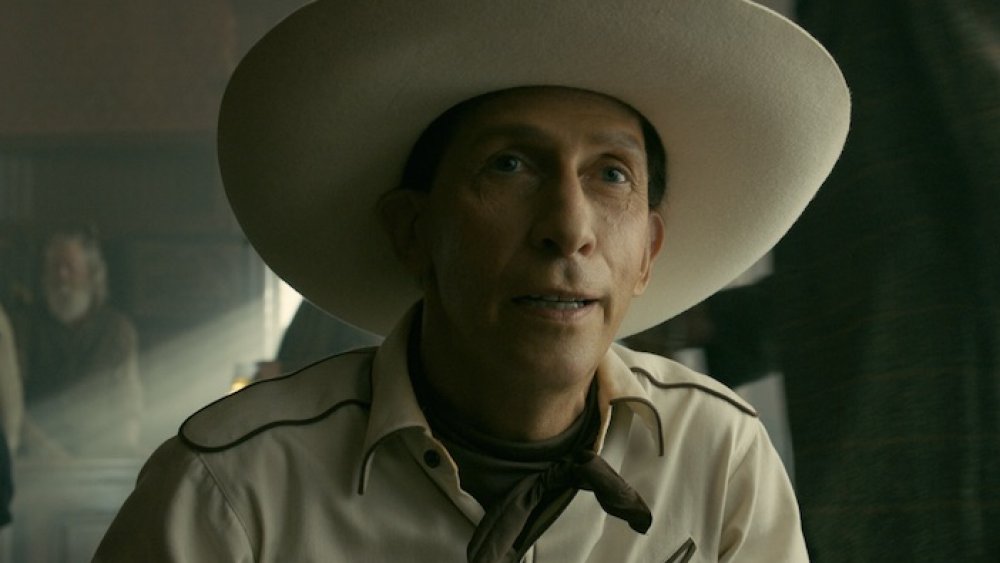 The Western is a classic movie genre, one that filmmakers have been working with since the days of silent movies. Some of the best Hollywood has to offer is set in America's western frontier. But if you're a fan of the genre, it can be a lot tougher to find new stuff to sate your appetite for desperate six gun shoot-outs. For a variety of reasons, Hollywood makes a lot fewer Westerns than it used to. 
Thankfully, Netflix offers Westerns old and new for its subscribers. The streaming service has a diverse offering of great Westerns, including anthologies, modern Westerns, comedies, and even Westerns mashed up with other genres like science fiction. Fans of more classic fare can find their favorites on Netflix, as can those more curious about Westerns produced in the 21st century. 
For our money, here are the best Westerns you can watch on Netflix right now. 
Hostiles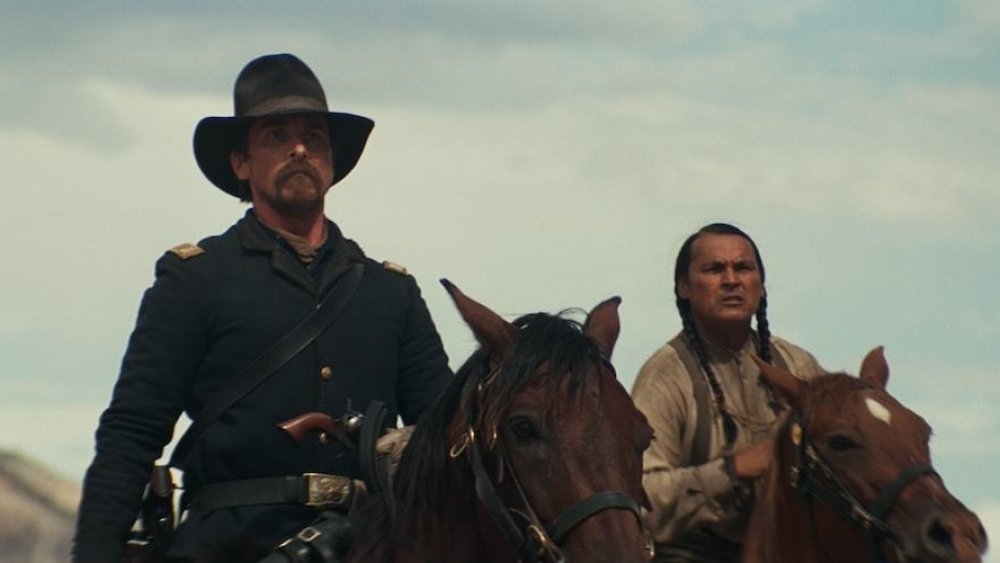 In 2018's Hostiles, Captain Joseph Blocker (Christian Bale) is given the last assignment he could possibly want. While still seething with hatred after years of conflict with Native Americans, Blocker is ordered to escort the dying Cheyenne chief Yellow Hawk (Wes Studi) to Montana. He agrees only because the alternative is getting booted out of the army. Later, they're joined by Rosalie Quaid (Rosamund Pike), whose family has been slaughtered by Comanche warriors.
Directed and co-written by Scott Cooper — best known for directing 2009's award-magnet Crazy Heart — Hostiles is a powerful drama. Far more than a shoot-em-up, Hostiles is more about a nation and a people in a painful transition. Set in the 1890's, the film features characters who have fueled themselves with fury and loathing for years, only to find themselves with the choice to either continue their cycle of hate and violence in defiance of a changing world, or to make the more difficult choice of learning to see old enemies through new eyes. 
Along with top-tier acting (particularly from Pike's portrayal of the grief-stricken Rosalie), Hostiles features gorgeous cinematography and a sweeping soundtrack, including Ryan Bingham's "How Shall a Sparrow Fly." 
The Ballad of Lefty Brown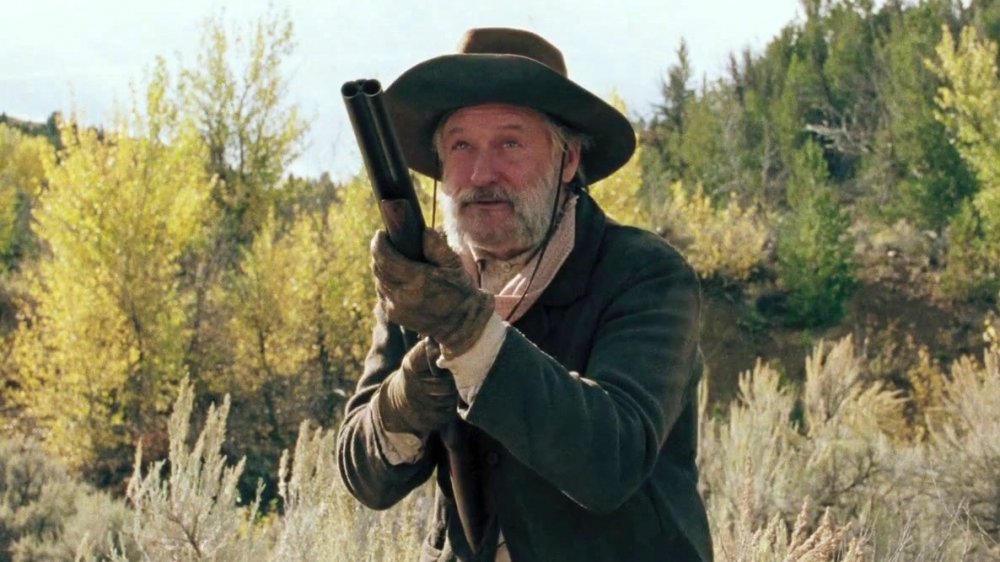 What happens when the sidekick becomes the hero? That's what Bill Pullman's second-string lawman finds out in The Ballad of Lefty Brown. Bill Pullman plays Lefty, named by newly-elected Senator Edward Johnson (Peter Fonda) as his successor when he leaves for his post in Washington D.C. After Johnson is murdered, the unprepared Lefty is thrust into the role of hero in order to get revenge and justice for the death of his partner. 
The Ballad of Lefty Brown is a great Western that is part tribute to the history of the genre. The film includes callbacks to earlier classics like 1956's The Searchers and 1959's Rio Bravo, with Fonda's Johnson coming off like a John Wayne impersonation. The indie Western gives us a too-rare chance to see Pullman in a leading performance, and as usual he's a joy to watch. With quick, suspenseful shootouts and beautiful photography that makes great use of the Montana landscape, The Ballad of Lefty Brown is a must-see for any Western fan. 
Once Upon a Time in the West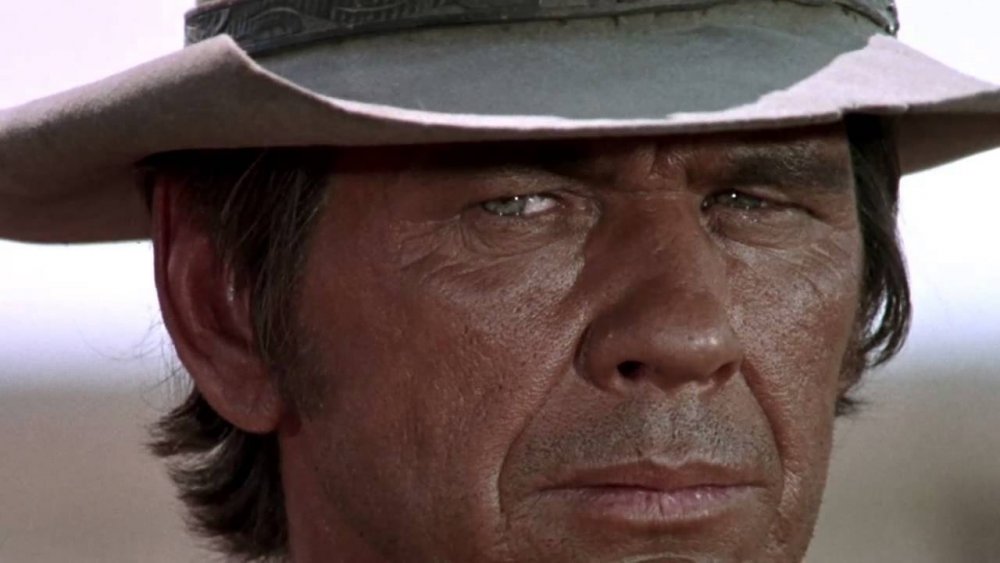 Among Netflix's Western offerings is one of the genre's essential classics, 1968's Once Upon a Time in the West. Directed by the late Sergio Leone, the creator of the Spaghetti Western genre, this is one of the Westerns we think you absolutely must see before you die. No list of best Westerns is complete without it. Many critics hail it as one of the best films ever produced regardless of genre, and award-winning filmmakers like Martin Scorsese and Quentin Tarantino were heavily influenced by it. 
Frank is the villain of the piece, played by Henry Fonda in a wonderful casting against type. Charles Bronson pursues Frank as the vengeful hero Harmonica, though because of Leone's storytelling choices, we don't even learn why Harmonica's so determined to take down Frank until their climactic showdown. Once Upon a Time in the West is a dark, poetic epic with a layered plot that gradually reveals itself over the course of three hours. Fans of the Western, students of film, or any viewer looking for a compelling and stylish masterpiece should consider Once Upon a Time in the West as mandatory viewing. As Time Out's Joshua Rothkopf puts it, "If there had to be a final Western, Once Upon a Time in the West would be it."
The Hateful Eight
It's possible none of Quentin Tarantino's films include as literally accurate a title as 2015's The Hateful Eight. The film stars members of his usual ensemble cast — including Samuel Jackson, Kurt Russell, Jennifer Jason Leigh, Tim Roth and more — playing a host of characters who've got souls choked with hate and mouths full of bile. 
The Hateful Eight opens on Marquis Warren (Jackson) hitching a ride with fellow bounty hunter John Ruth (Russell) and Ruth's prisoner Daisy (Leigh). They take refuge from a raging blizzard in a stagecoach lodge, and that's when things get complicated and very, very bloody. Traps are sprung, obscene secrets are revealed, and, in typical Tarantino fashion, the survivors are few.
The Hateful Eight is complex and long enough that it should utterly fail, but it doesn't. The actors involved bring their A-game, and their stories are intensely entertaining. At the same time, this is not a film to watch if you're looking for something uplifting. As brutal as any of Tarantino's films can be, The Hateful Eight is at times the toughest to watch because of its violence and the sadism of its characters. There is no redemption in store for anyone trapped in the blood-soaked lodge, just naked cruelty. 
Hell or High Water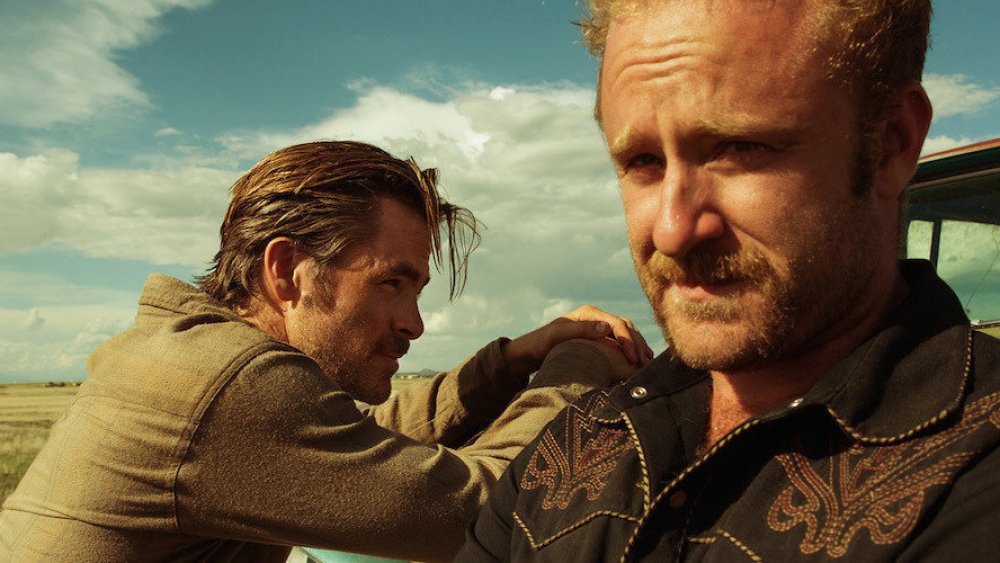 Set in west Texas, 2016's Hell or High Water is a modern Western heist flick that would feel right at home alongside No Country for Old Men. When Tanner (Ben Foster) is released from jail, he and his brother Toby (Chris Pine) start a bank robbing spree. Toby doesn't share his unpredictable older brother's taste for crime, but sees the robberies as justice for the bank's treatment of their family. Regardless of their intentions, a pair of Texas Rangers are coming for them. Marcus Hamilton (Jeff Bridges) is close to his retirement but still determined to catch the robbers, and his partner Alberto (Gil Birmingham) joins him on the trail. 
All the best elements of the neo-Western come together perfectly in Hell or High Water. Pine and Bridges are brilliant in their respective roles of cop and robber. The story delivers humor, drama, suspense, and explosive showdowns set in the impoverishment of the rural west. At times utterly bleak but still absolutely engaging, Hell or High Water is worth your time. 
Buffalo Boys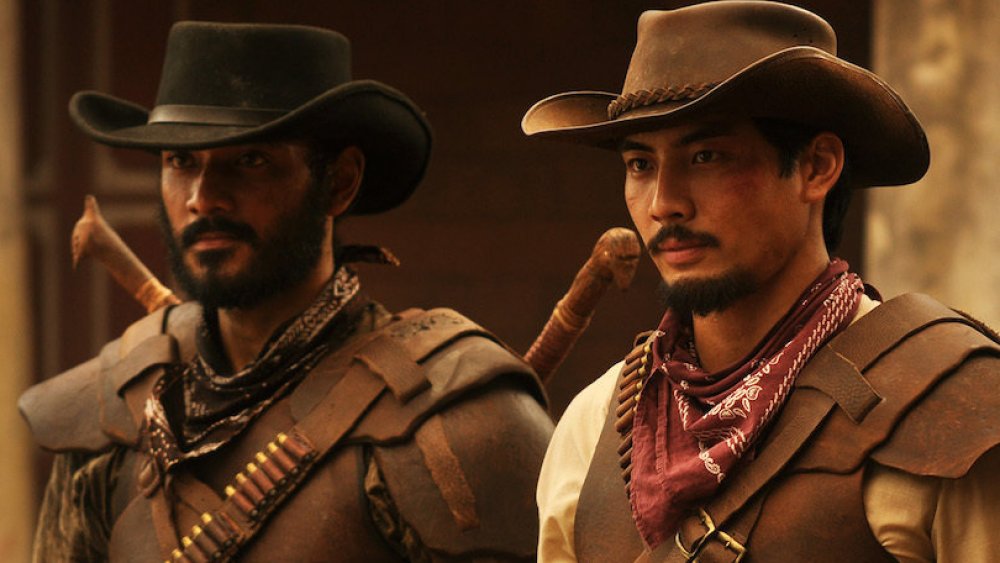 Not all Western heroes come from the American west. In 2019's Buffalo Boys, Indonesian brothers Jamar (Ario Bayu) and Suwo (Yoshi Sudarso) wage their own private war to get revenge for their father's murder. 
Jamar and Suwo are only infants when the Dutch Captain Van Trach (Reinout Bussemaker) murders their father, Sultan Hamza (Mike Lucock). Their loyal uncle Arana (Tio Pakusadewo) escapes to America with the brothers, where they remain in exile. As they age, the brothers become expert hand-to-hand fighters and gunmen while helping to build the Transcontinental Railroad. Eventually, Arana and the brothers return to Indonesia, where Van Trach rules over their homeland with an iron fist. 
Buffalo Boys won't impress you with a particularly innovative or surprising plot. It's an intentionally exaggerated action/romance whose infectious fun can only be enjoyed if you don't take things too seriously. The appeal of Buffalo Boys comes from some wonderfully executed action sequences, particularly early in Arana and the brothers' trip back to Indonesia when they find themselves in a battle on a train. Buffalo Boys might not be to everyone's taste, but if it's your kind of flick then you're in for some bloody, action-packed fun.
The Killer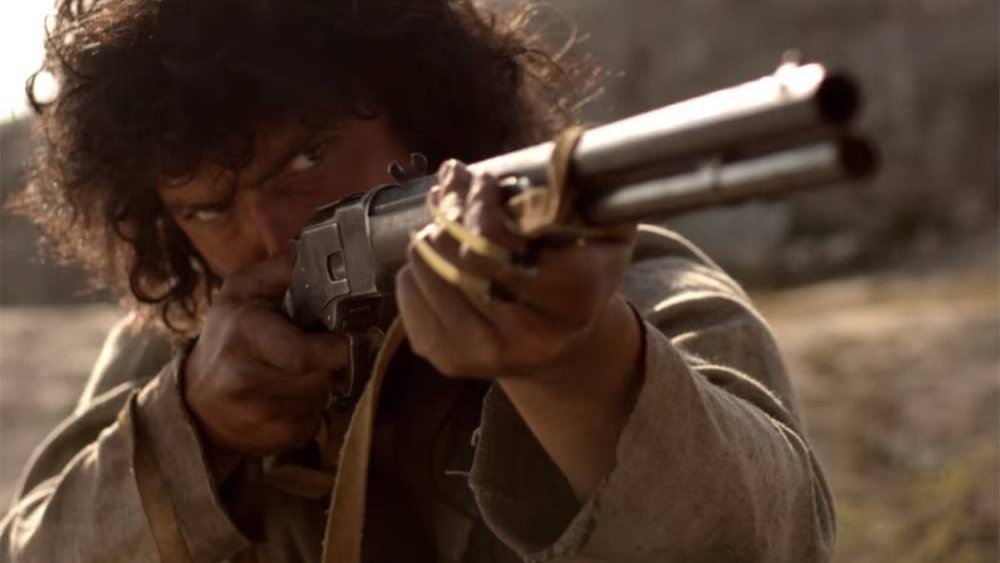 Titled O Matador outside English-speaking countries, The Killer is Netflix's first Brazilian-made original movie. The film is set in the 1940s and follows the quest of Cabeleira (Diogo Morgado) to find the man who raised him. Cabeleira was abandoned as a newborn and raised by Seven Ears (Deto Montenegro), a killer for hire. Seven Ears has kept Cabeleira in the wilderness, but once the child grows to be a young man, his mentor disappears. Cabeleira finally returns to civilization to find Seven Ears, only to be taken in by Monsieur Blanchard (Étienne Chicot) — a corrupt French businessman who uses the young man as an assassin. 
The story that unfolds is exceptionally brutal and bloody, but as entertaining as the action is, what's most intriguing about the film is how the story is told. Director Marcelo Galvão plays with your expectations for The Killer, often changing the viewpoint of the story and pulling the rug out from under you in wonderful ways. 
Slow West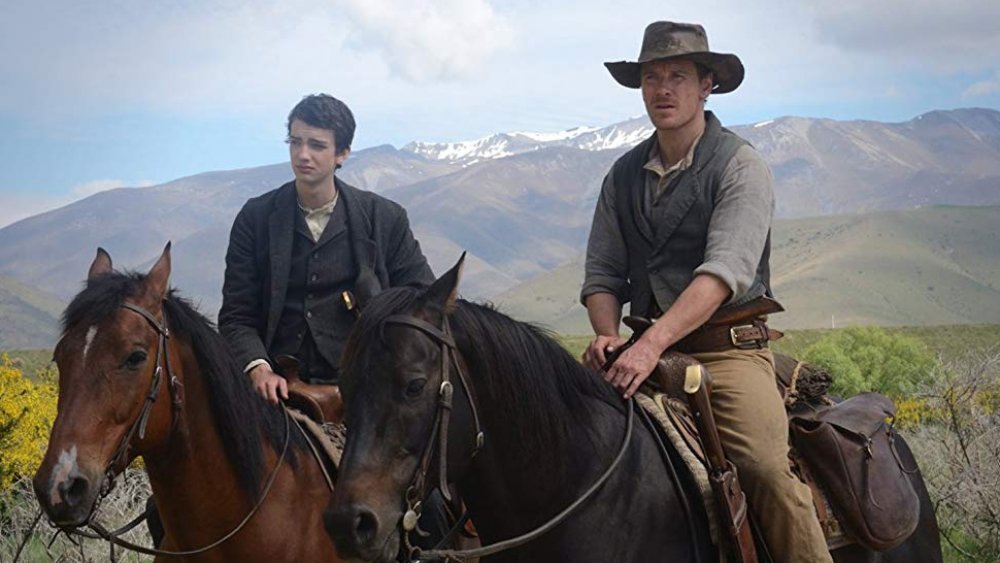 Michael Fassbender plays against type in Slow West, the 2015 directorial debut of John Maclean. Fassbender plays bounty hunter Silas Selleck, who escorts the young Jay (Kodi Smit-McPhee) through Colorado. Jay is searching for Rose (Caren Pistorius), a girl he fell in love with in Scotland, and we soon learn she and her father are on the run with large bounties on their heads. 
Slow West's title is a little deceiving. Foregoing the usual dusty towns and set completely in the wilderness of Colorado — shot beautifully in the breathtaking wilds of New Zealand — Slow West is slow-burning, but hardly slow-moving. The heroes' journey builds to a violent final battle with the rival bounty hunters gunning for Rose and her father. 
Premiering at the 2015 Sundance Film Festival, Slow West earned the the festival's World Cinema Grand Jury Prize. While it has echoes of classic Westerns like True Grit, David Sexton of the London Evening Standard calls it "the Western made new" and "a work of rare purity, directness and concision." 
Back to the Future Part III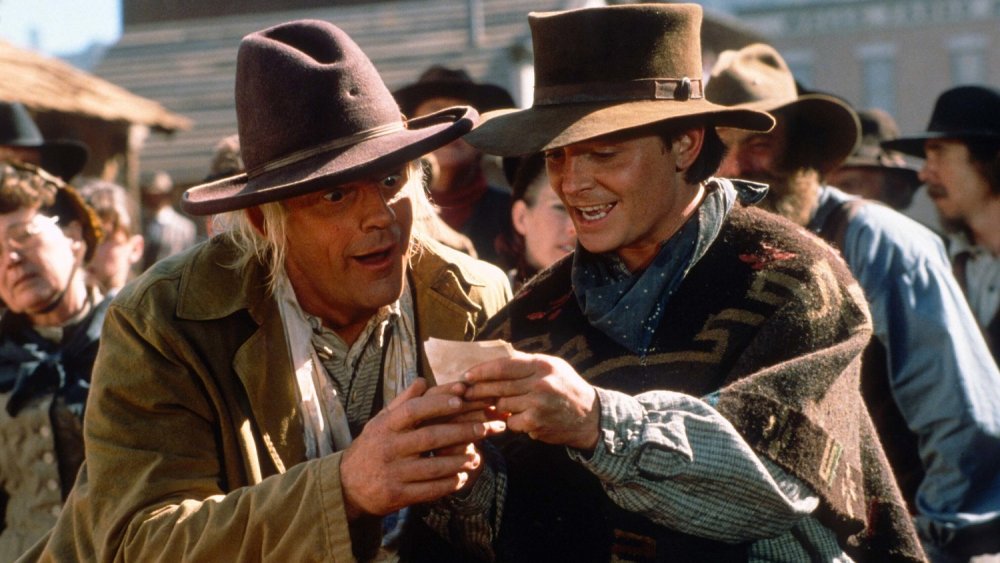 Chronologically, 1989's Back to the Future Part II bounced all over the place. But in 1990, one of the most beloved series of the '80s concluded in the wild west.  
Shot back-to-back with its predecessor, Back to the Future Part III returns us to the formula of Marty McFly (Michael J. Fox) and eccentric scientist Dr. Emmett Brown (Christopher Lloyd) lost in time and needing to find a way back. Once again, Thomas F. Wilson stars as the lunkheaded antagonist, but this time it's as bully Biff Tannen's great-grandfather Buford "Mad Dog" Tannen, who's going to murder Doc Brown in cold blood if Marty can't stop him. As usual, Marty uses an alias in the 19th century, introducing himself as "Clint Eastwood." It's no more accurate than previous aliases he's used, but at least this time he doesn't get the name off his underwear. 
One wonderfully refreshing addition to Part III is a love story focusing not on Marty or his hapless father, but on the enigmatic Doc Brown. Doc falls head over heels for schoolteacher Clara Clayton (Mary Steenburgen) after saving her from a runaway horse-drawn wagon.
It's not exactly the grittiest or most poignant Western you'll find on Netflix. But filled with as many laughs and thrills as earlier installments, Back to the Future Part III is a fitting end to Robert Zemeckis' iconic trilogy. 
The Ballad of Buster Scruggs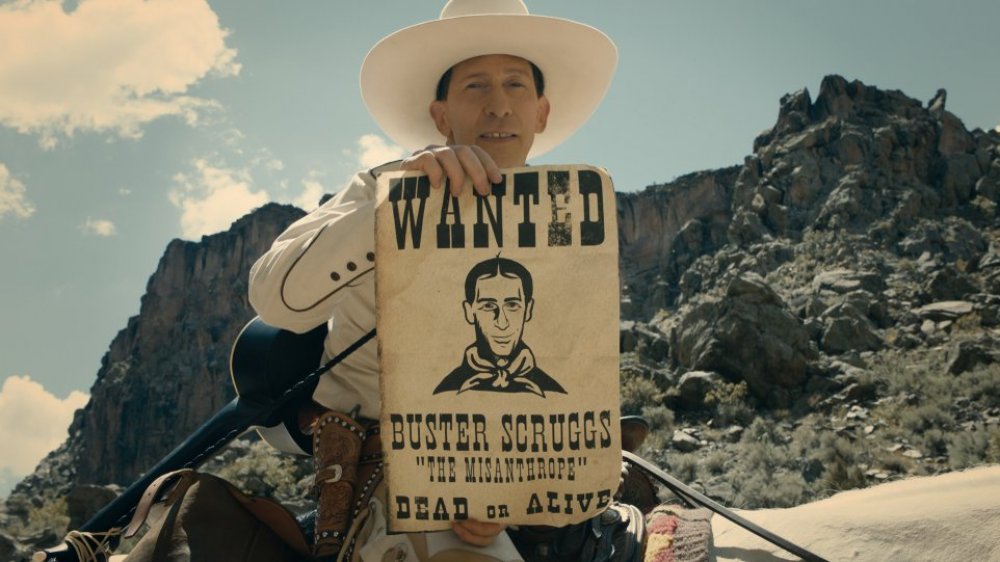 The six-part anthology The Ballad of Buster Scruggs is Joel and Ethan Coen's first Netflix original, and it's as weirdly unique as anything you could expect from the makers of such diverse films as Fargo, The Big Lebowski, and No Country for Old Men.
The film opens with the title chapter, starring Tim Blake Nelson as a disarmingly ruthless and ridiculous singing cowboy. James Franco plays a bank robber who just can't seem to stay out of a noose in "Near Algodones." In arguably the darkest tale of the film, "Meal Ticket," Liam Neeson plays a traveling impresario who goes from town to town, entertaining townsfolk with a young man lacking arms and legs who recites poetry, biblical passages, and famous speeches. Tom Waits is a desperate gold prospector in "All Gold Canyon," and in "The Gal Who Got Rattled," Zoe Kazan plays Alice, a woman on her way out west as part of a wagon train. The film ends with "The Mortal Remains," a conversation among five stagecoach passengers on their way to Colorado.
The Ballad of Buster Scruggs is something of a showcase for the Coen brothers' various modes of storytelling. Like much of their best work, the stories are sometimes hilarious and often brutal. It's a singular film and essential for any Coen fan.
True Grit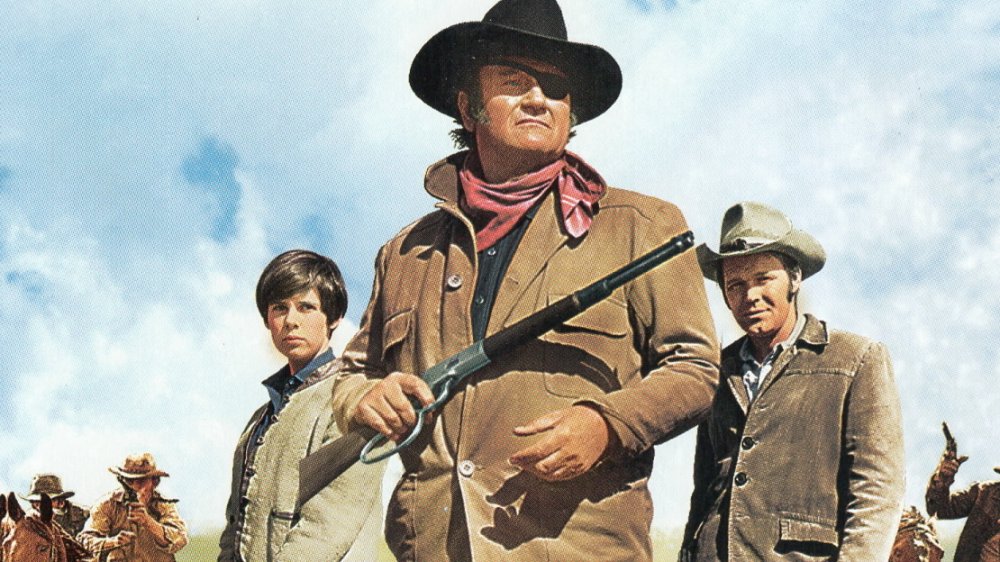 You may be more familiar with the 2010 remake, but if you've never seen it then you should treat yourself to the original 1969 film True Grit, based on the 1968 novel by Charles Portis. 
John Wayne plays the one-eyed "Rooster" Cogburn, a U.S. marshal hired by the young Mattie Ross (Kim Darby) to help her hunt down the man who murdered her father. The unlikely pair is joined by Texas Ranger La Boeuf (Glen Campbell). Together the three strike out into the wilderness, eventually confronting the killer Tom Chaney (Jeff Corey), who's joined the gang of notorious outlaw "Lucky" Ned Pepper (Robert Duvall).
True Grit is a classic Western — the kind you better make sure you see if you're going to call yourself a fan of the genre. The film earned Wayne his one and only Oscar for Best Actor. It was such a hit at the time of its release that it spawned the 1975 sequel Rooster Cogburn with Wayne reprising the title role alongside Katherine Hepburn as the spinster Eula Goodnight. There was also the TV movie True Grit: A Further Adventure with Warren Oates replacing Wayne in the lead role.