The Reason Futurama Isn't On Disney+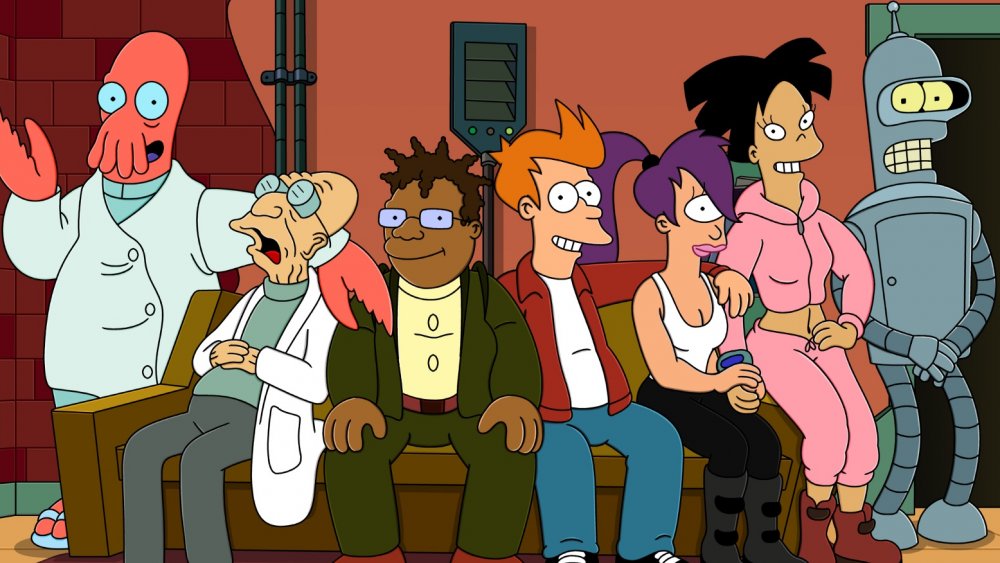 20th Century Fox Television/Disney
Disney+ was always going to be a massively successful streaming service, but when the House of Mouse acquired the film and television assets of 21st Century Fox in 2019, it became apparent that its catalog would soon be a thing of wonder. Even without said Fox properties, the draw of Disney+ was multi-pronged: the voluminous Disney catalog, all of Pixar's acclaimed films, nearly every Star Wars movie, and the near entirety of the Marvel Cinematic Universe were at the fingertips of subscribers from launch day. (Oh yeah, and some great National Geographic content, too; you'll forgive us for that oversight.)
While the rollout of the gargantuan Fox library has taken place slowly, the crown jewel of that library has been available on Disney+ from day one: every episode of every non-current season of The Simpsons, the longest-running primetime television series in history and the definition of a cultural touchstone. One slight kerfuffle over the aspect ratio of older episodes notwithstanding, the availability of The Simpsons on Disney+ has proved to be a significant pull — but it has also raised a question that fans of creator Matt Groening's other iconic series would like answered.
That question, of course, is: where the heck is Futurama? 
While it may not have run for quite as long as The Simpsons (which is expected to begin airing its 32nd season this fall), Futurama has a legion fans who will go to bat for its superiority over the adventures of Homer, Bart, Marge, Lisa, and Maggie in nearly every respect: its whip-smart writing, its wonderfully developed characters, the sheer inventiveness of its storylines. Since Futurama was also produced by Fox, Disney now owns every episode — and yet, the series hasn't made an appearance on the Mouse House's streamer. What gives?

Futurama doesn't quite fit the family-friendly aesthetic of Disney+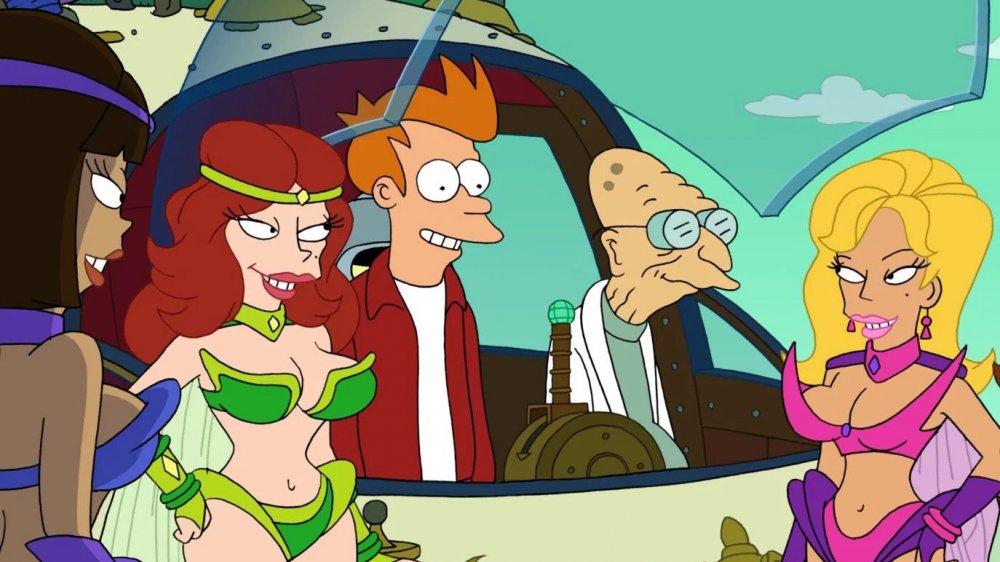 20th Century Fox Television/Disney
While the reasons for Futurama's absence from Disney+ haven't been made public, we're pretty sure we can guess a major one: Disney+ has modeled itself as a family-friendly streaming destination, and Futurama doesn't always fit that bill. In addition to its sometimes weighty themes, the show was known to feature some decidedly, shall we say, adult situations and humor.
As pointed out by ScreenRant, the same can be said for other Fox-produced series such as American Dad!, Family Guy, and The Cleveland Show, none of which have shown up on Disney+. One could certainly make the argument that The Simpsons isn't exactly free of raunchy and ribald humor, but another could make a (far more effective) case that the show is one of the most popular of any genre in history, that its nearly 700 episodes serve to bolster the volume of the Disney+ library, and that failing to include it after spending over $71 billion to acquire Fox would have been ridiculous.
It's also safe to assume, though, that ol' Mickey won't simply let those other adult-oriented animated series sit on a shelf. Shortly after acquiring Fox, Disney spent an additional $27.5 billion to acquire full operational control of Hulu (via CNN), which — until the debut of Disney+ — had long been the chief competitor of that ubiquitous giant of streaming, Netflix. It stands to reason that this was at least partially done so that the not-so-kid-friendly assets of the Fox library could also find a streaming home, without the necessity for any third-party partnerships potentially gumming up the works.
Is Futurama on Hulu?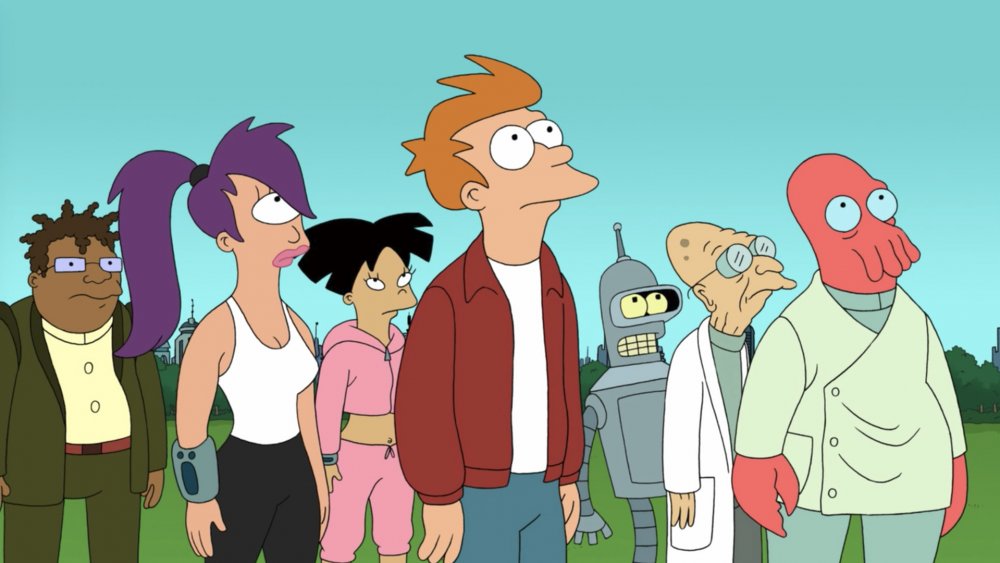 20th Century Fox Television/Disney
This obviously raises another question, but we won't keep you in suspense. Yes, all 10 seasons of Futurama are currently available for streaming on Hulu — along with 14 seasons of American Dad!, all four seasons of The Cleveland Show, and 18 seasons of Family Guy. Sure, it would be nice to have all of those iconic Fox animated series in one place — but, in case you're not aware, Disney+ offers a bundle with (ad-supported) Hulu and ESPN+ for a pretty darn reasonable price.
Disney's strategy for parsing out all of its various properties among its streaming platforms is likely just beginning to take shape, and it's even conceivable that Disney+ might someday feature separate sections for kids and adults, or implement parental controls to keep the eyes of young ones away from the more adult-oriented content (like Netflix has done). For now, though, Hulu is your destination for all non-Simpsons Fox animated series — including Futurama, one of the funniest, smartest, most heartfelt, flat-out best television comedies of all time. If you'll excuse us, we're going to fire up Hulu and start watching it from the beginning again.