The Best Family Movies You Can Watch On Netflix Right Now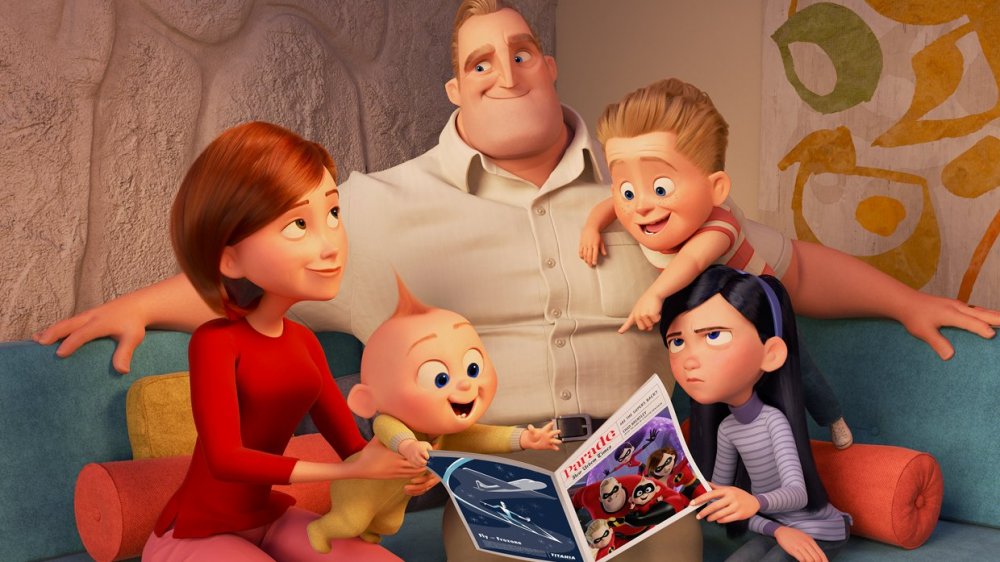 Family movie night has been a time-honored tradition for as long as home video rental has existed. Blockbuster and its ilk have been replaced by Netflix — first with the convenience of DVDs mailed directly to your home, and now with streaming directly onto your computer or smart TV. What hasn't changed, however, is what makes a good family film, something that is appropriate and appealing for children as well as entertaining for their parents. 
With Netflix's large and ever-changing catalog, it's important to keep up with what's worth watching before it's gone. Whether it's action or comedy, live-action or animated, vintage film or something a little newer, Netflix has got you covered for all your Friday night snuggle-on-the-couch needs. It's time to get that popcorn popped, secure a frosty beverage, and prepare to get lost in something fun for the whole family! These are the best family movies you can watch on Netflix right now.
Chitty Chitty Bang Bang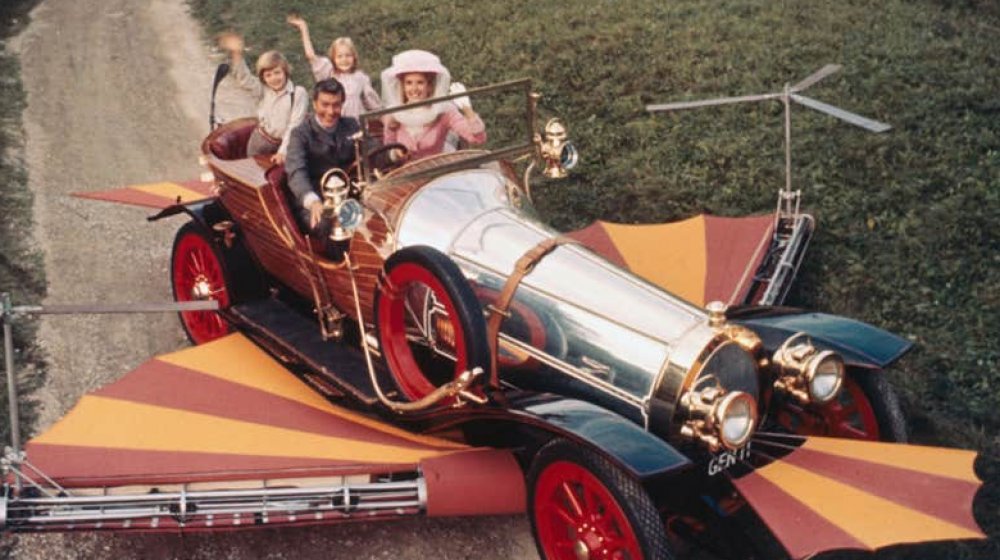 Several generations have had the privilege of enjoying the Dick Van Dyke classic Chitty Chitty Bang Bang. It's over half a century old now, but its appeal lives on. And no wonder — its screenplay was co-written by none other than children's novelist Roald Dahl, who certainly knows what clever young people are looking for in a story. Dahl is not the only novelist who needs credit, however. The film is loosely based on a novel by Ian Fleming, the man behind the original James Bond books! 
In the film, Van Dyke plays Caractacus Potts, an eccentric, impoverished inventor and the single father of two children. The kids, played by Adrian Hall and Heather Ripley, have fallen in love with an old car, once famous for winning races but now retired to the junk yard where it is in danger of being scrapped. Caractacus tries to devise a way to get enough money to pay for the car in order to please his children, and in true 1968 movie-musical fashion, wackiness ensues. In this case, it involves candies called "Toot Sweets," a flying car, and a love interest named Truly Scrumptious (played by Sally Ann Howes). This is one of those movies that parents have been showing their children for decades, and now there's no need to scrounge up the VHS or DVD — or wait for it to air on television!
Mary Poppins Returns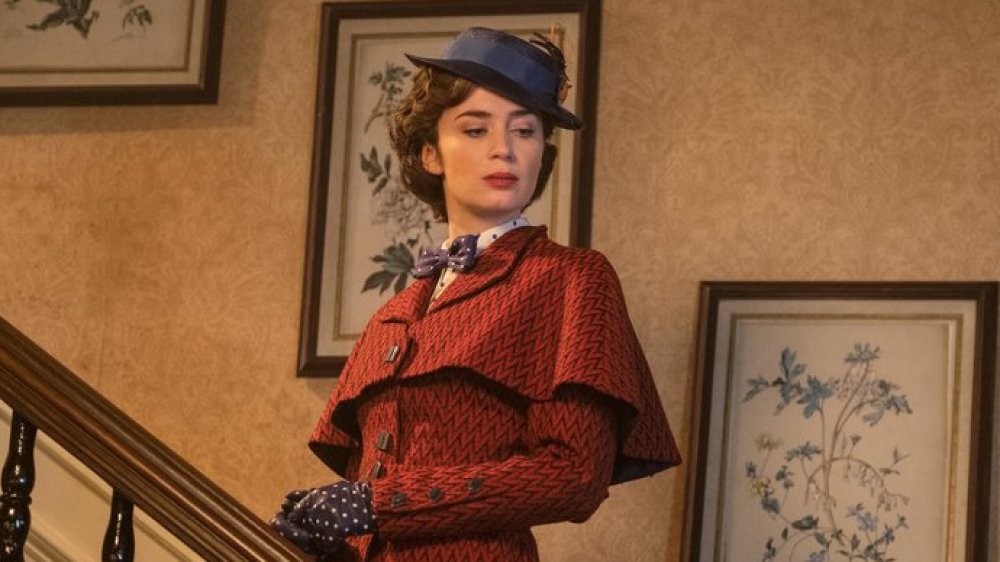 Another beloved film of the 1960s, Mary Poppins is simply a childhood staple, shared from parent to child for many years. The 1964 original is unfortunately not available through Netflix at this time, but the 2018 sequel, Mary Poppins Returns, is prepared to charm a new generation. In this iteration, little Michael and Jane Banks (portrayed by Ben Whishaw and Emily Mortimer, respectively) have grown up. Michael has lost his wife and is now in sole charge of his three children, Annabel, John, and Georgie. He is also in terrible debt, and his sister tries to help him find some old bank shares. 
In the process, Michael finds and throws out the kite from his youth — you know the one, there was a whole song about it in the original! His little son Georgie finds it, takes it out to use it, thus luring the practically-perfect-in-every-way Poppins, played by Emily Blunt, down out of the sky. Just as before, Mary is there to help both children and adults get their youthful sparkle back, this time with the help of Jack (Lin-Manuel Miranda), Bert's apprentice. Van Dyke returns as Mr. Dawes, Jr., having portrayed not only Bert but also Mr. Dawes, Sr., in the original film. In fact, this sequel has quite the cast, including Colin Firth, Meryl Streep, and Angela Lansbury. It's sure to be a lot of fun for young viewers, and hopefully helps adult viewers relive some of their own childhood as well.
Christopher Robin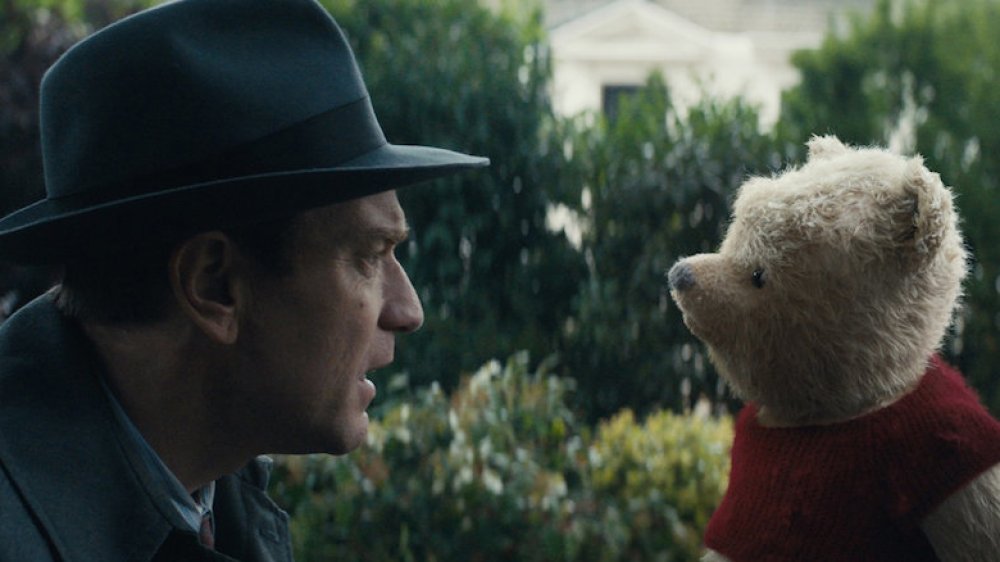 Reinvigorating the imagination of one's childhood is a common theme in family films, perhaps because it acts as a way for parents and their children to reach a mutual understanding. In 2018's Christopher Robin, Ewan McGregor plays a grown-up version of the titular character who no longer has time for imagination or games. The movie starts out kind of dark, with Christopher Robin being sent off to boarding school and reprimanded for his creativity. His father passes away, causing the boy to contend with harsh realities that make him forget his friends in the Hundred Acre Wood, despite his promises to remember them always. After serving in the army during World War II, Christopher Robin works as the Director of Efficiency at Winslow Luggage, and has a wife and daughter whom he largely neglects because of the demands of his job. 
Meanwhile, Winnie-the-Pooh decides to venture to the place from which Christopher Robin used to visit, coming upon London and making his way back into his friend's life. Christopher Robin must bring Pooh back to the Hundred Acre Wood, and along the way is reunited with his old comrades. Of course, Christopher Robin is then reminded of what is really important in life, and his reunion with his childhood happy place helps him come back to his family a changed man. Jim Cummings returns as the iconic voices of Pooh and Tigger, and BBC fans will recognize the voice of Peter Capaldi as Rabbit, as well as Mark Gatiss as Christopher Robin's boss.
Nacho Libre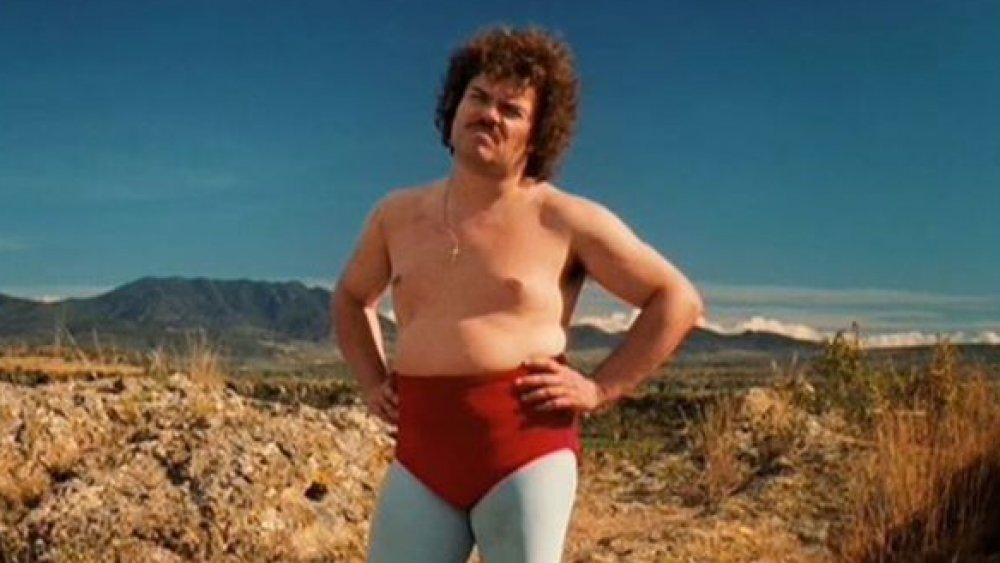 Not all family films have to be sentimental dramas, of course. There's plenty of room for wacky comedies, and Nacho Libre fits the bill. After the success of the sweet and silly School of Rock, Jack Black starred as Ignacio, a monk with dreams of becoming a luchador wrestler. The monastery orphanage where he serves as cook forbids partaking in wrestling, but it is also desperately poor. In order to raise money for the children he loves so dearly, Ignacio chooses to ignore the monastery's rules and become a luchador after all, taking the name "Nacho" to help obscure his true identity. 
The premise may sound absurd, but the film is in fact loosely based on the life of Sergio Gutierrez Benitez, a Mexican Catholic priest who supported his own orphanage for 23 years as a luchador under the name Fray Tormenta, or "Friar Storm." Like all good comedies, Nacho Libre has a lot of heart and a happy ending, securing it as a great pick for a feel-good time.
The Croods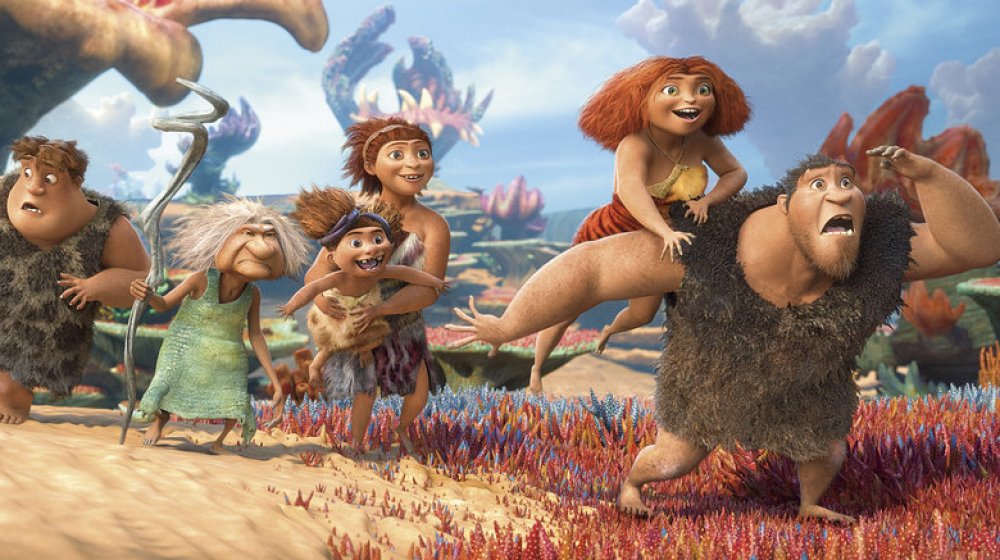 Nothing says "family movie" quite like a movie about family! And The Croods shows that familial love spans millennia, as it follows a family of cavepeople on a quest away from their safe cave in search of a new home as they outrun an apocalyptic event. Much of the film's conflict comes from the relationship between patriarch Grug (voiced by Nicolas Cage) and his teenage daughter Eep (Emma Stone). Eep is always looking for adventure, seeking out something new. Grug, in his efforts to keep his family safe, always tries to avoid anything new or different. 
This strategy is to keep them safe, but when Eep meets Guy, a new type of human with a knack for invention, she learns that change is inevitable. Grug doesn't want to take her word for it, but an earthquake that destroys their homebase forces his hand. On their journey, the Croods all grow closer and learn that in order to survive, they must also learn to adapt rather than always play it safe. This prehistoric family bonding is infectious, making it a sweet shoe-in for movie night.
Stuart Little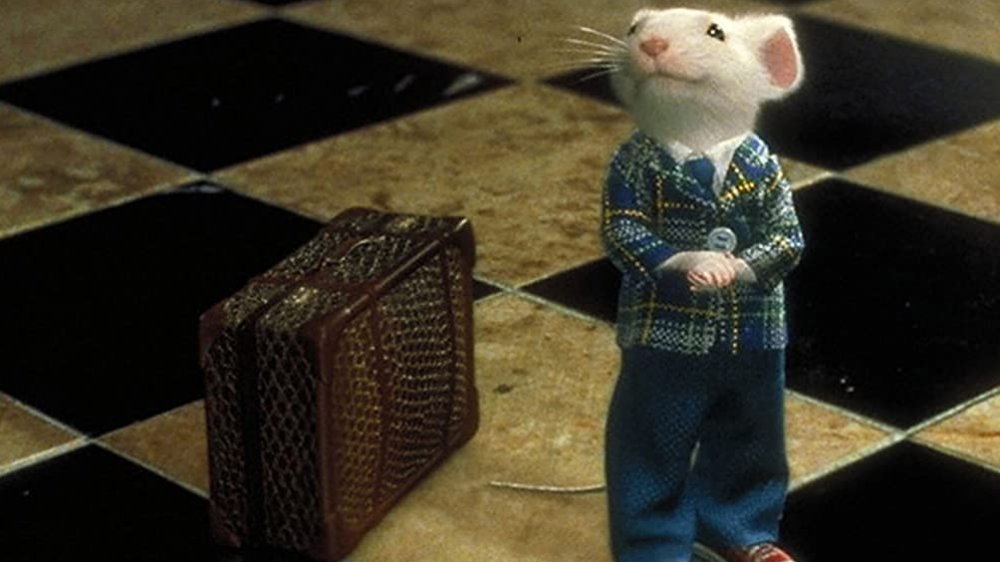 In 1999's loose live-action/animated adaptation of E.B. White's Stuart Little, a teenage mouse (voiced by Michael J. Fox) is adopted by the Littles (Hugh Laurie and Geena Davis), a couple with a young son. Stuart has some challenges fitting in with his new family. The Littles' son, George (Jonathan Lipnicki), does not provide the most loving reception for the young mouse, and the household cat Snowbell (Nathan Lane) resents that a rodent has a higher status than him. This rough beginning leads Stuart to confide in his new parents, who resolve to help their new son find his biological family. 
Meanwhile, Stuart is finally able to get close with George, the two bonding over George's remote controlled racing sailboat — which, of course, Stuart ends up having to pilot in a pinch during a race. This sweet film reminds viewers what family is really about, even when one member is adopted — and a mouse, to boot.
The Incredibles 2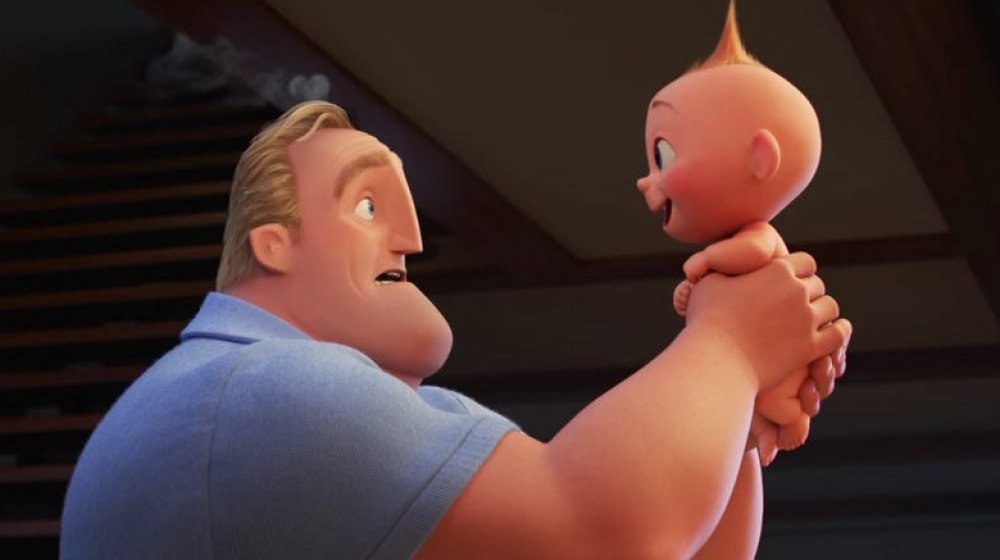 Some family movie families are simply super. Pixar needs no introduction as a forerunner in animated films that appeal to audiences of all ages. With The Incredibles, they established the Parrs: a typical American family in most ways, except they fight crime together with their genetically-inherited superpowers. Though the original film is not currently available to stream on Netflix, its sequel, The Incredibles 2, is there to be enjoyed. 
This time around, the Parrs are in exile, going into hiding after the events of the first film attract a little too much attention to the super community. Helen Parr, a.k.a. Elastigirl (Holly Hunter), is approached by Winston Deavor (Bob Odenkirk) and his sister Evelyn (Catherine Keener) to be the face of their plan to rehabilitate public opinion of superheroes. So while Helen is working hard trying to earn a living for her family — and having a great time doing it — her husband Bob/Mr. Incredible (Craig T. Nelson) has to stay home with the kids and figure out how to manage the household the way his wife used to do. In addition to Violet's boy problems, Dash's math homework, and baby Jack-Jack's truly incredible new powers, there's a new villain, Screenslaver, out to defame Elastigirl. 
This iteration of the Incredibles series gives the spotlight to a mom who loves her family and her job, and allows Bob to find his stride with his kids. As one has come to expect with Pixar films, it's fun, heartwarming, and full of adventure, humor, and awesome action sequences.
Yours, Mine & Ours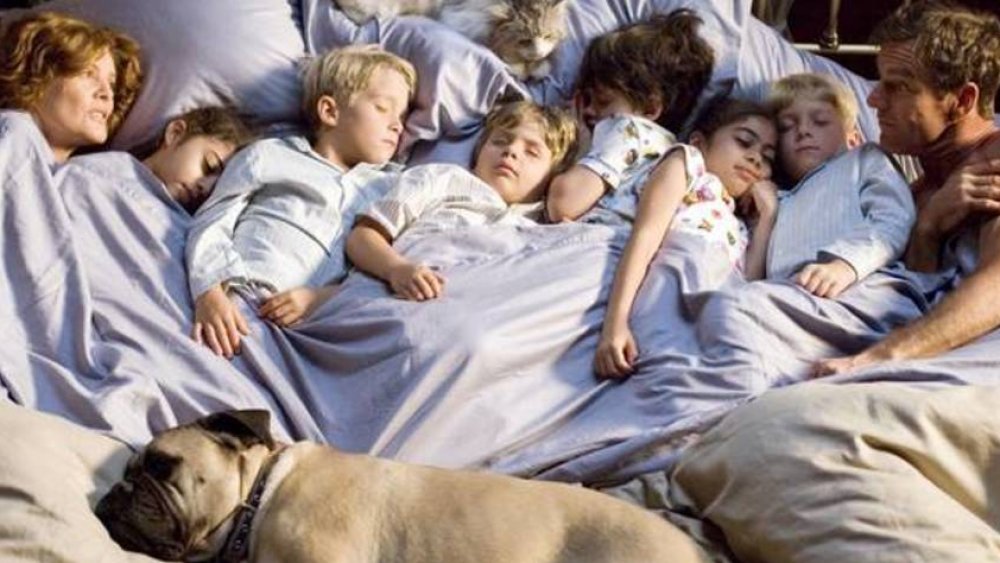 Wild antics are sure to ensue when you have a blended family comprised of 18 children. That's the premise of Yours, Mine & Ours, the 2005 remake of a 1968 Lucille Ball comedy. In the updated version, Dennis Quaid plays Frank Beardsley, a militant former Coast Guard admiral who is raising eight children on his own. He reconnects with a high school sweetheart, Helen North (Rene Russo), whose approach to life and raising her ten kids (six of whom are adopted) is more relaxed. The two rekindle their romance and quickly get married in a private ceremony without their kids knowing or consenting. 
Obviously, this breeds resentment as the couple moves everyone in together. But the mixed group of kids agrees to put their differences aside in the pursuit of splitting their parents up — except that along the way, they all start to grow to love each other as siblings should. This adorable family comedy is sure to make any parents in the audience grateful that they don't have more children!
DragonHeart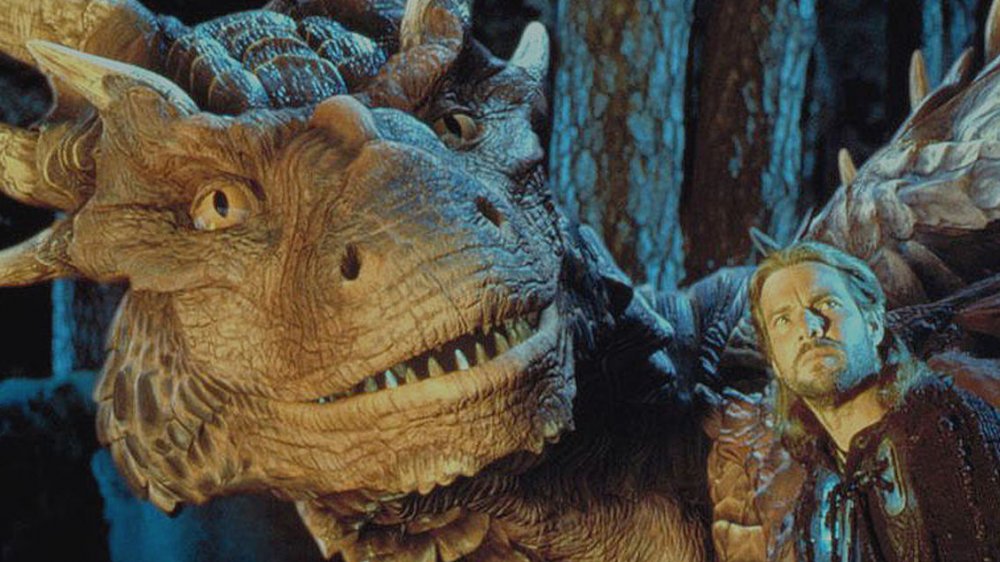 For families with older children (or those who are a bit more lenient about violence) there is the fantasy film DragonHeart — because one can never go wrong with a dragon movie! This '90s throwback stars Dennis Quaid in the somewhat unlikely role of Sir Bowen, a former knight who turns to dragon slaying, believing that a dragon who saved the life of his charge, Einon, actually turned the boy into a cruel and evil ruler. In his travels, Bowen meets Kara (Dina Meyer), a young woman who seeks revenge on Einon (David Thewlis) for her father's death; Brother Gilbert (Pete Postlethwaite), a monk with a penchant for poetry; and Draco (Sean Connery), a dragon who helps Bowen see the truth about Einon. 
DragonHeart is a fun fantasy adventure with plenty of comedic moments, but it is also a touching story about friendship and sacrifice. And besides, it's way too awesomely weird to hear James Bond's voice coming out of an animated dragon, a nice little treat for older viewers while their kids dream of making their own dragon friends.
Solo: A Star Wars Story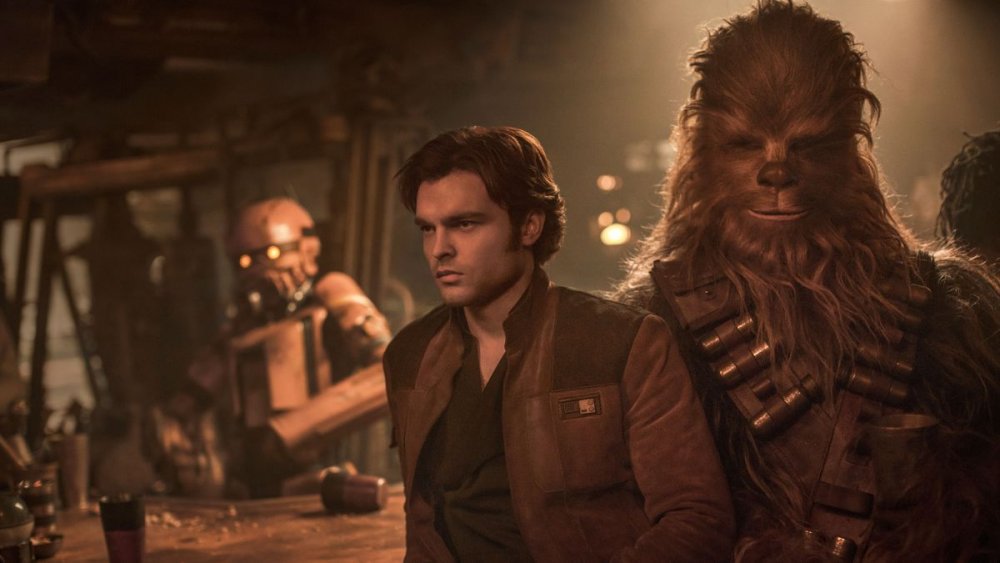 No list of family films would be complete without at least one Star Wars flick. The original trilogy isn't there for enthusiastic parents to share with their kids, but Solo, which dives into Han Solo's backstory, is there to jumpstart a new generation's interest in the franchise. In this installment into the vast galaxy far, far away, a young Han Solo (Alden Ehrenreich) and his girlfriend Qi'ra (Emilia Clarke) are attempting to leave the crime-riddled planet Corellia. They get separated in the process, and years pass. 
Han is serving as an infantryman on Mimban after being expelled from the Imperial Flight Academy when he spots a group of criminals in disguise and decides he's going to report them. Instead, he winds up meeting Chewbacca and working alongside Tobias Beckett (Woody Harrelson) and his crew instead of turning them in. In the course of stealing a shipment of coaxium, Han is reintroduced to Qi'ra, who is working for Dryden Vos (Paul Bettany), a crime lord who features in Beckett's past. Plenty of action and intrigue keep this film fun for the whole family, though again parents should be cautioned that it can get a bit violent, though no more so than other films in the sprawling Star Wars saga.
Spider-Man: Into the Spider-Verse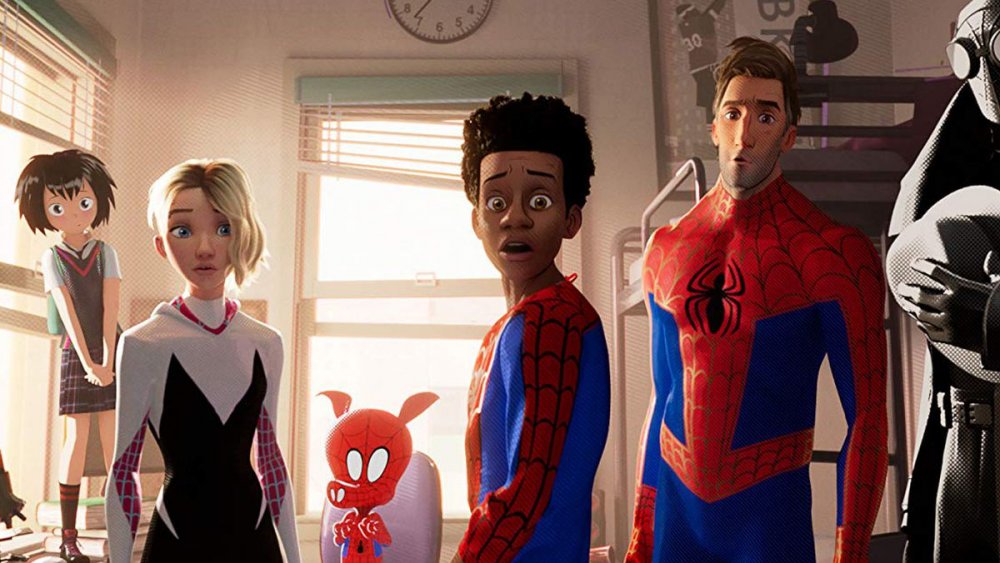 For more than half a century, children everywhere have looked up to Spider-Man. Though Peter Parker is the best known alter-ego for this wall-crawling superhero, the years have seen a number of spider-people (and pigs!) from across multiple alternate realities come into the picture. Spider-Man: Into the Spider-Verse plays with this multiplicity of Spider-Men by focusing on Miles Morales (Shameik Moore), a young Afro-Latino boy living in New York City who gets bitten by the classic radioactive spider and begins acquiring strange abilities. In Miles' universe, Peter Parker has recently died, and Miles decides to try taking up his mantle. In the process, he winds up meeting an alternate universe Peter Parker (Jake Johnson), as well as Gwen Stacey/Spider-Gwen (Hailee Steinfeld), and a few other spider-folks from other realities. Together, they must destroy a particle accelerator known as "The Super-Collider" in order to save the city and get everyone back to their rightful realities. 
Into the Spider-Verse stands out among even the best animated films for its incredible blend of visuals and its amazing soundtrack — coupled, of course, with a fun superhero story that everyone can appreciate. Many eagerly await its sequel, but until then it's ready and waiting for a family watch (or rewatch!) on Netflix.
Despicable Me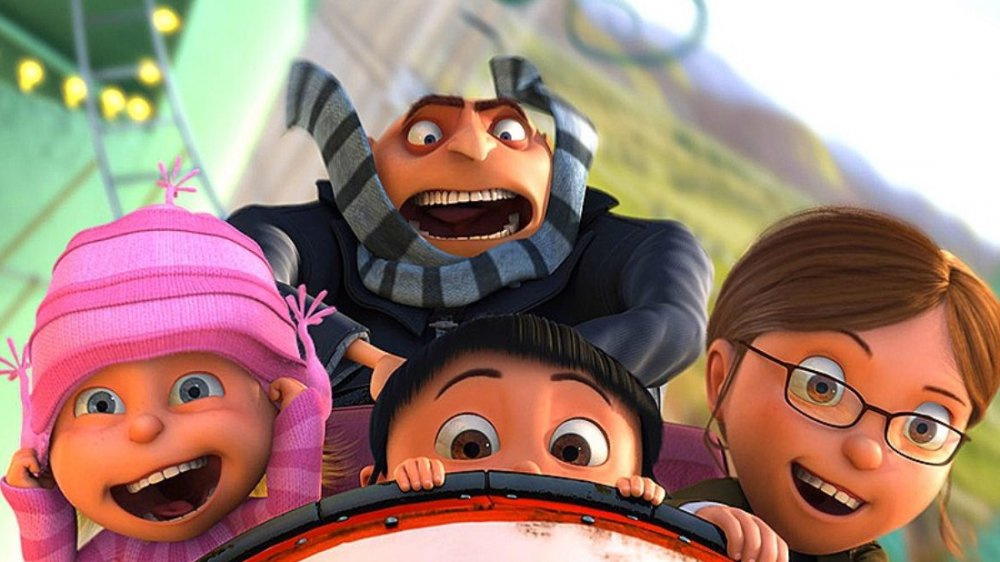 Though the Minions craze has well overstayed its welcome for many, the film from which those little yellow weirdos hail, Despicable Me, is a warm and uproarious ride full of family fun. Gru (Steve Carell) is a villain who has been bested by his mysterious nemesis, Vector, who pulled the heist of the century when he stole the Great Pyramid of Giza. In an attempt at one-upmanship, Gru decides that he will steal the moon, shrinking it down with that most dastardly of villainous tools, the shrink ray. 
Unable to obtain a loan for this project from the Bank of Evil until he procures the shrink ray in question, Gru adopts three little orphan girls whose ability to infiltrate all sorts of establishments in their cookie-selling endeavors makes them perfect diabolical henchkids. Unfortunately, raising three little girls is a lot more work than Gru realizes — but it also ends up being more rewarding than he ever could have imagined. It's no wonder this quirky, offbeat movie has captured the attention of kids everywhere. And surely their parents can appreciate the simultaneous silliness and sweetness that Gru's little family brings to the screen.
Tarzan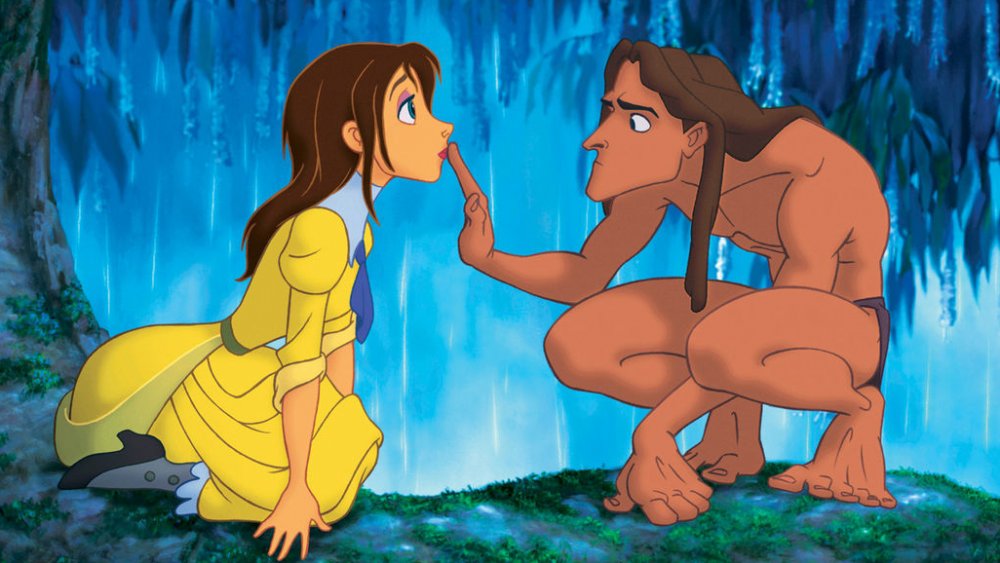 Found families take on so many different forms. Over a century ago, Edgar Rice Burroughs penned Tarzan, a story in which an orphaned boy is adopted by apes and raised as one of their own. The story has been retold countless times, but one of the most beloved versions is the Disney animated musical — and who doesn't love a Disney animated musical? As Tarzan (Tony Goldwyn) meets Jane (Minnie Driver) and learns of human society, the story raises questions about identity, belonging, and just what it is that makes a group of individuals a family. 
In true Disney fashion, the film has an excellent score, highlighted by the Phil Collins hit "You'll Be In My Heart." As the song plays over the ape Kala (Glenn Close) naming and playing with a baby Tarzan, mothers everywhere will be reaching for the tissues, and snuggling their own babies closer to them while they watch. As a bonus to all the family feels, Tarzan teaches some important lessons about respecting nature and the evils of greed.